For organisations whose marketing efforts include selling products or services to business customers, an inbound marketing strategy provides an effective means to promote business growth and enhance the lead generation process.
But what is inbound marketing in the Business to Business or B2B context – and how does it differ from the more traditional methods of outbound marketing?
In this article, we'll provide answers to all these questions and more, such as...
What is B2B business marketing?
B2B or Business to Business marketing is any content marketing or marketing strategy in which the potential customers are other business entities or organisations.
A B2B marketing strategy, therefore, requires marketing and sales teams to promote and sell products or services to companies, rather than individuals. To effectively achieve this, the marketing team must employ various tactics, such as creating a blog post, or a variety of blog posts, to make prospective customers aware of their brand name and the value of their product or service.
By leveraging inbound methodology, the team can attract and engage potential customers through informative and valuable blog content. This approach aims to help generating leads and convert them into actual buyers, contributing to the overall success of the B2B marketing strategy.
What is B2B inbound marketing?
Unlike traditional outbound marketing, inbound marketing tactics look to generate leads and nurture potential customers by creating awareness about your brand and what it has to offer in a subtle manner, more in line with the way prospective customers now actually become buyers.
It is notable that roughly half of B2B marketers report that 'increasing brand awareness' is their number one goal in 2022. This goal supersedes increasing engagement, advertising products, lead generation, and even closing deals. B2B marketers achieve this goal through their inbound marketing efforts, which focus on raising brand awareness and attracting potential customers, as well as their outbound marketing focuses, which involve actively reaching out to prospects and promoting their products or services.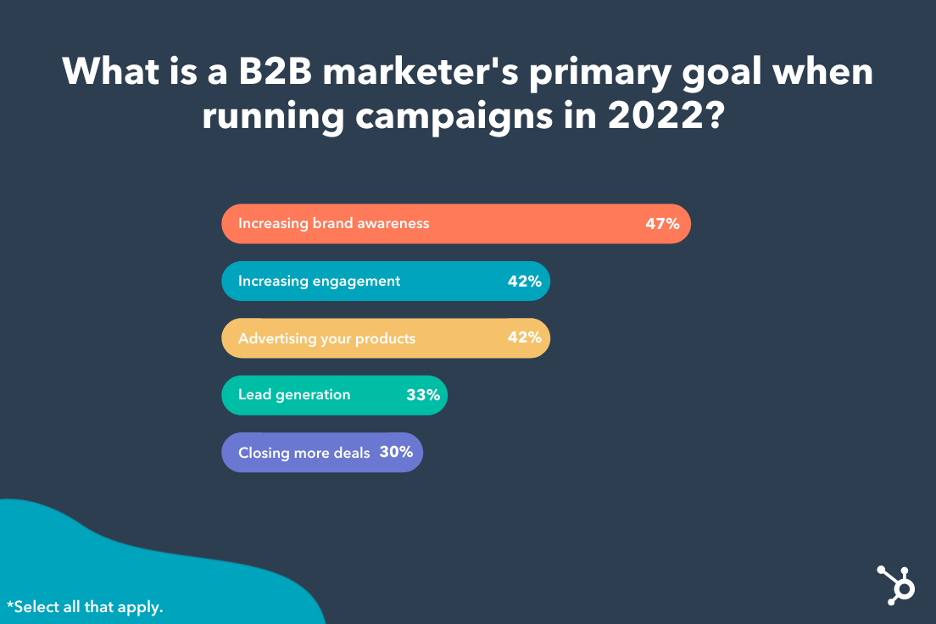 [Image source: HubSpot]
An inbound marketing campaign will respond to commercial consumers who become aware of your brand via search engines, blog articles, social media posts, paid media and other avenues, by using digital marketing tactics to position your organisation as a source of relevant information, education, thought leadership, and ultimately the solution to the problems and aspirations of your target audience.
For buyers looking for answers to their questions and solutions to their business problems, inbound marketing strategies empower your marketing team, supported by search engine optimization (SEO) techniques, to use targeted, relevant, and quality content to attract prospects to your points of presence. By utilising SEO, your marketing team can optimize your online visibility and attract organic traffic to your brand's digital platforms. This helps in converting those prospective customers into actual buyers with the support of your sales team.
An inbound marketing strategy typically follows the "Attract, Engage, Delight" model, as illustrated in the infographic below. This aligns with a content marketing strategy that provides relevant content for potential customers at all stages of the buyer's journey.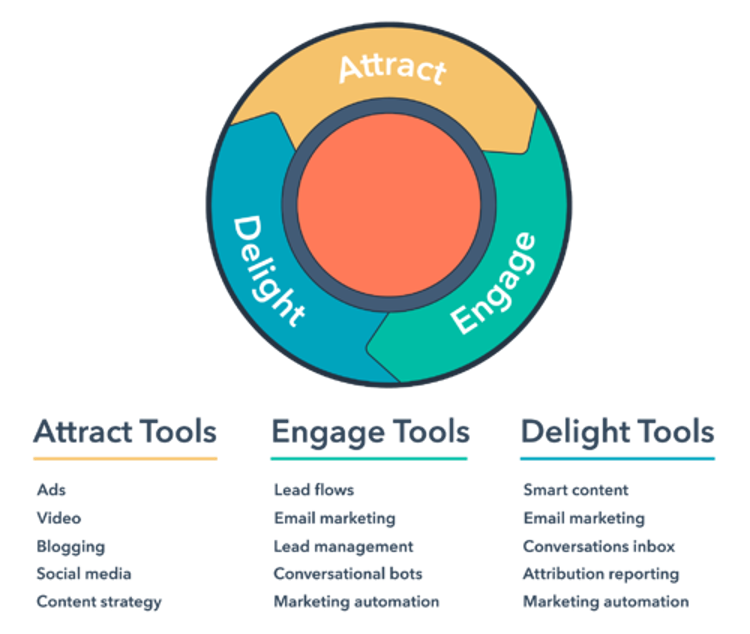 [Image source: HubSpot]
What is the difference between outbound and inbound B2B marketing?
Outbound marketing is a proactive methodology that requires businesses to push brand and promotional messaging out to a wide population of potential consumers, in the hope that this message will resonate with at least some of them. Outbound marketing tactics include direct advertising through various media (TV, radio, billboards, etc.), cold calling, and exhibiting at trade fairs.
Traditional outbound marketing is very much a numbers game, as the marketing team needs to spread its promotional net wide enough to increase the organisation's chances of making a worthwhile connection with prospects who may become potential buyers. In many cases, these people will not have heard of the organisation doing this outbound marketing at all – or even expressed any interest in what they have to offer. Additionally, you are reliant on prospects being in market – i.e. ready to buy, at the exact moment you contact them. Obviously, the chances of this are minimal.
By contrast, an inbound marketing strategy focuses the efforts of the marketing team on potential buyers who have already demonstrated a degree of interest in the inbound marketing organisation. This may have been via keyword research into terms relevant to the brand's product and service offerings, engagement with its social media posts, or through dialogue with its existing customers.
An inbound marketing campaign will then dedicate itself to expanding upon this interest in various ways. These may include optimising keywords and content for search engines, to make it easier for businesses to find and learn about your brand, promoting lead generation by disseminating informative, value-led content for potential buyers at the different stages of the buyer's journey.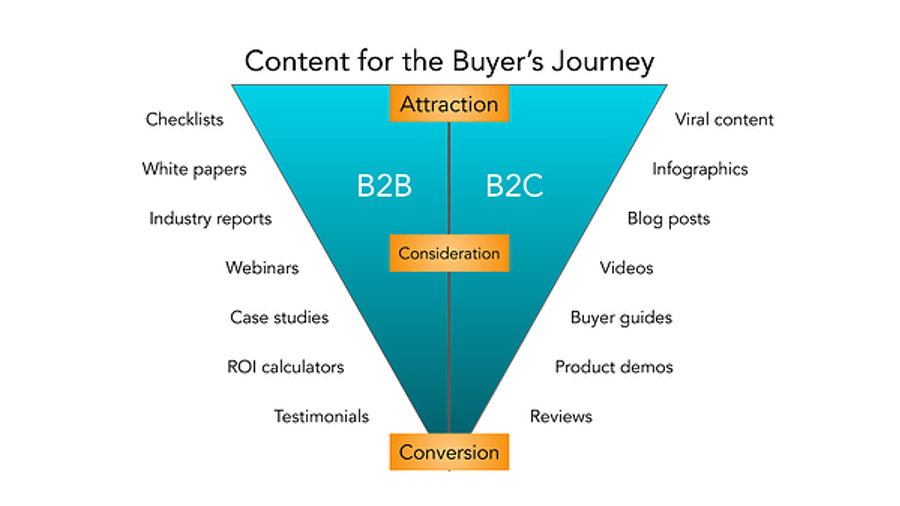 [Image source: HubSpot]
Note that here, another difference may be observed between B2B inbound marketing and outbound marketing. The B2B inbound marketing strategy must take into account the fact that Business to Business transactions typically have a longer sales cycle than Business to Consumer (B2C), and generally involve a larger number of parties or stakeholders, be they individuals or departments charged with making purchasing decisions.
As a result, the strategies for B2B inbound marketing will tend to vary according to the stakeholder and where the organisation is in their buying cycle - far more than for outbound marketing to potential consumers.
Examples of B2B inbound marketing
Inbound marketing may engage with prospective customers in their target audience through a range of digital marketing tactics and techniques, to generate leads and guide prospects through the sales funnel. These execution tactics include blog articles, video blogs, email marketing, and interacting with prospects via the brand's social media presence.
Other relevant applications of B2B inbound marketing include search engine optimisation, and the use of specialist marketing tools such as marketing automation software.
Why is B2B inbound marketing important?
With customers now fully capable of conducting their own online research before contacting a company or making a purchase, the role of product and service providers is changing. B2B inbound marketing provides an opportunity for your company to capitalise on the awareness of your brand that online consumers have already developed, and to nurture these connections.
Inbound marketing enables you to do this by providing a vehicle for your organisation to become a useful source of education, information and relevant content to customers. Inbound marketing can also position you as an authority that prospective customers can trust.
At Incisive Edge, our team of experts will sit down with your organisation to understand your objectives and create a bespoke inbound marketing strategy to drive awareness, engagement and leads.
To learn more about how Incisive Edge can assist your B2B inbound marketing, get in touch with us.