If you're looking for the best inbound marketing tools in the world to help you drive results with your marketing campaigns, this is the article for you.
What follows is a list of the top inbound marketing tools experts use. You'll get help with creating better content, improving optimisation, mastering engagement analytics, increasing marketing automation and making your inbound marketing campaigns better in just about every way.
Make sure you follow these companies on Twitter, too, because many of the tool creators below, regularly publish hot content that will help you in your respective marketing and inbound marketing fields.
1. Hashtagify
If you've gone to publish a social media post in a new campaign and you're wondering what hashtags people are actually using, Hashtagify is the tool for you.
Not only does it show you the most popular hashtags around a given subject, but also offers suggestions on relevant hashtags, the top influencers you should be flirting with in that sector, relevant trends over different timescales and even usage patterns.
You'll never need to choose a hashtag and hope for the best again because you can choose your hashtags with confidence based on historical data.
Website: http://hashtagify.me
Twitter: @hashtagify
2. Canva
If you've been looking for a tool to create unique blog post images with the kind of decent production value that catches the eye, Canva is well worth a trial run.
You can upload high-quality photos (as a bonus tip, pexels.com is an excellent source), or choose an image from right inside the interface. Once you've got your main image, you can add icons, different formats of text, frames, blur effects and many other features to produce something that looks great and is truly unique.
Sign right below for a free trial with your Gmail account and try it out.
Website: https://canva.com
Twitter: @canva
3. Buffer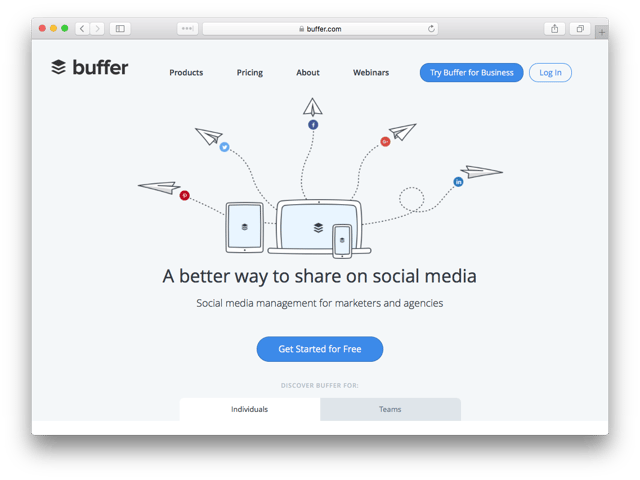 If you need a tool to queue up your social shares several days in advance while simultaneously discovering shareable content suggestions and analytics on click-through rates, Buffer is your new best friend.
The interface is very intuitive. You can connect up your most important social media accounts and have your tweets sent across all networks simultaneously.
Just make sure you set yourself a reminder for when your queue runs out so you don't fall behind on posts.
Website: https://buffer.com
Twitter: @bufferapp
4. Grammarly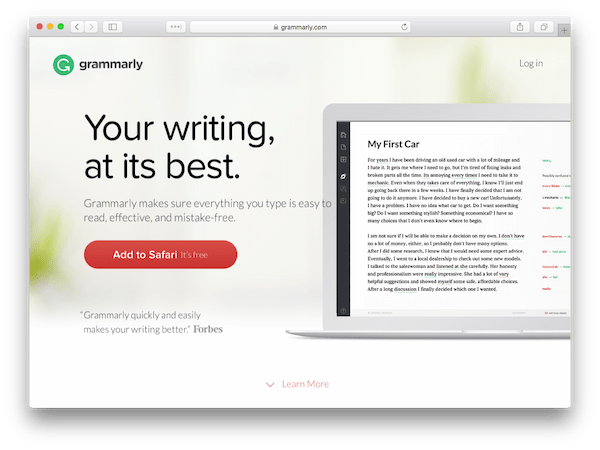 If you find the grammar and spell checking features on Microsoft Word or Google Docs a little lacklustre, Grammarly is the service for you. For a reasonable annual fee, you can use this comprehensive grammar checking tool to save you countless embarrassing grammar mistakes.
All you have to do is bookmark the editor and copy and paste your copy over. That done, wait a few seconds for it to analyse the sentence structure and come up with a whole host of easy-to-miss errors and suggestions on how to make your copy better.
Your content marketing assets have never been so polished. And you'll become a grammar whizz in the process, too.
Website: https://www.grammarly.com
Twitter: @Grammarly
5. Hootsuite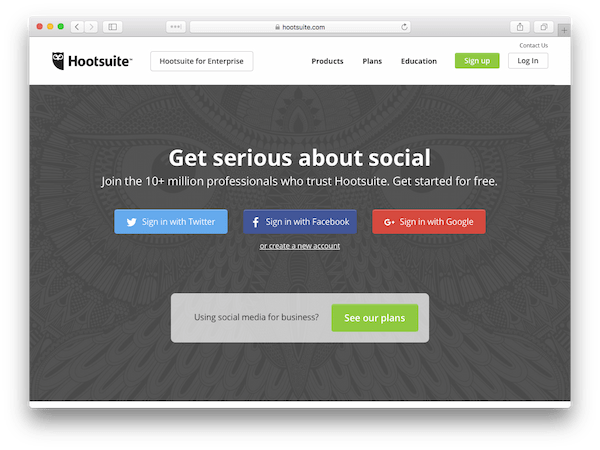 If you try out Buffer and find it's not quite detailed enough, Hootsuite is worth a look for an arguably more in-depth social media campaign management tool.
It includes features for social selling and social customer service and offers packages for both small and medium business marketing, marketing agencies and even enterprise-level level.
The full gamut of social media marketing features is available. You'll find analytics, engagement, collaboration and listening tools, in addition to beefed up security to protect the valuable resource that is your social media marketing data.
Website: https://hootsuite.com
Twitter: @hootsuite
6. Moz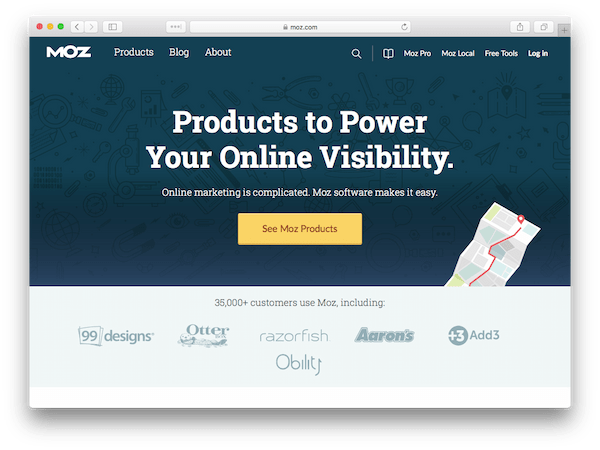 If you're looking for an inbound marketing tool that ties together all of your search engine optimisation (SEO) efforts in once place, Moz is the definitive answer.
You can keep track of your target keyword progress up the search engine results pages (SERPs), get advice on how to optimise webpages, remove red flags and there's also a competitor research tool to ensure you stay ahead of the competition.
Like many of the tools in this article, there's a 30-day free trial and the blog and learning areas provide arguably, one of the best resources on the web for learning search optimisation.
Website: https://moz.com
Twitter: @Moz
7. Piwik
If you want to become more skilled at data analysis but you find Google Analytics just too dense to get your head around, Piwik is a great alternative. It's open source and a lot more accessible than Google's constantly evolving data behemoth.
The interface is as pleasing on the eye as it is straightforward and accessible. While it doesn't offer the same incredible levels of depth, it's got all of the important data points you'll need to drive results in your inbound marketing.
If you want to know more about what's on offer, you can check out the demo page here.
Website: http://piwik.org
8. Optimizely
If you've been wondering whether or not that recent change to your landing page, homepage or other webpage will either improve or hinder your click-through rates and sales, Optimizely is the tool you've been looking for.
It lets you edit the HTML on the webpage directly in its interface without the need for hassling developers. You can then easily run A/B tests on both versions to discover whether your idea improves or hurts your metrics. It's an incredible tool with a great onboarding process that anyone who works in the SaaS sector will appreciate.
Once you get the hang of the intuitive interface, you'll wonder how you ever lived without it.
Website: https://www.optimizely.com
Twitter: @Optimizely
9. Quotescover
If you've seen those great looking quote images that are often shared on social media and wondered how you can make them for yourself, Quotescover is one of the best marketing tools going for this task.
It lets you choose from a wide array of sizes for different social media channels and you can easily select between different background colours, images, fonts and effects to ensure the quotes you create are irresistibly shareable.
It's a great way to improve the results you get from your content marketing and inbound marketing efforts with minimal time.
Website: http://www.quotescover.com
10. WordPress
If you're not using WordPress to publish your website and blog, you should reconsider your position.
It's long been recognised that Google shows a significant preference towards WordPress-based websites; a factor that's believed to be because the code structure is easier to understand by its crawler bots.
Search optimisation aside, the amount of useful plug-ins, themes, customisability and usability is simply unbeatable. That's why over 20% of the entire internet is built on this platform.
Website: https://wordpress.org
Twitter: @WordPress
11. RainyMood
If you find sitting down to write content for your marketing campaigns tricky because of a lack of focus, or the constant hubbub in various social channels a tempting distraction, RainyMood is the tool for you.
It's simply a continuous soundtrack of a heavy thunderstorm, with sleet rain falling heavily and lightning cracks in the background on a continuous loop. It's a popular tool among writers.
Check out the link below, put in your headphones and turn up the volume. You'll find focus that will help you get through your daily inbound marketing tasks, whether it's writing content or setting up social channels for the week ahead.
Website: http://www.rainymood.com
12. SEOBook
If you need a reliable keyword density checker that includes the all-important semantically relevant word choices, SEOBook has got you covered. Keyword density is still important, even if it's a more complex task than a few years ago.
Not only this, but there's a whole host of other free tools, too. You'll find a page comparison feature that compares your pages to other competing web pages to see what they're optimising for, a keyword rank checker and much more.
Website: http://www.seobook.com
Twitter: @seobook
13. TagDef
If ever you've noticed somebody using a hashtag in your space and you haven't known exactly what it's for, TagDef is a great inbound tool that tells you the definition of any hashtag you type into the search field.
This is important, because it's easy to simply scan over some obscure hashtags. But, the reality is, it could be an invaluable source of clicks you would otherwise miss out on. Make sure you bookmark this tool, check your hashtags and start using them in the right context.
Website: https://tagdef.com
Twitter: @tagdef
14. GoogleDocs
Okay, so most people these days use Google Docs, but some don't. If you're the latter group, it's absolutely imperative that you set up your account and start collaborating on content and other inbound marketing efforts in Google's cloud.
Whether you're working on strategic spreadsheets containing your target keywords or content with your team, it's essential. Not only does it become easy to collaborate on the same document regardless of where people are situated, but you'll never lose your work due to an unexpected shutdown or other disaster.
Spend a little time with Google Docs and you won't look back.
Website: https://docs.google.com
Twitter: @googledocs
15. Oktopost
If you're looking for a specialist B2B inbound marketing social media management tool that will integrate with SalesForce and other B2B platforms, Oktopost is for you. The tool is designed to ensure your content is posted where your audience is, offering detailed analytics and engagement reports to keep you on track.
The unique selling point of this tool is that it helps you measure the true value of your content in a way that HootSuite and other tools arguably don't have such a focus on.
If you've tried those inbound marketing tools and they weren't quite what you're looking for, this is the next place to look.
Website: http://www.oktopost.com
Twitter: @Oktopost
16. Pocket
If you've been wondering what other social media share buttons to include on your sharing plug-in, Pocket is a worthy addition. It's a SaaS product that lets users save your entire web pages off-line so they can read it later on a mobile device or desktop when they've got more time.
When someone finds your content, they might like it, but they just don't have time to read the whole thing at that moment. If you offer Pocket as an alternative option, it's more likely to get read and you can begin to build a relationship with that member of your audience.
Pocket's picked up some popularity steam in the past couple of years or so, for both personal and business use.
Website: https://getpocket.com
Twitter: @Pocket
18. HubSpot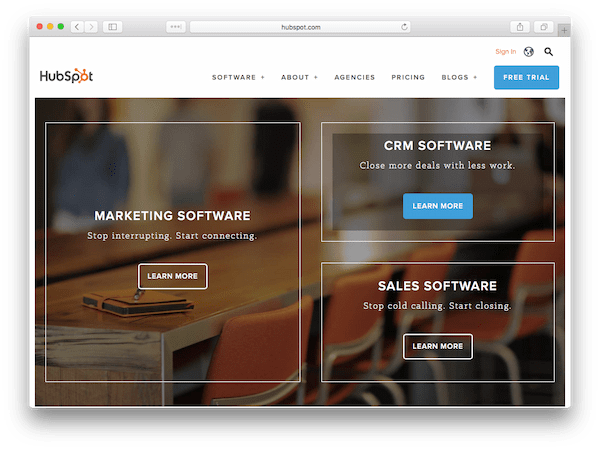 Naturally, the list wouldn't be complete without HubSpot. If you've been looking for a complete inbound marketing tool to help you collate every aspect of your marketing campaigns from content, to landing pages and onto social media, it's the ultimate choice.
If you try it out but find the incredible level of detail a little overwhelming, feel free to give us a call and we'll show you what it can do for you.
Website: http://www.hubspot.com
Twitter: @HubSpot