Chatbots are transforming marketing – and, as every inbound marketing agency worth its salt knows, the transformation is happening both from the consumer's perspective, and the perspective of the inbound marketing industry itself.

Chatbots are already used by many organisations to converse with website visitors and answer simple questions, direct people to the appropriate human representative, and capture basic information such as name, age, and account info.

It all seems a little futuristic – perhaps even a little creepy. But consumers appear to be warming up to the idea of chatbots, according to a study from Aspect Software Research.

In the company's online survey of more than 1,000 18-65-year-old consumers in the US, 44% said that they would prefer to use a chatbot when conversing online with brands if the company could get the experience right.
Facebook
And when, last year, Facebook announced that its Messenger app would start hosting chatbots so that more businesses would be able to hold automated conversations with customers, the train seemed almost officially set in motion for chatbots to transform the consumer's path to purchase once and for all.

"If you want to send flowers you won't have to install a new app or enter your credit card details again," Facebook founder Mark Zuckerberg said at Facebook's annual F8 conference last year. "You just send a message."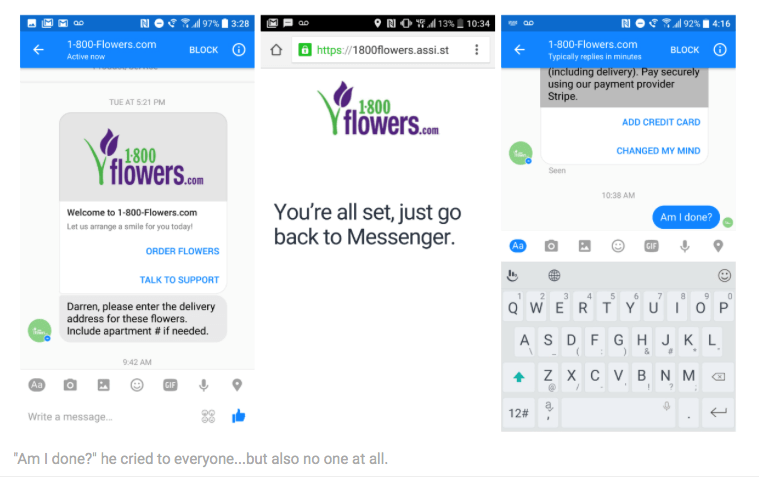 (Image source: gizmodo.com.au)
Zuckerberg's plan is to help businesses build even more chat bots on Messenger, and develop their capabilities so that they will eventually be used to take bookings, make sales, and help inbound marketing agencies raise brand awareness on behalf of their clients.

And this is exactly where chatbots have the power to transform the inbound marketing industry in itself. Drawing on the Aspect Software Research study, BI Intelligence suggests that chatbots could result in considerable marketing salary savings for businesses in many industries. It estimates, for instance, that 29% of customer service positions in the US could be automated, translating to $23 billion in salary savings nationwide.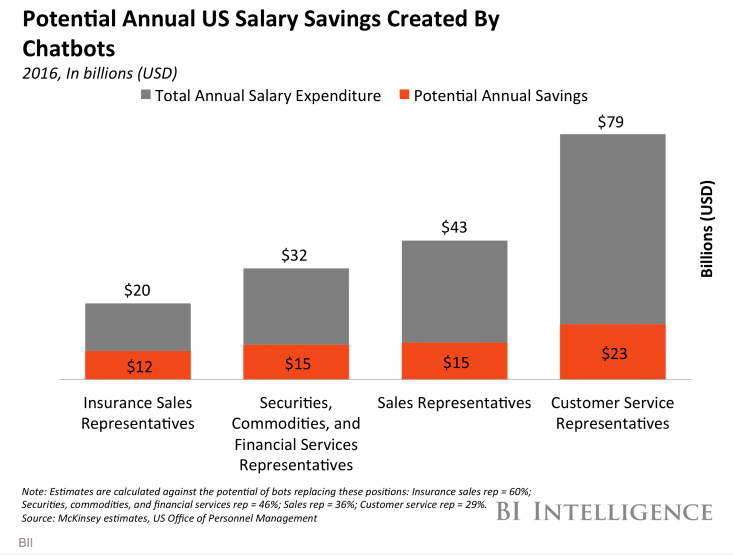 Chatbots Are Here to Stay
Whether the prospect of bots replacing people excites or unnerves you, the fact is that bots are here to stay – Facebook alone will see to that, never mind the rest of the industry.

And what this means is that you're going need an inbound marketing agency that is up to speed with the transformative power of chatbots.

When chatbots are used well, they have numerous benefits:
Scalability: A single chatbot can handle thousands of customer conversations at once.
Cost: Since chatbots are so good at multitasking, they can automate many of the roles that in the past were performed by customer service representatives and inbound marketing teams, resulting in huge cost savings.
Round-the-clock presence: Chatbots don't need to sleep, and so can provide a 24/7/365 presence for businesses.
Personalisation: Chatbots can be configured to build profiles of the customers they interact with, enabling businesses to deliver a personalised chat service without the need for human input.
Bookings and Sales: Some chatbots have been developed to automate bookings and even make sales on behalf of companies.
All great, great stuff, right?

Right. But – not all chatbots are created equal, and if a business wants to extract the full potential of implementing a chatbot or two, then it must be careful to do it the right way.

Even though chatbots are AI bots, they are nonetheless created by fallible humans. Mistakes can be made, and a poorly designed or configured chatbot can very easily ruin the customer experience (on a potentially grand scale) in no uncertain terms.
3 Mistakes that Cause Chatbots to Fail
1. Limited Linguistic Understanding
Chatbots are of course only programmes. The number of things a user could potentially ask a bot is perhaps limitless.

Complex phrasing, poor spelling, contextual or nuanced wordage, colloquialisms, emojis, swear words – chatbots need to understand all of these things if they are to adequately function as customer service agents.

Otherwise, you can end up with something like this: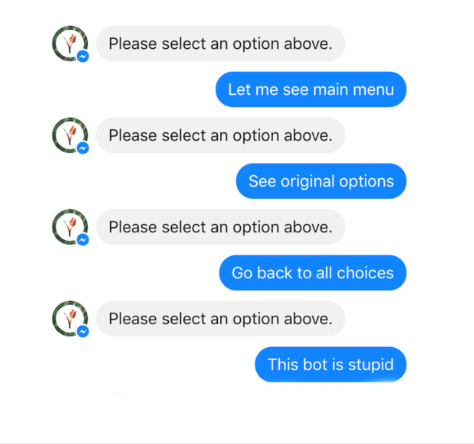 (Image source: chatbot.fail)
And, it has to be said, despite Zuckerberg's grand plans for Facebook Messenger chatbots, they don't always work.

For instance, an early version of the weatherbot Poncho became notorious in its struggle to provide accurate weather information for users. The problem was the fact that it wasn't capable of understanding natural language – i.e. the language its users were typing in didn't match up to its language library. And so we have this: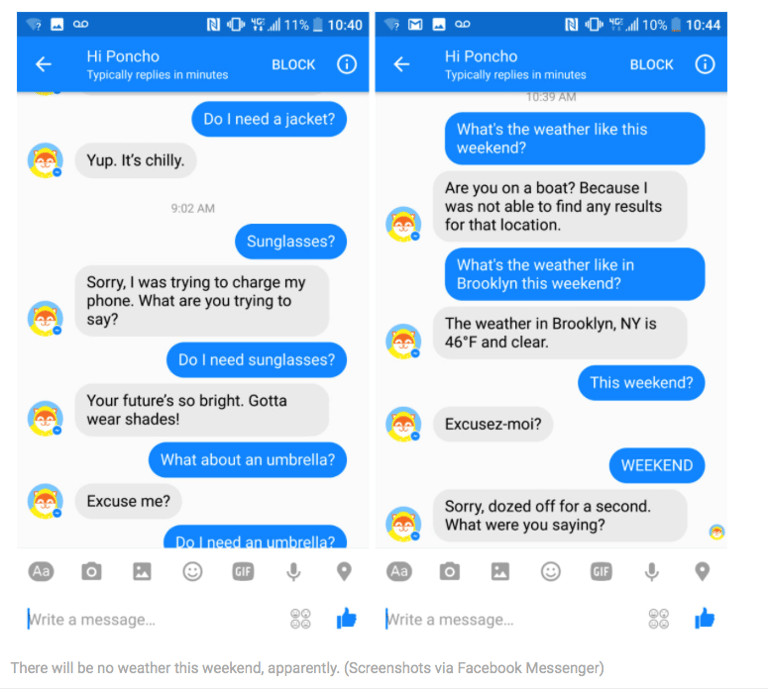 (Image source: gizmodo.com.au)
Not good. Imagine if you were relying on your bot to nurture leads or make sales… Put simply, your inbound marketing agency needs to make sure that your chatbots are up to scratch, otherwise they could do more harm than good.
2. Trying to Be All Things to All People
There is a limit to a bot's capabilities – and that's a good thing.

One day, we're sure, the technology will advance so much that chatbots will be able to run whole businesses. But until that time comes, you shouldn't have a chatbot developed under the expectation that it will be able to automate all of your inbound marketing tasks. If you do that, then you will compromise on quality.

And so it's far better to deploy a chatbot that does just one or two things very well – such as direct users to the appropriate human, or collects customer information and organises call-backs – rather than hoping for something that will handle marketing, sales, complaints, walk the dog and do the dishes.

Anything it can't do should be passed over to a human. Here's an example where a user wanted to see more recommendations. The chatbot couldn't handle it, so it assures the user that it will be back shortly (the message could be clearer, to be fair), and gives instructions that hopefully will keep the customer engaged with the brand.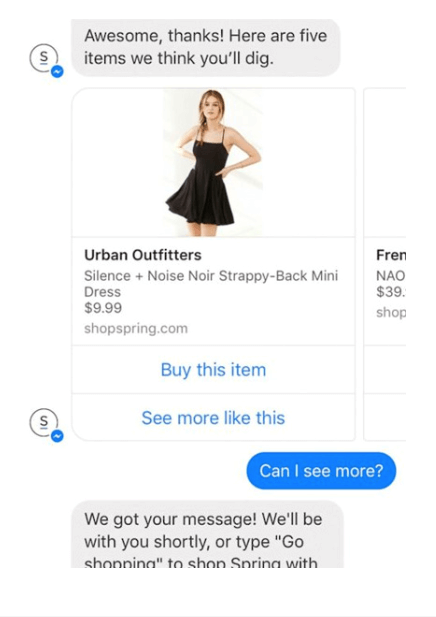 (Image source: chatbot.fail)
3. Difficult to Discover
If you want people to use and engage with your chatbot, then you need to make it discoverable.

This means that first of all you need to give it a unique name that's immediately identifiable with your business. On Facebook Messenger, for instance, as Medium blogger Adelyn Zhou points out, when a user searches for a chatbot, the bots in search results are lumped together with real people.

Zhou searched for Esther Bot and Facebook returned a list of Facebook users called Esther Bot.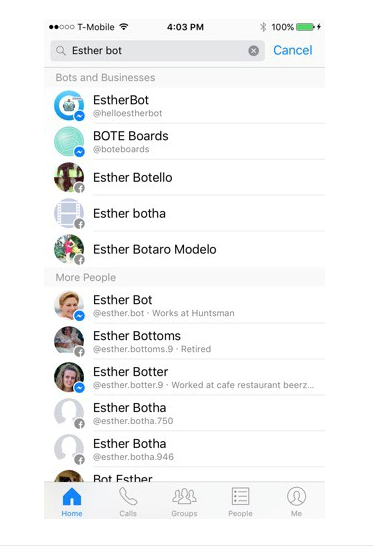 Make sure you give your bot a name that can't be confused with anything else. It might take some research – and it might be tricky to ensure that your brand name still sings loud and proud, but that's the challenge.
Back to You
Chatbots are extremely useful creations for inbound marketing agencies – but only when developed well and deployed sensibly. The technology isn't perfect, and so you need to make sure that you're not asking too much of your chatbot – just stick to one or two core functions, make sure it delivers on those well, and then add more functionality over time.

In short, get the basics right first, as only then will your inbound marketing agency be able to manage your chatbots for the good of your business, and not put users off your brand once and for all.