Given that only 2% of visitors to a website will convert into an enquiry or a sale on the first visit, it is vital that we use techniques to bring people back again and that's where remarketing needs to be an essential element of any effective inbound marketing strategy.

Whereas inbound marketing includes tactics that we use to bring the right visitors to our site, the digital art of remarketing involves the use of cookies (aka pixels) to track our visitors after they have left our site. We can then use the information we have learned about them to retarget them with relevant offers and information further down the line. If we don't do something to grab them later, we will be kissing goodbye forever to 98% of our visitors.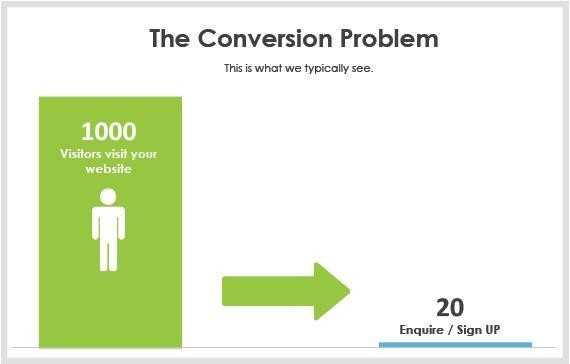 Source: Kissmetrics blog
The Rule of Seven (Or More)
Even in the last century traditional marketers understood that it took several bites of the cherry to get a result. Back then it was known as the rule of seven, i.e. it was said to take seven attempts to convert a prospect.
In today's digital age where our audience is bombarded with marketing messages from tv, radio, printed media, as well as a plethora of digital platforms from social media to ads that show in search, we need more attempts before we will convert.

Bearing in mind how fierce the competition is to grab the attention of our potential customers, a strong inbound marketing campaign makes even more sense. The rule of seven means that no inbound marketing campaign is complete without a remarketing strategy to follow.
Remarketing through Google Analytics, Google AdWords and Facebook
Remarketing works by discreetly inserting cookies within a site to track visitors after they have bounced. These cookies or "pixels" take the form of small pieces of JavaScript code.

Pixels can be used for use with Google AdWords for better targeting of customers after they have left a site.

The remarketing technique is simple and well-illustrated in this Retargeter illustration below: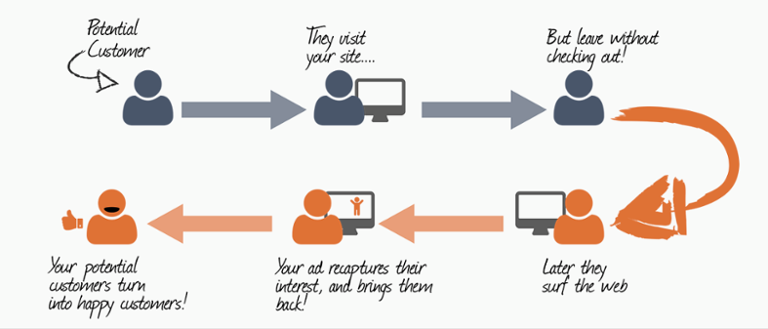 The beauty of pixels is that they allow us to create lists that categorise our web visitors by their behaviour so we can follow up later with tactics that are more relevant to them. For example, if somebody watched a video on our site, it would make sense to grab their attention again using video.

By combining the power of Google Analytics with Google AdWords, we can be even more specific in how we define our lists as the information available from Google Analytics will be rich.
Is Remarketing All About Advertising?
It is easy to think that remarketing is all about following up on web traffic with highly targeted, relevant, and strategically thought-out Google Ads or Facebook ads. These tactics will be a major part of a good remarketing strategy however, there are other approaches that we can take.
1. Remarketing Techniques for an Email Campaign
In a cleverly thought-out strategy to make sure their web shoppers didn't leave anything behind, DKNY sent an email to shoppers within 30 minutes of them leaving their site, with a reminder of items they had not included in their shopping basket; a smart, attentive, and effective move to keep shoppers engaged, we think.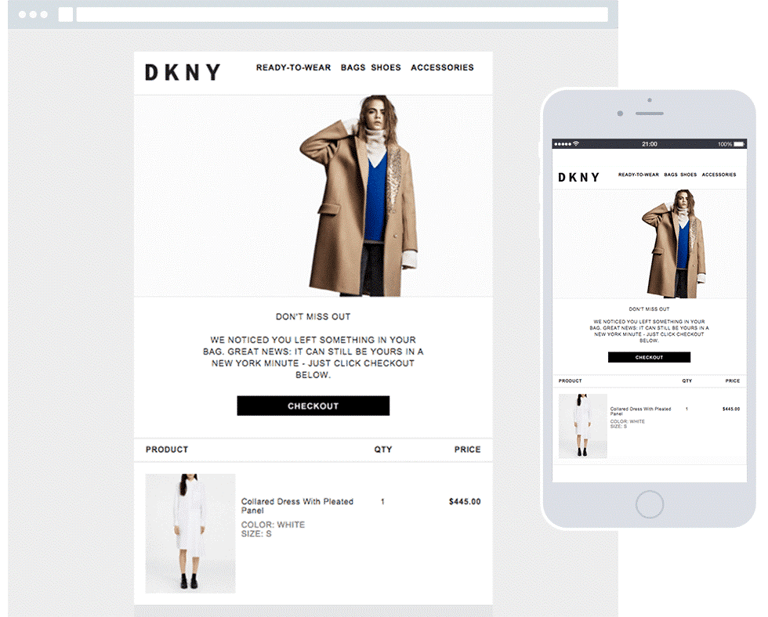 Likewise, in a stroke of genius, Ralph Lauren uses a two email technique when somebody abandons at the checkout, using a global template to reach out to people wherever they are.

Sticking with the theme of email as a remarketing tool, French Connection use an onsite tactic to get people to sign up to an emailer so they don't miss on opportunities later on.
2. Remarketing with Newsletters
Let's say that we have used a smart campaign to capture email addresses from people who are happy to hear from us again. What can we do to make our remarketing efforts more effective?

By using a mail service to monitor lead sources, we can retarget people who have responded to our newsletters depending on their specific behaviours. Mailing services such as Mailchimp allow us to target subscribers with different remarketing messages depending on what they have shown interest in.
3. Remarketing with Google AdWords
As discussed earlier, we can use pixels to track our visitors after they have left our site. This mechanism lets us target these users later using Google AdWords. The information we can glean about their behaviour on our site is rich and allows us to make more intelligent decisions on how we reach out to them with AdWords.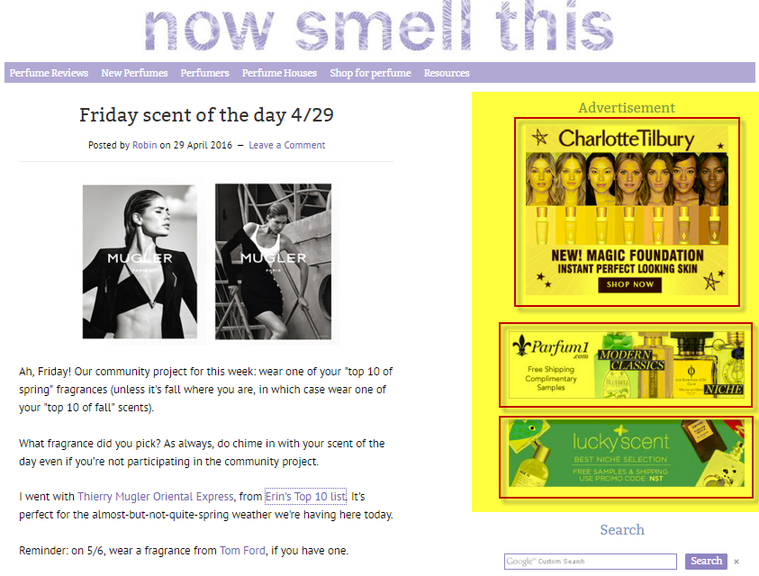 (Display ads highlighted. Image source: wordstream.com)
Google allows us to create lists based on simple rules such as which pages they visited. Below is an image of the simple form to be filled in to create a list. Anybody can create remarketing lists but we recommend getting a professional inbound marketing agency for best results.

The image below is a screenshot that shows how a remarketing list can be generated within Google AdWords.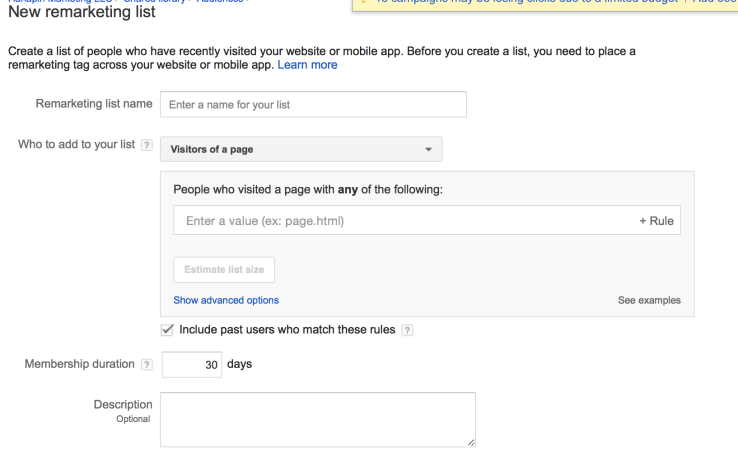 (Image source: ppchero.com)
Google Adwords are delivered to the Google Display Network (GDN) which Google claims will give a reach of 90% of global internet users.

The beauty of remarketing through Google Adwords is that we are able to tailor the type of content we use depending on the way the user engaged with us before. That is, we can use either words, images or videos to connect with them more effectively.
4. Facebook Remarketing Techniques
Facebook remarketing works in a very similar way to Google AdWords except we use a pixel that we get from Facebook, and this will allow us to be smarter in how we advertise on the platform later. So if somebody has been to our site to look at wedding dresses, for example, when they are scrolling through their Facebook newsfeed a couple of hours later they will see one of our advertisements.

Here's an example: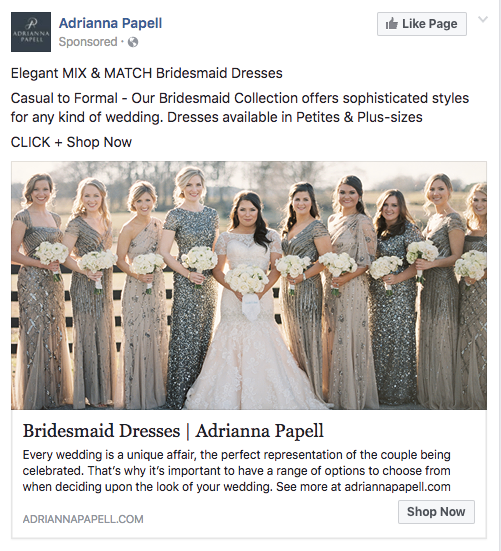 (Image source: HubSpot)
Over to You
Remarketing is a vast area and one that is allowing marketers to build a stronger and longer lasting connection with potential customers who may otherwise have come and gone. We have presented the basics here with four ways that we can remarket to visitors to our site.

Clearly remarketing needs to be an important tactic for following up on your content marketing and inbound marketing activities. Whether you call on the services of a profession inbound marketing agency or research it yourself, the benefits make the effort more than worthwhile.