Augmented reality is one of the biggest technology advances that's hitting inbound marketing in 2021. Practically unheard of just a few short years ago, today, with the explosion and commodification of smartphones, augmented reality is everywhere, and all companies involved with inbound marketing (which is all companies, right?) need to take notice.
Indeed, as is revealed in a SlideShare by Because Experiential Marketing, 75% of the Forbes World's Most Valuable Brands have used virtual or augmented reality solutions in some way since 2020, or are otherwise invested in developing the technology.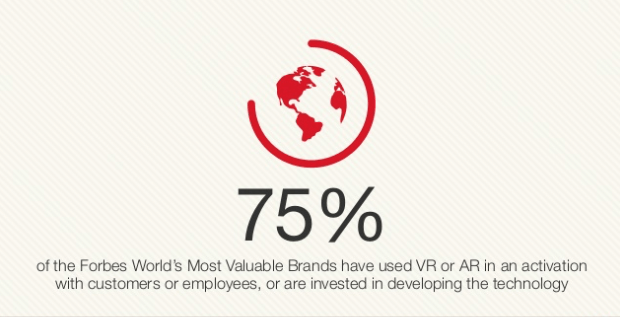 It's not hard to understand where all the fuss comes from. Augmented reality marketing is something that's truly different from what we've seen before.
It's exciting, it's fun, it's cool and it's futuristic. It attracts attention. And, most importantly of all, it's interactive.
Pointing your smartphone camera at a regular, everyday inanimate object and watching it come to life before your very eyes is like something out of a science fiction movie. And indeed, in some ways, great augmented reality experience markets itself.
But let's not get carried away… AR marketing has the same purpose as all inbound marketing initiatives – to persuade consumers to make a purchase (or at least edge them a little closer towards that purchase). And so, the trick with augmented reality in marketing is to use the technology – though exciting in itself – to a greater purpose.
How to do this is best illustrated with examples. So, let's now look at five great AR marketing examples and campaigns being used by some of the world's top brands today and consider what ideas we can pinch for our own inbound marketing efforts.
5 AR Technology Examples and Ideas for Your Business
1. Bringing Posters to Life
Printed posters, flyers and other advertisements are ten-a-penny and so are smartphones. By combining the two, you can create amazing augmented reality marketing campaigns that quite literally make your messages jump off the page.
Check out this campaign, for instance, from AMC Cinemas that brings movie posters to life when users point their smartphones at them.
Loads of info is brought up when users activate the AR feature – a trailer, cast and crew info, and how to buy tickets. Indeed, since all inbound marketing is about educating prospects, this is one AR Technology emerging trend that can be used by practically any business for practically any purpose.


2. Scannable Products
If you're selling your wares on shop shelves, then this augmented reality marketing tactic is for you.
Scannable products enable shoppers to use their phones to scan an item on a shelf and receive more information about it directly on their phones. For instance, customer reviews could be summoned, or, say, in the case of food items, nutritional information or recipes.
This is something that has been possible with Heinz Tomato Ketchup for some time now, as YouTuber Chris Marr demonstrates in the below video.
A great inbound marketing move from everyone's favourite sauce company, adding real value to their products in an exciting way. And indeed, no matter what product you're selling, this is an augmented reality marketing idea that can be replicated in all sorts of different ways – from fashion tips for fashion products to fishing tips for fishing products.


3. Try Before You Buy
This is something that is used extensively in the makeup industry. Here's a particularly sophisticated example from Sephora, launched last year.
As you can see, the beauty (no pun intended) of the tool lies in the fact that it allows customers to use the power of augmented reality to see how different makeup products will look without having to apply them.
The amount of time saved for customers is potentially enormous and enables them to try a vast range of products before they commit to buy. It's a fun way to engage with the brand, and it's not hard to see how such an offering gives Sephora a competitive edge.
Of course, you might not be selling makeup. But you and your inbound marketing agency can still find ways to tap into the "try before you buy" power of augmented reality marketing. Clothing lends itself well to this concept, as does anything that might be displayed in the home – in this instance, AR could be used to show how various ornaments or décor might look in the living room or hanging on the bathroom wall or what have you. The only limit is your creativity.


4. Interactive Product Catalogues
Product catalogues are practically made for augmented reality marketing innovation, as supermarket chain Tesco has found out. As you can see from the video below, the retailer's Home Book catalogue has had a complete AR makeover, with everything from cups to cushions rising from the pages.
What's so exemplary about the Tesco Home Book is that it is as useful as it is fun to use. Pulling in "try before you buy" elements with the "Cushion Visualizer", and providing plenty of product information and buying options, the Tesco Home Book has a noticeably clear inbound marketing purpose – to engage and educate customers.
This is an important augmented reality marketing discipline, for simply creating something that's "fun" without being practical will rarely be enough. There must be a meaningful purpose to the campaign, otherwise it may quickly be perceived as being 'gimmicky', and when the excitement's worn off, your expensive foray into augmented reality marketing might not deliver any returns.
Augmented reality marketing can of course be used to…


5. Create an Unforgettable Brand Experience
Indeed, it can. Here's Pepsi's famous AR-powered bus shelters surprising and delighting London travellers with sci-fi experiences.
Such a campaign works for Pepsi as it strikes the "fun" and "youthful" tones of its overall brand message perfectly. It was part of the Pepsi Max 'Unbelievable' campaign – i.e., maximum taste, no sugar – and so it created "unbelievable" scenes of robots and monsters and flying saucers crashing through the streets.
Pepsi, of course, is a big brand with a big budget. But, even if you don't have the funds to pull off quite such an elaborate stunt, there's still inspiration to be taken from the AR campaign.
The key is to find ways to bridge the gap between the virtual and physical worlds. No matter what your product, finding something that's truly mesmerising and on-message to emerge in 3D from an everyday surrounding can create an unforgettable brand experience that may set you apart from your competitors.
As always, creativity will be your guiding light, and you may just come up with an augmented reality marketing campaign that no one will ever forget.


Over to You
Augmented reality marketing is here, and it's time to take advantage of it. Finding ways to provide immersive, useful, and unforgettable customer experiences will help you both in acquisition and customer satisfaction, and a great augmented reality marketing campaign will quickly become a high priority in your whole inbound marketing strategy.