Discover how top-performing companies strategically implement a lead generation strategy to optimize their B2B SaaS lead generation process. This involves meticulous planning of email and voicemail sequences, which are integral components of their broader sales and marketing efforts. By fine-tuning these elements, these companies minimize reliance on the sales team, creating a more efficient and impactful overall approach.
A study conducted by Process Street in collaboration with PersistIQ examined the emails and voicemails sent by some of the world's most successful SaaS companies to learn more about their SaaS lead generation strategies.
Instead of focusing on individual communications like a single email address or voicemail transcription, the study looks at every company's full sales sequence focusing on their target audience as part of the buyer's journey to get a view of the bigger picture.
To ensure the studied company used its best lead generation strategies and tactics, we signed up with the details of a fictional Vodafone employee.
By automatically logging every incoming message (yet never replying or encouraging the companies), we compiled a database of over 1,000 emails and voicemails. The analysis of this database — along with every message — is publicly available as a microsite: Inside SaaS Sales.
In this post, I'm going to extract 5 of the most directly actionable takeaways from the case study and share examples of great Saas lead-generation strategies for sales along the way.
In summary:
Supplement your manual outreach with automated sequences

Identify the most common stumbling blocks for new users, and educate

Voicemails should closely follow sales emails

Follow up daily, but know when to quit

Use webinars to educate and sell
Let's get into it.
Supplement your manual outreach with automated sequences
A combination of hand-crafted and automated messages can help sales teams be consistent while ensuring personalization.
In the study, we found that 65% of companies use some degree of automation, even in their content marketing. And, while 39% used pure automation (making it impossible for that company to send personalized outreach) and 33% relied entirely on hand-written emails, 28% used a mix of both methods.
Check out the following articles to learn more about Saas marketing:
For example, sending an email straight after signup was a common tactic, used by many firms include GoodData, CA, and New Relic.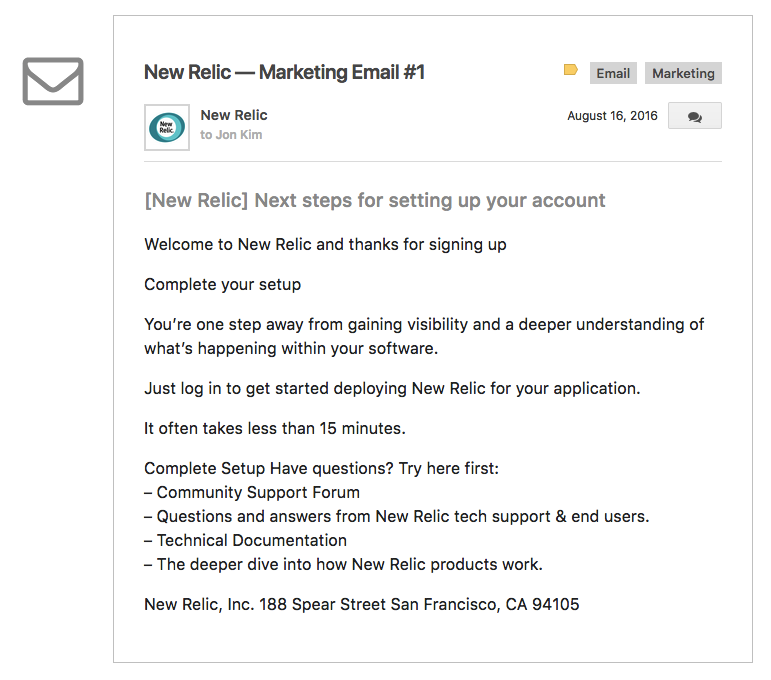 New Relic's main goal for new accounts is to prevent them from slipping away before they even get set up. The first setup step is logging in, so the first email pushes the new user towards that action.
Navigating the setup process for New Relic, a distinguished SaaS company, proves more intricate compared to simpler SaaS tools. Recognizing this complexity, New Relic provides practical solutions to users through community support forums, Q&A sessions, and access to comprehensive technical documentation. This not only streamlines the setup experience but also plays a pivotal role in attracting high-quality leads and fortifying New Relic's lead generation efforts.
After this automated email (and after noticing the new user hasn't completed setup), a human salesperson reaches out to help. This is a great example of providing automated, proactive support and then supplementing with more personalized sales outreach if needs be: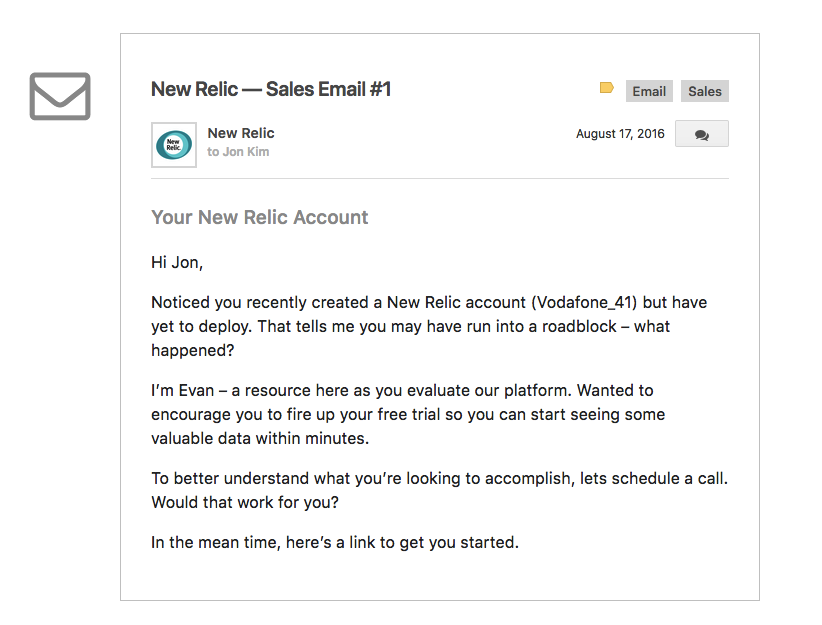 (Read the full New Relic sequence here)
Action: Set up an automated email sequence that can run alongside a manual one, offering help to the most common issues new users and potential/paying customers experience.
Identify the most common stumbling blocks for new users and educate
In the previous section, I looked at how New Relic identified an issue with a new account and reached out to help after the automated email didn't get a click or a response. This technique can be used at any point of the sales cycle, and for any purpose.
The more existing customers you talk to, the more helpful you can make your email sequences (both manual and automated). Similarly, if your sequences are focused only on getting the sale or setting up a demo call, it can come across as too direct.
So, how do the most successful SaaS companies keep in touch without barraging leads with annoying sales pushes? They educate, so the prospective buyer can realize the power of the software on their own, in the context of their own goals and pain points. Look at this example from Salesforce (one of the world's most valuable SaaS companies):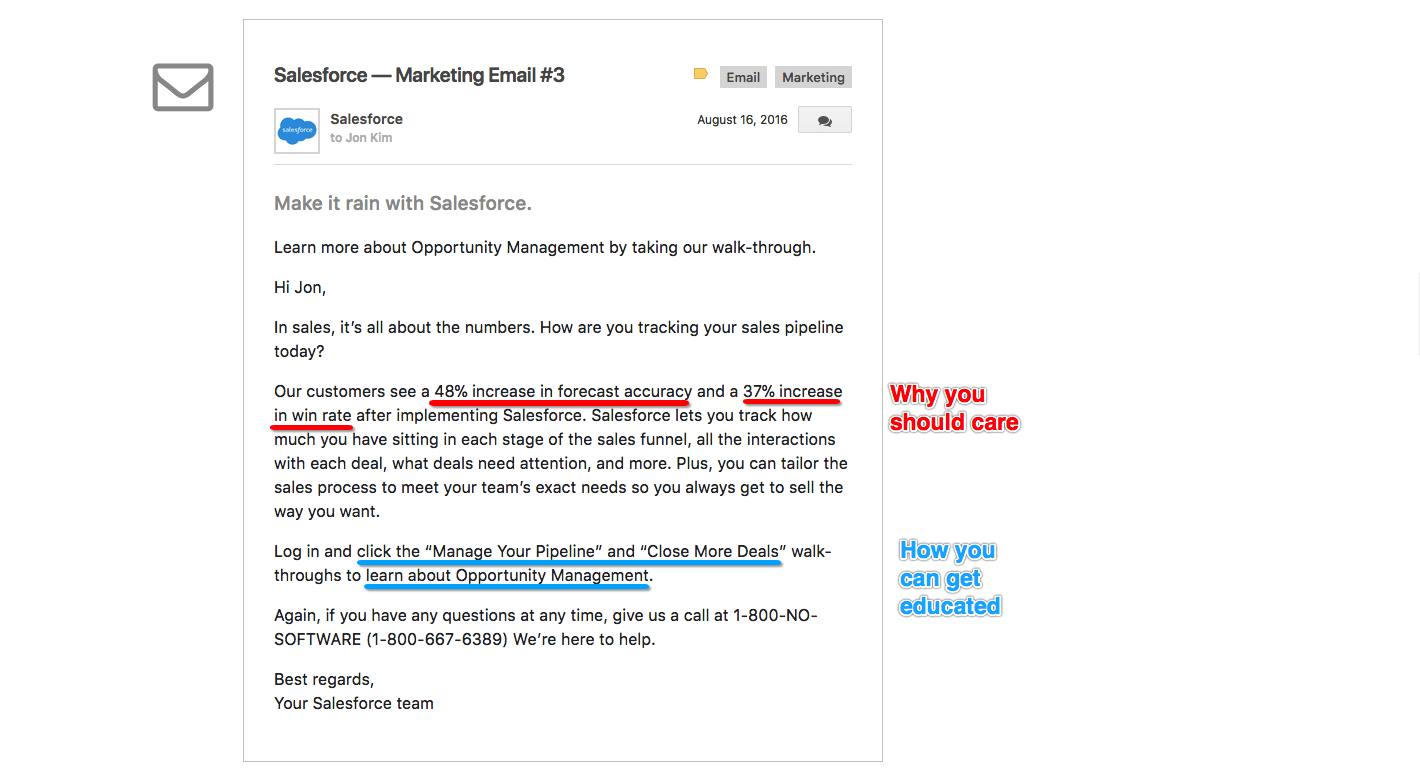 Every Salesforce email includes a sales call-to-action, but also convincing reasons why you should care, and links to product education. Getting a user to be hands-on with your software and learn how to use it can help cement the product's benefits, improve the likelihood of conversion, and reduce churn.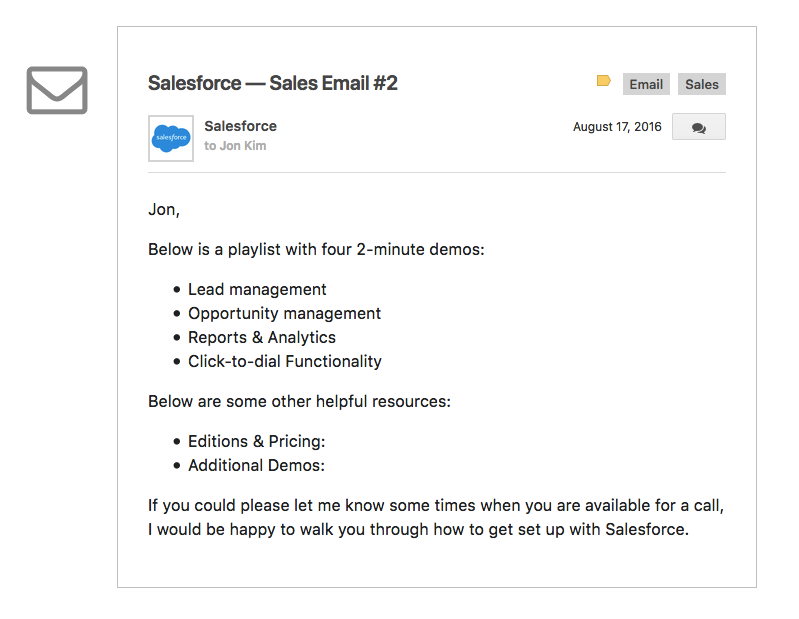 (Read the full Salesforce sequence here)
Action: Make sure your sales emails don't just relentlessly push for the purchase. Play the long game and focus on education, but link that to tangible benefits.
Voicemails should closely follow sales emails
The most attentive sales teams in the SaaS business aren't content with a manual approach to emails alone. Recognizing the value of leaving voicemails, companies in this sector follow up for an average of 160% longer than those that don't. This indicates a higher-touch sales process that is currently adopted by only 26% of SaaS businesses. However, this method proves invaluable as it allows sales teams to give their messages context and purpose.
To further optimize this approach, integrating a robust content marketing strategy becomes crucial. Crafting and disseminating relevant content can enhance the overall communication strategy, providing valuable insights to potential clients. Additionally, employing a sophisticated lead generation tool complements these efforts, ensuring a more targeted and effective engagement with prospects.
For example, let's say you send some helpful resources to a lead along with an offer to schedule a demo. An hour later, you might want to give them a call to see what they thought to your email. Sending an email gives you an excuse to call, and leaving a voicemail gives you an excuse to email. In both cases, you're giving context to your communication, which is something we found salespeople strive to do. (The fifth most common phrase in the voicemails received — "I saw that [you]…", which helps illustrate this point.)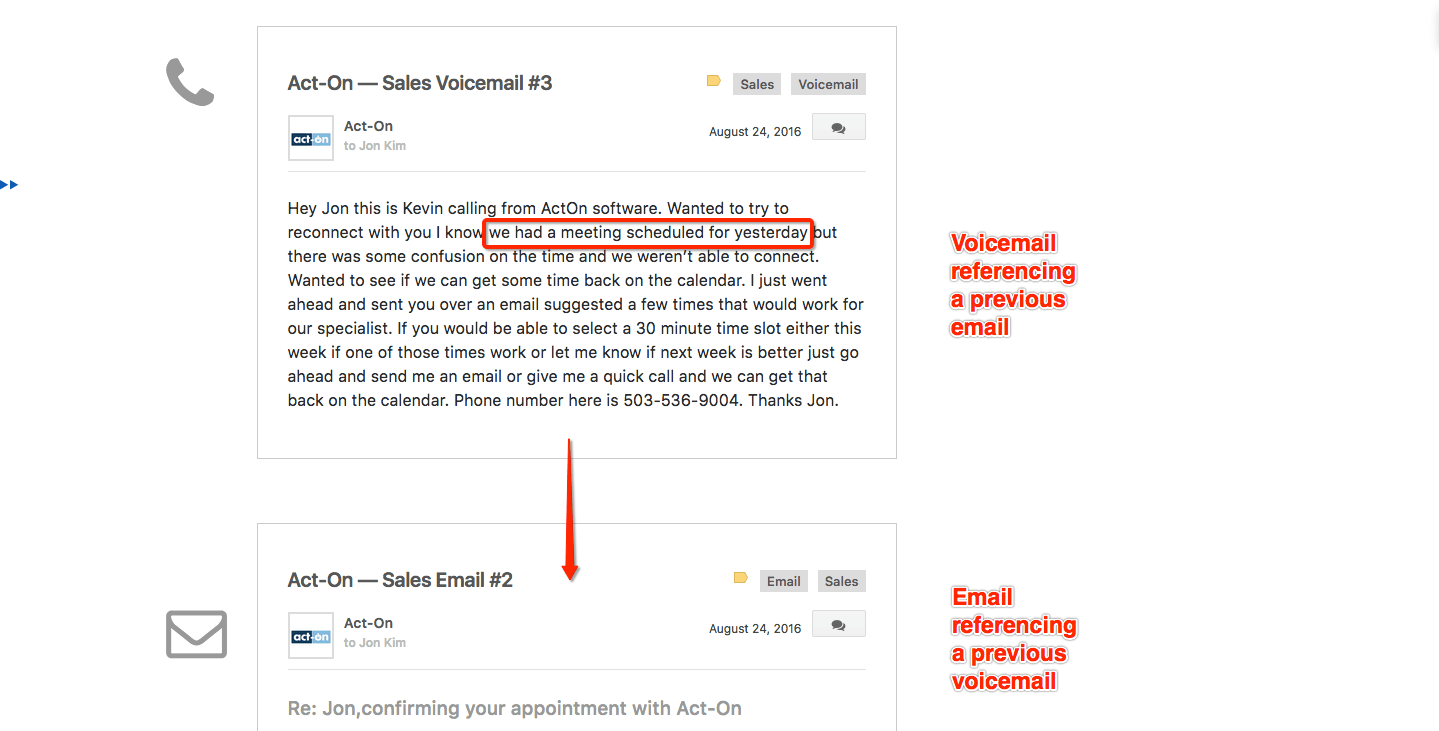 Trying to reach the lead with two different methods could also improve the salesperson's chances of a response.
Action: Introduce phone calls into your sales outreach as a way to follow up with emails (and vice versa) and get more responses
Follow up daily, but know when to quit
Reaching out every one or two days sounds like a lot, but it's the average rate we found in this study. The overall average is once every two days, but 41% of companies sent an email or left a voicemail every single day.
Regular contact ensures you're not forgotten about, helps remind the new user to activate their account, and keeps you top-of-inbox in case the lead needs to reach out for help.
Despite the high frequency, the overall volume is quite restrained. On average, companies followed up for 9 days total, and the marketing drip campaigns contained just 3 emails.
Action: Reevaluate your email and voicemail frequency; communication should be frequent, but not overly sustained.
Use webinars to educate and sell
Although only 9% of companies in the study invite leads to webinars as part of their sales process, it's still the most common tactic after offering demo calls and helpful resources.
A study by GoToWebinar found that 73% of B2B marketers cite webinars as their #1 most successful method to keep generating leads that are high quality and that webinars are among the most effective and commonly used tactics for customer education.
Hosting webinars is also a wonderful way to create content. You get the immediate benefit of engaging SaaS leads and customers in a live setting, and then the long-term benefit of content you can send to new qualified leads over email or write about on your site. See, for example, this email directing a lead to a pre-recorded webinar by E2open: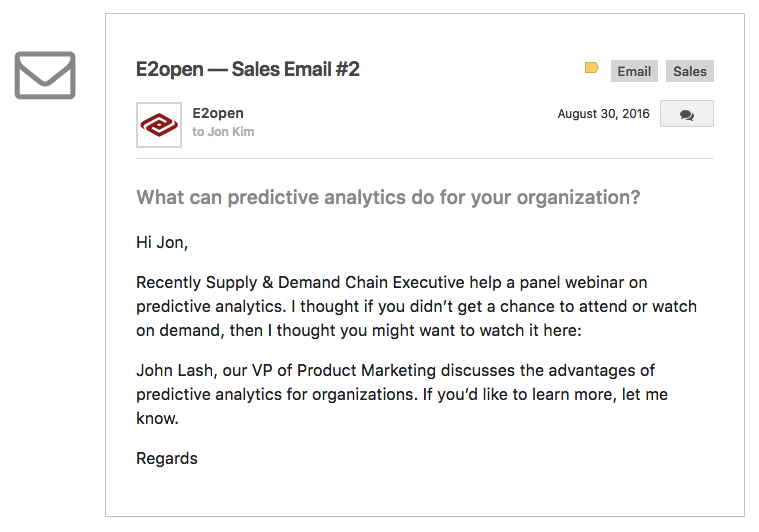 Many companies make webinars a regular part of their sales and marketing strategies. At Process Street, we run a webinar every month to help explain our more advanced features and connect those features to common customer use cases. Buffer, a social media management tool, advertises the next webinar at the end of most automated marketing emails: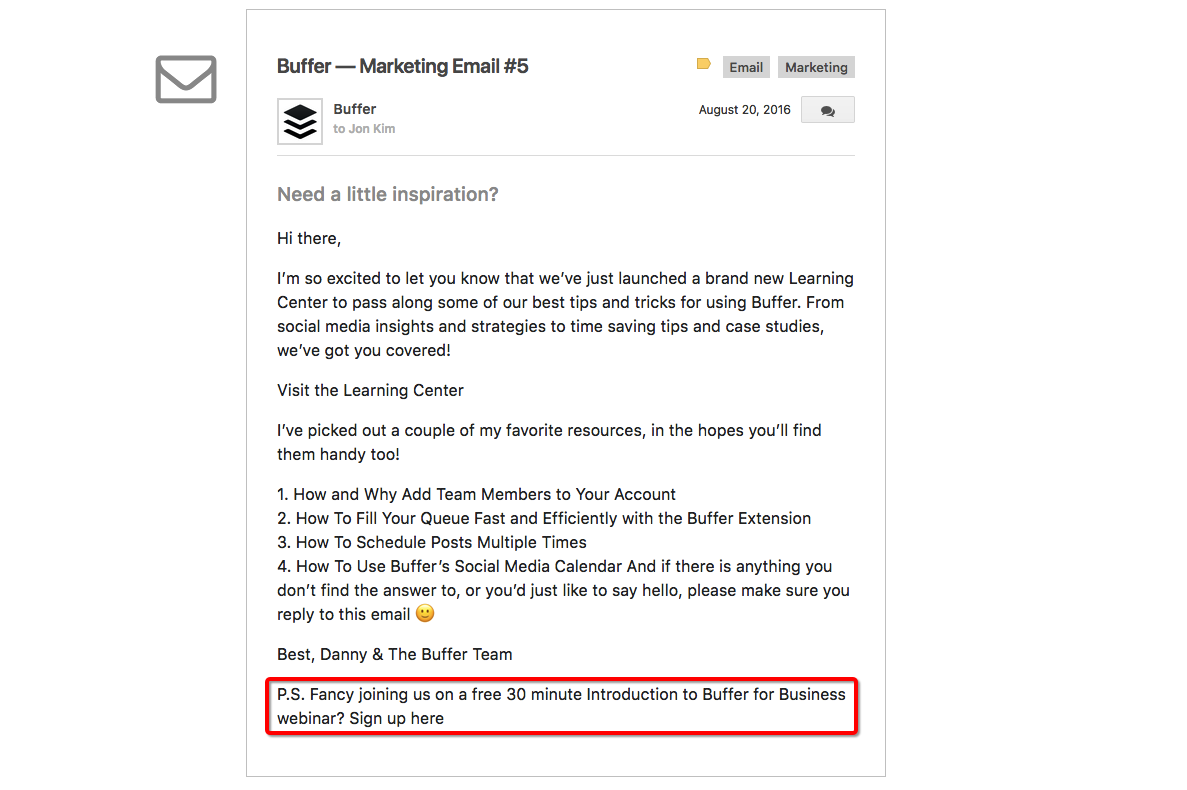 Action: Consider hosting a webinar either to generate qualified leads — using top-of-the-funnel, general interest content — or educate existing leads and customers on the specific benefits of your product.
You can see every finding and statistic from the study in this handy slideshow.
Want to learn how to generate leads with powerful lead generation strategies, and improve your organic traffic or inbound marketing as a whole? Get in touch with Incisive Edge and speak to one of our professionals today!