A content audit is simply a review of your existing content. It is the process of tracking down every piece of content your organisation has ever published online, organising it in an inventory, and then determining how best to deal with it.
It sounds simple enough – and it is, really. However, there are some critical steps that you must take in order for your content audit to prove useful for your company.
And this leads us onto an important question…
Why Conduct a Content Audit in the First Place?
Today, the vast majority of businesses are using content marketing practices to promote their brands, businesses and services across the web.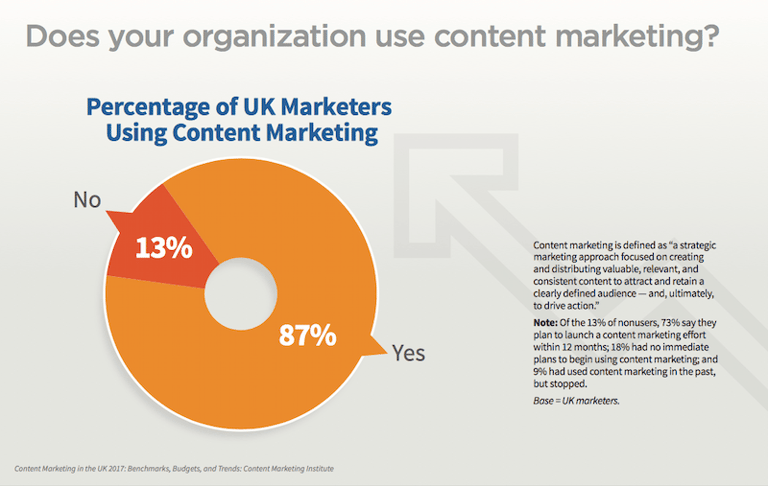 (Image source: contentmarketinginstitute.com)
Most organisations struggle with managing their content effectively. They often lack insight into the amount of content they have, its quality, relevance, and how it aligns with their business goals. To address this, content audits and Google Analytics can be used to evaluate and analyse existing content, providing data-driven insights to optimise and improve content performance.
Indeed, according to figures published by SiriusDecisions, only 35% of the content that the average organisation creates is actively used. The rest is either unfindable or simply unusable.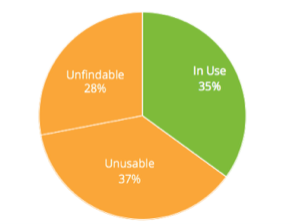 (Image source: siriusdecisions.com)
If you don't know what content you have, where it is and how it's performing, there's simply no way of knowing what steps to take to improve the results of your overall content marketing efforts.
And this is why every business needs to conduct a content audit regularly.
The goals of content marketing are clear enough – to drive website traffic, generate leads, and increase revenue. The key to improving each of these metrics is in identifying holes in your current content marketing materials – and plugging them.
By conducting a comprehensive content audit, you'll be able to see exactly which stages of the lead lifecycle are presently under-resourced, and which of your inbound marketing personas are currently poorly catered for. From here, it becomes much simpler to create a meaningful editorial calendar for your organisation going forward, ensuring that your content marketing team are producing materials that will plug the gaps and grease the sides of your inbound marketing funnel.
In addition, once you have located and analysed your existing content, you'll be able to make decisions on what to do with it all.
For each piece of content, you'll essentially have five choices:
Keep it as it is – content is performing well, is high-quality, and still relevant.
Dump it – content is out-of-date and/or of irredeemably poor-quality.
Improve it – content can be modified to bring up-to-date or otherwise improved.
Consolidate it – content can be merged with other content to bring about improvements.
Repurpose it – content can be repurposed to extract additional value. For example, could a blog post be turned into an infographic, or an infographic into a video?
This is all great information to have at your disposal. And yet, despite this, very few marketers ever actually conduct a content audit.
The content audit process can be time-consuming, particularly if you're new to it. With potentially several years' worth of content to review, analyse, and inventory, it can seem daunting. But conducting a thorough content audit is crucial to maximise the impact of your content marketing efforts. An SEO content audit can identify opportunities to improve search engine rankings and increase organic traffic. It can also inform your content strategy, highlighting areas where content may be lacking or outdated. In addition, reviewing internal links and web pages can ensure optimal user experience and enhance SEO performance. Ultimately, investing time in a content audit can pay off by improving the quality and effectiveness of your content.
But the good news is that the process needn't be complicated, and can essentially be broken down into just two easy steps. So let's take a look at them.
Content Audit Step 1 – The Content Inventory
The first step is to make a comprehensive list of all the content you've got published across all your brand domains, including social media.
This may be a gargantuan task if you were to do it manually. In a spreadsheet, you'll need to document the name of each piece of content, its URL, a description of what's included, the intended audience, and where it sits in your inbound marketing funnel.
For this reason, you'll be better off using an online tool for this purpose. Screaming Frog is one such tool that we recommend – it's free to use (though you can upgrade to a premium account to access additional features) – or something like Blaze, though this one isn't free.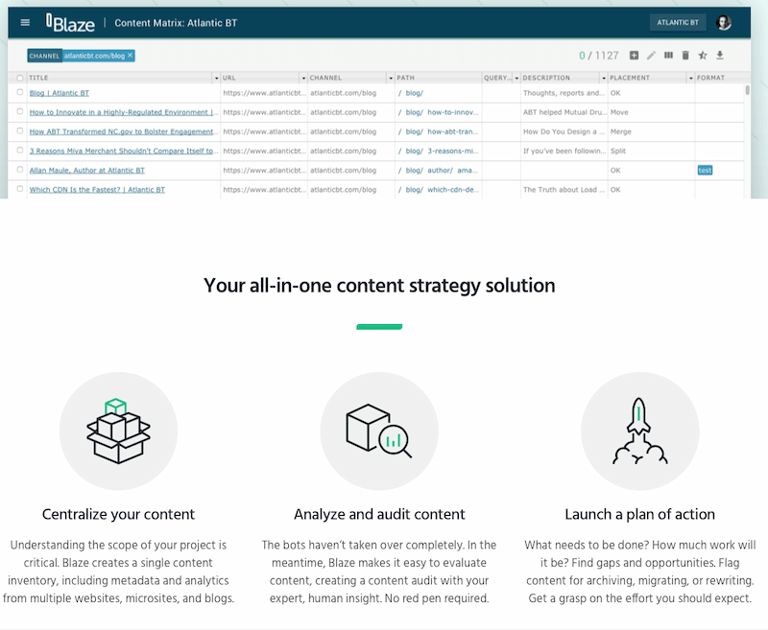 (Image source: blazecontent.com)
These tools might not pick up everything. So, in addition, you may need to collect URLs from Google Webmaster Tools and your Google Analytics.
We should note here that if you've got an exceptionally large site (or limited resources (or both!)), you might just simply not be able to include every single piece of content in your content inventory. If this is the case, there's still plenty of value to be gained from a content audit – even if you just select and analyse a representative sample.
For example, you might wish to focus on pages that enjoy either a high or low amount of traffic, or pages with high strategic value, such as those you use to generate leads or are critical along the path to conversion.
Either way, now you have your content inventory, you can move onto the next step.
Content Audit Step 2 – Analysis
Your job now is to analyse your content and decide whether you're going to keep it, improve it, consolidate it, repurpose it, or dump it.
So the question is – what should you analyse?
Well, this will depend on your business model, your content marketing strategy, and what type of website you have. However, we recommend the following:
Page Titles – Titles can be the determining factor as to whether or not your content is successful. Ensure that all your titles contain relevant keywords, and that they are 65 characters or less so that they will display in full in search results. Use a headline analyser to make sure your titles pack an appropriate punch.
Images – Images, particularly your featured image that displays on your blog page and when you share your content on social, carry similar weight as your titles. At the end of the day, people click on an image and a headline, not your entire piece of content. Update your images if you think they could be more enticing.
Meta Descriptions – Meta descriptions are vital for SEO. They are the short snippets that appear beneath clickable links in search results. They need to be under 160 characters to display in full, and contain appropriate keywords. The right meta description will entice users to click through to read the full article or go to your landing pages.
Page Views – Identifying where your traffic is going is a great way to understand what content is working and what isn't. Pages with low amounts of views may need improvement or scrapping. Pages with high amounts of views will be on your "Keep it" list, and should serve to inform and inspire new titles to be inserted into your editorial calendar going forward.
Calls-to-Action (CTAs) – Does any of your content contain a CTA that leads to an outdated white paper or eBook? Even worse, to a content asset that you've long since removed from your site? Make sure your all of your content contains an appropriate call to action.
Audience – When analysing your content inventory as a whole, do you notice that any of your inbound marketing personas are being underrepresented? Or perhaps you're a little light on MoFu and/or BoFu content? What could you do to better personalise the customer journey, and ensure that every type of user is presented with the content they need?
Quality – This is where you will actually have to go right in and read your past content. Is it still relevant? Is the research included now out of date? Is it well-written? What is the purpose of the content, and does it align with your business objectives?
Over to You
A website content audit is a key tool for maintaining high-quality content and meeting visitor expectations. By removing underperforming or outdated content, you can improve the user experience and avoid frustrating potential customers. A successful content audit not only identifies weak spots but also highlights opportunities for improvement. By analysing content gaps, you can develop a plan to create new, valuable content that meets your visitors' needs and supports your business objectives. Overall, regularly performing a content audit can help ensure that your website's content stays relevant and effective.
If you need help performing a content audit, get in touch with the inbound marketing experts at Incisive Edge today.