Guest blogging is a content marketing strategy whereby you pen blog posts for a website that is not your own.
Why would you want to do that?
Because guest blogging provides you with the opportunity to share your voice, your thoughts and most importantly your brand with new audiences.
The Benefits of Guest Blogging
There are two main benefits of guest blogging. The first, as we've just touched upon, is that you will get immediate exposure to an audience that you wouldn't normally have access to. This can be of huge benefit if you manage to persuade a major site to publish your material and indeed can be a real traffic driver back to your own website.
The second benefit is social proof. Since that major site with thousands (or even hundreds of thousands) of fans to please is allowing you to publish an article on their site, they are giving you and your business their firm stamp of approval. They're saying to their audience that you and your content meets their high standards.
Indeed, when it comes to guest blogging, it's of vital importance that you keep your standards high. Your aim is to showcase your company's area of expertise to the world, and particularly put the spotlight on the author as an industry thought leader. Only with well-written, well-researched and highly thought-provoking pieces will you achieve your guest blogging aim – to reach online users who aren't familiar with your brand and draw them towards your website to learn more.
As such, guest posts (or off-site thought leadership content assets) sit right at the top of the funnel – right where the buyer's journey begins.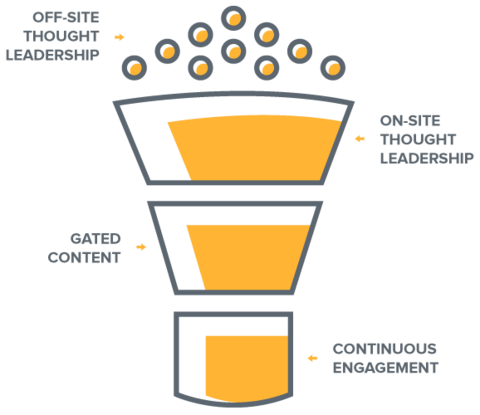 (Image source: contentmarketinginstitute.com)
Guest Blogging Success Stories
The most famous example of a company which had success with guest posting is of course Buffer. Buffer is a social media management app that seemed to burst out of nowhere about seven years ago – first there was nothing, then it seemed as if everyone was using this cool new tool to schedule their social posts.
The key to Buffer's overnight success was a guest blogging strategy. CEO Leo Widrich knew that the only way to spread the word about Buffer on a low budget was to get his app in front of engaged audiences – and so he wrote about it. Everywhere.
In fact, over a nine-month period, Widrich wrote approximately 150 guest posts and earned 100,000 new users for the BufferApp for his efforts. Amazing.
More recently, Silvio Porcellana – CEO and founder of Mob.is.it (a tool that helps agencies and businesses build native apps and mobile websites) – found similar success with a similar tactic.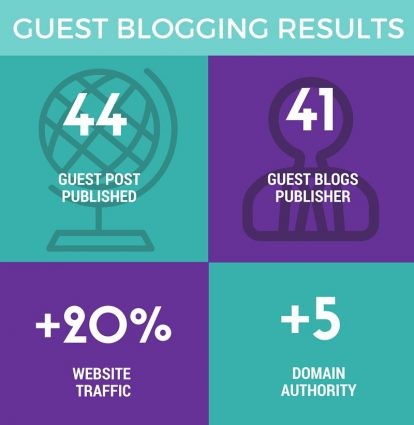 (Images source: ahrefs.com)
Last year, Porcellana realised that his website wasn't getting enough search traffic. And so he turned to guest blogging. Penning 44 posts over a period of five months, he managed to increase his company's exposure, boost his website's search traffic by 20%, and increase his Domain Authority (DA) by a whole five points – that's impressive.
How to Use Guest Blogging as Part of Your Content Strategies
Building guest blogging into your content marketing strategy is essentially a six step process. The major difficulty comes in trying to persuade a third-party website to accept your blog for publication – after all, the purpose of a guest post is to subtly promote your business, whereas the host site is mainly concerned with its own promotion.
However, if you write great content, get the pitch just right and remember to add value to the host company's website and not just your own, guest blogging can be a great and hugely rewarding content marketing tactic.
Let's take a look at the six steps.
Step 1 - Identify Guest Blogging Opportunities
You're really looking for two things here. First, you need to find sites that are relevant to your niche or industry, and therefore carry a following that will be interested in what you have to say. Second, major publications – such as Huffington Post, Entrepreneur, TechCrunch, etc. – that accept guest posts.
Start with a Google search, including the keywords "guest post", "guest blogging", "accepting guest posts", or "guest post guidelines" in your search query and see what comes up.
Make a list of target sites, and then move onto the next step.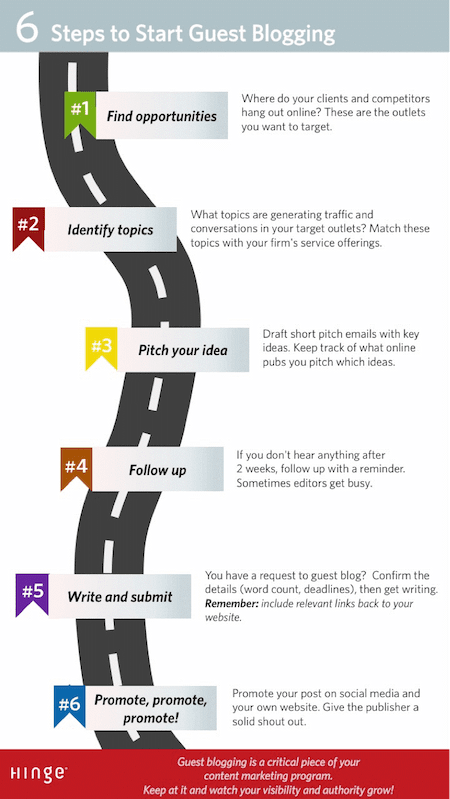 (Image source: hingemarketing.com)
Step 2 - Select Your Topics
When guest blogging, your post will have to match the host site's output and its audience's interests. Unfortunately, this means that you won't be able to get away with penning a post entitled "10 Reasons Why My Business Is Brilliant" – no one is going to accept that.
Instead, the idea is to find a topic that would interest the host site's existing audience, write a blog that brings some new ideas to the conversation and then very subtly match it all up with what your business offers.
In fact, you might need to steer clear of mentioning your business at all in the actual post (depending on the site's guest post guidelines) – which is fine, so long as you will be the named author, and can include a link back to your website in the author bio section.
Step 3 - Pitch Time
Now you need to approach the host site with your guest blogging idea.
Buffer CEO Widrich gives an example of an email pitch he used when he was landing all those guest post slots that skyrocketed Buffer into an overnight success.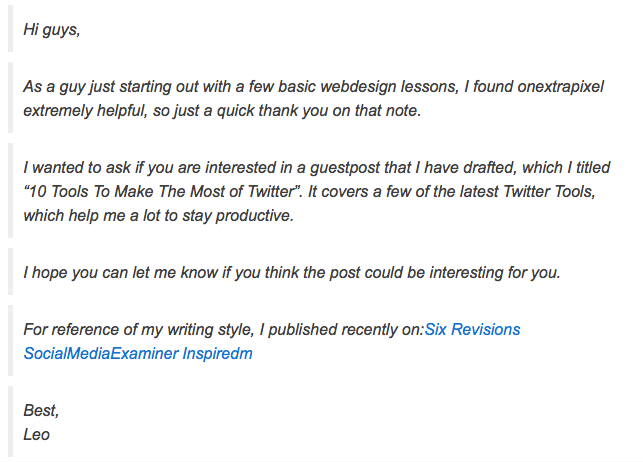 (Image source: searchenginewatch.com)
Notice how it's important to keep things brief. Introduce yourself, pay a small compliment, state your intention, mention how it will benefit the host site's readership, provide a title, link to existing work, and sign off.
Step 4 - Follow Up
If you don't get a response, you'll need to follow-up your initial email – though leave it a week or so before you do.
You don't want to pester anyone, but you of course need to know either way if your guest post idea is being considered. If you still don't get a response, try once again with a different topic. If that still fails, you'll just have to let the publication go for the time being.
Step 5 - Get Writing!
Once your idea has been accepted, it's time to start writing!
Well – almost. Make sure you've got all the details you need from the editor to begin – deadline, word count, rules on links, etc.
Now you just need to be sure that you pen a brilliant, thought-provoking piece of content, finish it off with a great guest bio, and hopefully you should steer plenty of traffic back to your website.
Step 6 - Promote
Many sites accept guest posts because they benefit both parties. The host site knows that if they publish your post, you're going to work hard to promote it far and wide – so make sure you do.
Go for it on every social network, and be sure to engage with anyone who likes it, shares it, or leaves a comment.
Over To You
Those are the basics of using guest blogging as part of your content marketing strategy. Essentially, the purpose is to give your business greater exposure to larger swathes of internet users. By putting well-written content in front of new audiences, you'll draw a proportion directly back to your website – so you'll need to think about guest blogging as an ongoing endeavour. One guest post on one site might give you a little spike in traffic, but if you can aim to get one guest post a week out there, you'll soon be enjoying some pretty major brand lift, and hopefully some new customers will come your way, too.
If you need help developing a guest blogging strategy, get in touch with the content marketing experts here at Incisive Edge today.