Organic search engine marketing, SEO, inbound marketing – these are the things that usually come to mind when we think about a content marketing strategy.
What they all have in common is that they are free. Marketers create content, publish it on their business's website, and there it is – free for anyone in the whole world to access as and when they like, at no cost either to themselves or the publishing company.
But when it comes to PPC (pay-per-click) content, someone's paying for it – and that someone is the publisher. PPC and content marketing should work hand-in-hand for an optimal ROI on your campaigns.
What is PPC Content Marketing?
Indeed, there are two main differences between PPC and the more "traditional" content marketing efforts. The first is that all traffic that comes from PPC campaigns has a cost for each click, whereas traffic from organic search is free.
The second is that PPC ads will always appear at the very top of a SERP (search engine results page), above the organic listings – and often there will be further PPC advertisements down one side of the page as well.
As an example, we just typed "Rubik's Cube" into Google, and this is what came back…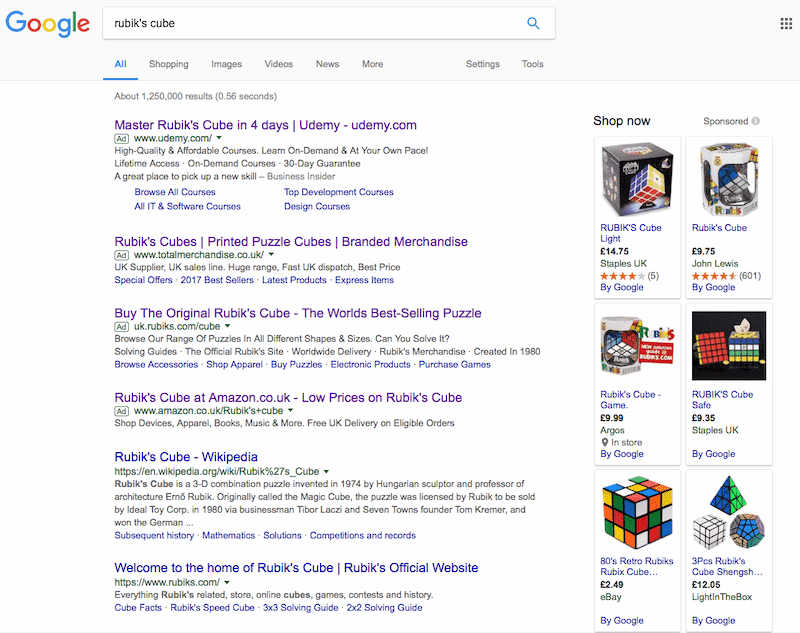 Notice that the first four results are all PPC ads – indicated by the word "Ad" in a little green box before the URL. The first organic search result is from good old Wikipedia, even before the official Rubik's Cube website, which is second.
Also notice the image displays down the right had side of the page – these are more PPC ads that will take you directly to an ecommerce store where you can make an immediate purchase.
The Pros and Cons of PPC
In essence, PPC is a model of digital marketing whereby marketers pay for each click that leads a user to their website. PPC is directly linked to other factors to achieve success with it like optimising landing pages. Another way to put it would be to say that PPC is a way of buying visits to a website, as opposed to earning them organically, which is the staple of inbound marketing and SEO. PPC is used by Google AdWords, Yahoo Gemini, Bing Ads, and various other platforms.
In many ways, the idea of PPC goes against the grain of what is usually associated with a content marketing strategy.
By this we mean that PPC is essentially a form of advertising. Content marketing, of course, is the core pillar of inbound – a marketing discipline designed specifically to be as minimally disruptive to consumers as possible. Indeed, inbound marketing was conceived to be a remedy for traditional advertising, which, by contrast, is intentionally disruptive by design. Combining content marketing and PPC is something inbound, content marketers and/or companies never regret doing.
And this, indeed, is one of the drawbacks of PPC which must be acknowledged and considered before anyone embarks on a campaign to bolster their content marketing strategy.
In a world where non-intrusive inbound marketing reigns supreme, web users have become suspicious of any form of advertisements. Put simply, users don't like to be sold to any longer – they prefer to conduct their own research and head to the checkout when they're ready.
That being said, there is certainly plenty of advantages to PPC. As we can see from the Rubik's Cube search above, PPC search dominates above-the-fold content in SERPs – the official Rubik's Cube website was sixth on the list if we take it as a whole.
Typically, there will be four paid advertisements at the top of the SERP on desktop and three on mobile, meaning searchers will always at least see PPC ads – great for improving brand visibility – even if they subsequently choose to scroll down past them.
You can also include images in your PPC ads – perfect if you've got products to sell. What's more, if you're launching a new website, PPC will help your content get picked up by search engines very quickly, whereas it can take a long time to build up organic visibility – especially if you're entering an already-crowded market.
Here's a great infographic from Siteber, weighing up the pros and cons of both PPC and SEO so you can see what you'll be getting into if you decide to build PPC into your ongoing content marketing strategy.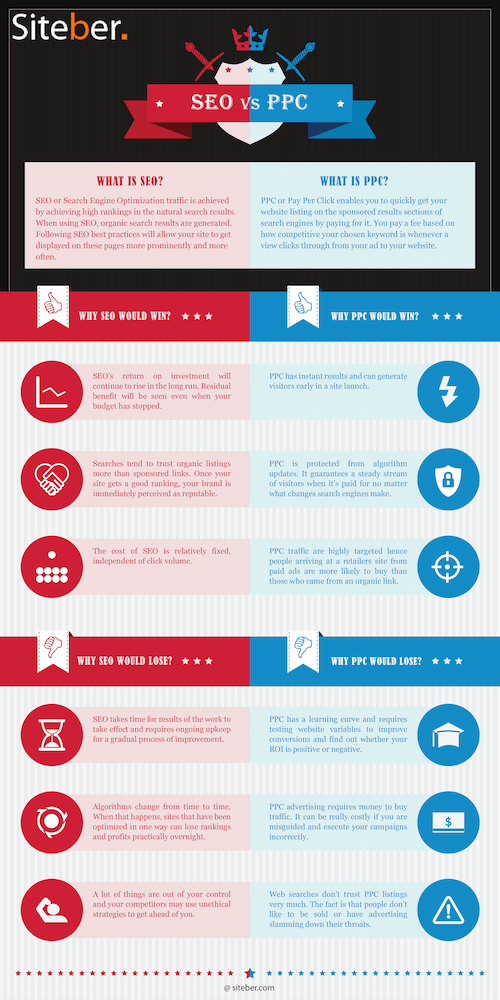 (Image source: siteber.com)
Fitting PPC into Your Content Marketing Strategy
If you've got an ecommerce store selling lots of consumer products, PPC is practically a no-brainer. In this case, you will think of PPC content as advertisements and through a process of A/B testing and keyword optimisation (and paying the right price, of course), you can get your adverts turning up in the right searches (and on the Google Display Network) for the right users all over the world.
But what about if you're selling a service as opposed to physical products, or if you're in B2B as opposed to B2C?
Well, this all comes down to understanding your target audience and prospective customers, and how they use the web to search for solutions like the ones you're selling. Indeed, you will need to determine whether it's paid search, organic search or a combination of both that will yield the best results for your business.
For instance, if you're a B2B company, there's nothing stopping you from running a PPC campaign advertising your business in search or indeed on the Google Display Network.
(Video source: youtube.com)
There's much to be said for ensuring that your company appears above-the-fold in search – even if you are paying for it.
Sometimes, a business needs to find what they're looking for quickly – a keyword-optimised PPC campaign will put your B2B solution right at the top of the first page of Google and direct users straight to a landing page, which you can optimise for high conversions.
Getting to the top of Google's organic search listings for the same keywords would take you a lot longer – perhaps years, in fact.
Another avenue you may consider is building content advertising into your content marketing strategy. Let's say you want to increase the reach of a whitepaper you've painstakingly penned that focusses on solving a particular problem that's common to your target customers.
Rather than – or perhaps in addition to – going down the usual route of leading users to this download via blogs and social media posts, it can sometimes be beneficial to promote this whitepaper via PPC.
As always, if you were to choose to bolster your content marketing strategy in such a way, quality should be your key focus. Indeed, just because you're promoting your paper through paid channels doesn't mean that it should be of any less value to your targets than your organic content.
But, be that as it may, content advertising can be a great way to bypass the regular challenges of organic reach by simply paying a platform to ensure the content ends up under the noses of the right people on the right channels.
Over to You
PPC advertising isn't necessarily the right step to take for every single content marketing strategy out there. And indeed, PPC isn't easy to get right in the first instance.
Each piece of content you want to promote will need ongoing attention and optimisation to ensure that it shows up in the right searches for the right users – and of course you will have to make the right bid (i.e. pay the right price) for your efforts to be rewarded at all.
That being said, a good inbound marketing agency which understands the precise needs of your business will be able to take PPC a long way for you, and, combined with an effective SEO game plan, will be able to form a robust content marketing strategy that covers all bases and gets results.
If you want to know more about how Incisive Edge can help you on both your content and ppc campaigns, contact us today.