In the UK, content marketing is now utilised by a massive 87% of businesses, according to the Content Marketing Institute's latest report 'Content Marketing in the UK 2017: Benchmarks, Budgets, and Trends', with marketers now allocating 36% of total marketing spend on producing content.
Blogs are an extremely popular content marketing tactic, with 93% of the survey respondents citing their use in ongoing strategies. And there's good reason for this – 74% said that blogs will be critical to their business's content marketing success in 2017.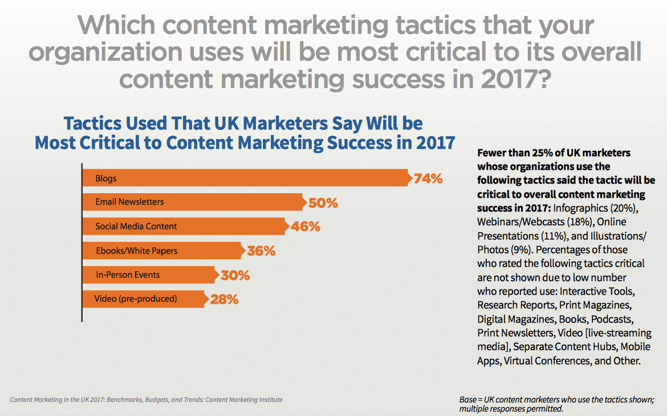 (Image source: contentmarketinginstitute.com)
The results of this survey are not surprising – as every inbound marketing agency worth its salt knows, content marketing is indeed critical to success in 2017 and beyond, and blogs naturally form the cornerstone of nearly all content marketing strategies.
But a good content marketing strategy is more than simply identifying your goals – which will usually be along the lines of generating traffic and leads, gaining industry influence and thought leadership, enabling sales and nurturing customer/prospect relationships – and putting a vague plan together to achieve them.
You need to know exactly how you're going accomplish your objectives through content marketing – and that means looking at each piece content you plan to produce in some detail ahead of time. It means adopting an editorial mindset.
What is Editorial Content Marketing
Editorial content marketing means creating articles with a distinctive voice and content-focused style to help your website's users find the information they need.
With so many options for purchasing products, buying services, or finding news, it can be difficult for your website's visitors to find what they want.
By writing articles that aren't focused on promoting any one company or product, but providing high-quality information and resources that users value, you'll increase engagement and traffic to your website's content. You'll also attract new customers who will appreciate the unbiased approach of your content marketing strategy.
There's no big secret to adopting an editorial mindset when preparing your content marketing strategy. In fact, in the simplest of terms, you could even say that adopting an editorial mindset is as straightforward as ensuring that you're always planning ahead.
This is important. Good publishers of all stripes – be they working in print or digital, in news or in marketing – strive to always be providing readers with information and analysis that simply cannot be accessed anywhere else.
But delivering such quality with any degree of consistency requires research, planning, and making a deliberate effort to set aside enough time to complete each piece of content to the standard that's required.
Indeed, planning ahead means much more than simply having a list of blog titles to work on and then blasting through them as quickly as possible. It means getting down into the nitty-gritty of each piece – into what you want it to achieve, what you want it to look like, whom you want to read and share it – long before you (or your writers) ever put pen to paper.
How to Adopt an Editorial Mindset for Your Content
An Editorial Calendar
Planning your blog (and other content) schedule in advance will allow you and your team to prepare for what's coming. It will allow you to start to get to grips with how much time you're going to need to allocate for each piece, to start thinking about any research that may need to be undertaken, and whom you will be targeting.
This process begins with an editorial calendar. As a professional inbound marketing agency, we always recommend populating an editorial calendar with roughly three months' worth of titles at a time. This way, you know you're all set for the coming quarter, but haven't gone so far ahead that there's no room to optimise tactics if necessary further down the line.
Indeed, a good Digital Content Strategy allows for periods of review, analysis and optimisation. This is important – for it is only through a process of analysing the results of each content campaign you set in motion that you'll be able to see what's working, what isn't, and adjust future tactics accordingly.
However, it's more than just titles that you need to be entering into your editorial calendar. A summary of each piece needs to be produced, including the keywords you want targeted, the audience, and which stage of the inbound marketing funnel it will be optimised for.
The important thing is that your writers have enough information to complete the work accurately the first time around, and that each piece produced has a clear goal at its core.
Special Dates, Special Audiences, Special Themes
Getting into an editorial mindset also means thinking about creating a good mix of online content that will keep your inbound marketing personas engaged no matter where they are in the buyer's journey.
We've highlighted blogs as the cornerstone of a content marketing strategy, but there are many other types of content will be propping up the walls as well – social media posts, emails, eBooks, white papers, case studies, infographics, video, webinars, to name but a few.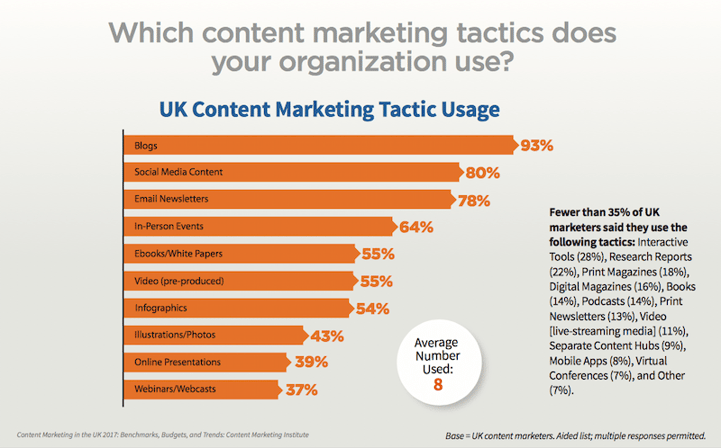 (Image source: contentmarketinginstitute.com)
Your editorial calendar should therefore reflect a good blend of content – plenty of blogs driving traffic, yes, but also some downloadable eBooks and case studies capturing lead information, some infographics to keep things visually appealing, some videos to help solidify existing relationships, or whatever combination of any of the above is germane to your goals and your campaign.
Also, when writing your calendar, be sure to look out for special dates throughout the year that you may be able to "piggyback" to drive some additional traffic via predictable trends. For instance, Christmas is just around the corner, which means there will be plenty of opportunity (and expectation) for your content to get into the seasonal spirit of things.
But before that we've got Halloween, Bonfire Night, and of course Black Friday and Cyber Monday to contend with. Blog titles (or even infographics) that perhaps talk about "How to BOOOst [something or other]" would be good for Halloween, for example.
You may also have a number of different topics or areas of audience interest that you want your content to address. If so, then the idea of "themed weeks" may appeal to your editorial mindset, or it may be a case of dedicating each month of the year to a different subject.
Here's a good example of an editorial calendar from DemandGen that has many bases covered.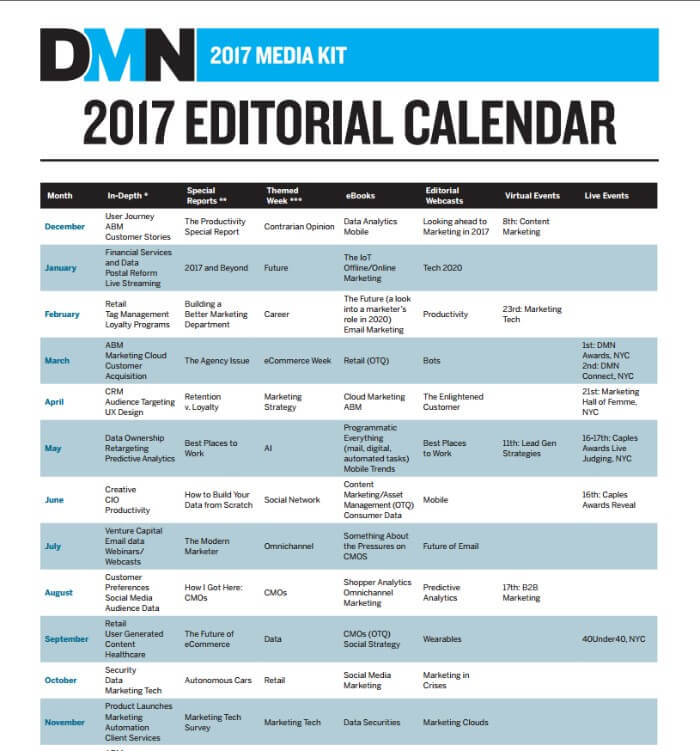 (Image source: dmnews.com)
Over to You – But Don't Miss Those Deadlines!
One final thing that you will need to consider when adopting an editorial mindset is that deadlines must be treated as if it weren't blogs (or other digital content) being published, but that you were in fact going to press. Deadlines are there for a reason, and it becomes difficult to build momentum in a campaign if there are holes in your content output.
Be strict with yourself, and strict with all your content creators – it's all part and parcel of developing an editorial mindset.
Ultimately, however, the purpose of the approach is to ensure that your content marketing strategy is well-executed, and that all pieces of content you produce is of high quality, on-point and on-time – your results will be all the better for it.
If you need help with any aspect of your content marketing, get in touch with our inbound marketing agency at Incisive Edge today.