UKTI estimate the FinTech market to be worth c £20 bn in annual revenue and growing, with emergent FinTech - the disruptors, (small, innovative companies disintermediating incumbent financial service firms with new technology), being particularly strong in the UK.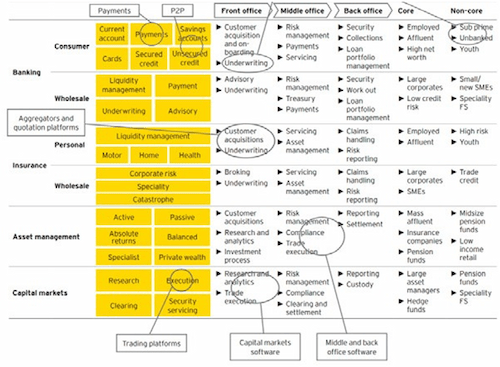 Image source: UKTI
This represents a huge opportunity for FinTech companies, but only if their marketing reaches its full potential.
About this article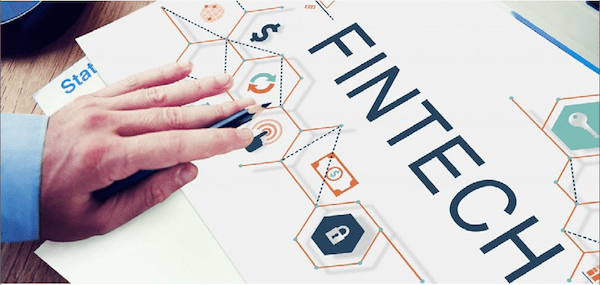 This guide is written for FinTech founders in scale-up, although it's applicable to anyone running a FinTech company. From £0 - £1m when you are proving your idea, through £1m - £3m when you are proving your product and then onto £3m - £10m when you are proving the market.
In excess of £10m, you've built a strong recurring revenue stream, but your need for marketing and extending your market reach away from just one market, the 'bowling alley' syndrome, as explained by Geoffrey Moore in Crossing the Chasm, into a broader ecosystem, is still dominant.
In this article, we guide you through your potential FinTech marketing channels, the foundations and tactics you need for lead generation and demonstrate examples of FinTech marketing to inspire you.
----------------------------
The FinTech industry has been growing exponentially year on year. Fintech market share across 48 fintech unicorns was worth over US$187 billion as of the first half of 2019, or slightly over 1% of the global financial industry. Moreover, Fintech has a Compound Annual Growth Rate (CAGR) of 25–30% in the forecast period of 2019 to 2025.
Staggering.
With so many new players entering the market, it's essential that your startup or scaleup is able to stand out from the crowd.
But how?
Marketing in its many forms provides your springboard for growth.
Marketing helps your business to achieve recognition and awareness from your audience. It increases trust and brand recognition and can help to establish your company as a reputable thought leader.
-------
One of the first questions we're asked by every potential client is, "Which channels should we be using for our FinTech marketing strategy?"
Whilst it's true that these channels can be broken down into individual platforms and tactics, the number of marketing channels is finite. In reality, there are only so many ways that you can promote your business.
Channels to Market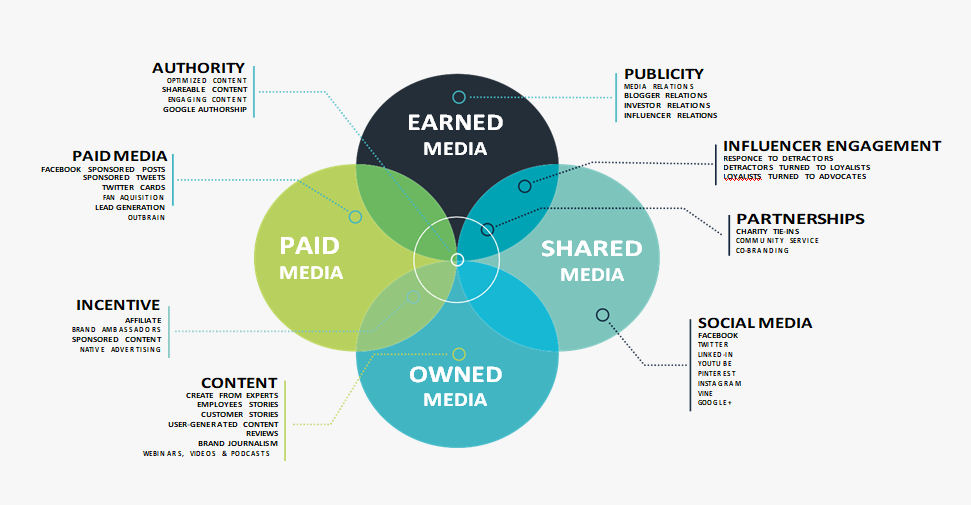 PAID MEDIA
Paid or 'bought' media requires an overt investment in order to attract visitors. In essence, you are paying the search engines to help you gain reach, awareness and conversions through search, PPC, display, ad networks and affiliate marketing.
Whilst paid media places reliance on a monthly budget being continually available, it still represents a large chunk of media spend across the board. Traditional print, TV and radio advertising remains relevant, but digital paid media is a dominant marketing channel and for some businesses who fail to focus on gaining organic traction, their only channel to drive leads.
EARNED MEDIA
Earned media is largely generated (or earned) through PR and outreach channels.
By targeting influencers, you increase the public's awareness of your company and induce word-of-mouth marketing.
It's simplest to consider earned media as a conversation that is happening between publishers, bloggers and influencers. The public becomes aware of this conversation and joins in naturally. Viral media of this type is extraordinarily valuable.
OWNED MEDIA
This is any content that your company is personally producing, both online and offline. This includes blogs, websites, apps and your social media presence, as well as physical newsletters and brochures.
SHARED MEDIA
Shared media is content that is created through interaction with your visitors and customers. The conversations that occur between your business and consumers on social media channels fall into this category. Due to the content being online and therefore inherently sharable, it has the potential to propagate across your network.
The combination of these channels, targeted at your audience for where they are in their own personal buying funnel, is what results in FinTech marketing success.
The FinTech Marketing Foundations for Lead Generation Success
Having identified your goals, budget and buyer personas, you can begin working on the six foundations that will drive your inbound marketing success.
Your website
Conversion rate optimisation 3. Marketing automation
Content
SEO
Landing Pages
Your Website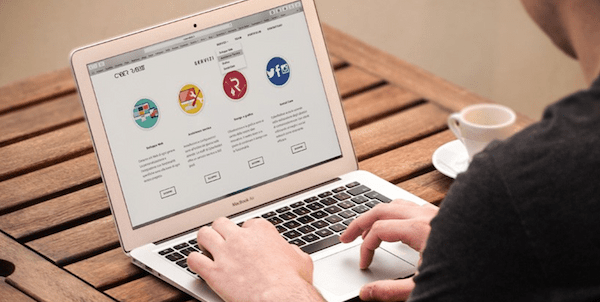 There is only one true purpose for your website. To turn strangers into paying customers. It's important that you never lose sight of this simple fact throughout the development of your FinTech channel-market strategy.
There are three key questions that visitors want answered by your website:
Who are you?
What's in it for me?
Why should I believe you?
To answer these questions, there are seven elements that must be included on your website.
1. YOUR VALUE PROPOSITION
This is what will answer that first question, "Who are you?" Keep your value proposition front and centre and above the fold. It's the first thing your potential customer will see. It needs to explain exactly what you do, and why you do it better than anyone else.
Example: Iwoca
Online small business lenders with no strings attached.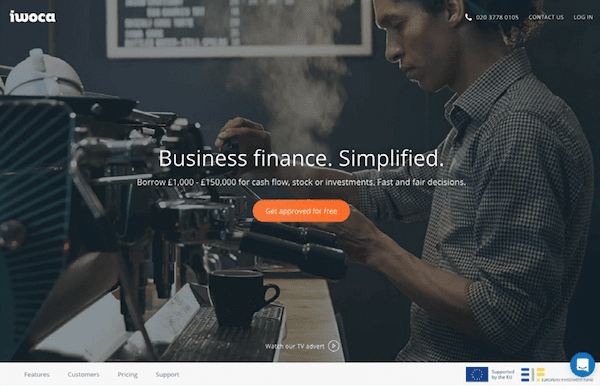 Example: Seedrs
A crowdfunding equity investment platform.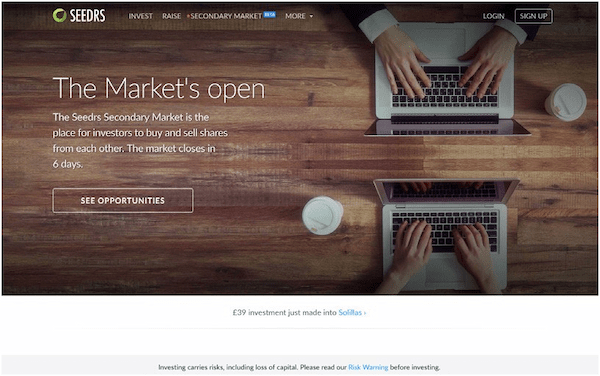 2. VIDEO
If a picture is worth a 1000 words, a video is worth a million.
Video allows your prospects to consume information effortlessly, at a time and in a place of their choosing. Having videos above the fold in place of static images is becoming increasingly common for FinTechs as they realise the true value of their above the fold real estate.
Example: CurrencyCloud
Taking video to a new level, Currency Cloud's entire homepage is an engaging video. There's also a clear Call To Action button that leads visitors to a video explaining how their service works.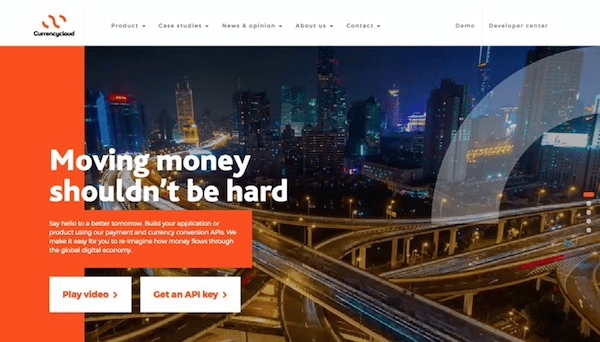 Example: DueDil
Again, a clear Call To Action button is used to direct visitors to their short introductory video.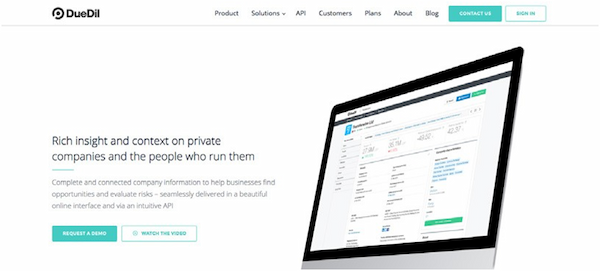 3. CALL TO ACTION
Your website's Call To Action (CTA) is a clear instruction from you, to your visitors. Your goal is to get your visitors engaged and to start the process of moving them through their buying and decision-making funnel, from Attract to Retain.
Example: Algomi
Algomi instructs visitors to book a demo.

4. PICTURES OF YOUR PRODUCT
It may be that your FinTech product, service or solution is intangible, but that doesn't mean that you can't include images that lets your visitors familiarise themselves with what you do. Screenshots, photos and demos are essential for showing potential customers why they should trust you and your product, and why it is valuable to them.
Example: Vox Markets
Vox Markets is a niche social network for people interested in stocks and market-related news. They include screenshots of their service across three different devices.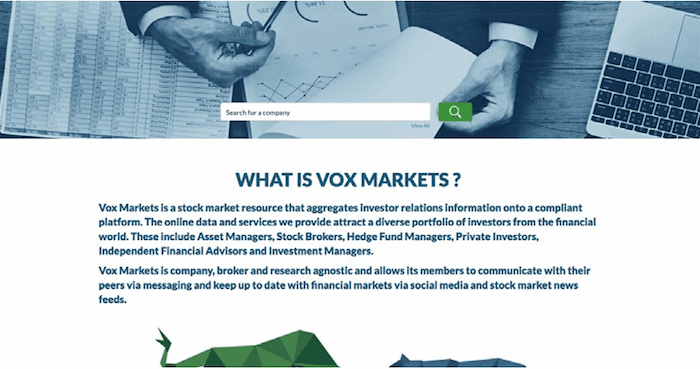 5. CONTACT INFORMATION
It almost goes without saying, but your contact information should be clear, accurate and easy for visitors to find. Don't make your audience work hard to find it.
Even in start-up mode when resources are short, try to include a name associated with your contact information. hello@ and info@ are fine, but they simply aren't engaging to your audience when they are interested and want to deal with a real person.
Example: GoCardless
Go Cardless includes their full address and email at the bottom of their website.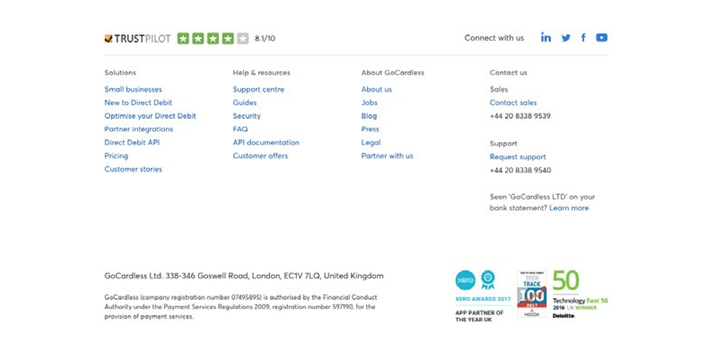 6. DEMOS
Demos are a great way of hooking visitors who want to try your product immediately, but don't want to be pursued by your sales team just yet.
Including a demo and making it obvious at the top of your website can give you a clear advantage over your competition. Conversions can increase significantly, if you combine your demo with a free trial.
Example: Xero
Xero combine a free demo (hook 1) and a CTA offering a discount with purchase (hook 2).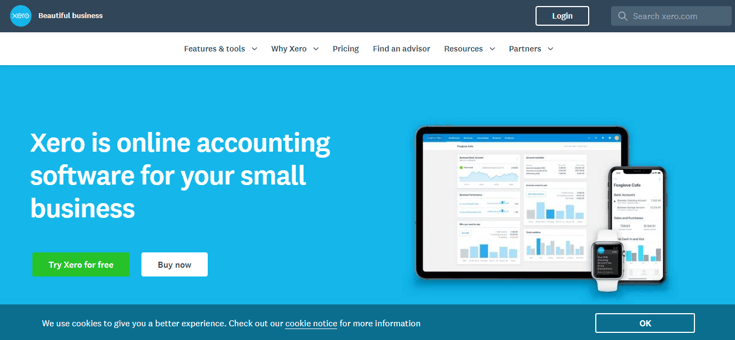 7. CLEAR PRICING
A comparison chart might not be appropriate for your website, but including your pricing up front, increases a visitor's trust in your product. If you do decide to put this on your website, make sure it's simple, accurate and easy to understand.
Example: Osper
A pre-paid debit card and app for children and young people. The costs are all laid out in a clear chart.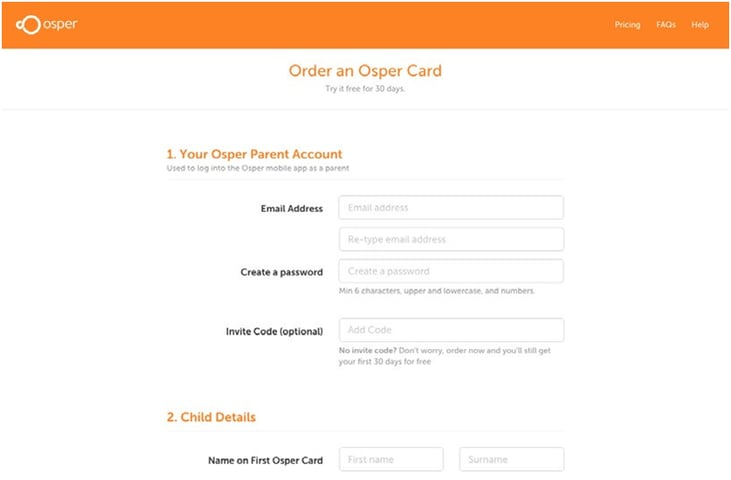 Increasing Fintech Website Conversions
Now that the key elements are in place on your website, it's time to start optimising it for the maximum number of conversions. Your website should be your hardest working asset and the most important member of your sales team.
Your goal is to create a website with your user and their user experience at its core. The easier your website is to use and navigate, the quicker your prospects' route to conversion and onboarding.
Below, we have outlined your 7 point conversion plan:
1.
Adopt a customer's mind set
We all see our own websites through our own eyes, but that is a false reality. You need to view your site through your prospects' eyes. How they view and take their journey across your website may be totally different to the journey you envisaged.
Test and learn. Set up your Google Analytics for testing.
The first step is to set up your goals and funnels in Analytics. This will allow you to see at a glance where your biggest opportunities are and where you are losing traffic.

2.
Install heat mapping software
Heatmapping will allow you to see which areas of your website receive the most clicks. It's ideal for identifying areas that are likely to have a high potential for CTAs and will give you an idea of where customers expect information to be located.
One of the top tools for heatmapping is Crazy Egg.
This is what a website looks like through the eyes of the heat map. You can see that the majority of clicks are on the "Get Started" button, which indicates that it's functioning well as a CTA.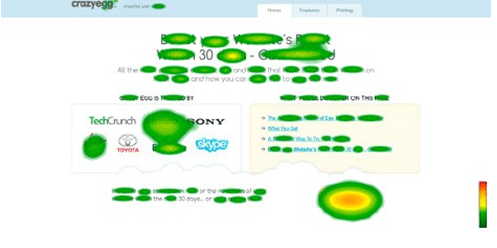 3. Buy your own product or service
It always comes as a surprise, how few FinTechs will go through their own buying process and understand how a customer experiences their website. It's important that you regularly buy, test and optimise your processes.
Take a learning from outside your industry. FedEx actually give a parcel to one of their team members and they have to follow the exact route that their parcel takes, including sitting on a parcel-laden aircraft. They have taken this offline process, online, so UX (User Experience) is at the heart of their digital strategy.
4. Carry out user testing
This is one of the easiest, cheapest, and most effective conversion optimisation methods out there, so you'd be crazy not to utilise it. Users record themselves as they go through your website and will then provide you with feedback.
At the beginning of the session, brief your testers with the aspects that you want them to pay the most attention to. This will allow them to provide detailed feedback that you can use to improve the customer experience on your website. A popular tool is User Testing.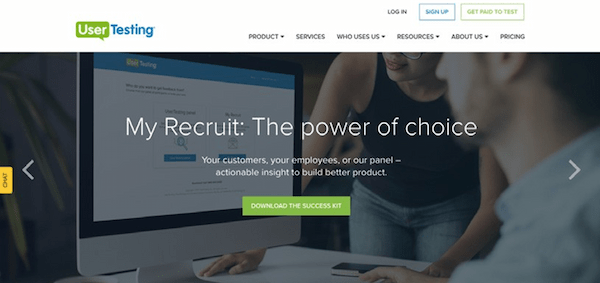 5. Survey your customers for insight
Design a questionnaire, send it to your customers and get their feedback. You can either do this over the phone or supply them with a digital version that can be submitted through your website. Survey creation software like Survey Monkey or Google Forms will make the process even easier.
Be sure to leave open-ended questions rather than making them all multiple choice. If you don't, you won't receive any actionable advice.
6. Talk to your sales team
Your sales team deal with your customers all day, every day. If there's a common problem, they're guaranteed to be able to identify it and should be able to offer up solid recommendations on how to fix it.
Even in startup mode, when it may just be you doing the selling, record the feedback you receive for implementation later, so you can see all the objections, issues and blockers. The alignment between marketing and sales is one of the key differentiators in online success because in essence, it's aligning your prospects' needs with the way you market yourself and your product.
7. Test and learn
Prioritise your testing process. The first area to focus on is high traffic areas that are not providing you with a sufficiently high conversion rate. Crazy Egg will allow you to test the new version of the page. Other A/B testing options include Visual Website Optimiser and Content Experiments.
The next element to focus on is to make adjustments to low traffic pages with high conversions and then continue the cycle of test and learn.
Automation
There are three clear benefits for FinTechs using marketing automation:
Higher revenue
A wider sales pipeline
More productive sales and marketing teams
Marketing automation allows you to streamline the day-to-day processes within your FinTech marketing strategy, which frees up time and resources for other activities. It will increase operational efficiency and let you scale and grow revenue faster. In today's world of channel marketing, it is pretty much an essential.
For marketers specifically, it can lead to streamlining your lead generation processes, clear segmentation, lead nurturing and lead scoring, customer lifecycle marketing, cross-sell and up-sell opportunities, customer retention, analytics and a clear marketing ROI.
For FinTechs who wish to scale and achieve Revenue Performance Management, marketing automation is a necessity.
There are many platforms available and each will focus on different areas of the marketing chain. Below, we have listed our top ten platforms for businesses looking to scale. (All links below.)
Content
In any marketing strategy, but especially in inbound marketing, content is the beating heart of everything you do. It's essential that you get your content strategy right if you're a FinTech looking to scale.
The guiding principle: Your audience wants to be informed and educated, not interrupted.
Content marketing is driven by one single idea. If you create and share engaging, value-led content, your prospects are more likely to become customers and those customers will go on to refer others to you.
We'd all agree, marketing has changed. Customers are no longer responding to the aggressive sales tactics that have worked in past years. The balance of power has shifted in favour of the prospect who researches the solutions to their pain points and draws up a shortlist before they engage with any company. If they can't find you through your content, you'll always be lagging behind the competition.
In addition, content provides both a short and long term ROI:
Increasing traffic to your website through higher SEO rankings, social shares and inbound links
Creating opportunities to convert visitors into leads
Heightening engagement
Creating stronger customer relationships through solution-based, not sales content
Encouraging customers to become brand ambassadors
Leading to fewer customer service issues
Your Content Starting Point
Content marketing in all its forms; videos, webinars, infographics, ebooks, thought leadership, blogs etc., requires consistency. It's very easy to get carried away coming up with ideas for what you can create and all the ways that it's possible to distribute those ideas, but it takes time, energy and resources to create great content. Far better to create one single piece of great content per month, every month, than a rush of three pieces, then nothing.
Content marketing starts with the end in mind, so ask yourself these two essential questions:
Why are you making content marketing a priority?
What do you want to accomplish?
With the answers to those questions in mind, create your content plan:
What are your specific goals? Attract new customers; build stronger customer relationships; increase word of mouth referrals; increase inbound leads by X
What are your specific objectives? Increase inbound website traffic by X%; increase X visitors into leads; convert X leads into customers; increase social media engagement by X%
What metrics will you measure? Generate X monthly social shares of our blog content; webinar attendance will increase by X%; ebook downloads will increase by X%
Who are you writing for? Who is your specific target audience?
What types of content will be well received by your audience? What topics will you write on and what will be your house style?
How will you create and distribute your content? What are your channels to market?
What stage of the buying funnel are you creating your content for? Top, Middle or Bottom of the Funnel?
Setting a clear timeframe and KPIs will help to ensure your content goals are both attainable and measurable.
Your Content Calendar
To stay organised and consistent, it's essential that you develop some kind of schedule for creating and distributing your content. This doesn't necessarily have to be a complex document, even adding things to a simple spreadsheet will go a long way to keep your content on track.
The following are two free templates you can download:
The Content Marketing Institute: This calendar consists of four worksheets; an overview of important dates, details of specific blog posts, headline ideas and a fourth, for listing your existing content.
HubSpot Content Calendar: Whilst basic and in Google Sheets, this download serves as a reminder of when deadlines are due. It also allows content teams to share a centralised calendar.
As you're busy scaling up your FinTech and are no doubt short on time, below we've demonstrated how one piece of content can be repurposed in multiple ways.
In this example, you are creating an ebook over the course of 10 weeks. It consists of six chapters, each around 800 words long.
Weeks 1 – 6: One chapter of the ebook will be written as a blog post each week.
Week 7: Provide credibility by adding a case study. This case study can also be placed on your website.
Week 8: Interview or get quotes from experts in your field, which can also be placed on your site.
Weeks 9 – 10: Write an introduction and conclusion, design the ebook and edit.
It's now ready to be published and you can fill your marketing funnel using your ebook content.
Your Content Funnel
Top of the Funnel Tactics (TOFU)
You want to attract more visitors to your site.
Add the ebook to your website as a resource
Create a news article about it and add to the 'News' section on your site 3. Create an infographic with the ebook's stats, quotes or tips
Create Twitter cards to encourage social sharing
Post the first chapter on SlideShare
Record the first chapter and launch as an audiobook
Interview the author and post as a blog
Send out the first chapter to your database through email
Give to your sales team to send as an added value extra to prospects
Middle of the Funnel Tactics (MOFU)
You want to engage your visitors and convert them into leads.
Include your ebook as part of your lead nurturing campaigns
Put your ebook onto a landing page and direct paid traffic to it. Promote through paid social
Add to your demo or pricing page to demonstrate your expertise
Bottom of the Funnel Tactics (BOFU)
You want to convert leads and onboard as customers.
Write an email or telephone script for existing prospect outreach, using the ebook as an opener
Print out the ebook and give it to your sales team to leave with a prospect (rather old-fashioned, but it still works)
Use the case study as a stand-alone content asset to breed credibility with the prospect
With content being the primary pillar of your FinTech inbound marketing strategy and essential for businesses who want to scale, we've compiled five tools that will aid your content creation.
Content Ideator Headline Generator: This generator can be used to come up with headline and content ideas.
Emotional Marketing Headline Analyser: Enter your potential headline into the text box and pick a category from the dropdown menu to see how appealing it will be to your target audience.
Canva: Create custom images for your content and blog, that look great, without the need for an expensive designer.
Piktochart and infogr.am: Two of the most popular infographic creators. Whilst templated infographics are never going to have quite the same slick look and feel as a 'designed' infographic, you will still be able to create a shareable and informative piece of content.
Grammarly: For those of us who aren't blessed with fantastic grammar, this tool can be a real life-saver.
Search Engine Optimisation for Content Marketing
Now you've completed your entertaining and educational content and have tailored it to your ideal FinTech customers, it's time to get it in front of them.
But how?
Figuring out how search engines work can be intimidating at the best of times. It can really feel like the ways in which their algorithms work are a closely guarded secret - and that would be true! One thing is for sure though, content is integral to each and every aspect of algorithms, as shown by Moz's Ranking Factors in Google.
Search engine optimisation is an enormous and complex topic. We could really only hope to scratch the surface in this article and truly, this is an area that we feel strongly is best undertaken by professionals (not that we're putting ourselves forward, oh, ok, we are!)
But a FinTech company in scale-up just doesn't have the time to undertake great SEO.
In the short time we have together in this article, we have provided a list of what we think are some of the best SEO tools available.
KEYWORD RESEARCH
Google Keyword Planner. To help you examine keyword volume
KeywordTool. For discovering variants of keywords to build content around
Ubersuggest. To expand on a base keyword and find long tail variations
COMPETITION
Ahrefs. To spy on competitor links
SEMRush. To analyse your competitors' keywords and come up with content ideas that will help to boost your search position
LONG TAIL KEYWORDS
HitTail. To analyse your website and find long tail keywords that you could be ranking for immediately
BUILDING (OFF PAGE SEO)
BuzzStream. To help you find link prospects and conduct targeted campaigns
CONTENT
BuzzSumo. To find content that's getting shared most often across social media
TRENDS
Google Trends. To see if a keyword (and by extension, a niche) is growing or shrinking
SITE HEALTH CHECK
Search Console. To see how your site appears in search, crawl errors and search traffic
REPORTING
Raven Tools. To provide reports on your online presence including conversion rates, social signals and backlinks.

Landing Pages
Your content is written, perfectly optimised and ready to be consumed by all your new potential customers. Now, you need a landing page.
A landing page with a clean and attractive design can have a seriously positive impact on conversions for your paid media and email marketing campaigns.
Rather than directing visitors to your main website and forcing them to wade through all the information themselves, you send them to a landing page which has been specifically designed to steer them into taking the action you want them to take.
Whilst creating landing pages is an art form rather than a science, there are certain guidelines you need to adhere to, in order to maximise your chances of success.
YOUR LANDING PAGE GOAL
Without specific goals, you won't create an effective landing page. Whether it's the number of visitors or the number of conversions, establish your goal before creating your page.
A CLEAR CALL TO ACTION IS ESSENTIAL
Once you have established your goals, you need to create a clear call to action. This is possibly the single most important part of any landing page. Your CTA should be tied to your goal and supported by everything else on your landing page, from headline, images, body copy and overall layout.
CLEAR AND CONCISE COPY
The content on a landing page must be persuasive, simple and concise. There's no point throwing in fancy terminology and excess information here because it's only going to confuse people.
It's hard enough to hold a visitor's attention as it is, so get to the point fast, and tell them what you want them to do.
ONLY ASK FOR VITAL INFORMATION
The majority of FinTech landing pages will include a form that the visitor must fill out in order to gain access to the content. Unless you really want highly qualified leads, only ask for information that is absolutely vital. At its most basic level, a simple email address will be enough.
Because people generally dislike filling out forms, the longer it is and the more information you request, the fewer are likely to actually convert into leads. The length of the form should mirror the value of your content.
The landing page from Algomi below, is for a free demo, which is of course, a valuable asset for a customer, so has an in-depth form.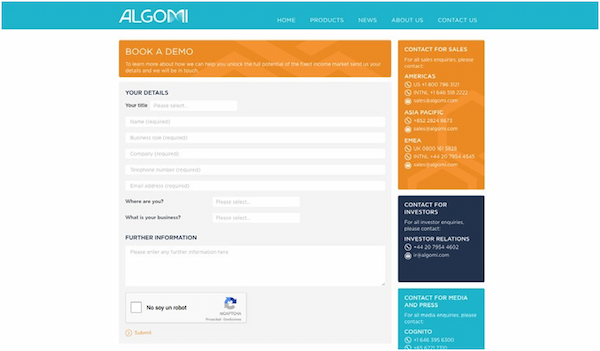 REMOVE NAVIGATIONAL ELEMENTS
The major difference between your website and your landing pages is that your landing pages should not have distracting elements, such as your site navigation. The only clickable links should be your CTAs.
Square has removed all navigation from their signup page to keep potential customers focused.

FOCUS ON THE FOLD
Make sure your CTA is located near the top of the page, where your visitor can click without having to scroll down.
Whilst this doesn't mean that your visitors won't scroll down the page, you're trying to capture those who are ready to convert as soon as they arrive on your landing page.
AVOID VISUAL CLUTTER
Keep images to 0 – 2 at the most. Focus is the name of the game when it comes to your landing page. A larger font size, minimal text and readability are key.
Your Fintech Inbound Marketing Funnel
Inbound marketing is all about attracting your audience and guiding them through their decision-making and buying process.
There are a great number of ways to do this. The ones that we have outlined below have demonstrated the most success, specifically for FinTech companies and particularly for those who are looking to scale.

LEAD GENERATION V PIPELINE MANAGEMENT
It's at this point, we would highlight the difference between lead generation and pipeline (or lifecycle) management.
Traditionally, lead generation is associated with filling the top of the funnel with prospects and pulling them through the marketing and sales funnel to convert to leads. Essentially, this means that the emphasis is on the quantity, rather than the quality of leads.
Pipeline management is seen as the next generation of lead development. Rather than focusing on simple lead generation, it places the emphasis on connecting marketing, sales and funnel data to enable decision-making to generate revenue.
Inbound marketing is a healthy combination of both.
ATTRACT
SEO Optimised Content
Providing value-led, optimised content and content assets is the cornerstone of your FinTech marketing strategy, helping you to attract your visitors and prospects. We have covered this above, but below, we outline how you amplify your content and your company.
PAID SEARCH AND LANDING PAGES
About 97% of Google's revenue comes from advertising. The reason? It's highly effective for driving qualified visitors to your site.
Google Adwords and Bing Ads are auction-based platforms which allow you to bid against other companies in your space. The more you Pay Per Click (PPC), the more likely your ad will appear in the search results.
However, it's not just about how much you spend. Google uses a metric known as a 'quality score'. This looks at how relevant your ad is to the searcher, how many clicks your ad has received previously and crucially, how relevant your landing page is.
Your ad should link to a specific landing page that fulfils the promise of your advert, rather than to your home page – a mistake that many FinTech companies make.
DISPLAY ADS
A good way to drive awareness and Attract visitors with paid media is through display ads. These are general ads that do not take the customer's intent into account.
To gain maximum traction, it's important to narrow down the list of the keywords which will trigger your ads, so that you're only displaying them to qualified prospects
Don't just track your ad though, follow your conversions down your FinTech buying funnel and see where you are losing your audience
Create segmented offers and customised incentives based on purchase history, page views, device type and referrals
Overcome banner blindness by testing the best location for your ads
Build responsive display ads for mobile, using images only and avoiding text. The image you use should be placed in the context of its use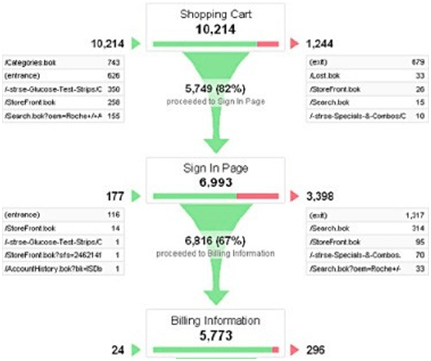 RETARGETING
Both Facebook and Google have retargeting technology that allow you to show ads to prospects after they visit your site. These are typically customised ads, aligned with your customer's intent.
One of the most effective ways to use retargeting is by creating ads that align with your prospects' buying journeys. If they spent a lot of time on a page which was displaying a particular product, be sure to show an ad that includes that product. However, cap the frequency on the amount of times you are retargeting ads to avoid swamping and irritating your audience.
SOCIAL ADS
Driving conversions, especially through Facebook, (less so Twitter) Linkedin and Instagram can prove to be a goldmine. And, contrary to popular belief, they don't need to cost a fortune. Even a budget of £60 - £150 a week can make a significant difference, especially to Facebook and Linkedin, which enable precise targeting, so your ads are only shown to your relevant target audience.
It does however, take an understanding of the nuances between the ad platforms to use them effectively, so it could be worth consulting a professional before implementing social ads.
PAID CONTENT DISCOVERY
You've undoubtedly noticed these before. They're a row of ads along the bottom and sidebars of websites which display as 'related articles'.
This is typically paid for content, often called Content Recommendation Engines or Content Discovery Networks (CDN).
Paid content allows you to promote your content within related or relevant sites.
Similar to PPC, you pay on a cost per click basis. Outbrain and Taboola are two of the biggest providers. The below example is from news and entertainment website Daily Mail.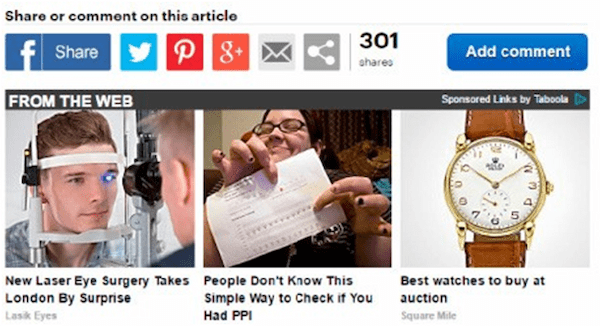 VIDEO ADS
Online video ads have historically been one of the most under-utilised forms of media advertising, but this has changed. Owned by Google, YouTube operates on a similar basis, providing:
Display ads. Appearing to the right of the featured video and above the video suggestions' list
Overlay ads. Semi-transparent overlay ads that appear in the lower 20% portion of your video
Skippable video ads: These allow viewers to skip over ads after 5 seconds if they wish and are inserted before, during or after the main video
Non-skippable video ads: These must be watched before your video is viewed
Sponsored cards display content which may be relevant to your video: Viewers will see a teaser for the card for a few seconds and can then click on the icon in the top right hand corner of the video to view the cards
And much more.
SOCIAL MEDIA
For FinTechs, social media is at the very top of your marketing funnel and has four primary aims:
To build your community – for prospect generation and to generate brand awareness
To kick off your customer flow
To communicate with customers and gain insight
To build trust and credibility - this can be particularly difficult for FinTechs, often because of the sensitivity of the data required to use their products or platforms.
When considering your social media strategy, always focus firstly on the 'why'. Why are you posting to social media? Without understanding the motivation, a lot of time and energy can be wasted 'doing' social media, but achieving very little.
When you have agreed the 'why', focus on the 'what'.
What kind of content do you want to distribute through social media and to who? When answering the 'what' question, remember to focus on your positioning. What do you want to become known for, or what are you known for? Don't dilute your positioning by posting content blindly.
The more niche your social media focus, the better.
It allows you the opportunity to become a FinTech industry expert, and in time, an influencer
Your audience will always know what to expect from you
You can curate from a well-defined pool of publications and other outlets
When you have agreed on the 'what' and the 'why', decide on the ratio of your original content v third party content v your promotional activity. A good rule of thumb is:
60% on your content

30% on third party content, related to your niche

10% on promotion
Having agreed the 'why' and the 'what', decide on frequency.
Whilst you may be constrained by time and resources at the moment, if you are looking to scale, the greater the frequency the better. It goes without saying though, that you can't continually create fresh content, so:
Identify your evergreen content
Split it into manageable chunks
Schedule
Post
Analyse
For your analysis, split your social channels into two:
Those channels where you have a dedicated profile page and feed – Facebook,Twitter, LinkedIn etc
Earned media channels such as LinkedIn groups, Quora etc, where others can contribute the content alongside you
Decide on your metrics – followers, traffic, reach/ impression, sign-ups, leads and customers.
For A: identify the channels that are driving your metrics.
For B: use these channels for experimentation. If they really start to drive traffic, move into bucket A.
INFLUENCER MARKETING
Currently a hot topic, and for good reason. Influencer marketing harnesses individuals who are active on blogs and social media. These are potential brand advocates, who have a large, yet often, niche following and can expose your company to their community and their audience's networks.
Whilst considered a top of the funnel marketing activity, true influence can drive actions for an aligned and targeted audience, not just awareness. Influencers, as a non-connected party, breed credibility and trust, generate content and involve themselves in the conversations surrounding your company and niche.
Who are the relevant influencers for your company?
They have to be the right contextual fit
They need to have reach
They need to drive action
Just like you did with your target audience, create a buyer persona for your influencer. Decide on the genre, niche, topics, type of reach and influencer type. Do you want an authority, an informer or someone who just really drives action?
Use these sources to identify your relevant influencer for blogger outreach:
And then:
Encourage your blogger to trial your product/ service
Compensate your blogger
Promote your happy customers through:

Testimonials
Case studies
Encouraging your audience to share their content assets e.g. videos, content, pictures etc
Incentivised user generated content
CONVERT
We have covered the main Convert strategies within this article. These strategies include:
Designing your user's journey across their decision and buying journey and across your site
Creating landing pages which align with your paid or email campaigns and which convert
Conversion rate optimisation
ONBOARD
One of the key lead generation strategies for FinTechs, to convert leads into customers, is lead nurturing, through marketing automation.
"Nurtured leads make 47% larger purchases than non-nurtured leads"
- The Annuitas Group
Lead nurturing is the process of developing relationships with buyers at every stage of the sales funnel and through each and every step of the buyer's journey. It focuses marketing, communication and sales on listening to the needs of prospects and providing the information and answers they need to solve their pain points.
Effectively developing leads in today's buyer-driven marketplace means establishing and nurturing buyer relationships through value-led content and then distributing that content through email 'drip' campaigns, whilst scoring the quality of your leads.
EMAIL 'DRIP' COMMUNICATIONS
Email is still the most direct way to distribute specific content to a specific lead, for where they are in their buying journey:
---
Hubspot: Email marketing has an ROI of over 4,300%
Direct Marketing Association: Relevant emails drive 18 times more revenue than broadcast emails
Juniper Research: 74% of consumers prefer to receive commercial communications via email
---
WORKFLOWS AND MARKETING AUTOMATION
Of course, whilst you can use multiple platforms to achieve a streamlined and automated approach to your marketing, it is far simpler and ultimately, more cost effective, to use a marketing automation platform.
To be effective, your email communications need to be:
Trusted.

Opt-in is essential, especially since GDPR

Conversational.

Engage your audience and wherever possible, personalise

Relevant.

Segment your audience according to your buyer personas

Integrated.

Email should be integrated into all your marcoms, but specifically, your website and social

Strategic.

Measure ROI, not just click through rates
Below is a simple template that will help to nurture leads through your funnel

HOW WILL MARKETING AUTOMATION HELP US?
A marketing automation platform, such as HubSpot, will help to streamline your lead generation, segmentation, lead nurturing and lead scoring. It will simplify your customer lifecycle marketing, cross-sell and upsell abilities, increase customer retention and provide marketing ROI measurement.
Automation becomes essential to scale, given the increasing number of channels you will have to manage. In particular it will provide:
A central marketing database where all your marketing data, including detailed prospect and customer interactions and behaviours are housed, so you can segment and target the right message for each
An engagement marketing engine to create an environment for the management and automation of marketing processes and conversations across online and offline
An analytics' engine enabling you to test, measure and optimise your marketing ROI and impact on
However, it doesn't only benefit marketing. With high quality usage, it typically improves marketing and sales alignment within your FinTech business, which ultimately will increase your revenues.
For companies looking to scale, marketing automation moves from a 'nice to have' to an essential.
CONCLUSION
We hope you've found this article and methodology helpful and that we have given you food for thought, tips and tools that you can apply straight away in your business.
If you are looking to start your marketing programme, please contact us. We're specialists in startup, scaleup and enterprise tech marketing.
We look forward to continuing the conversation with you to help your FinTech scale.