Influencer marketing is a phrase that has been thrown around a lot over the last couple of years and it's for a good reason.
Trusted industry thought leaders with large social media followings who mention your brand positively are able to single-handedly raise the profile of your business and increase sales.
According to a McKinsey study, this type of word-of-mouth marketing generates double the number of sales compared to paid advertising. It also increases customer loyalty; customers acquired through influencer marketing have a 37% higher retention rate.
We all know that positive customer reviews can help boost your growth. But if a customer review is the equivalent of sharing a comment with a couple of friends, an influencer mention is the equivalent of shouting through a megaphone in a crowded room. It's word-of-mouth amplified.
So how do we distinguish these magical, FinTech business-growing people among the noise of the web?
Although influencers are typically identified by their number of social followers and subscribers, in FinTech, it's more to do with the niche knowledge of Fintech news and trustworthiness of the individual.
In 2014, Forbes developed an equation for businesses to consider when selecting influencers to engage with.
"Influence = Audience Reach (# of followers) x Brand Affinity (expertise and credibility) x Strength of Relationship with Followers"
It's clear what to look for when it comes to assessing the audience reach of a potential influencer, you need only check their statistics on their active social media channels. The most important of these usually being the microblogging site Twitter (followers) and the professional network LinkedIn (connections).
Of course, you need to be aware that Twitter follower counts in particular are notoriously unreliable due to the high number of inactive and fake accounts that populate the platform. There are web applications like Twitter Audit that can identify the true percentage of genuine followers which could actually be reached by the influencer, so be sure to check on that before deciding to reach out.
You can also estimate the strength of their follower relationships based on how frequently they interact with commenters and engage with the posts of other thought leaders and businesses.
Brand affinity can be a little trickier.
Even if they seem to be tweeting insightful comments on FinTech every day, and sharing what appears to be carefully curated content, there's no guarantee that their "thoughts" are original or have any real depth.
There's only so much you can say in 140 characters, which is why the really valuable FinTech influencers will have their own dedicated content channels where they can share their expertise and establish themselves as a trusted and credible source.
The obvious place to do this is a blog.
These seven are some of the best FinTech influencer blogs that we've come across.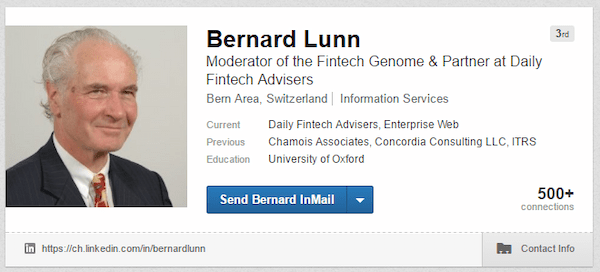 Despite not being very active on Twitter, Bernard Lunn holds some serious sway in the FinTech community. With decades of experience in technology and a Fintech founder with an unrivalled entrepreneurial spirit, his blog is a go-to source for all things FinTech.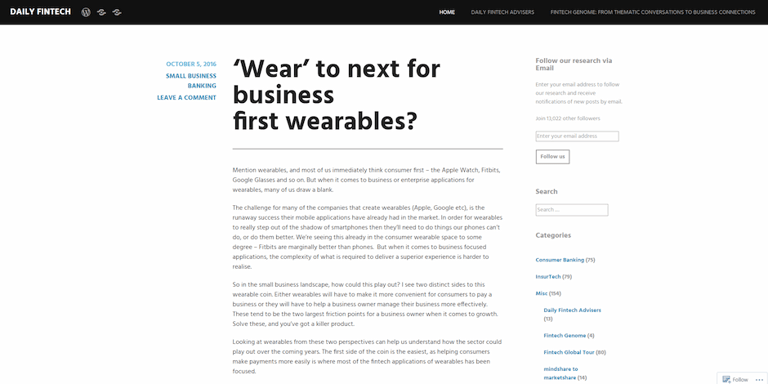 Daily FinTech delivers on the promise implied in its name - daily doses of insightful and personable content on anything and everything related to FinTech.
There will often be a week of content based around a specific theme. This week, as you might be able to tell from the screenshot, is all about wearable tech, and is part of a series on the impact of various disruptive technologies on finance.
The entire series is fascinating, but we especially liked the Artificial Intelligence week from back in March.
With relatively short posts and a friendly writing style, The Daily FinTech is great to catch up on in quick bursts.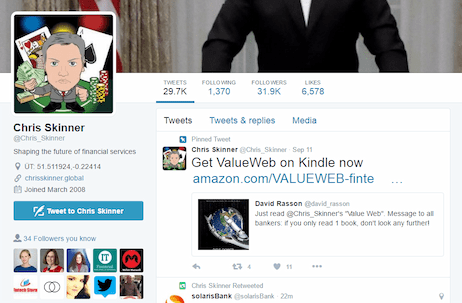 Chris Skinner is a bestselling author (Digital Bank, ValueWeb) and a member of many advisory boards for companies including Moven, Innovate Finance and Meniga.
He regularly ranks amongst the most influential people in FinTech and security and is a regular commentator for the BBC, Sky and Bloomberg on issues related to banking.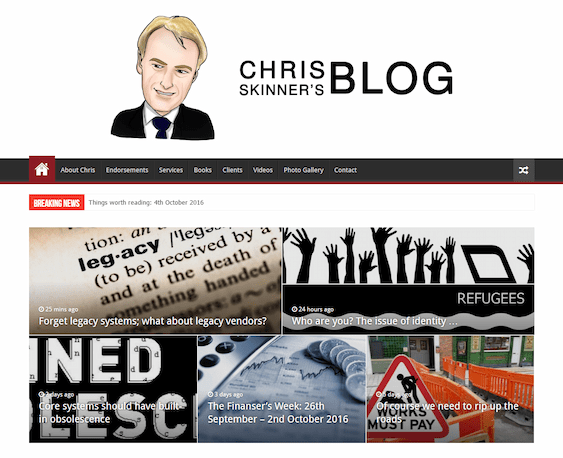 The Finanser is a great mix of fintech news and expert opinion that is updated daily (sometimes even multiple times in a single day!) It's easy to miss some of the excellent content that this blog publishes, so Skinner helpfully includes weekly round-ups highlighting the key posts from The Finanser as well as ten carefully curated news stories from around the web.
We think the recent post explaining why bankers should not be hardcore retailers was especially poignant right now, and it gave us a lot to think about.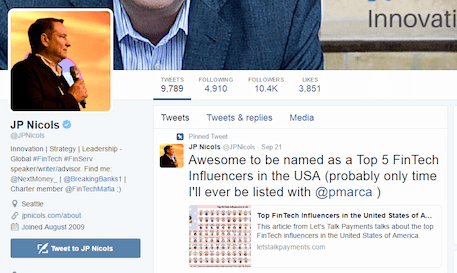 As the managing director of FinTech Forge and a founder of the Bank Innovators Council, it's safe to say that JP Nicols knows what he's talking about. He's regularly called upon to provide quotes for the media and serves as an advisor for many FinTech businesses.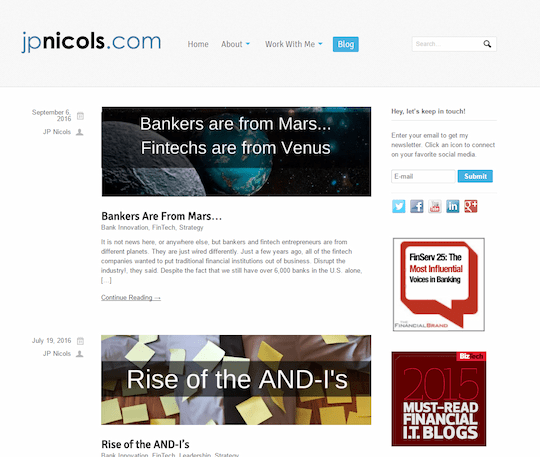 Despite a sporadic posting schedule, JP Nicols' blog is an excellent source of witty observations and commentary on the state of FinTech today. Everything is personally written by Nicols himself and he states that it's all unequivocally his own opinions, as a result, his personality shines through the writing.
A post from July entitled "The FinTech Grief Cycle For Bankers" was an amusing take on the struggle for banks to come to terms with the rise of FinTech businesses.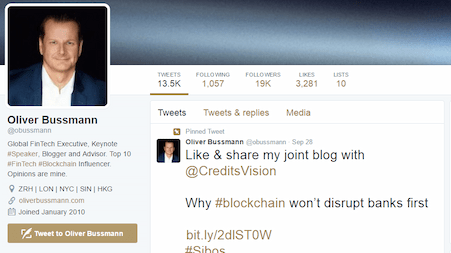 Oliver Bussmann is a mentor for FinTech startups and prides himself on his ability to detect emerging trends and utilise them to build companies up and position them as industry thought leaders and innovators.
With almost 30 years in leadership roles across various sectors of the technology industry, Bussmann has demonstrated his authority as an influencer on innumerable occasions.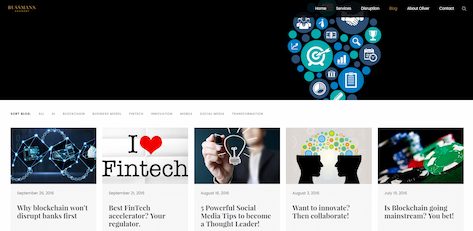 The Bussmann Advisory blog is an excellent source of commentary on FinTech growth and leadership, with a lesser focus on social media marketing strategies. Posting is somewhat irregular, with long periods of inactivity and the occasional burst of two or three posts in a single month.
If you can bear the wait between posts, we highly recommend you subscribe, because what does make it to the website is always an excellent read.
There's plenty of actionable advice which is of enormous value when you consider the authority of the source. A post from May of this year detailing the process of orchestrating FinTech innovation should be of particular interest to anyone looking to develop new products or services.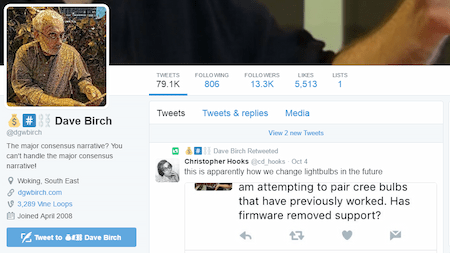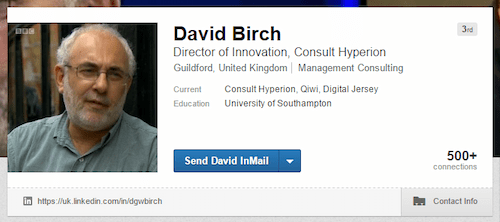 With 30 years' experience as the Director of Innovation at Consult Hyperion, David Birch is an indisputable legend amongst FinTech influencers.
In addition to his role as DOI, he has served as an advisor and board member to a number of FinTech businesses and also works as a visiting professor at the University of Surrey Business School, where he shapes the next generation of innovators.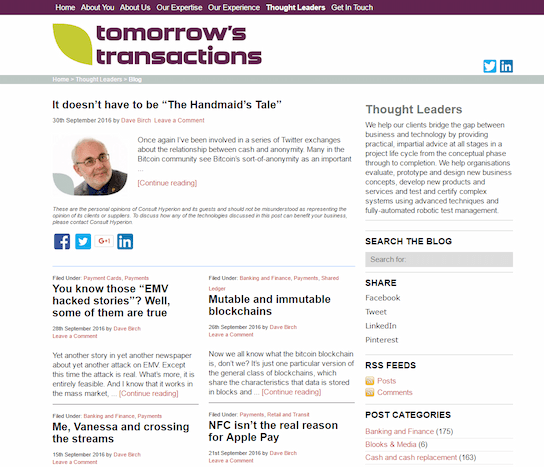 Don't let the simplistic appearance of Tomorrow's Transactions deceive you, it's packed with fascinating opinion-driven commentary on FinTech subjects wrapped up in a friendly, relatable writing style that's a joy to read. It's updated very regularly, so there's always something new to catch up on.
Birch's frank take on FinTech, peppered with anecdotes from his daily life, manages to strike the perfect balance between informative and entertaining. For that reason, it's undoubtedly one of our go-to blogs. August's "Cardmaggedon" post is a particular highlight.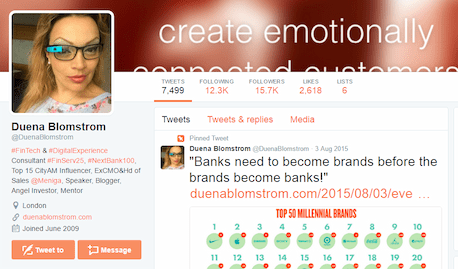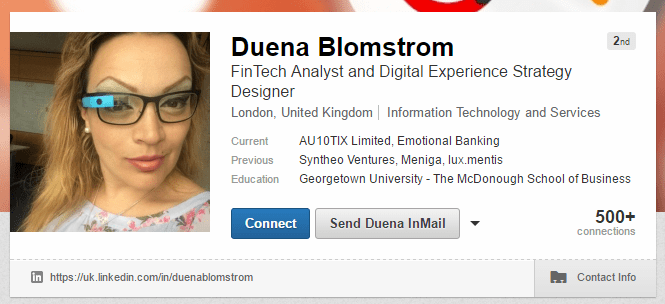 Duena Blomstrom is a FinTech consultant, analyst and digital experience strategy designer who was named one of the top three most influential women in London.
Blomstrom has long advocated for the focus of financial businesses to be on "emotional banking", meaning that customers are considered in terms of their personal needs and feelings, rather as an idealised group of features.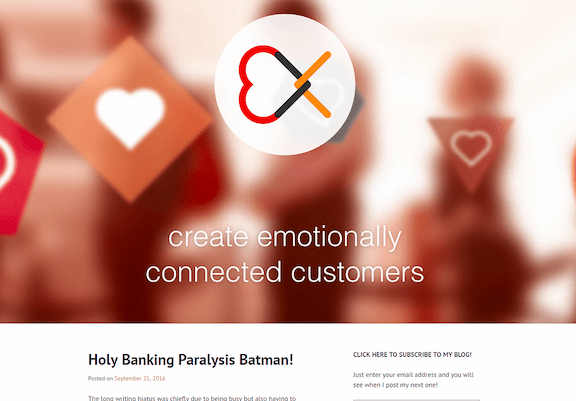 Blomstrom's focus on the intersection of finance, technology and psychology is at the heart of everything she posts to her personal blog. Posting can be slightly inconsistent, but don't let it put you off.
Her long form pieces on her observations of the coldness of the banking industry are particularly insightful, and go a long way to explaining her fascination with emotional banking. It's imminently clear that her passion in FinTech stems from a desire to improve the customer experience, and is something that all businesses in the financial industry can stand to learn something from.
"I am a Banker - therefore I lie" is an absolute must-read.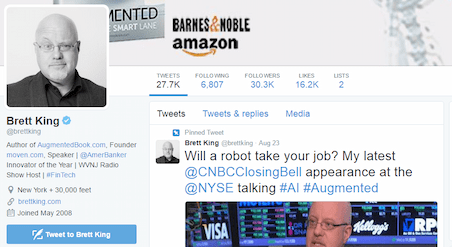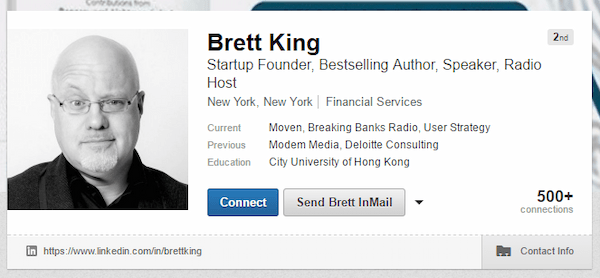 The name Brett King is ubiquitous with FinTech. It would be remiss of us to not discuss him when it comes to a list of FinTech influencers in any capacity.
As the best-selling author of five critically-acclaimed books on the digitisation of financial services and the founder and CEO of Moven, he is routinely called upon as a source of expert commentary on FinTech.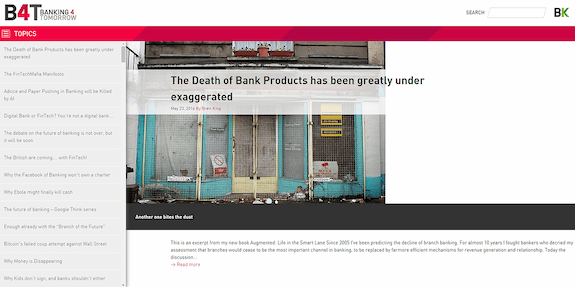 Banking 4 Tomorrow is updated just a few times per year, but you can't really pass up the opportunity to hear from King himself on the subject of FinTech, so we advise you to subscribe ASAP.
One of our favourites, a post regarding the debate on the future of banking posted in April of last year, featured insights King had gleaned during research for his book Augmented, and made for a thought-provoking read. Check it out.
Conclusion
You should now have a whole bunch of brilliant blogs to keep up with, and an understanding of what to look for in FinTech influencers you could connect with.
Remember, it's not just a numbers game.
You need to spend time getting to know your potential influencers and should approach those with a deep knowledge and love of your industry.
Customers can detect falseness with ease, so it's essential that yours see a genuine relationship with your business and their favourite influencers.
Happy reading. If you would like to create a bespoke influencer marketing strategy, fill in the form on the sidebar for your mini or full strategic marketing consultation.