Unlike traditional outbound marketing – which relies on the sales pitch and other intrusive tactics to attract customers – inbound marketing is all about establishing human relationships, and helping the potential customer to find the resources and information they need.
Why inbound marketing is now the way to go
While traditional outbound marketing pushes marketing efforts that speak to every potential customer at once, an inbound marketing strategy focuses on a target audience, looking to help these potential customers with relevant information and content until they are ready to move forward on the buyer's journey.
Inbound marketing looks to increase engagement with the brand and develop human relationships with a targeted audience as they move through the sales funnel – and it's a tactic that works.
According to a recent study by Invespcro, 82% of marketers observe a positive Return On Investment (ROI) for their inbound marketing efforts. With an inbound marketing strategy, these ROI figures can also be monitored, as 41% of marketers say inbound marketing leads to measurable ROI. In fact, when correctly done, inbound marketing can be 10 times more effective in converting leads than traditional outbound marketing.
With incentives like this, developers of marketing strategies are well advised to learn about inbound marketing fundamentals. That's the topic we shall focus on in this article.
What are the five fundamentals of inbound marketing?
By convention, there are five fundamentals of inbound marketing. These five fundamentals assist marketers in developing inbound marketing strategies that enable organisations to focus their marketing efforts on engaging with target customers at each stage of the buyer's journey, and nurturing them with relevant information until they are ready to become paying customers.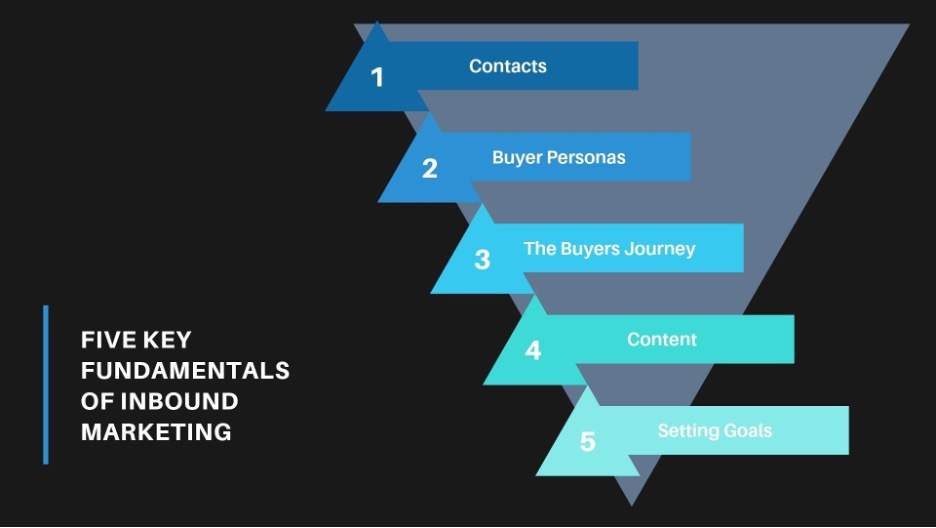 [Image source: LinkedIn]
The five fundamentals of inbound marketing are:
1. Contacts
For inbound marketing, contacts are the website visitors, target customers, and qualified leads that your inbound marketing efforts are dedicated to forming human relationships with. These contacts may also include supply chain partners, vendors, and other third parties. Having an effective Customer Relationship Management (CRM) system is key to organising and keeping track of all these contacts.
2. Buyer Personas
Buyer personas are semi-fictional or virtual constructs of your ideal customers, based on the key characteristics of your target audience. These traits may include demographic details, pain points, aspirations, behaviours, and motivations that drive each buyer persona.
A definition and understanding of the buyer persona enables inbound marketing professionals to more easily relate to the wants and needs of a potential customer, and craft messages and communications that resonate with them.
3. The Buyer's Journey
The buyer's journey describes the route that your target audience takes through the sales funnel, from being a potential buyer, through lead nurturing, to their eventually becoming paying customers. This customer journey typically encompasses three stages:
Awareness:

In the awareness stage, the potential customer realises that they have a problem or need, and begins research to better understand this issue and the solutions available for it.

Consideration:

In the consideration stage, the prospect will have more clearly defined their problem or need, and is now weighing up different options for its resolution.

Decision:

In the decision stage, potential customers will have narrowed down their options to a final short list, and is now in the position to make a purchase.
4. Valuable Content
With inbound marketing, valuable content is the key ingredient to attract customers, assist them, engage them with what a brand has to offer, build human relationships with them, and guide them through the customer journey.
Content creation must be done with the characteristics of each buyer persona in mind, so that your inbound marketing efforts provide relevant information at every stage of the buyer's journey, and a solution strategy that speaks to the specific needs of each target customer.
Inbound marketing strategies therefore require marketers to create content that is capable of attracting strangers, nurturing leads, converting visitors, closing deals, and delighting customers.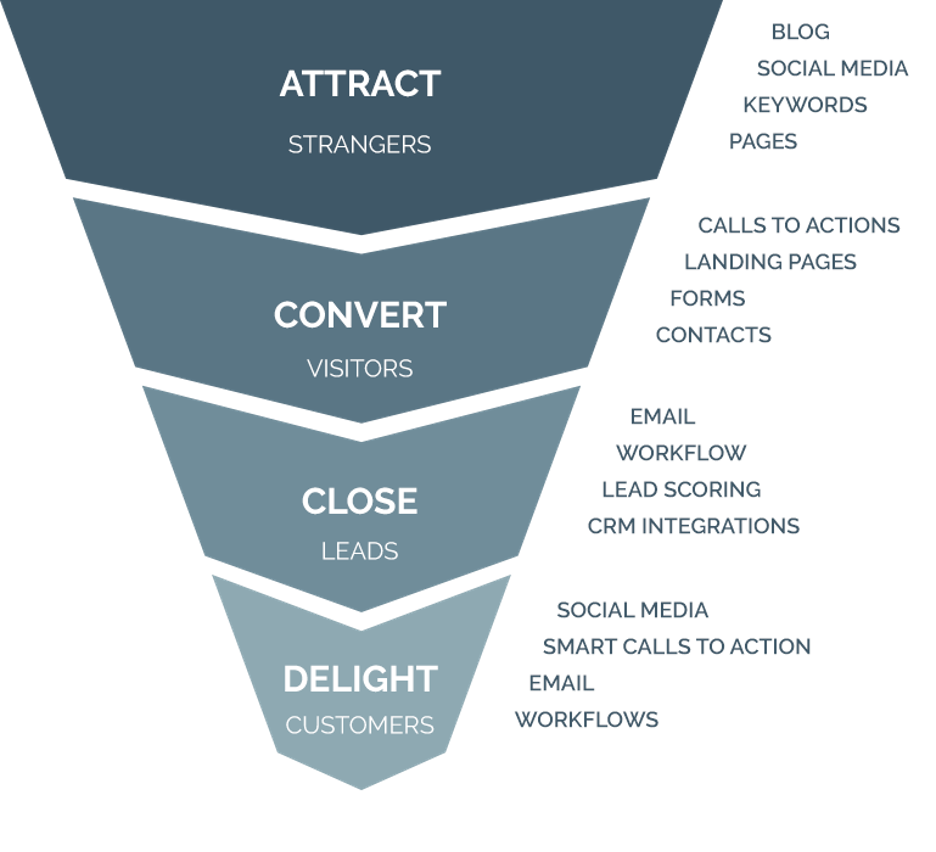 [Image source: Done Web Agency Luxembourg]
5. Goals
As a starting point toward inbound marketing success, it's important to define the goals that will help in coordinating your marketing efforts with the work of your sales team and all relevant stakeholders. Keeping track of these objectives will also help in establishing how your inbound marketing strategy is contributing to business growth.
For this reason, it is vital that these marketing goals be SMART goals, that is, Specific, Measurable, Attainable, Relevant, and Timely.
Your Next Step
Knowing about the inbound marketing fundamentals is one thing. However, putting them into practice to develop an effective inbound marketing strategy is another – something that you will find easier with a trusted partner and inbound marketing specialist by your side.
Here at Incisive Edge, we combine tried and tested campaign strategies with the intricacies and objectives of your business to design inbound marketing strategies and programmes that align with your ongoing company strategy and give you a higher ROI on your inbound marketing efforts.
Now that you're familiar with the five fundamentals of inbound marketing, why not let Incisive Edge assist you in your inbound marketing efforts? Get in touch with us.