Startup marketers are having to compute a lot more information than ever before to optimise their content marketing efforts, but the crux remains the same: to attract prospects and convert them into paying customers by creating and sharing content that is relevant and valuable to them.
The Content Marketing Institute (CMI) released its latest research report this month, 'Technology Content Marketing 2019: Benchmarks, Budgets, and Trends', which revealed that B2B enterprises are spending more on getting their content read and heard than ever before.
According to the CMI report, more than half (58%) of technology content marketers expect to see a budget increase in 2019 as they attempt to accommodate the in-depth brand experiences expected of today's audience.
So, where is that money going? These four takeaways from the report provide an overview.
'Searchability' still a top concern
There's little point in creating great content if nobody can find it. That's why nearly two-thirds (62%) of the 364 content marketers at for-profit technology companies quizzed in the report said that SEO and search algorithm changes remain their primary focus in 2019.
To put into perspective how concerned marketers are about 'searchability', it ranked ahead of the ability to demonstrate content marketing as a revenue source, at 48%. However, with Google reported to change its search algorithm around 500-600 times per year, perhaps we shouldn't be surprised.
Cross-discipline content
In the B2B world, content needs to appeal to multiple different decision-makers. It's said that, on average, there are seven different people contributing to each B2B solutions purchase.
This can make life hard for content marketers who are struggling to create the right content for the right people. More than two-thirds (68%) of CMI's respondents named creating content that appeals to multiple roles as their top challenge.
Marketing-sales alignment
Historically, marketing and sales have worked separately of one another – but, in doing so, marketers were missing out on a whole host of crucial insight.
The secret is now out. Eight in ten technology marketers say sales team feedback is the top technique they use to research their audience for content marketing purposes.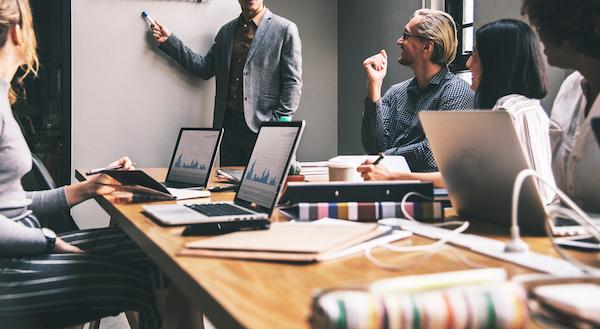 There's no excuse for creating content that's irrelevant to buyers.
Retention trumps awareness
There's a famous (if rather hackneyed) marketing stat, that acquiring a new customer can cost five times more than retaining an existing customer. This seems to have stuck with B2B marketers. As the CMI report found, 82% of technology marketers agree that their organisation is concerned with creating content that builds loyalty with existing clients and customers.
For tech startups, that emphasis also needs to be placed on filling the pipeline to continually expanding their customer base. But, building trusted relationships with existing customers needs to be a fundamental part of any marketing strategy.
Over to you
Anyone can push out content. That's really not difficult. It's just part of an execution strategy. But to create content that resonates with your prospects, clients and their influencing circle, for where they are in their decision-making journey, involves so much more than just words on a page. It takes a carefully thought out strategy that starts with putting your prospects at the very heart of everything you do.
And that's where so many startups make the mistake – being too quick to jump straight into execution without the proper planning. Those startups that want to scale, take the time to plan and create an integrated strategy that resonates, that speaks to their buyer persona, with clear messaging which mirrors their own buying journey and reflects the stakeholders involved in that journey.
Incisive Edge is here to help. Find out how we can design you a strategy for growth. Contact us today, or book your free strategic marketing consultation.