One of the biggest challenges that inbound marketers face when trying to develop their strategy is coming up with fresh and creative ideas for content that will improve their rank on search engines, especially Google. How many times have you come up with a great idea for a blog post (that you thought was actually original, one of a kind) only to have someone in your team pipe up, "Oh, I think Sarah did one on that a few months back."

So you slump down in your seat and start furiously scribbling over your notes.

Back to the drawing board.

Stop. There's a better way to go about things.

First of all, don't give up on an idea just because it's "been done before." Come up with a new angle, find examples to dissect or simply try a new type of media (maybe you've already got a post about it, but have you got a podcast with an interesting guest speaker?)

Perhaps more importantly, remember that just because it's already up on the blog doesn't mean it can't be changed, remixed and repurposed at a later date. This is a great opportunity. There are actually lots of ways to increase the longevity and relevance of your evergreen content and we're going to give you a few of them today. Not only that, but revisiting and auditing your existing content ensures you avoid having issues like broken links, keyword stuffing, and much more.
1. Update and Re-promote Optimised Content
The world of inbound marketing moves fast. Even information that's cutting edge at the time of publishing can be woefully out of date six months down the line. The frequency of content optimisation varies based on your search engine rankings. If your web pages rank well in the Google search engine for their target keyword, optimising those pages may prove counterproductive and negatively affect them. A great tool to assess that would be Google Search Console.

Go through and see if there's any information that could do with refreshing.It may also need some optimisation work; ranking for the target keywords can change, so it could be worth rejigging the content to target a different term.


This is also a good opportunity to add in some more relevant images and examples. Just make sure you pop in a note at the top so people know the origins of the post and why the information has changed.

The example below is from a HubSpot post dated January 7th 2016, but you can see that it was actually published more than six months prior.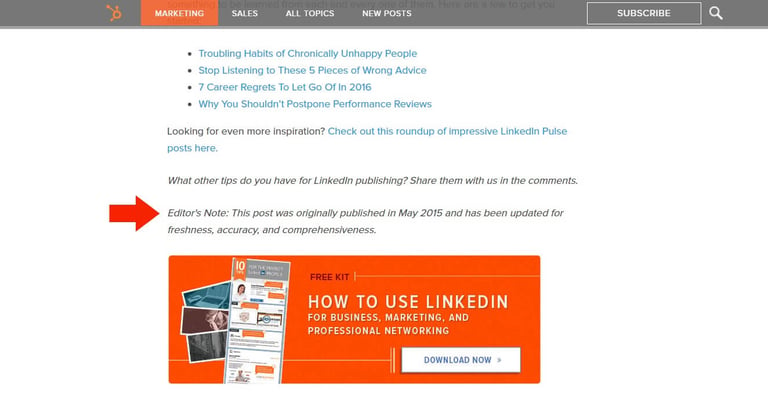 Once it's all polished up, re-promote it through email and social to draw in new traffic. Effectively doing that will likely improve your Google search ranking.
The optimisation itself is not limited to images and adding relevant semantically related keywords.
For example, the meta description may not be a ranking factor, however, since it is one of the first things users see on Google search results, optimising it will improve click-through rates. Thus, improving your overall SEO authority is a by-product of it. Internal links are also a great way to help Google link existing content to other relevant content on your website. Optimising for both desktop and mobile devices will also be worth the investment.
Something worth doing add for those with physical stores would be Google My Business optimization. It is a great way to get leads and customers as it is linked with Google maps.
Something worth doing add for those with physical stores would be Google My Business optimization. It is a great way to get leads and customers as it is linked with Google maps.
2. Expand and Create an Ebook or New Set of Blog Posts
If you have some search Engine Optimization articles in your archives that seem to be outstripping the others in terms of views, you could be missing a trick. Clearly this is seriously valuable information, or it wouldn't get so many visitors.

Take advantage of the opportunity and expand on the post to create an ebook. Get it up on a landing page or embed it on a relevant web page and have visitors submit their details in order to download it.

This way, you'll be generating new leads for your business and have a direct line of contact by email so you can offer more educational content.

There are a lot of resources out there to help you create ebooks, so there's no need to despair if your graphic design skills aren't up to the challenge of putting one together from scratch. Beacon is a great place to start. It can even automatically pull through your blog posts if you connect it to your Wordpress or HubSpot blog.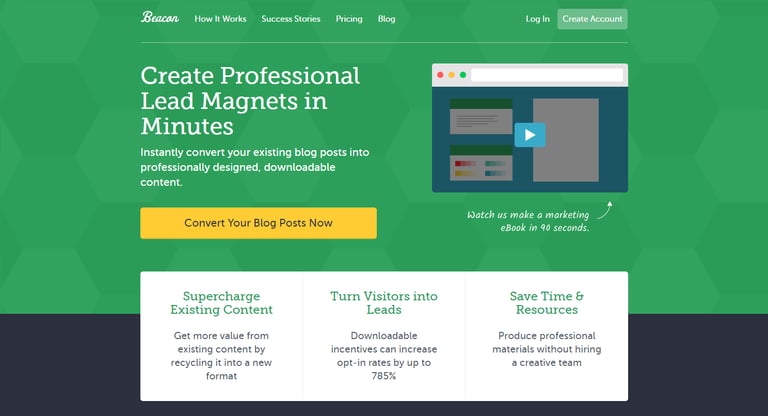 Additionally, you could expand parts of it to create a new series of blog posts that relate to it and essentially improve Google ranks as a result. This is an especially appropriate choice if it's in a listicle format, because you can simply create a post based around each of the points you've made, in much greater depth.
3. Write Connected Guest Posts and Link Back
Even better than writing related blog posts and publishing them to your own site is to secure a guest spot on someone else's blog and post there (along with plenty of relevant links back to you of course!). This is an underrated part of any good SEO campaign strategy.

Try to choose a blog with a greater reach and higher domain authority than your own, as this is going to give you some great link juice for your SEO and help you in
When you find a blog that you think would work well with your content, send a friendly email to the company to ask whether they accept guest posts. Make sure you include a link to your own blog so they can see what kind of content you publish and extend the invitation for them to guest post too. It could be the start of a great business relationship!
4. Cut it Up and Turn it Into a Presentation
Presentations are a tried-and-true method of getting information across quickly and efficiently.

For repurposing blog posts, you can pull out all the salient points, add in some more graphics and create a slideshow using an application like Prezi or Canva.

If you're not sure how to get started, check out the video below on creating your first Prezi presentation.
Additionally, if you're not camera shy, why not present it yourself on video? Or even just do a voiceover? Having an entertaining presenter can be the difference between a total snooze-fest (not that your presentations could ever be boring!) and a really engaging, informative piece of content.
Don't be afraid to think outside of the box.
5. Extract the Data and Make an Infographic
You've probably noticed that infographics have been enormously popular for the past couple of years, and they're not showing signs of going anywhere soon.
A great infographic is beautiful, full of insightful data and commentary and inherently shareable.

A truly exceptional infographic even has the potential to go viral, which is a dream that all content marketers keep close to their hearts.

This idea for repurposing content may not work for every blog post. You need some tested and proven data to display, if your goal is not only to make a poster that is visually compelling.

We personally love this one about social media posting times.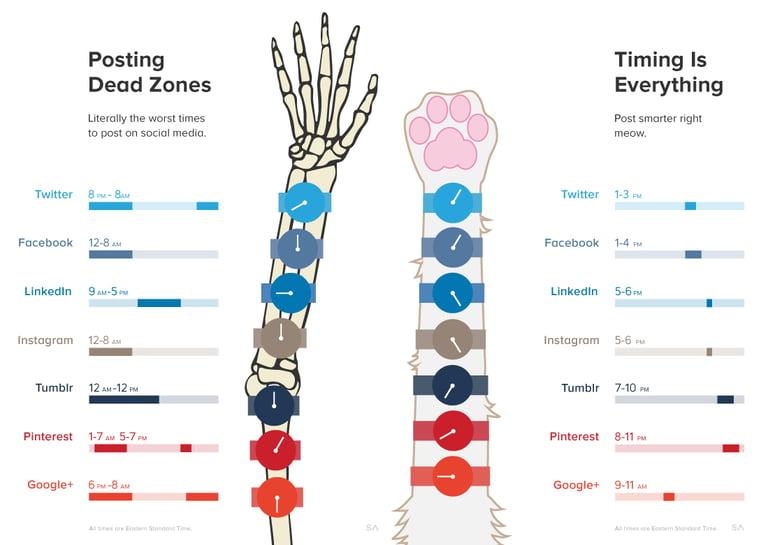 The design is fun and engaging, and it's also a very valuable piece of content for anyone looking to extend their reach with social media marketing.
6. Turn it Into a Series of Social Media Updates
On the subject of social media, you should at least have a couple of platforms on which you are actively promoting your business and sharing information with your fans and followers. Hashtag research will be your best friend for that. It doesn't differ much from keyword research and will put you in front of your target audience.

Assuming you do, one great way of generating blog traffic from these accounts is to share interesting snippets of the content along with an engaging image or even a gif.

For example, you could use a social scheduling system like the one available through HubSpot to create a series of tweets from a particular post and publish them throughout the week or even on a single day.

Use your analytics' software to see if your posting has increased blog traffic. If not, change up your tactics and see what happens. It might be that the post times or platform needs changing.

There's no definitive "right" or "wrong" way to do social media marketing. Different things work for different industries and even individual businesses. Don't be afraid to experiment!
Conclusion
It can be exhausting trying to come up with brand new content ideas every week, while constantly checking your performance on Google Analytics and trying to stay on top of Google's search engine results page. You don't need that kind of stress and pressure. Remember the old adage; work smarter, not harder.
Don't leave anything languishing in the archives when there's so many ways of repurposing blog posts and achieving the kind of traffic and Google ranking your hard work deserves.