Particularly in the Business to Business (B2B) sector, the emphasis of marketing efforts is on lead generation – identifying potential customers, and capturing information concerning the organisations they represent as your prospective clients.
According to statistics from BrightTALK, 53% of digital marketing professionals spend at least half of their budget on lead generation, while only 34% of marketers spend less than half their budget on generating leads.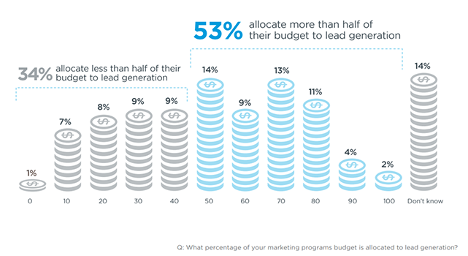 (Image source: BrightTALK)
However, lead generation efforts need to extend beyond simply enabling your marketing and sales teams to identify potential customers. These new prospects must be nurtured into quality leads that eventually convert into paying customers.
B2B Lead Generation and Return On Investment (ROI)
Among the lead generation tactics that can achieve this is to target prospects through your marketing efforts with content such as blogs, social media campaigns, landing pages with special offers, and information on your website designed to educate potential clients and provide solutions to their problems at each stage of the customer journey.
Content creation, email marketing, engagement on social media platforms and other elements of a good lead generation strategy cost money – and in order to ensure that your lead generation strategies are actually yielding value, their Return On Investment or ROI needs to be positive.
What Is Return On Investment (ROI)?
Return On Investment (ROI) is a performance metric which compares the initial cost or outlay for a given activity to its final net profit or loss. It's usually expressed as a percentage, and may be illustrated by this event marketing example:
Say your company hosts a wine and cheese seminar for 48 quality leads at an Advertising Cost of $5,000. The event is expected to make qualified leads of 25% of the attendees (i.e., 12 people) within the next month.
Let's say that for each qualified lead your sales team converts into a paying customer, these new clients on average generate $1,000 in revenue. So the Conversion Value for these quality leads is $1,000.
Now according to the ROI lead generation formula from Google Analytics, the return on investment is:
((Conversion Value - Advertising Cost) / Advertising Cost) X 100
In this simple example, this gives:
((12 x 1,000 - 5,000) / 5000) x 100 = (7,000 / 5,000) x 100 = 1.4 x 100 = 140
So, the ROI or net profit from this demand generation exercise for interested prospects would be 140%.
Is Lead Generation Still Profitable?
A recent report from Hubspot confirms that 61% of marketers consider generating traffic and leads to be their biggest challenge.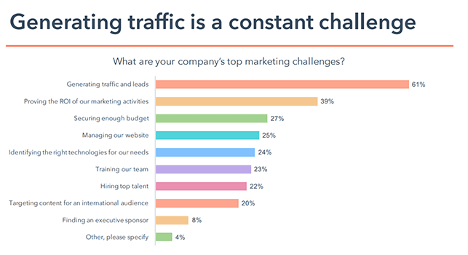 (Image source: HubSpot)
For this reason, many businesses – particularly startups and small to medium-sized enterprises (SMEs) – choose to shift the responsibility for quality lead generation to dedicated lead generation services. These are businesses that contract to generate leads on behalf of their clients, generally for a monthly or per-lead fee.
In terms of ROI, lead generation services can be profitable if they produce leads that are qualified – that is, a steady stream of quality leads who represent clients that have an active interest in paying for the product or service you're offering.
A lead generation service that also includes business promotion and network expansion in its remit can also help to solidify your position in the market, and put you in touch with new prospects, clients, and partners who can sustain a steady stream of revenue to grow your business.
In terms of lead generation strategy, digital marketing, search engine optimisation (SEO), social media campaigns, email marketing, and other inbound lead generation tactics have the edge over traditional "hard sell" marketing techniques. According to figures from Demand Metric, content marketing can generate leads at three times the rate of outbound marketing – and for 62% less expenditure.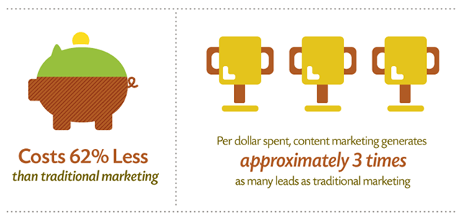 (Image source: Demand Metric)
How To Increase the ROI from Your Blog Content and Inbound Marketing Efforts
As we have seen, rather than rolling the dice and reaching out randomly to potential customers via cold calls and emails, focusing your lead generation efforts on the creation, promotion, and distribution of great digital marketing content will yield more tangible results.
Here are 6 tips on how to increase the return on investment from your blog content and digital marketing strategies for lead generation.
1. Keep Creating Quality Blog Content and Headlines
As part of your digital marketing process, blog content can serve any of a multitude of purposes. You can use it to communicate the mission and ethics that your company espouses. Blog posts and articles can convey information about the products and services that your company provides. What's more, blogs and interactive content can give valuable information and assistance to customers and potential clients at any stage of the sales funnel.
Blog content for B2B lead generation also makes sense from a financial perspective. The HubSpot Not Another State of Marketing Report 2021 confirms that a marketing team that uses blogs to generate traffic is 13 times more likely to enjoy a positive return on investment.
For your lead generation campaigns and general marketing strategies, you should employ attention-grabbing headlines for your blog posts. Titles and listings with numbers in them also tend to engage reader interest and produce results in generating leads more effectively.
2. Use Email Marketing to Profitably Generate Leads
Marketing teams can use email for lead generation, demand generation, and lead nurturing. What's more, email marketing drives higher returns on investment than other lead generation strategies. According to research, for each dollar that you spend on email marketing, you can expect to earn up to $42.
3. Not Using LinkedIn? You Should Be
As the most profession- and commerce-centred of the social media platforms, LinkedIn should be an integral part of your B2B lead generation activities. Although well over half of B2B sales leads come from the platform, not that many marketing and sales teams have realised its value-creating opportunities for organisations willing to make LinkedIn the basis of a good lead generation strategy for social media.
4. Make Effective Use of Landing Pages
Strategic use of landing pages should also be part of a good lead generation strategy. Well-designed landing pages with a compelling Call To Action (CTA) can act as "lead magnets", pulling in new prospects (and their valuable data) for the promise of a tempting offer or download in exchange for filling a form in with their basic contact information.
Landing pages can also invite prospective clients to sign up to your email marketing list, follow you on social media, or make direct purchases.
5. Use Event Marketing
Event marketing remains a viable B2B lead generation and marketing strategy.
The proliferation and growth of digital conferencing and video platforms like Zoom and Microsoft Teams has put virtual event planning and staging at the heart of many organisations' lead generation strategies and attempts to boost their online presence. Marketers in the B2B space are developing clear and concise guidelines and manuals for hosting webinars, Q&A sessions, video podcasts, and presentations, with the aim of generating and nurturing high quality leads.
6. Partner for Success
To avoid the expense, time, and effort involved in performing the research and due diligence needed to identify the right sort of clients for your product or service offering, you may achieve a higher Return On Investment by partnering with an organisation that has a proven track record in B2B lead generation, lead nurturing, and content marketing.
If you'd like to learn how Incisive Edge can assist in your B2B lead generation efforts and help to improve the return on investment from your blog content and digital marketing endeavours, get in touch with us.