In the digital economy, maintaining a dialogue with consumers enables your business to keep constant track of what your target customers think, want, and feel.
Direct interaction also empowers your brand to communicate to each of your buyer personas the value that your products, services, or mission have to offer. Being consistent and relationship-focused will improve your overall relationship with your customers.
In this article, we'll be looking at the part conversations play in building relationships with customers, in formulating your organisation's inbound marketing strategy, how inbound marketers differentiate from outbound marketers and the execution of inbound marketing techniques you employ.
Why are Conversations Important in an Inbound Strategy?
As an inbound-focused company, you should be relationship focused. Your main aim is to draw your target audience towards your product or service offerings, towards your brand and ultimately towards your website. There are many ways you can do this, but a crucial, overarching component is conversation. That's because conversation helps you to understand your customers better. By being a part of the discussion, you have the chance to learn about your potential customers' wants, needs, desires, and issues – the things that drive them and their purchasing decisions.

What Is Inbound Marketing?
Traditional or outbound marketing involves a "seller-centric" approach – emphasising what the organisation does and the advantages of the product or service it offers.
Outbound marketing interrupts your audience with blogs and different forms of content, while inbound marketing forms connections. Whether it be in a social media space or your website.
In contrast, inbound marketing shifts the focus away from what a company sells, and towards WHO the company is and WHAT it offers.
The inbound strategy and methodology is patient and active but never aggressive. It never tries to force a sale – unlike the traditional outbound approach which seeks to attract potential customers through the repetition of bulk, impersonal advertising.
Inbound marketers are more concerned with addressing the pain points of consumers, solving the problems of customers or website visitors and building a relationship.
Inbound marketing tools and techniques focus on attracting clients and customers by presenting them with valid incentives for seeking you out. This may be through stimulating their interest, exciting their emotions, providing solutions to their problems, or providing valuable information and knowledge.
According to research conducted recently by 310 Creative and HubSpot, 76% of marketers use an inbound approach as their primary strategy.
Customers tend to prefer companies that provide value during all their interactions with the brand, rather than only during the buying procedure. The fundamental idea of inbound marketing is to deliver value first and convert customers later.
One of the popular ways available to provide such value and to attract and retain visits is with high quality digital content. This can take many forms, including email marketing, a blog post with relevant content for a particular audience, outreach through social media channels, or paid media commissioned to drive traffic through the attraction of key influencers.
The same 310 Creative/HubSpot study reveals that 47% of Business to Business or B2B buyers view and consume at least three to four pieces of content before deciding to speak with a sales team member. This tendency is pushing content creation higher up the list of priorities for businesses looking to attract new customers and maintain the interest and loyalty of their current customers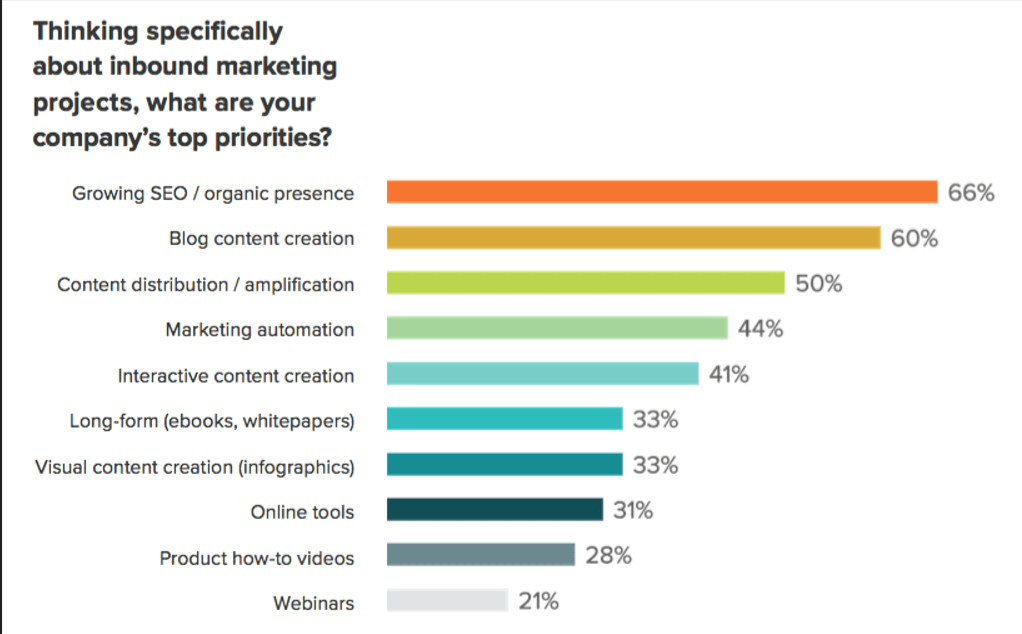 [Image source: 310 Creative/Hubspot]
Where do Conversations Fit Into Your Inbound Marketing Strategy?
Making sales and retaining the loyalty of consumers to your brand is all about giving them what they want and need at all times – and in exactly the manner that they prefer. This is impossible to achieve if you are unaware of how they think, feel, and act. Interactive dialogue is critical to achieving this, and all the material you put out concerning your business should in some way be part of the continuing conversation between you and your customers.
Whether it's direct contact by phone, an email, a chatbot query, or social media, every conversation can be the critical interaction that pushes the customer one step closer to making a purchase. "Correct answer conversations" are also very important, as they can also deliver the content you produce in a very relationship focused manner.
Besides indicating what consumers desire and require from your products or services, conversation also provides your business with crucial information as to how your customers choose to interact with your brand, any questions or problems they might have, what "works" for them about what you're doing, and what doesn't.
To improve their outreach and increase their chances of attracting the attention of consumers so they can build and nurture lasting relationships, companies are directing more of their resources for 2022 into social media posts, creating content that attracts customers, and the production of smart content that exploits tools like Google Analytics for Search Engine Optimisation (SEO).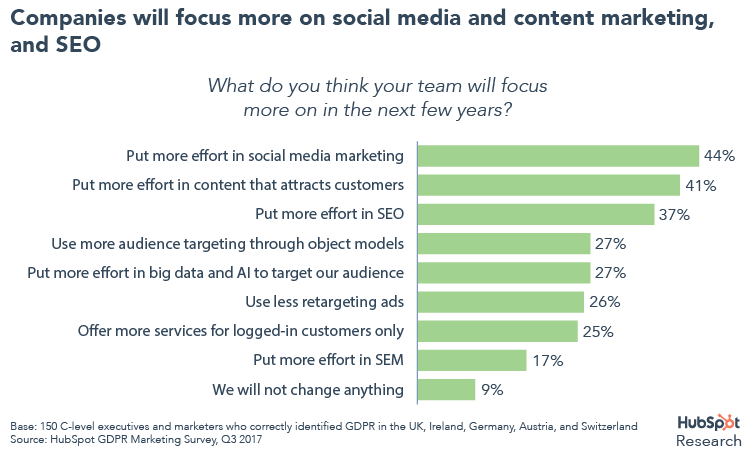 [Image source: 310 Creative/Hubspot]
An Inbound Marketing Strategy for Conversation
An inbound marketing strategy that's optimised for conversation requires your team to be fully prepared and willing to assist consumers at every stage of the customer journey, and at any point in the sales funnel. Your workers will need the capacity to serve as advisors, experts, or problem-solvers. Their interactions with customers will help create brand awareness and create an environment that helps your business grow.
You'll need to provide options that enable potential and existing customers to reach out to you at any time of day. For example, on your website or portal, you might provide chatbots for customer service and Frequently Asked Questions.
FAQs or a virtual assistant guides visitors along their particular stage of the buyer's journey. To invite customer feedback, you might provide a suggestion box, or stage short surveys and questionnaires.
Many consumers will look to social networks to vent their frustrations, heap praise on products and services that they like and look for recommendations for new buys. So it's important to include social media listening and interaction as part of your lead nurturing repertoire if you're an inbound marketer.
Conversational Inbound Marketing Techniques and Technologies
Alongside more static inbound content such as blogs, email, and posting on social media, we've mentioned more interactive media like chatbots, feedback loops and virtual assistants that are important in an inbound strategy. Let's look now at some other technologies and techniques that can boost the conversational value of your inbound marketing.
Having a separate landing page for each individual product, service, or resource relevant to different buyer personas is one way to filter and direct different parts of your target market to various parts of your website. In this way, it becomes easier to create a landing page designed specifically to convince the customer to take the next action or step on their journey.
Repurposing or updating old posts, podcasts, or videos means that you may not need to create content from scratch that's still relevant to existing or potential customers. This approach also leads to increased views.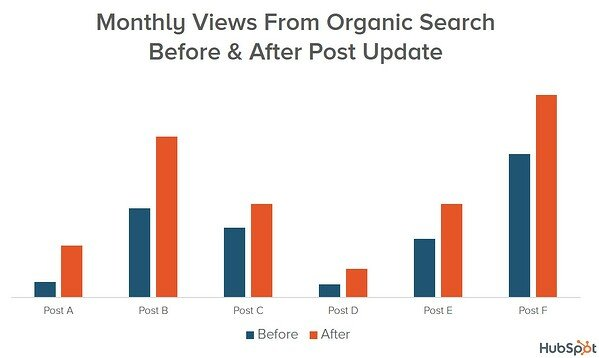 [Image source: 310 Creative/Hubspot]
Finally, Artificial Intelligence (AI) technology provides opportunities for inbound marketing at a number of levels. AI-powered chatbots and virtual assistants offer a human-like interaction for direct conversation with consumers.
Digital process automation can reduce the task burden associated with SEO, giving real-time feedback on the use of keywords, links and other online actions. At the same time, data analysis using AI and Machine Learning (ML) enables businesses to make predictions and informed decisions.
In the light of all this, where do conversations fit into your inbound marketing strategy?
Talk to the inbound marketing experts here at Incisive Edge for guidance on how to get started with making conversations a part of your inbound strategy and improve your conversational growth strategy.