It's true – an editorial workflow probably isn't the most exciting part of your content marketing efforts. However, having a concrete editorial process is nevertheless one of the most important, and no quality content strategy should be without one.
In fact, a content strategy is likely to be no strategy at all without an editorial workflow guiding the sails – rather, it will just be one piece of content being published after another, with no real structure linking them all together to help you achieve your goals.
We fear that this is most likely the case for a lot of businesses out there. Although today, according to 'Content Marketing in the UK 2017' – the latest report from the Content Marketing Institute – a massive 87% of UK organisations use content marketing, far fewer are clear about what they are trying to achieve with the practice. A content workflow is often used too, but lack of familiarisation and/or heavily relying on editorial workflow management software dilutes may dilute the quality of the content.
Indeed, more than half (54%) of content marketers in the UK are either unsure or have no idea at all about what a successful or effective content marketing program looks like, or the strategy behind the best content projects out there.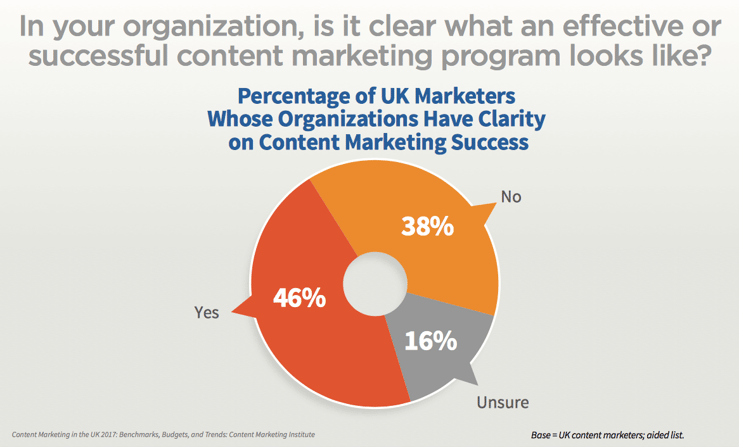 (Image source: contentmarketinginstitute.com)
Driving meaningful business results is always going to be a struggle when you're unclear about your own strategy for achieving them. And it's precisely this problem that the decidedly unglamorous editorial workflow is designed to remedy.
What is an Editorial Workflow?
In simple terms, an editorial workflow is a process – a process that content marketing teams use to develop content strategies that encompass everything from ideation through to creation, publication and promotion of content.
A good editorial workflow process will first guide a team through creating ideas for content and will then outline the journey of every single piece of content that subsequently gets created – who's responsible for creating that content, when it will be published, what it will promote, and where it will be promoted.
It might seem like creating an editorial workflow will complicate your content marketing processes but in fact, it simplifies them. By getting your whole workflow organised well in advance of publication deadlines – and indeed by being clear about the overarching intent of each piece of content as well as where it sits in an ongoing and evolving content marketing strategy – it gives you the ability to efficiently assign tasks in a very seamless manner, and content creators can keep their focusses trained on what they do best: creating interesting, useful, entertaining and educative content.
Indeed, even the best content creators in the world will struggle to produce anything that drives meaningful and lasting business results if all they are doing is reeling off one piece of content after another with no overarching strategy that binds them.
For let's not forget the ultimate purpose of content – to guide users through the inbound marketing funnel. So, the importance of a content production workflow should always be taken into consideration while producing your content strategy.
Content must first attract targeted strangers to a business's website, then convert those visitors into leads, those leads into opportunities and those opportunities into sales. It's known as the inbound marketing methodology and it looks like this: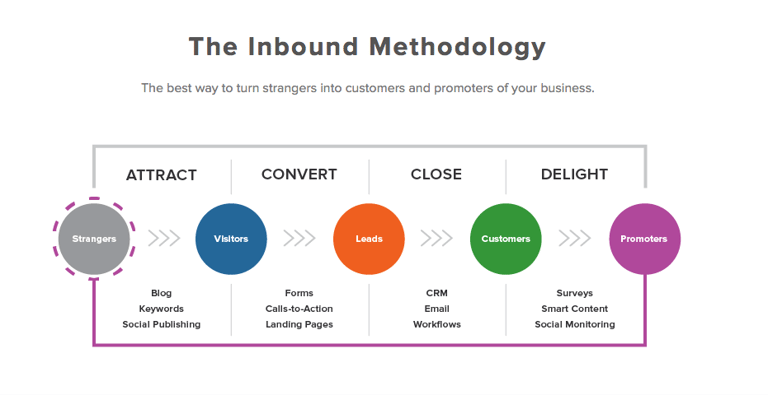 (Image source: hubspot.com)
As you can see, the inbound marketing methodology is a workflow in its own right. Since content is the core pillar of inbound, creating an editorial workflow that helps you match your content to the specific stages in the inbound marketing journey enables you to make sure your strategy is on-target.
Bring Your Content to Life Using an Editorial Workflow
For each piece of content your team wants/needs to create – be it a blog post, an infographic, a video, eBook, white paper, email, or anything else it might be – your editorial workflow will guide the members through the necessary set of tasks that will lead to its creation, publication and promotion.
It's likely that you're using some sort of editorial workflow already – even if it isn't documented. Perhaps the CMO creates blog titles, from which the copywriter will write up an article, after which the graphic designer will create some relevant images, and then finally the work will go back to the CMO who will review and publish.
That's a pretty simple workflow: Title > Write > Images > Review > Edit > Publish.
But some editorial workflows may have more stages. The Content Marketing Institute provides the following example, presented as a "swim lane diagram" to convey the progression of tasks across job roles (vertically), and over time (horizontally).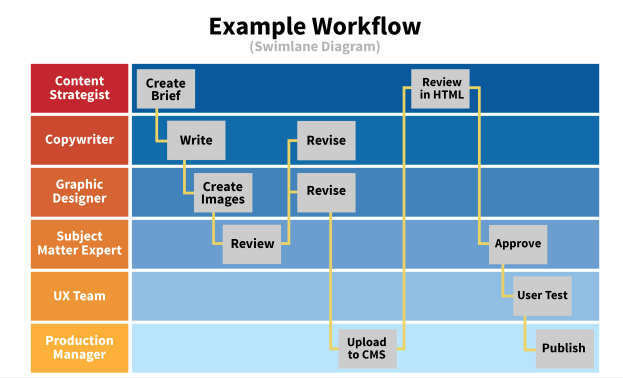 (Image source: contentmarketinginstitute.com)
Even with a few extra phases, you can see that this editorial workflow is pretty solid and, if followed to the letter, will likely produce a much better end product than if you were to just continue to churn out blog posts on an ad hoc basis.
On the flipside of the coin, an editorial workflow will also help you keep the content flowing. We've heard more than one horror story in our time about brands spending months and months approving one blog post for publication. Such gridlocks are totally unnecessary and usually indicate that there is no structure in place that guides all stakeholders towards the same end goal.
Some Editorial Workflow Tools to Try Out
As you might suspect, there is some great editorial workflow management software and tools in the market that can help you solve your editorial workflow puzzle.
Here are some tools we recommend you check out:
Trello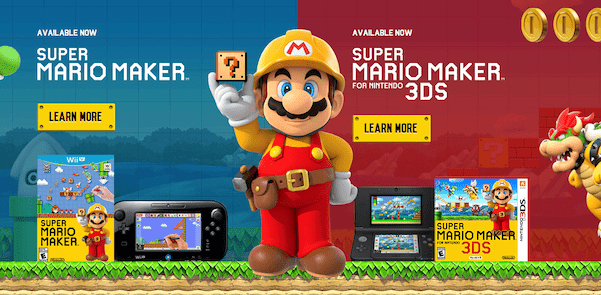 (Image source: blog.trello.com)
No matter if you have five or twenty-five steps in your editorial workflow, Trello is a simple-to-use, free (though there are paid upgrades) tool you can start using straight away to get your editorial workflow on track while also offering a powerful content management system.
Assign each piece of content to a specific card and place those cards in dedicated lists. Then, as each task is complete, the card moves left to right across as many lists as need be, gradually being worked upon and optimised until ready for publishing. A simple, collaborative tool designed for purpose and fit to improve the content creation process of every team member.
Edit Flow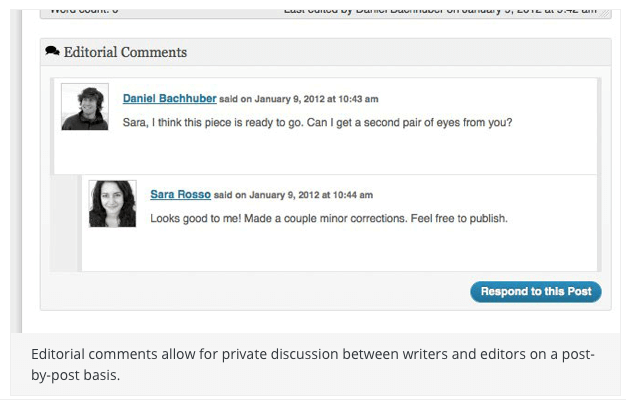 (Image source: wordpress.org)
If your site is powered by WordPress, Edit Flow is a simple, Trello-esque plugin you can use to manage your editorial workflow. Providing everything you need to collaborate with and organise your editorial team, Edit Flow is perfect for bringing order to a multi-authored blog.
Basecamp
A great tool for use for any collaborative project, Basecamp is one of the best known team communication and project management software tools out there.
Here's a short demo video so you can see how it works:

Over to You
One of the greatest benefits of a well streamlined editorial workflow is that it enables predictability – when everyone can see what's coming up and what they've got on their plate to contend with over the coming days, weeks and months; all projects begin to run a lot more smoothly; and content production improves as a result. Indeed, your whole inbound marketing strategy will improve, and the content produced will be mapped to the buyer's journey from start to finish. What's more, as you add new projects and your team grows, an editorial calendar is easily adaptable to accommodate any changes, allowing you to keep bringing your content marketing to life as your business expands.
If you need help with your editorial workflow or your content marketing strategy in general, get in touch with the inbound experts here at Incisive Edge today.