The decision to take on an inbound marketing agency can feel like a big step and a big commitment to make. However, the fact that you're even contemplating the prospect in the first place is a good sign, for it probably means that you're growing, and now you need some help to ensure that growth for the long-term.
Most small business owners begin their journeys alone. Over time, however, as more work comes in, finding time to service your customers, manage your employees, provide customer support, make sales, and continue to conduct all of your inbound marketing efforts on your own becomes an almost impossible task. There just aren't enough hours in the day to do it all yourself.
In the beginning, you were doing a good job of blogging, taking time to engage with customers and prospects on your growing social networks, nurturing a few leads via email, and generating a manageable number of enquiries from your website.
But there comes a point in every successful business's journey when it's time to enlist some help from outside sources – and the truth is that if you really want grow your business effectively and sustainably, then you're going to need to make a serious commitment to inbound marketing.
Here are five clear signs you've reached the point where you need a dedicated inbound marketing agency to manage your future growth.
5 Clear Signs It's Time to Bring in an Inbound Marketing Agency
1. It Isn't Getting Done
Inbound marketing takes time – time you no longer have. You need to give priority to the actual saleable services you provide, for they're the ones that pay the bills. But in doing so, writing blogs (and other content), engaging with prospects on social, email marketing, and general website optimisation and maintenance falls to the bottom of the list.
When this happens, the likelihood is that growth simply stagnates.
The reason being that in 2017, inbound marketing is the best way to reach new customers. Today, when someone is looking for a service like yours, they head online to find out what their options are. No longer do they wait around until they see an advert on television or in a newspaper, and any unsolicited cold calls received are simply ignored.
This means that in order to make your business discoverable to new prospects and customers, you need to have a robust online presence. You need a great website, a great content marketing strategy, and great visibility in search and on social. In short, you need an inbound marketing strategy that funnels people to your door.
And it works. Below are some stats from inbound marketing guru Neil Patel. Note that 70% of people would rather learn about a company through articles than through adverts, and that 75% of marketers are increasing investment in content marketing as budgets are moved away from traditional advertising and towards digital methods.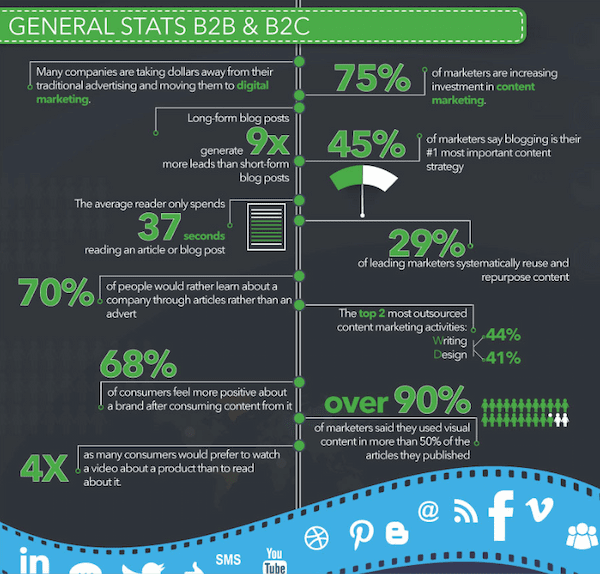 (Image source: pointvisible.com)
2. You're Not Generating Good Leads for Sales
You don't make sales without first generating leads. That's a fundamental truth of business. Ok, sometimes people do make spontaneous purchase decisions – but these tend to be for packets of sweets at the petrol station, or perhaps for a DVD when grocery shopping at the supermarket.
But, for the most part – especially in the realms of B2B – winning new customers is a much longer process. You need to first raise brand awareness, then attract strangers to visit your website, convert these visitors into leads, those leads into opportunities, and those opportunities into sales.
It's known as the buyer's journey – and the inbound marketing methodology is designed to educate prospects as they move along that journey, so that by the time a sales call is made, they are ready to make a purchase.
(Image source: hubspot.com)
A good lead is simply a well-educated prospect that you're in conversation with. However, finding time to produce educative content, integrate landing pages into your website to capture contact information, and nurture each lead with tailored emails and additional content offers is hard enough in itself – and even if you are doing it, you might not be doing it well.
An inbound marketing agency exists for good lead generation. It will learn about your sales processes, and integrate all marketing efforts in direct alignment with your sales team, ensuring that every time a sales call is made, it will result in a conversation with a well-educated prospect who is ready to make a purchase.
3. You Don't have the Skills
By now you can probably see that inbound marketing is a highly strategical process. To put it another way – it's not easy. It's time-consuming, and requires some very particular skillsets.
Written content creation requires not just writing skills, but deep knowledge of how to write for the internet. You'll also need design skills for creating visual content, such as original images and infographics. You'll need to know how to create attention-grabbing videos, too.
Then, you'll have to build all of this content into a streamlined conversion-driving workflow – one that doesn't just generate traffic, but also leads and new customers.
And it doesn't stop there. In order to achieve sustainable growth, it's important that you work hard to keep your existing customers happy for the long-term, and turn as many as you can into promoters of your business. Once again, inbound marketing tactics are responsible for making this happen – and, once you reach a certain point of growth, you'll need all the skills and expertise of a professional inbound marketing agency to manage this expansive strategy effectively.
4. You Don't Know What's Working, and What Isn't
What caused your spike in traffic last week? Did the phone not stop ringing all day yesterday? Perhaps you haven't had an enquiry for a month…
If you don't know what's working and what isn't, it's likely that you're running a hit-and-miss marketing operation – which means that you will undoubtedly be missing out on opportunities to close deals, and are not optimising your strategies for long-term, sustainable success.
An inbound marketing agency will have a number of marketing automation tools at its disposal, which it will use to produce detailed analytics (among many other things) that will reveal exactly where your traffic, leads and sales are coming from.
This is important. A good inbound marketing agency is results-driven, which means it will be constantly deploying new tactics, analysing the results, and then optimising subsequent efforts.
There is nothing hit-and-miss about it. Everything – every click, every download, every new purchase, every email – is monitored and tracked back to its source. Very quickly, the inbound marketing agency will start to build a clear picture of the most effective tactics, and apply them accordingly.
For instance, Google Analytics can be used to generate an optimised content marketing and social promotion strategy, as the following infographic from Smart Insights illustrates.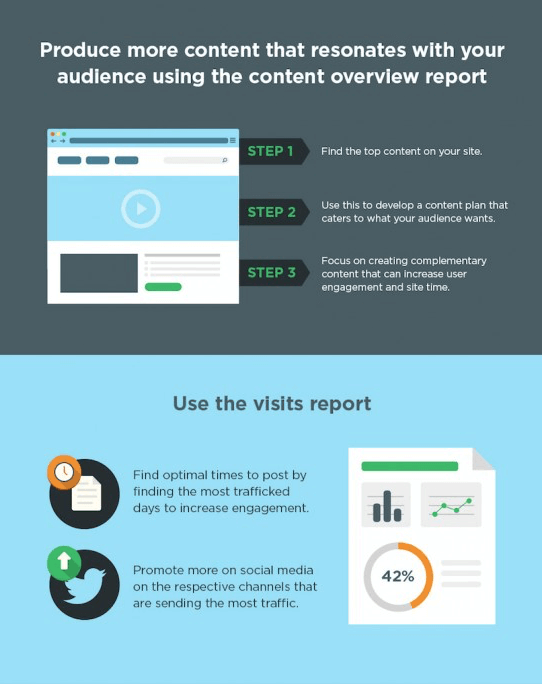 (Image source: smarinsights.com)
But Google Analytics is just one tool that your inbound marketing agency will be using to ensure its deploying the best content strategies. There are many, many others, each with their own particular proficiencies, and all will be used in combination to remove the guesswork from your inbound marketing efforts and generate optimised, repeatable results.
5. Your Sales Have Stagnated
Ultimately, if there's one clear sign it's time to bring in an inbound marketing agency, it's stagnating sales figures.
Your success thus far will have proven that there is indeed a market for your product or service. But, if you've got the pricing right, your sales team is up to scratch, you're not receiving any complaints, and you're still suffering from slow sales – your problem may well lie with your marketing.
An inbound marketing agency will be able to identify what your problems are with great efficiency. It will analyse your website statistics and your enquiry numbers in detail. It may be that your site simply isn't generating any traffic, or that, although traffic is high, your web pages aren't working hard enough to engage potential customers and convert visitors into leads.
Whatever it is, your inbound marketing agency understands the buyer's journey from start to finish, and, be it SEO issues, ineffective landing pages, poor social media exposure or anything else – the agency will quickly identify the problem, and come back with a strategy to get your sales back on the right track.
From there, it will be an ongoing process of continuous optimisation and results-driven tactics that ensure that your business is growing in the right direction.
Over to You
If the signs are there that it's time to bring in an inbound marketing agency, heed them. In a digital world, a business is only ever as good as its inbound marketing efforts, and if you haven't got the time or the skills to make it work for you, stagnation will often be the only thing that results.
If you need an expert inbound marketing agency to help your business grow, get in touch with us here at Incisive Edge today. And don't forget to book your free strategic marketing consultation. Just fill in the form to your right.