As the speculative and often intrusive nature of outbound sales tactics loses effectiveness and public favour, it's now more important than ever to develop and implement an effective inbound sales process.
In this article, we'll be outlining a 6-step inbound sales process that can help you identify potential customers, engage them in better sales conversations, and generate more inbound sales leads.
What is inbound sales?
Inbound sales is a modern sales framework that focuses on leads that come to you via various routes. These may include direct searches, visits to your website, social media, or through reading your blog posts and white papers.
The inbound marketing strategy puts its emphasis on creating and nurturing lasting relationships with interested consumers, and guiding them along a path that ultimately leads to their becoming paying customers.
With the world literally at their fingertips, digital consumers are perfectly capable of comparing products, brands, and prices on their own. This is forcing a change to the role of sales reps, who are now unlikely to succeed with the traditional sales pitches and aggressive promotion. Instead, sales reps must now engage with modern buyers in a different way.
Inbound sales teams concentrate on addressing the pain points of qualified leads with content and advice. Sales reps using an inbound sales methodology must therefore position themselves as trusted advisors, who are capable of engaging with consumers at any stage of the buying journey.
Differences between inbound and outbound sales
Outbound selling is a highly speculative procedure, in which legacy salespeople push a company's products or agenda through direct contact methods like cold calling, email marketing, and social selling. However, in all cases, outbound sales requires sales reps to engage with consumers who have had no previous formal contact with the brand – or for that matter expressed any wish to do so.
This outbound sales approach ignores the simple fact that modern buyers typically evaluate products and services on the basis of their own research efforts and observations. What's more, they have little or no desire to be aggressively "sold to."
The inbound sales professional knows this – and inbound salespeople modify their outreach so that they can sell their products and services in a manner more in line with the way that modern buyers actually buy.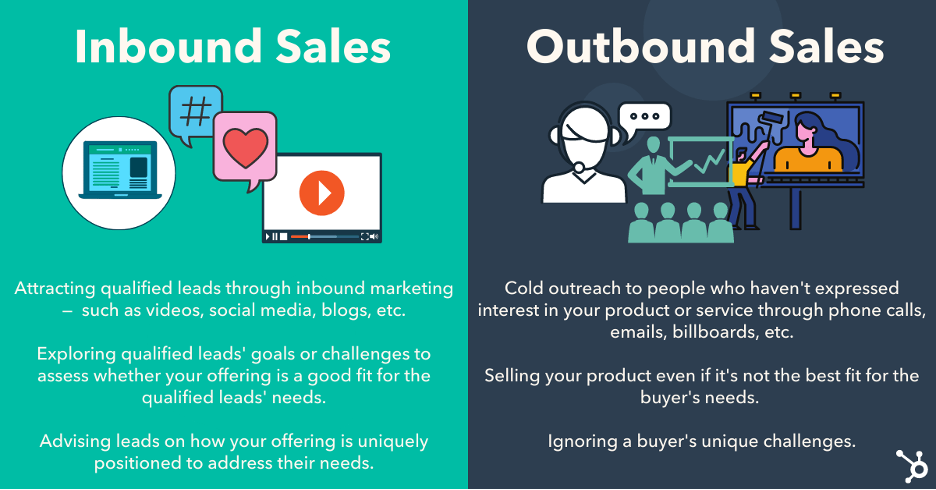 [Image source: HubSpot]
Is inbound sales cold calling?
The answer to this one is emphatically "No." Cold calling is an outbound sales and marketing method that involves contacting individuals or organisations who have had no prior interaction with a salesperson. In fact, recent research suggests that 48% of sales reps are afraid to pick up the phone and make cold calls – simply on the basis of the stress involved, and its low success rate.
By contrast, "warm calling" involves direct contact with a consumer who has previously expressed interest in your company or product. Inbound sales calls fall within this category, as inbound salespeople focus their efforts on identifying potential buyers who have already engaged in some way with the brand through their own initiative. Unlike cold calling too, inbound sales teams will usually have access to a considerable amount of information about the potential buyer, before actually reaching out.
What are inbound sales strategies?
An inbound sales strategy is an inbound methodology that enables inbound salespeople to identify potential customers, and to identify their needs, issues, and pain points. With this knowledge, sales reps can implement an inbound sales strategy that positions them to act as a trusted advisor, and to adapt their inbound sales process to the buyer's journey of each of their sales leads.
You can take the following six steps, to develop an inbound sales process:
1. Define the buyer's journey
Defining and understanding the buying journey that prospects undertake gives inbound salespeople the power to add value beyond the information that buyers can discover on their own.
The inbound buyer's journey typically consists of three parts – Awareness, Consideration, and Decision – as outlined in the infographic below: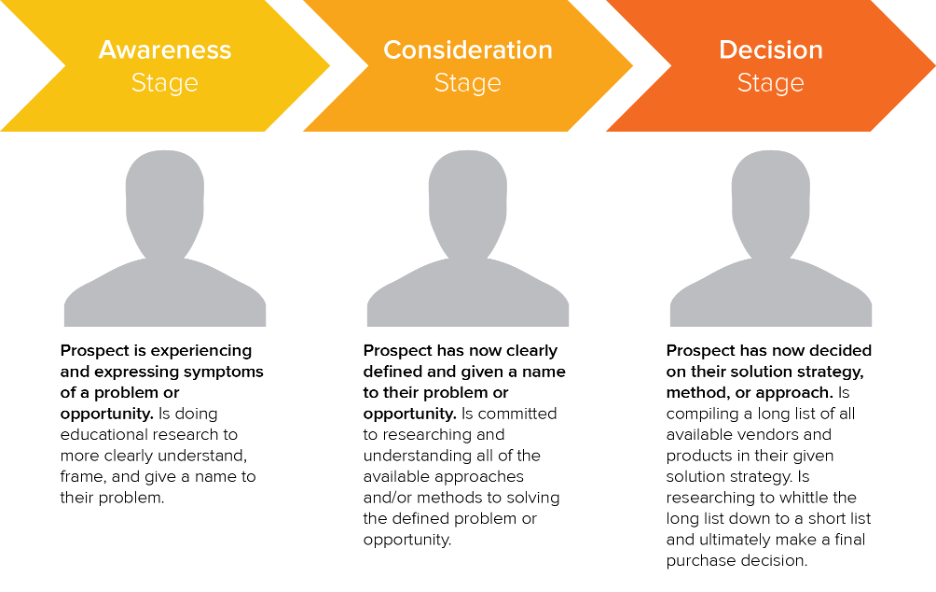 [Image source: HubSpot]
2. Find ways to support the buyer throughout this journey
At this second stage, inbound sales strategies must concentrate on finding ways for inbound sales reps to intervene constructively to support buyers during the awareness, consideration, and decision stages.
In this regard, inbound marketing theory suggests an inbound sales methodology that uses the following framework: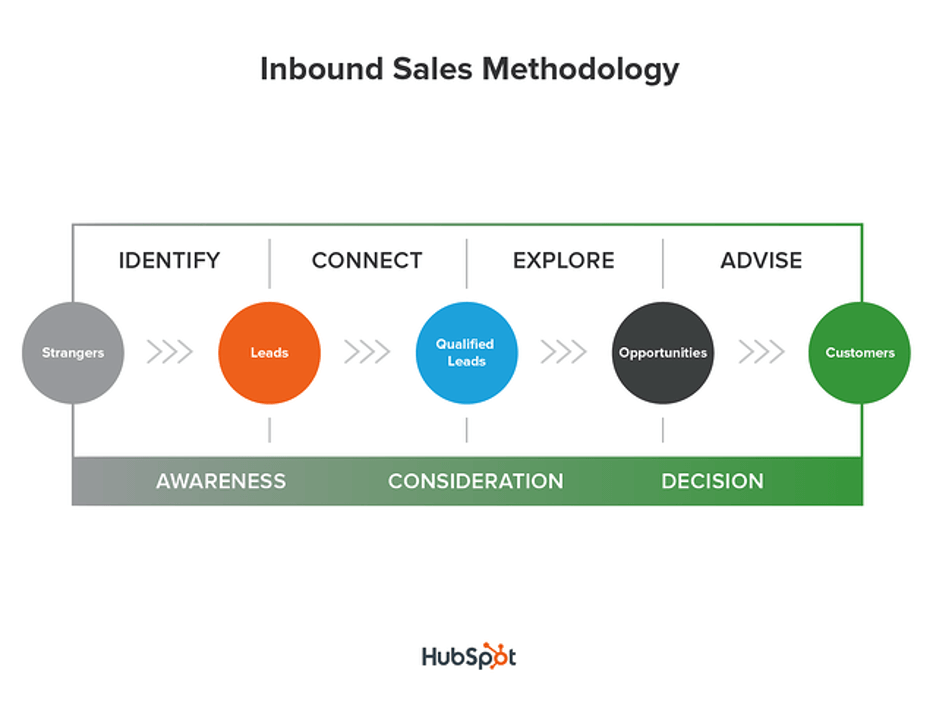 [Image source: HubSpot]
Your inbound sales team should first identify potential customers – or consumers who have aims or issues that they can assist in dealing with. Sales teams should then connect with these people and engage in dialogue to help these interested prospects decide if their aims or issues are a priority. If this is actually the case, these interested prospects become qualified leads.
During the Explore phase, inbound sales reps identify sales opportunities, if these same qualified leads turn out to be people for whom your product or service offering is a good fit. With a proper value positioning, your inbound salespeople can then advise these opportunities on how your offering is uniquely positioned to address their needs.
3. Identify your active buyers
At this time, it's necessary to identify passive buyers in your sales funnel, and distinguish them from active buyers, who have already entered the Awareness phase of their buying journey. It is this latter group of active buyers that should now be the focus of your inbound selling efforts. These interested prospects will already have expressed a need or interest in what you have to offer, through their activities on various channels.
Your inbound sales team will need to define an ideal buyer profile, to establish which buyers you can help and which ones you can't. Your inbound sales professionals will then be in a position to use a hierarchy of lead sources, to prioritise leads.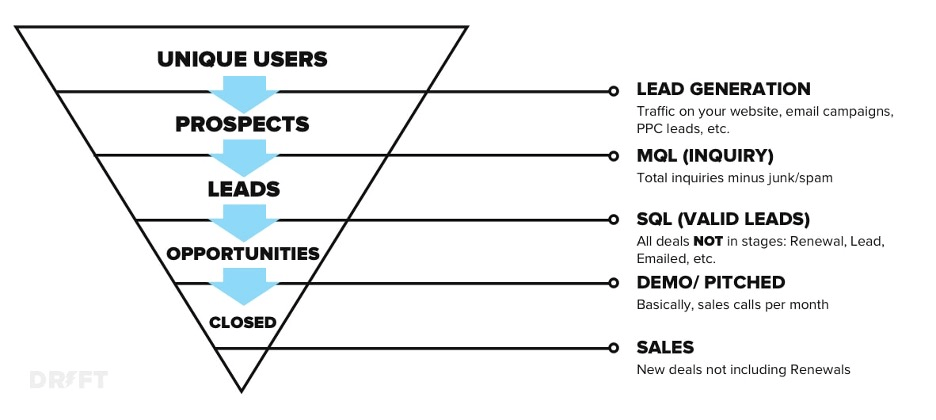 [Image source: Drift.com]
4. Connect with buyers in appropriate ways
When deciding on ways to reach out to sales leads, the inbound sales methodology requires inbound sales professionals to define (and if necessary, refine) their buyer personas. For B2B transactions, this typically involves segmenting the target market by company type, then pinpointing the different types of people to target within each company.
With personas now clearly defined, inbound salespeople can now develop an outreach strategy for connecting with inbound leads using content and messages personalised to the prospect's unique context and position in the buyer's journey.
5. Explore ways to solve the buyer's problems
During the course of their exploratory dialogue with inbound leads, inbound salespeople should look for ways to probe deeper into the buyer's specific goals and challenges. This is the time to offer specialist advice and assistance that the prospect could not otherwise find on their own.
At this stage – and with a proper value positioning and strategic questions – inbound salespeople can guide prospects to draw their own conclusions about whether your product or service is right for their needs.
6. Advise the buyer on their purchasing decision
During this final phase of the inbound sales process, inbound sales professionals will focus on converting prospects from potential clients into paying customers. Inbound sales teams must therefore educate and advise inbound leads as to why and how your offering can address their challenges and needs.
This stage typically involves inbound salespeople in crafting personalised offers, and confirming details like the buyer's budget, timeline for implementation, and purchasing cycles.
Keep your teams aligned – and partner for success
For inbound sales success, your inbound sales team must align with your inbound marketing team. Both your inbound sales and marketing team need to work together to fully understand the needs of potential customers -- and to create a consistent and enjoyable experience for them.
The inbound sales process is multifaceted, and can be complex. So it's important too, to collaborate with the right kind of inbound sales and inbound marketing partner.
At Incisive Edge we believe in combining SEO, PPC, paid social, content marketing and marketing automation to nurture leads through your company's funnel.
Combining tried and tested campaign strategies with the intricacies and objectives of your business, we design inbound marketing strategies and programmes that align with your ongoing company strategy and give you a higher ROI on your inbound sales efforts.
Whether you're a start up and want a ready-formed team at your disposal for your inbound sales strategy, or a scaleup who wants expertise in specific areas, we work with you to meet your exact needs.
To find out more about how Incisive Edge can help to optimise your inbound sales process and generate more inbound leads, get in touch with us.