Credibility assets are a very important part of any marketing strategy strategy – particularly in the B2B space.
Building credibility and trust into your most-viewed digital asset – i.e. your website – is imperative if you are to prevent B2B buyers from abandoning ship even before they've checked out your products page.
However, what constitutes as the most important credibility asset might surprise you. Indeed, while tech marketing strategies often emphasise the impact that blogs, videos, and social media have in the B2B buying cycle, this impact is perhaps not quite as significant as marketers have assumed.
As it turns out, according to the 2015 B2B Web Usability Report by Huff Industrial Marketing and KoMarketing, the number one content asset that establishes the most credibility for buyers when evaluating a vendor website is thorough contact information.
This credibility asset was deemed a "must have" or "very important" by 90% of buyers when considering whether or not to move forward with an enquiry, request a quote, or take up a trial offer.
(Image source: komarketing.com)
By contrast, video content, social media activity, and blog posts – the three tech marketing elements upon which B2B companies tend to focus the largest part of their efforts – are the three least important content assets that B2B buyers are looking for when trying to establish the credibility of a vendor.
Thorough Contact Information – The Most Important of All Credibility Assets
In today's world where pretty much anybody can build a website and launch a business in just a few hours, establishing trust and credibility from the outset has perhaps never been more important.
Displaying thorough contact information on your site might seem like the most trivial content for you to worry about – after all, your address, phone number and email address is the easiest thing to get right. But it turns out that websites that fail to provide the basics lose potential customers long before they've had a chance to read all the wonderful blog and social media output that marketing teams have dedicated hours upon hours creating.
What B2B buyers need to know above all else is who's behind the company, where it's located, and how they can reach out and talk to a real person who works there.
A company that freely shares this information establishes legitimacy immediately, and thusly gives the B2B buyer the confidence that he/she isn't wasting his/her time.
However, despite the urgent need to display it clearly, thorough contact information is the credibility asset most lacking on vendor websites.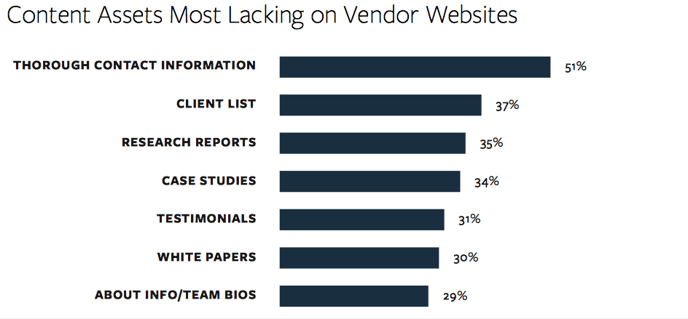 (Image source: komarketing.com)
The lesson here is to stop relegating your contact information to the "Contact Us" page where you force a prospect to fill out a form and send their enquiry off somewhere completely anonymous. Get your company's phone number and address in the header of each page – or, at the very least, place the "Contact Us" call to action in the main navigation menu at the top, as opposed to burying it somewhere right at the bottom.
Lack of contact info causes 44% of B2B buyers to leave your website – so make sure it's clear for all to see on every page.
About Info and Team Bios
Another of the most important credibility assets for your tech marketing strategy comes in your "About Us" pages and your team bios.
Unfortunately, many B2B companies tend to not give their "About Us" pages the attention they deserve – and the fact of the matter is that when they do this, they're throwing away a prime opportunity to tell their story, show their personality and authenticity, and ultimately establish trust and credibility with B2B buyers.
At the end of the day, people buy from people – even in the B2B space. And this means that you need to give B2B buyers the opportunity to see the real human beings who are behind the organisation that they're considering buying from.
How to do this? Simply with a "Meet the Team" page or something similar. Include photographs of your team looking friendly and approachable, and include a little blurb for each member that explains who they are, and what value they bring.
KhanAcademy – an online education company – gets this exactly right. Its "Meet the Team" page is beautifully designed. It tells you not only who everyone is and what they do, but also gives a little insight into who they are outside of the office, and, crucially, how to get in touch with them.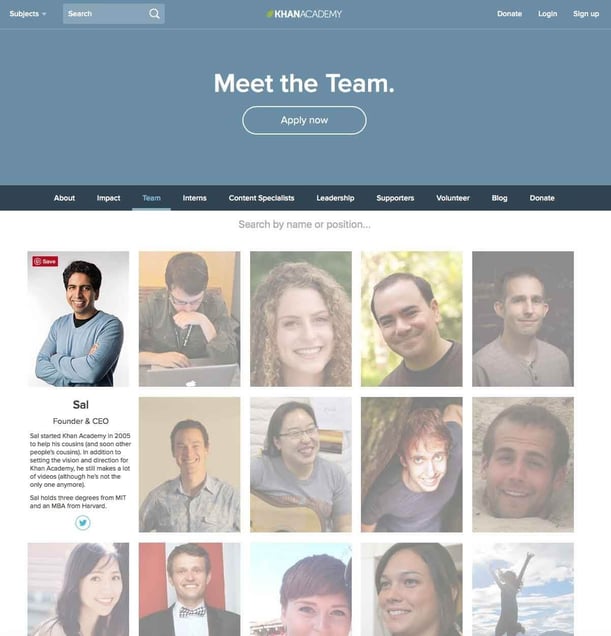 (Image source: khanacademy.org)
Client Lists
Client lists are another vitally important credibility asset that work wonders for establishing trust at a glance – especially if you have well-known clients within your industry who are happy for you to display their logo on your website.
When a prospective buyer arrives at your website and sees that you have worked with a well-recognised company (or two, three, four, etc.), they will assume that you're trustworthy pretty much automatically and without hesitation.
You can even add a bit of life and colour to your client list. This is what productivity management app company Basecamp does – keeping this vital information right on-brand.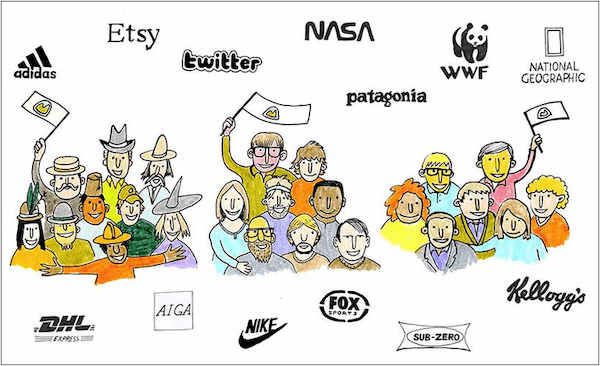 (Image source: basecamp.com)
Case Studies
Finally, case studies. When we think of credibility assets, case studies are what tend to come to mind most naturally – and for good reason.
A good case study provides the social proof and existing customer advocacy that practically all B2B buyers will need before committing to a purchase.
In fact, last year, the Content Marketing Institute's 'Content Marketing in the UK' report found that case studies had a 67% effectiveness rating amongst the marketers surveyed. That's pretty impressive, considering that case studies are a bottom-of-the-funnel (BoFu) content asset – i.e. an asset that is specifically designed to convince a buyer to make a purchase.
More than simply testimonials, case studies are those credibility assets that take readers on a specific journey through the usage of your product, and highlight the particular success that an existing company has had with it. In short, it's a validation of your organisation that comes right from the horse's mouth, and one of the strongest ways to establish credibility at the BoFu stage that there is.
Over to You
Credibility assets are absolutely essential to your tech marketing strategy – and getting them right means going back to basics. B2B buyers establish the credibility of your company first by seeing that you have displayed your contact information clearly – it may seem too simple, but if a buyer doesn't think you can be made contact with, they'll simply look elsewhere.
Next, you need to present the human side of your business with decent team bios and a good About Us page. Finally, include a client list and have a cache of good case studies prepared for your prospects to read, and you'll have the whole package of the most important credibility assets at the ready, and more buyers will start picking up the phone.
If you need help developing credibility assets for your website, get in touch with the tech marketing experts here at Incisive Edge today.