Developing and nurturing strong customer relationships is what good social community management is all about. Done well, you will create an emotional connection between your online following and your brand, boost customer retention rates, and improve your business's reputation right across the board.
Why? Because today, people are spending more time on social media than ever before.
Be they perusing B2B articles on LinkedIn at work, checking out the latest news and trending topics on Twitter during their lunch breaks, or chilling out in the evenings and flicking through Facebook or Pinterest or Instagram at home – social media has taken over our waking hours from dawn right through to dusk.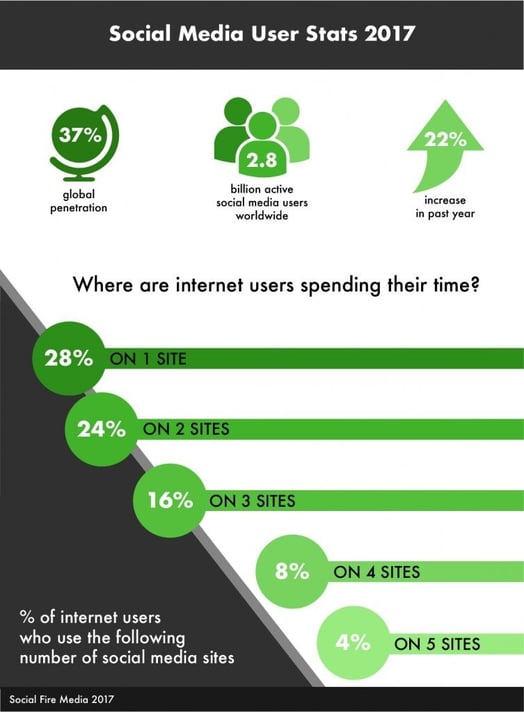 (Image source: socialfiremedia.com)
More importantly, however, is the fact that people are following and engaging with brands on social media. In all, 58% of social media users follow brands, according to research from MarketingSherpa. However, when we break down the demographics, we see that younger generations are much more likely to get involved with what brands are doing on social. A massive 95% of 18-34-year-olds follow brands on social, 92% of 35-44-year-olds, and 85% of 45-54-year-olds. It's only the older generation which is less likely to follow what brands are doing on social media – 35% of 55-64-year olds is the figure.
A solid social media strategy should be included as part of the overall marketing strategy.
But why do people of all ages like to get digitally involved with brands on social?
Well, there are many reasons cited in the MarketingSherpa survey, which garnered the opinions of 1,176 consumers. People are interested in receiving discounts, promotions and other incentives, of course. They're also interested in the content that brands create and share on their social accounts – and they like that content to be of both the entertaining and educative varieties.
Other reasons consumers gave for following a brand on social media include for making direct contact, the brand reflecting the individual's lifestyle and because their friends, family or colleagues also follow the brand. Below is a graph reflecting consumer reasons to follow brands' social media accounts.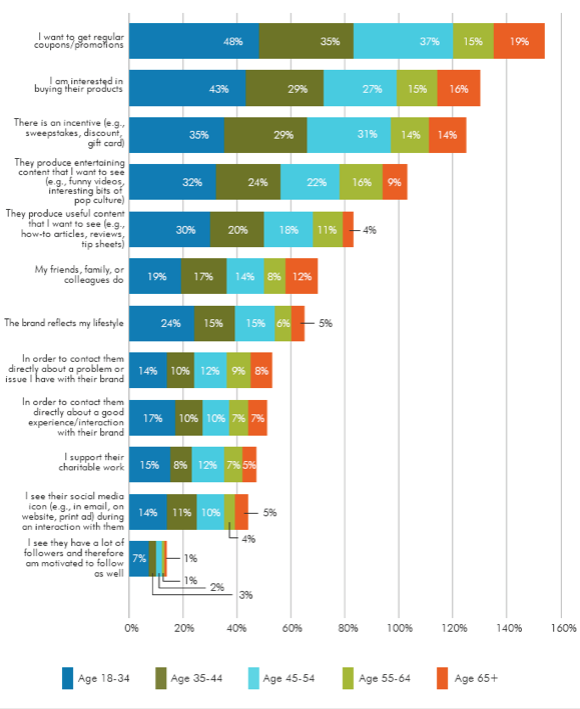 (Image source: marketingsherpa.com)
In order to build a thriving and engaged community on social media, you need to be delivering on all of these fronts and more.
And that's precisely what effective social community management is all about.
3 Tips for Social Media Community Managers to build an Effective Management Plan
Social community managers need to make meaningful connections with relevant communities, create added value for each and every member of those communities, and build lasting relationships that leave customers and followers satisfied.
However, as easy as it is to say what social community managers should do, the actual task itself is not always straightforward.
What's needed is a working social community management plan to guide you. One that will help you keep your social community engaged with your brand, retain existing customers, and acquire new ones.
Here are three tips to help you build an effective social community management strategy that will enable you to do all of the above.
1. Having a Personality
One of the greatest things about good social community management is that it allows you to humanise your brand by bringing some real personality to the ongoing conversation.
A great example of this done well is the smoothie and juice brand Innocent Drinks' output on Twitter.
What you'll find when you visit the @innocent account is that the social community management team there doesn't really post very much about the company's actual products at all. Instead, they use Twitter to foster Innocent's fun, clever, creative and ultimately loveable personality.
For instance, the account regularly posts humorous weather forecasts, which, of course, have nothing whatsoever to do with fruit juice.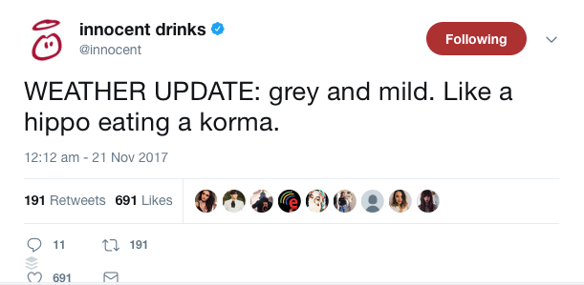 (Image source: twitter.com)
Or they post things like this…
(Image source: twitter.com)
As you can see, these posts generate great engagement from followers because they do precisely what they're designed to do – entertain the @innocent community.
As Innocent Drinks' Community Manager Helena Langdon puts it: "We want to tell people about us in the most engaging way we can. It's our goal to make our pages a place on social media where people want to visit and enjoy seeing in their timelines, then people won't mind when we try to sell them drinks every now and again."
This is effective social community management.
2. Answering Questions
People aren't signing up to social networks so they can simply sponge up brand messages. On the contrary, they are active participants – leaving comments, making complaints, liking, sharing, and generally being busy bees in the various social hives.
As such, it's not enough for you to simply post your own business updates as part of a social community management plan. You need to be encouraging questions from your community, and be willing to answer them in a timely fashion.
This, indeed, is the expectation. Research from Ambassador reveals some very telling figures about how consumers expect brands to handle customer service on social media.
For starters, over half of all social users will engage with brands several times a month. And when they do, 71% expect to receive assistance within just five minutes of reaching out to a company.
The good news is that another 71% of customers who have a positive service experience via social media are likely to recommend that company to others. 70% of those who are helped out via social and have their questions answered will return as a customer in the future. Indeed, this is the true power of effective social community management.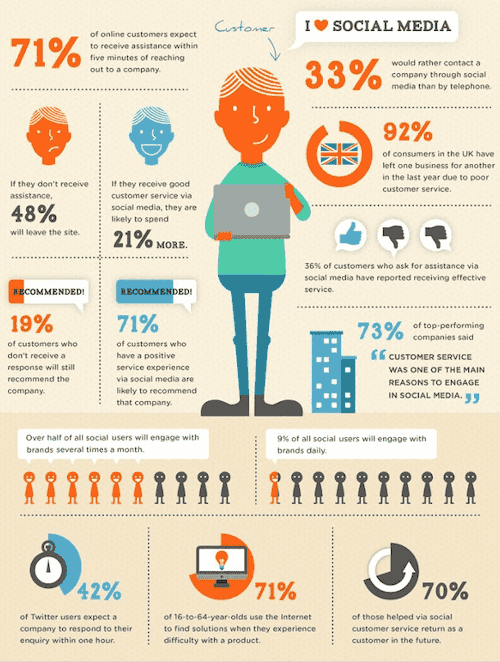 (Image source: getambassador.com)
3. Encourage and Use Social Mentions to Tell Your Story
Yes. Ask your customers to tell their stories on your social channels – both about themselves and, importantly, about how they've used your product or service.
Over time, you will build up a substantial story base that you will be able to use in various marketing assets, such as the testimonial pages on your website or in your case studies.
Indeed, any form of user-generated content that you can elicit from your following on social media is great news for your brand. If they post a photo of themselves using your product on Instagram, great! But make sure you re-gram it, tweet it, Pin it or post it on Facebook as well if you can.
The idea is that you are recognising the most loyal members of your community, and helping them to help you tell your brand story to others. What it essentially boils down to is ensuring that you're talking about your customers on social media, and not just yourself. A compelling brand story will naturally emerge from all the engagement, which you will then be able to build upon as you celebrate your customers who are illustrating their experiences with your brand for all to see.
Over to You
Effective social community management is all about relationships. It's about making connections with your fans, followers and customers online and creating a sense of community that you can all engage with together.
Remember that you need to be entertaining your community (especially in B2C) as well as informing and educating them, and that you need to be responsive to any questions or queries that are fired your way. Put it all together and you'll soon have an engaging brand personality that your community will be excited about. The compelling brand stories will emerge from all the conversations you create and participate in – and that's right at the heart of what effective social community management is all about.
If you need help developing a social community management plan, get in touch with the inbound marketing experts at Incisive Edge today.