Whatever the size of your business, launching product or service lines forms a key part of your marketing efforts. Product launches are essential in ensuring that new or improved offerings are brought to the attention of your target audience.
Launching a new product can be a gateway into new markets, a way of consolidating your hold on existing markets, and a means of gaining competitive advantage. Crucial to any successful product launch is the development and implementation of a product launch marketing plan.
In this article, we'll be looking at nine effective ways of developing and implementing a product launch marketing plan that will get your product launch off with a bang.
What Is a Product Launch Marketing Plan?
A product launch is simply a deliberate attempt to formally introduce a new product or service. A product launch marketing plan is the strategy that you use to effectively deliver that new offering to the market. It typically involves a sequence of steps leading up to and following the product launch date.
The goal of the pre launch product launch strategy is essentially to communicate the benefits and features of a new product to your target audience, thereby inspiring them to purchase and use the product. Post launch, the marketing plan involves the monitoring of sales figures, customer feedback, and the customer experience, to establish whether it has been a successful product launch, or if remedial actions are required.
Product launches can be a risky and high-cost endeavour. A product launch may cost anywhere from $10,000 to over $10 million. For the most part however, product launches typically fall within a cost range from $20,000 to $500,000, depending on the industry, the type of product, the state of the market, and other factors.
This is a considerable investment, whichever way you look at it – so it's important to take the necessary steps pre launch to ensure a successful product launch. Those steps include the following:
1. Learn About Your Customers
The first stage of any product launch is developing a thorough understanding of the target audience for the new offering. This pre launch process involves identifying your buyer personas and mapping the customer journey they are anticipated to take. Put yourself in the customer's shoes and study customer feedback relating to similar products and previous interactions with your brand, to establish the aspirations, motivations, pain points, and needs of the target audience. This information will assist in both product development and in the crafting of your launch messaging.
2. Draft a Positioning Statement
A key element of every product launch marketing plan is a product positioning statement. This is a formal statement drafted pre launch within the organisation that defines who the product is for, what it does, and how it differs from other offerings on the market.
The positioning statement is typically a brief document, consisting of around three to five sentences. Besides the basic points outlined above, for digital marketing purposes the product positioning statement may be expanded to include considerations such as the specific segment of the target audience most likely to buy the product, the brand name, and which product or service category the new product lies in.
3. Get stakeholders On Board with Your Product Positioning Pitch
Your sales team, digital marketing professionals, customer service personnel, executives, and other stakeholders in the organisation will all need to play a part in your product launch marketing plan. To increase your chances of a successful product launch, it's important to keep them all in the loop and on the same page regarding your product launch. This includes gauging their reaction to your product positioning statement, and any feedback they may have regarding practical aspects of the launch strategy.
4. Develop Your Go-To-Market Strategy
A go-to-market strategy is the sequence of operations you will need to go through to launch and promote your product. This will typically include the refinement of launch messaging and material for search engines, approaches to media outlets, industry influencers, and digital marketing channels, the selection of your marketing tools, and the fine-tuning of your marketing plan and marketing automation.
5. Set a Goal for Your Product Launch
You will be launching a new product with specific objectives in mind, and your launch plan should reflect this. To maintain focus, you should therefore define specific goals to chart the success of the product launch. Ideally, these goals should be SMART -- Specific, Measurable, Attainable, Relevant, and Time-bound.
6. Create Promotional Content
Your digital marketing efforts for the new product will require the production, distribution, and promotion of relevant, engaging, and useful content that pushes the benefits and value of your new offering to your target audience.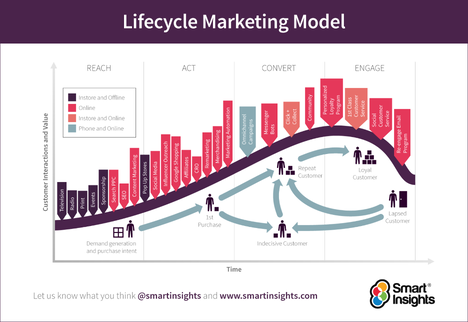 [Image source: Smart Insights]
This promotional content will likely span a range of formats and distribution channels. For example, you may need to create a formal press release for broadcast via traditional media outlets, and a separate but consistent press release for your website, landing page, social media, and promotion via search engines.
Regarding social media, you will probably also need to enlist the cooperation of relevant industry influencers to communicate your launch date, launch activities, and launch messaging to the widest possible audience.
Note that your product launch messaging and post launch promotional content will need to span the entire customer journey, and take different and appropriate forms at each stage. There are tools and frameworks available to assist digital marketing teams in planning, managing and optimising their customer journeys across all the key touchpoints used by a target audience.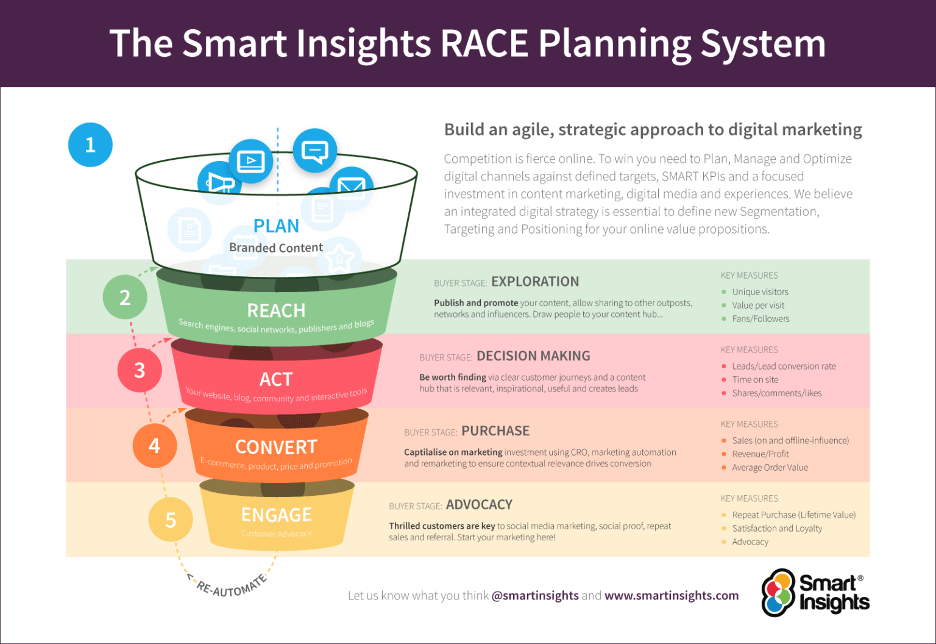 [Image source: Smart Insights]
7. Get Your Team Ready
With the launch date imminent, this is the time to step up internal communications and ensure that your product team, digital marketing, sales team, and all key product launch stakeholders are still on the same page, and fully equipped to go.
8. Launch the Product
At this stage, it's time to launch the product. If it's a digital product or if you are selling the product online, your product launch implementation will need to take in considerations such as optimising for search engines, landing page design, email marketing, and creating awareness on social media. For a product or service that takes a physical form, you will need to consider aspects such as distribution channels, warehousing, logistics, inventory management, and finding ways to establish relationships with distributors and small businesses that can increase the availability of what you have to offer.
9. Track and Monitor Your Success
Post launch, you will need to spend time monitoring the success of your product launch marketing plan and go-to-market strategy. This is the time when the SMART goals you previously set for the product launch translate into quantifiable metrics that will enable you to monitor customer feedback, social media buzz, market intelligence, and sales figures to determine whether it has been a successful product launch.
If you're looking to develop a product launch marketing plan, here at Incisive Edge we have the resources and expertise to help. To learn more, get in touch with us.