A growth strategy or growth plan is critical to the success and continual development of any business. This applies to small businesses and larger scale enterprises alike. New businesses in particular require a strategy for breaking into and surviving in existing markets, nurturing existing and potential customers, and identifying new growth opportunities. To remain dynamic in competitive markets, established and successful companies need business growth strategies to help them continue to market existing products, develop new product or service lines, optimise their logistics and distribution channels, and plot paths for consistent revenue growth.
In this article, we'll be looking at four fundamental growth strategies for business and how to create a successful business growth strategy. We will also consider some important steps for putting these growth strategies into action.
What Is a Growth Strategy?
Business analysis firm Gartner, Inc., defines a growth strategy or growth plan as "an organisation's plan for overcoming current and future challenges to realise its goals for expansion." Such goals may include efforts to generate growth in an existing market, increasing a brand's market share in existing markets, breaking into new markets, a drive to increase sales, the formation of strategic partnerships, strengthening your position in your current market or ensuring revenue growth for an entire organisation.
Business growth generally occurs in either of two fundamental ways.
A business growth strategy that generates inorganic growth typically achieves this through the establishment of strategic partnerships. This might occur through the merger of two or more companies, enabling the combined entity to enjoy the market share accruing from a base of existing products and existing customers. In an acquisition strategy for inorganic growth, one company (usually an established and larger scale enterprise) may buy most or all of a number of small businesses. In this way, the larger corporate body can reap the benefits of acquiring more products or services in the same market, as well as talent and products in new markets. The difference between an effective growth strategy that brings sustainable growth and an ineffective one lies in your strategy.
Organic growth is more of an inward-looking process, in which a business aims to increase its number of existing and potential customers, increase revenue, and create growth opportunities across the entire organisation through various operational and strategic efforts. Within the category of organic business growth there are generally considered to be four key business growth strategies:
1. Market Penetration Strategy
In a market penetration growth strategy, an organisation seeks to increase market share by using its current portfolio of products and services. So business growth through a market penetration strategy does not depend on the creation of new products, or a shift into new markets. Rather, the growth efforts may concentrate on lowering prices for existing products and services, or increasing attempts to lure the target market away from competitors.
2. Product Development Strategy
Organisations adopting a product development strategy for business growth look to achieve rapid growth by catering to the needs of an existing market. This typically involves developing new products or services for existing markets. The organisation can therefore achieve growth by selling a new or improved range of products to its existing customers.
3. Market Development Strategy
In a market development growth strategy, an organisation attempts to sell its products or services to new markets, rather than concentrating efforts on the same market. This might involve the targeting of new customer segments, or a bid to increase revenue by selling to a new geographical location.
4. Diversification Strategy
A diversification growth strategy is a high-stakes and high-risk attempt to hopefully achieve massive growth through the introduction of new products or services for completely new markets. This is unlikely to be the best growth strategy for small businesses or new businesses, as a diversification growth strategy typically involves a considerable financial outlay and a high degree of uncertainty.
Putting Business Growth Strategies Into Action
There are a number of practical steps you can take to put a growth strategy into action they include:
Use a Template: A number of online resources provide free growth strategy templates, which map out and document a stage by stage process for a business growth plan.
Identify Your Growth Areas: Develop a clear picture of where and how you wish your organisation to grow. This might for example be an increase in market share, expanding sales of existing products, or extending your numbers of existing and potential customers.
Research the Market: Running surveys of your target market and conducting industry analysis will help in establishing whether your business growth goals are achievable. This research can also help in establishing a budget and timetable for your business growth strategy.
Set Tangible Goals: Using the results of the research phase, you can set clear and realistic goals for your growth strategies. For example, you might set out to achieve a certain percentage growth in sales within the next two years.
Create a Formal Growth Strategy Action Plan: This should include a time frame, deadlines, responsible personnel, and the resources required for achieving the growth strategy goals.
Allocate the Necessary Resources: These may typically include the funding, technology, and services required for putting business growth strategies into effect.
Put Your Growth Strategy Into Action: During the implementation phase, keep all needed lines of communication open, and monitor the process to identify if any adjustments are required, and that your growth strategy goals are still feasible.
Some Growth Strategy Examples
Beyond the fundamental four, business growth strategies include a number of real world examples, as indicated by the infographic below: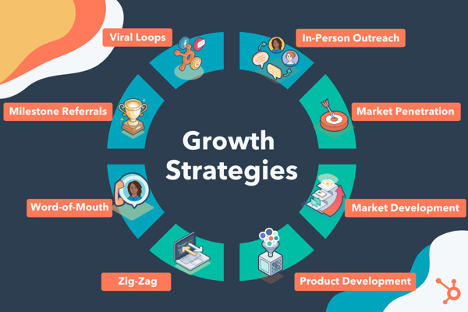 [Image source: HubSpot]
Let's look at a couple of examples in more detail.
Viral Loops
A model now routinely employed by cloud storage services is the Viral Loop. Here, existing customers trying the platform are encouraged to share it with their friends by offering an incentive, such as additional storage for each referral. New users who sign up get the same offer, perpetuating the loop.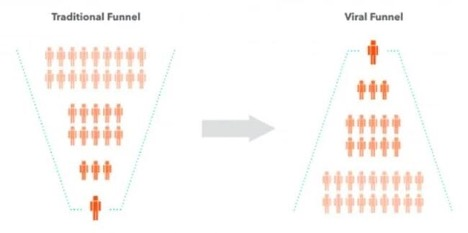 [Image source: Viral Loops]
Word of Mouth
In the age of social media, positive reviews and feedback on a product or service from friends, family, and influencers provide powerful incentives for consumers to purchase or try a product or service.
After shaking up the razor blade market by offering a Direct to Consumer (D2C) subscription business model, Dollar Shave Club went on to build a business growth strategy based on both the Viral Loop and Word of Mouth concepts. By delivering an excellent customer experience and creating awareness via humorous content that conveys their unique selling point of convenient, cheaper shaves, Dollar Shave Club has managed to build a loyal subscriber base, and become a multi-million-dollar disruption to its industry.
If you'd like to learn more about business growth strategies, or need helping getting your own growth strategy off the ground, Incisive Edge can help. Get in touch with us.