To succeed at inbound marketing, you need a strategy that is going to grab people's attention.

However, the competition for attention on social media platforms is getting hotter and hotter (and hotter and hotter still!) as each day ticks by.

Have you seen the latest social network user stats over at Statista?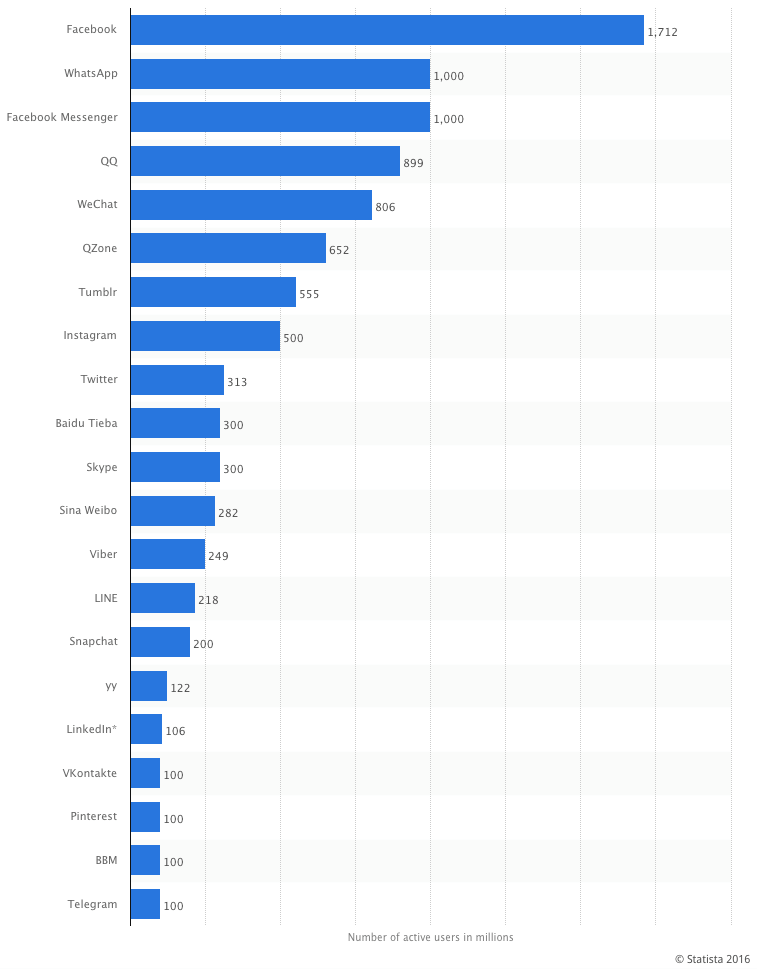 (Most famous social network sites worldwide, ranked by number of active users (in millions))

Today, we've got no fewer than 1.71 billion active monthly users on Facebook, another half a billion around the corner on Instagram, 313 million on Twitter, 106 million on LinkedIn, and 100 million Pinterest.

Importantly, these users are defined as being "active". This means that they haven't just signed up for an account and then disappeared again. Rather, that they are actively contributing to the content on the networks, liking, sharing and uploading every single month.

Now, the fact that the vast majority of these people are not employed as inbound marketers or otherwise representing brands and businesses really doesn't matter. What does matter is the fact that all these billions of people are out there competing for attention in the same space that we, as marketers, are. In effect, therefore, no matter whether we're casual or professional users, we're all in direct competition with each other.
The Importance of Visual Marketing in 2017
With such a bustling melting pot of rivalry, it's no wonder that inbound marketers are placing ever-increasing attention towards their visual marketing efforts.

Indeed, according to the CMO council, 65% of senior marketing executives believe that visual assets (video, infographics, photography, images, etc.) are key to communicating their brand stories online.

Why?

Simple – because visual content stands out. As human beings, we're attracted to visuals. Research by Xerox has even revealed that the inclusion of coloured visuals increases people's willingness to read a piece of content by a whopping 80%.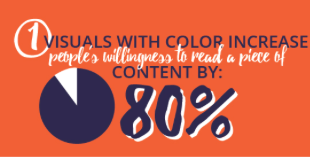 (Image source: business2community.com)
However, the problem, of course, remains the same – everyone (including all those pesky casual users) are sharing visuals on social.

You only have to take a quick browse through your Facebook and Twitter feeds to see the proof – if they're anything like mine, then you'll realise that pure, text-only posts have become a rare thing these days (and engagement with such posts is seriously lacking).
Standing Out with Video
And so, the inbound marketer is presented with a problem – with the competition so rife, how do we make our visual content stand out?

The answer is video content.

But not just any video – high-quality, engaging and professionally produced video.

I make this point because, much like all forms of visual content, the competition for video views is as furious as anything else.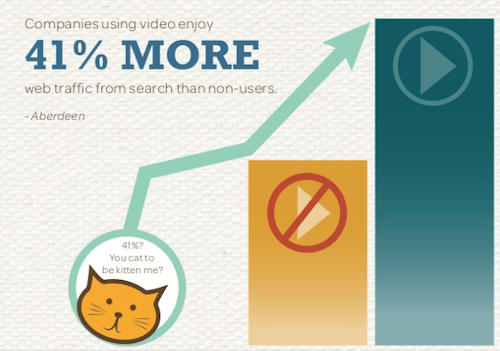 (Image source: slideshare.net/adeliestudios)

In fact, video has become the content format of choice for the average internet user. A research paper published by Cisco reveals that video traffic will make up a positively dominating 82% of all internet traffic by 2020 – up from 70% in 2015.

That's massive. In fact, it's more than massive. It's HUMONGOUS!

What's more, according to the Ooyala Global Video Index report, mobile video views are increasingly on the rise – now accounting for 51% of all video plays (representing a 203% increase from 2014 (wow!)).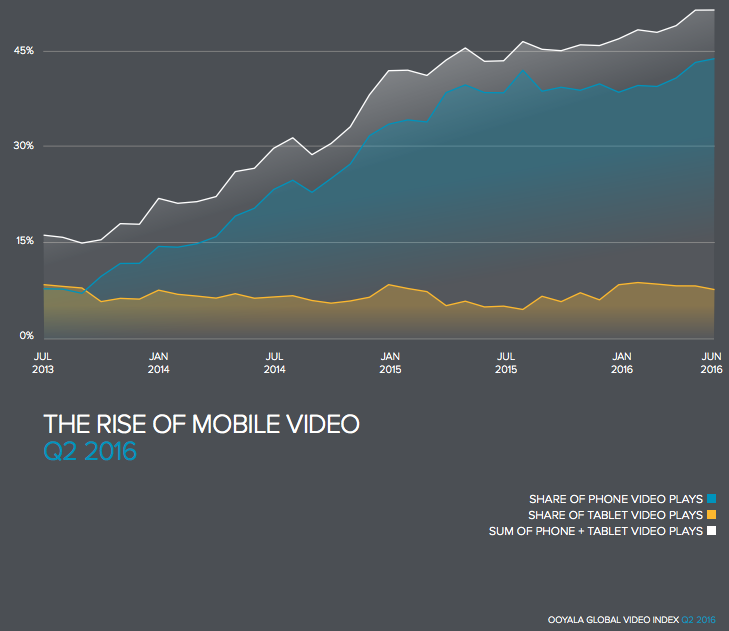 And this is an important statistic to note – as inbound marketers, we need to know where our content is being consumed so we may optimise our output.

But, no matter the device in question, with video now accounting for so much internet traffic, it should come as no surprise that video content delivers inbound marketing results.

Ready for some more stats? We know you love 'em…
Social video generates 1200% more shares than text and images combined
Companies that use videos enjoy 41% more traffic
Videos on landing pages produce 80% more conversions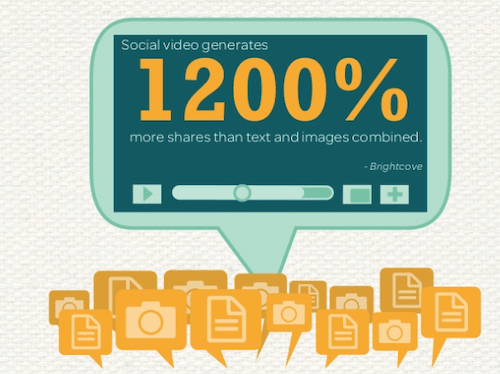 (Image source: slideshare.net/adeliestudios)
Is the picture crisp and clear?

With such positive outcomes just a few moving pictures away, if you've yet to get yourself started with video marketing, then this is the time to start putting your lights and cameras into action.
2 Amazing Video Marketing Apps to Get You Started
We made the point earlier that in order to stand out with your video marketing efforts, then you would need to produce high-quality, engaging and professionally produced pieces.

That's true. The competition is indeed tough.

But, you will be pleased to learn that there are some great software tools out there that can help you produce, very simply, video marketing content of an exceptionally high standard.

Let us introduce you to two of them….
Shakr
Shakr is an online video maker with a strong emphasis on video ad creation.

It's a ridiculously simple piece of software to use (if you can drag and drop, you can use Shakr), and yet the results that you get are nothing short of phenomenal.

To make a video, you simply choose one of over 500 templates, and from there replace each element – text, image and video footage – in each frame with your own. Job done.

Want to see how easy it is? Here's Shakr's walkthrough video for using the app – it lasts just 21 seconds.
The templates are varied and come with their own music. Some are 100% text-based, meaning that you simply insert your inbound marketing messages and Shakr then animates the text to music. Others require you to add your images or video footage – and still more are blends of all three.

It really couldn't be any easier to edit together a professional piece of video marketing content in a matter of minutes.

The only drawback is that there isn't a free version per se. By this we mean that it is free to sign up to Shakr, and then create and edit your videos, but, if you want to download, remove the watermark and use them for promotional purposes, you're charged.
That being said, the prices are reasonable (much more reasonable than hiring a film company to produce your promos for you), and you can of course experiment with the platform before you commit to buying anything you create.
Moovly
While Shakr is about text, images and raw footage, Moovly focusses on animations.
Again, simplicity is key to Moovly. If you already use Canva or Piktochart for creating your infographics, then you are more than qualified to use Moovly.
Here's the explainer vid from the company so you can see the sort of thing that's possible with the software, and indeed how simple it is to use.
What is Moovly? from Moovly on Vimeo.
There is a little more freedom with Moovly as compared to Shakr in terms of audio. While with Shakr you're stuck with whatever music is associated with the template you choose, when using Moovly, you have the option of uploading your own music and/or recording a voiceover.

There is freemium version of Moovly, and prices, if you choose to upgrade, are again reasonable.
Video Marketing Has Never Been Simpler
Both platforms are incredibly versatile – use them for creating company overviews, take your followers behind the scenes, produce tutorials or explainer videos, promote your other inbound marketing content, craft event promos, make animated reports, or simply to produce some good old-fashioned product advertising.

In an increasingly competitive online environment, making your visual marketing materials stand out is challenging. But, get to grips with these two democratising platforms, and you'll soon have a video marketing strategy that no one will be able to miss.