If you're considering implementing the inbound methodology in your marketing strategy, you're probably wondering about inbound content marketing ROI and how exactly it works.
Content marketing in its many forms is about changing or maintaining behaviour with the ultimate goal of improving savings, increasing sales and building customer retention. If your content marketing channel isn't delivering for you, is it really worthwhile?
Consider why you are creating content and how much content you need for a particular channel, be it your blog, website or social media presences such as Facebook, Twitter and LinkedIn.
Do you need to commit to every channel just because they exist? Some channels may be more effective for promoting certain kinds of resources over others. Consider your objectives and tailor your approach to suit your inbound content marketing strategy.
Effective content marketing really thrives on quality over quantity.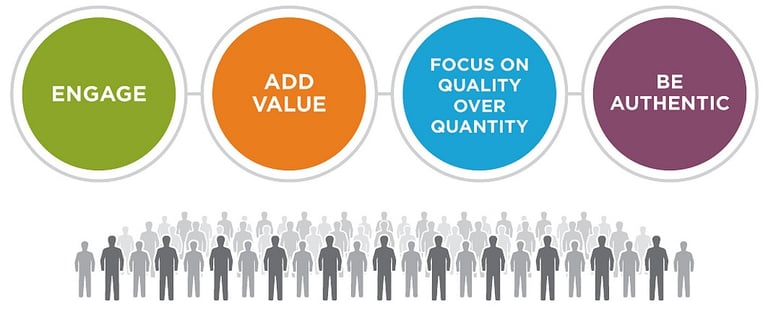 High-value content will be able to lift your ROI, by helping to remove one or more of the steps that a buyer has to take. Adding value and solving inherent commercial problems will build trust in your brand and lead customers away from your competition.
Consider all the steps that your buyers have to take, determine the biggest problems they face during the process and create content to solve these issues.
Alternatively, help to educate the buyers on how to solve the problems for themselves.
Create blogs and other easily digestible resources by repurposing and reformatting your content (infographics and images are processed 60,000 times faster than words and deliver high impact). Then promote it all through paid, owned and earned media.
Of course, this should all be linked back to your core resources to help drive conversions. The aim is to have a single, core resource which resonates with your buyers, driving conversions.
But how can you measure the effectiveness of your content marketing?
Whilst pageviews, shares or anecdotes from buyers have typically been relied on to measure effectiveness in the past, there are now quantitative metrics which can be employed.
An effective inbound content marketing ROI strategy should focus on three key areas:
1. Performance
2. Operation
3. Return On Investment (we suggest that this mix results in a Return On Objectives as much as a Return on Investment)
Performance as a metric measures the "return" you are seeking as denoted by ROI, such as lead generation via sharing and engagement, retention as measured by subscribers, consumption as reported through pageviews/ dwell time/ bounce rate/ downloads and sales impact, through opportunities influenced and revenue growth.
Operation as a metric is the "investment" within ROI, measuring the costs of the production, distribution and promotion of your content across all channels.
The total ROI metric combines the performance and return metrics together, such as sales-closed, versus each pound spent on content creation and deployment.
Knowing and keeping these three key metrics front and centre of your inbound content marketing programme will help incentivise your marketing team and build alignment within the business.
It will enable you to pinpoint where and why your content may not be achieving its goal and ultimately, improve the effectiveness of your future inbound strategy, especially if you commit to a 'test and learn' basis of perpetual improvement.
If you have more questions about the ROI from inbound content marketing and how you can begin implementing this strategy for your business, contact us today.