To much the same extent that B2B marketing teams in 2017 are under pressure to create great video marketing content, so too are they to prove the ROI (return on investment) for all initiatives undertaken.
We're told time and time again that the modern internet is simply awash with video marketing content. And we know it's true, for we can see it for ourselves every time we fire up our browsers – be it for private or professional purposes. And so, our B2B marketing strategies pay due attention to video marketing accordingly – we've got to give our customers what they want, right?
Right.
But, even though the very existence of a video marketing strategy will be pleasing the executive suite to a certain extent, those same bosses are never going to relax (and neither are we) until we can prove the actual business impact that our campaigns are making.
Such pressure can be enough to make many a B2B marketing team fearful to venture into the realms of video marketing in the first instance. For indeed, such is the shareability and lasting impact of a video that B2B marketing teams can find themselves hesitating. A great video will bring great exposure for the business in question – but so too will a poor one, but for all the wrong reasons.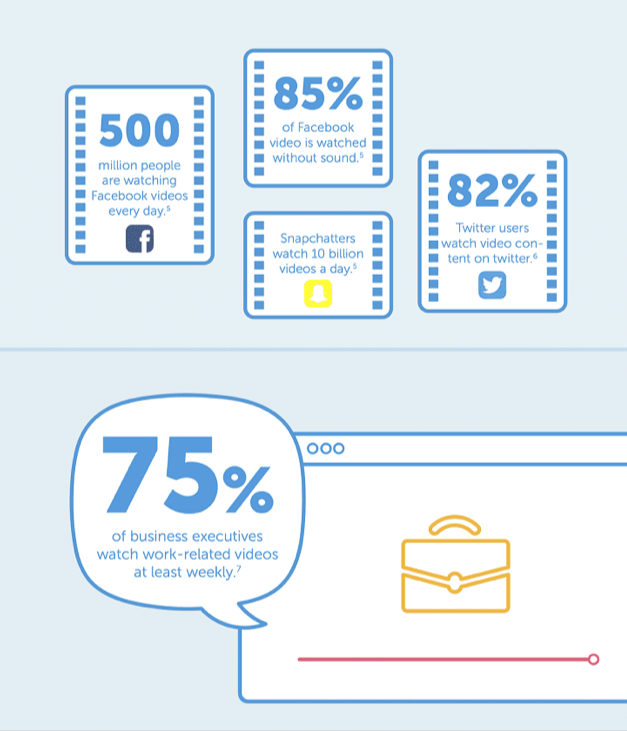 (Image source: digitalinformationworld.com)
However, you of course won't be making any poor video marketing campaigns for your business. On the contrary – you'll be making great ones.
Yet still the question remains – how do we go about measuring the ROI of our B2B video marketing campaigns?
Below, we've put together a quick and very useful guide to help you through the process.
How to Calculate Your B2B Video Marketing ROI
1. Document the Costs of Your Video Marketing Campaign
This is the first step. In order to work out what your video marketing return will be, you need to work out how much you've invested in the first instance.
To do so, you'll need to break down the entire costs of your video marketing campaign – including any equipment that you've had to buy, software you've signed up to, actors that you've hired in, and indeed the time you've spent creating and promoting your campaign.
Today, as with so many things, there are a number of professional video making SaaS platforms available online that have democratised the process and can keep costs down for you.
We've covered many of the good ones on this blog previously, and so we direct towards our previous posts 'The Importance of Video Marketing in 2017 (And How to Get Started)' and '3 Easy-to-use Tools for Creating Video Marketing Content' to get the lowdown on what's available.
2. Determine How Many Sales You'll Need to Make to Break Even
This is your financial tipping point.
Once you know how much you've invested into your video marketing campaign, you will be able to quite simply work out how many sales it will need to generate for you to break even.
So, let's say, all told, you've spent (or are set to spend) £500 making and promoting your video marketing campaign as part of your B2B marketing strategy. Your average website sale is worth £50, and so you immediately know that your video is going to have to account for 10 sales to make sure that you're compensated.
After you've reached this financial tipping point, everything else that your video makes will be pure profit. So, onto the next step…
3. Track Sales Made from Your Video Marketing Campaign
This is the tricky bit.
Tricky because you'll need to find a way to distinguish the income that has been specifically generated from your video marketing campaign from all of your other B2B content marketing initiatives.
Thankfully, there are a number of tools available that you can use which will tell you exactly where your traffic and sales are coming from. Even so, these will only track those sales that came directly, for of course there will people who see your video marketing campaign and then come back to your website later on, perhaps via a completely different route.
And so, the good news is that no matter how many direct sales you track, you know that this is just the minimum possible figure, and that the actual ROI will likely be a bit higher than what you are able to calculate.
Some tools we recommend:
Wistia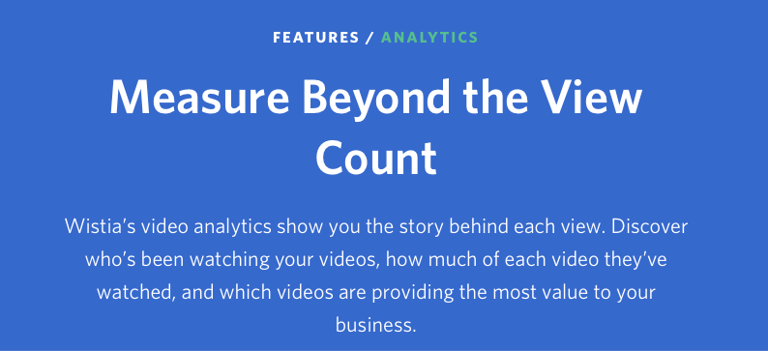 Wistia is a great video marketing platform, not least due to the advanced tracking and analytics that it offers.
The tool allows you to track all engagements that viewers make with your videos – including any purchases. More than that, it breaks everything down, so you can see demographic information, how long people watched your videos for and what actions they took.
All of this information can be used to not only measure the sales made from your campaign, but also to optimise your efforts.
Clicky

Clicky is essentially an alternative to Google Analytics – which too can and should be used to track video marketing sales (despite Clicky's little swipe at the platform in the above screenshot).
Where it's perhaps slightly superior to Google's offering is that Clicky tracks visitor activity in real-time. Clicky's analytics breaks down your visitors by demographic and helps you build a detailed picture as to who's doing what on your website. Again, this information can then be used to optimise your B2B marketing campaigns, and of course keep track of all those video marketing sales that you're making.
YouTube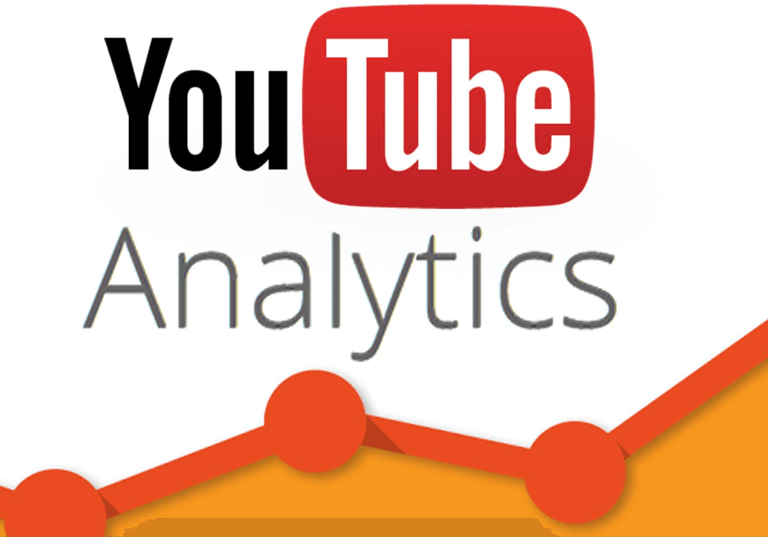 Of course, it's highly likely that you'll be uploading your B2B video marketing materials to YouTube, and so it's just as well that the world's largest video streaming site has its very own set of pretty decent analytics tools that you can use to track clicks and sales.
Again, the platform will break everything down and give you detailed demographical insight as to who's watching your videos and engaging with them. What's more, when uploading B2B marketing content to YouTube, you can embed plenty of marketing prompts and links into your videos which can use to channel viewers directly into a sales funnel. More good stuff.
Now You Can Calculate Your B2B Video Marketing ROI
As you can see, calculating your B2B video marketing ROI isn't too difficult. All you need to do is work out the initial costs of your campaign, figure out how many sales you'll need to generate to cover them, and then track those sales using any one (or all) of the above mentioned sales tracking tools.
Now you can calculate your video marketing ROI and prove to your B2B marketing bosses that you're making a real difference to the company.