Remarketing is one of the most powerful tools that an inbound marketing agency can draw on.
Indeed, remarketing banners are 76% more likely to be clicked on than regular, non-targeted ads. And the reason is simple – they are personalised, and are targeted squarely at the people who have already visited your website.
In this way, a remarketing strategy gives you the unrivalled opportunity to display highly-tailored advertisements to an already-primed audience, nurture them back towards your website and further along the buyer's journey – or otherwise encourage them to make another purchase.
Don't Consumers Find Remarketing Creepy, Though?
This is a recurring concern for many, so it needs to be addressed before we continue.
It's true that some marketers think that remarketing is "creepy", and that using retargeting pixels to "follow" site visitors around the web and serve them ads is more off-putting than conversion-driving.
However, research from online advertising agency WordStream finds that the opposite is true. In fact, the company has found that conversion rates actually increase the more web users are exposed to remarketing campaigns.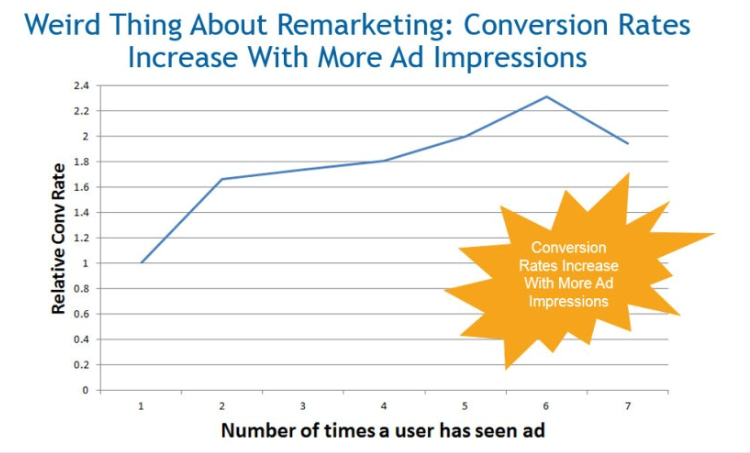 (Image source: wordstream.com)
What's more, the research reveals that ad fatigue (i.e., the idea that the more times someone sees an ad, the less likely they are to click on it) occurs at about half the rate with targeted, remarketing banners than it does with generic, non-targeted display ads.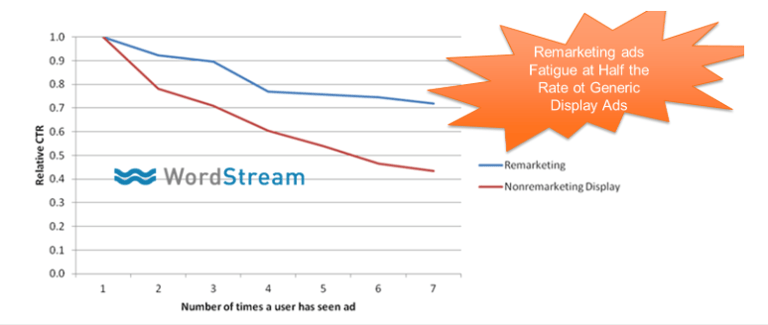 (Image source: wordstream.com)
So, the research seems to suggest that, far from being "creepy", remarketing banners are in fact far better received than generic ones.
However, it's of course not as simple as that. As every inbound marketing agency knows, there are a few things that make a remarketing ad successful.
For starters, the right ads must be retargeted at the right people – a one-size-fits-all approach will rarely suffice. Next, the banner itself must be eye-catching and engaging enough to draw the user's attention away from whatever it is they are doing on the web. And finally, the CTA (call-to-action) must be clear, enticing, and decidedly clickable.
With all this in mind, let's now look at five great examples of remarketing banners.
5 Examples of the Best Remarketing Banners
1. WordStream
Want to see remarketing in action? No sooner had we visited the WordStream website as we were conducting research for this blog, a remarketing ad magically appeared in our Facebook feed.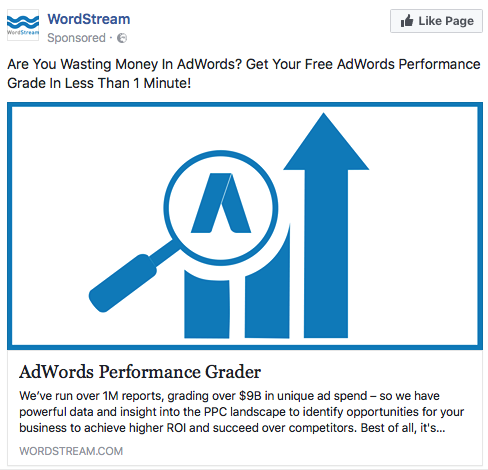 The WordStream remarketing pixel had clearly seen that we were interested in advertising, and so made sure that we received this important message.
Note that it hasn't gone for the direct sale, but instead offers us something for free (an automated AdWords performance assessment), and thereby nurtures us along the sales funnel. This indeed is an example of the right message being sent to the right people. When on the WordStream website, we weren't checking out pricing, or making any outright indication that we were looking to buy, and so this message is pitched just right – "Come back and take a little closer of what we could do for you."
A great use of the Facebook retargeting pixel.
2. HubSpot
Here's another great one from HubSpot, also appearing on Facebook.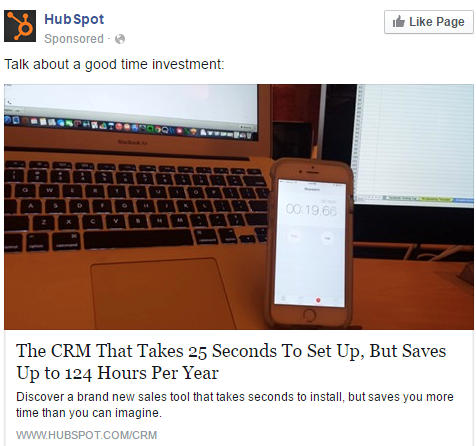 One of the most important things that your inbound marketing agency needs to remember about remarketing is that the audience will already be aware of your business and your brand. Therefore, it makes no sense to use remarketing to serve up introductory ads, for they will have already made themselves familiar with your solution.
Instead, as HubSpot does here, you should take the opportunity to address what might have been a sales objection – in this case it's the value of the HubSpot platform.
Remember, remarketing is targeted at website visitors who left the site before making a purchase. And so, HubSpot has created this ad to illustrate – with both copy and imagery – that not only is it super quick and easy to set up, but the savings made will be huge. A great remarketing ad.
[inline-form theme:orange title: Free eBook button:Download] 30 of the Greatest Lead Generation Tips [/inline-form]
3. Best Buy
Best Buy use remarketing to remind web users that they have items in their shopping cart that they have yet to purchase.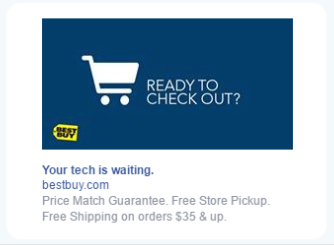 This is a great use of remarketing for B2C. Although this ad isn't particularly personalized, it nonetheless serves its purpose well – to nurture customers across the final purchase line, and of course reduce shopping cart abandonment rates.
4. ShopBop
Unlike Best Buy's cast-the-net-wide approach, ShopBop likes to use remarketing to deliver highly personalised banner ads, specifically showing users the items that they have already been looking at on the ShopBop website.

What's so great about these sorts of dynamic remarketing initiatives is that they remind users about specific purchases as they browse the web. What's more, this ad even produces a special offer and a code that can be used to redeem a discount. Very tempting indeed.
5. Expedia
Another great remarketing tactic that your inbound marketing agency should take into consideration is using the technique to create a sense of urgency.
This is something that travel company Expedia do particularly well, as can be seen from this remarketing ad served up on Facebook.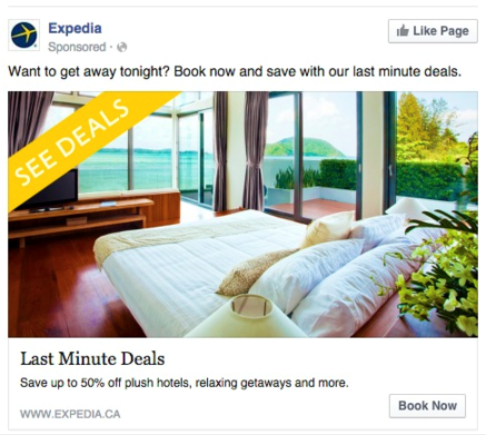 Expedia uses remarketing to instil the fear-of-missing-out, and throws up these last minute offers regularly to users who have visited the site, offering "50% off" to people who want "to get away tonight". A good use of remarketing to inspire those impulse purchases.
Over to You
Remarketing can be used for all sorts of campaigns, and, when done well, can yield incredible results. You inbound marketing agency will be able to help you with everything from remarketing pixels to the actual ads themselves. So what are you waiting for? Get started on your remarketing campaigns today and start making your ads work harder for you with better targeting and stronger messages across the board.