In the Business to Business or B2B marketing sector, developing an effective content marketing strategy requires a highly skilled team that's capable of ingesting and processing market intelligence, and developing content strategies and creative solutions. These marketing solutions must address the target audience with marketing campaigns that make optimal use of often limited resources, while contributing to the achievement of the organisation's business goals.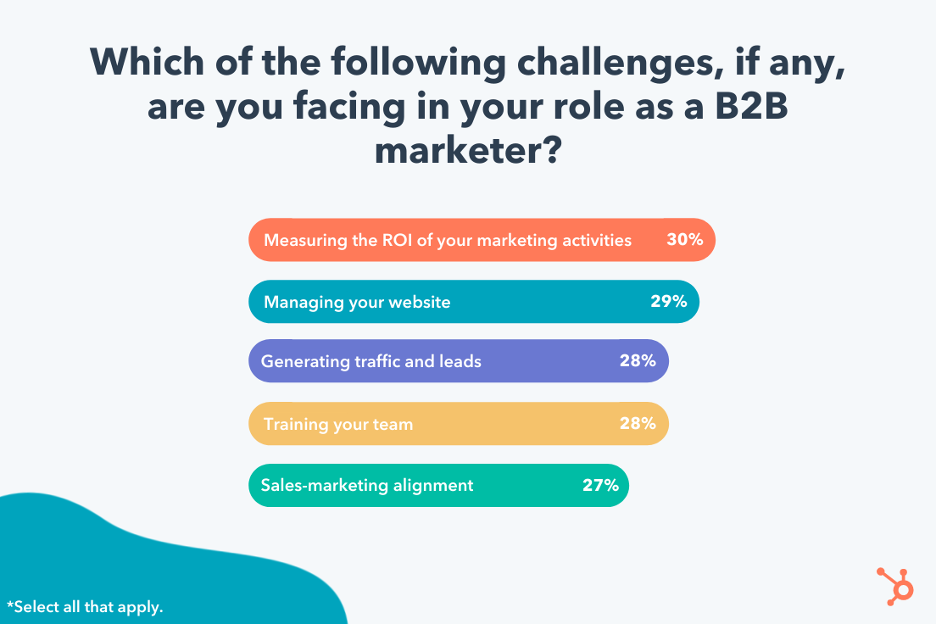 [Image source: HubSpot blog]
Developing and consistently delivering quality content marketing in this manner presents a significant challenge – one that B2B marketing organisations may find easier to meet if they partner with a professional and full service marketing agency.
However, not all B2B marketing agencies were created equal. Making the right choice of marketing services is also not always easy. In fact, the Content Marketing Institute's 2021 Technology Content Marketing Report quotes B2B marketing practitioners as saying that "finding partners with adequate topic expertise" was their number one problem with outsourcing work.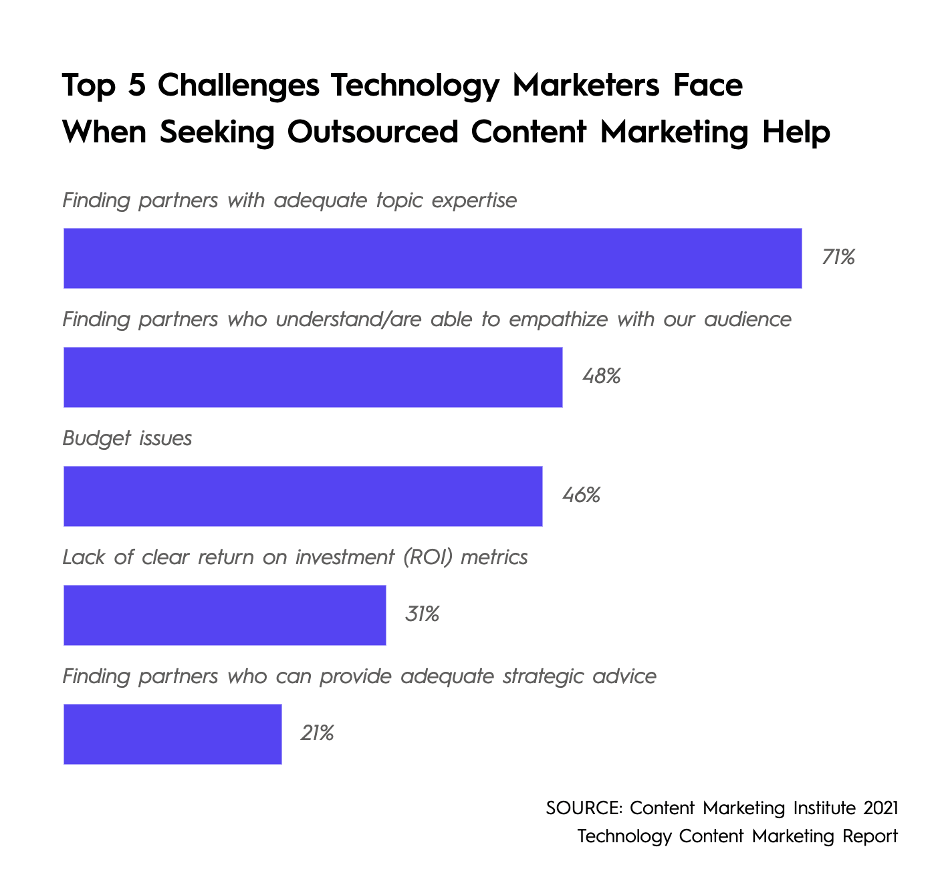 [Image source: Content Marketing Institute 2021 Technology Content Marketing Report]
How can business leaders and marketing departments find the best B2B marketing agencies to suit their business intelligence handling and marketing strategy needs? As a guide, we've assembled seven essential tips for finding your ideal B2B marketing agency.
1. Identify your own brand positioning
Knowing your own brand position enables you to project a stable image to your potential new customers that clearly defines who you are as a company, what your brand purpose is, and the makeup of your brand story. Proper brand positioning is also essential to identifying the requirements of your marketing campaigns, and the marketing services you will need to produce effective marketing communications.
2. Identify your B2B marketing requirements
The best brands combine their brand positioning, company website and digital marketing campaigns to build an emotional connection with their target audience. Identifying what is necessary to make this connection and deliver a memorable customer experience is key to defining what kind of marketing automation, digital marketing services, content marketing, and inbound marketing assistance you will require from your chosen marketing agency.
This requirements list may run the gamut from search marketing, web development, social media marketing, and multichannel lead generation, through to account based marketing, strategic consulting, and integrated marketing communications.
3. Develop a List of Alternative B2B Marketing Agencies
With these requirements in mind, you now need to develop a list of digital marketing services and B2B marketing agencies that meet your criteria. You can search for online recommendations of marketing services using parameters like "best B2B marketing agency" or seek suggestions and referrals from contacts in your industry who have used B2B marketing agencies before.
4. Narrow Down Your List
Use criteria specific to your marketing approach and business needs to refine this list down to a manageable set of candidates that offer services in line with your key requirements. Such criteria may include online reviews, the content offered by these marketing agencies via social media marketing, and input from other businesses in your sector.
5. Thoroughly Vet Each Candidate
Make a full assessment of each candidate's online presence and digital footprint. If a B2B marketing agency describes itself as "award winning" for example, perform due diligence to establish that this claim is actually true.
Check each marketing agency website for examples of their work in content marketing and inbound marketing. Determine whether they offer additional services such as market research, demand generation, web design, app store optimisation, public relations, and other options you might expect from a full service agency.
6. Reach Out to Each of the Marketing Services
You should now make direct contact with each marketing agency on your short list. If your B2B marketing focus is on organic social media, digital marketing, or selling to technology companies, for example, this outreach should begin online – and you should exclude any B2B marketing agency that doesn't include a contact form on its website. If integrated marketing communications and multichannel customer service are high on your agenda, this vetting process may include phone calls to the short list candidates to assess their presence on voice communications channels.
7. Make Your Final Decision
Weigh up the plus and minus points of the B2B marketing agencies on your final list of candidates, and select the marketing agency with the best performance on balance – and the one that appears most in tune with the marketing communications and content marketing strategy of your own brand.
Keep in mind that the successful conclusion of this agency selection process should ideally signal the beginning of a long-standing relationship with a B2B marketing agency that will act as a valued partner and source of marketing services in the months and years ahead.
Incisive Edge – Full Service B2B Marketing Agency
Here at Incisive Edge, we know that every customer is different, and every positioning project produces a totally unique proposition. By starting with the things that make your business great for the world, we're able to craft a compelling brand positioning statement and top line message which rolls neatly into more detailed content and can be applied all the way across your marketing strategies and sales funnels.
We will work with you to define detailed buyer personas for your target audience's decision makers. Each persona will identify the specific pain points and key issues that your decision makers are trying to solve and will create messages that address those key issues.
We will craft a value proposition that emphasises why you are unique, and the value you provide to your target market. We will go straight to the heart of the issue by identifying any obstacles, and tackle them as part of our strategic execution plan. We will utilise the assets you currently have, as well as fill any gaps as quickly as possible, helping you accelerate growth.
As a B2B marketing agency that specialises in inbound marketing and digital marketing campaigns, we'll create a marketing strategy that builds a direct connection with your customers, that speaks to them in a voice which resonates, and demonstrates how clearly you understand them.
To find out more, get in touch with us.