FinTech content marketing is quickly becoming the go-to digital marketing strategy for many ambitious FinTech companies looking to raise awareness, generate leads, and bring on new customers.
And this should not come as a shock. Inbound marketing in all its guises is undoubtedly the most effective strategy for any type of business operating in today's digitally-charged world.
And indeed, when it comes to promoting your technology-enhanced financial solution and building trust– no matter if you've got a consumer-or business-facing product (or both) – your prospective customers expect to be able to find you and everything about you online, and with FinTech content marketing, you can be sure that they will.
Today, according to the Content Marketing Institute's latest report, 89% of organisations are using Digital Content marketing to promote their businesses online. Of these, a massive 80% will be using the tactic to generate leads in 2017 – the top content marketing goal of all, according to the report.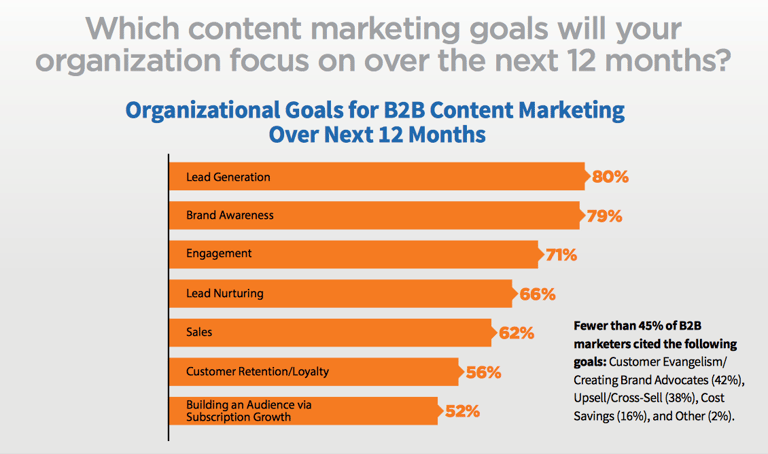 (Image source: contentmarketinginstitute.com)
For organisations operating in the FinTech space, a content marketing campaign is indeed one of the strongest tactics in your arsenal to achieve strong lead generation.
What is FinTech Marketing
At its heart, FinTech content marketing and lead nurture is all about delivering good education to your prospects. Finance is of course a subject that is central to both the lives of individuals and businesses. However, there is a concern in the FinTech industry that the solutions on offer are perhaps too boring or esoteric to attract attention to blog posts, eBooks, videos, or other forms of online content.
This simply isn't the case. Regardless of subject matter, successful FinTech content marketing comes down to how engaging the content itself is, how marketers go about promoting that content, and how user journeys are crafted so that lead information can be reliably gathered.
So let's take a look at some of the best lead generation tactics available for today's players in the exciting world of FinTech.
How to Use FinTech Content Marketing to Generate Leads
Step 1 – Create Amazing Content that Engages and Educates
The first step of all great content marketing strategies is of course to start by creating amazing, shareable content to begin with.
Blogging, of course, is go-to tactic – but it shouldn't stop there.
Both finance and technology are complicated concepts for consumers to get their heads around – and when mashed together to form terrifying prospect of FinTech, it's no wonder that many FinTech content marketing teams don't always know where to start.
The trick is to focus on your customers and how they will benefit from your solution, as opposed to concerning yourself (and your prospects) with complexities such as industry regulation and the finer details of the technology at play. Those things are your concerns – all your customers want to know about is what they will get out of signing up.
Indeed, figuring out what your value proposition is could be the key to unlocking your FinTech content marketing strategy. And once you've got this sussed, you can start thinking about all the different ways you can broadcast this message loud and clear.
As we say – don't limit yourself to blogs. Although well-written articles are important – not least from an SEO perspective – there's much traction to be gained from video marketing, infographics, and other visually appealing content tactics.
For instance, check out this 60-second explainer video from US FinTech startup Acorns. As anyone working in financial technology will know, a solution like Acorns – where purchases made from users' bank accounts are automatically rounded up to the nearest dollar, with the difference then being put into a separated savings account and invested in stocks and bonds on behalf of those users – is incredibly complicated to put together.
But, at the end of the day, all customers care about is the basics of the solution (what it does, not the technicalities of how it works), and this is all summed up in under a minute in a piece of compelling, animated, video content.
Step 2 – Keep Producing and Promoting Your Content
Persistency is key to successful Digital marketing especially content marketing.
Once you've figured out what types of content are resonating best with your target audience, make sure you produce more of it.
If your video marketing strategy is proving successful, then make more videos. If you find that your blogs are generating lots of interest and lots of shares, then write more blogs.
With this latter point in mind, it should be noted that once you've written 21-52 blog posts, website traffic has been shown to increase by up to 30%. With 52 or more blogs in circulation, traffic increases by up to 70%.
What's more, lead generation spikes significantly once a website has 300 or more indexed pages – and the best way to amass these pages is through a regular blog.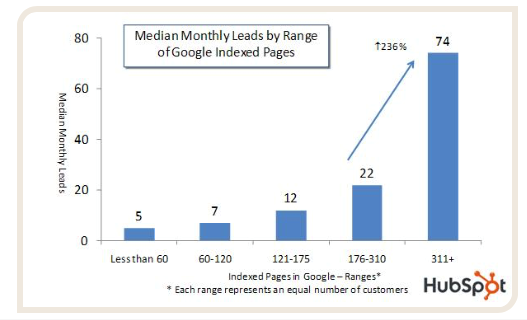 (Image source: trafficgenerationcafe.com)

Step 3 – Create a Clear User Journey Designed for Lead Generation
To generate leads through your FinTech content marketing efforts, it's not enough to simply give all of your content away without asking for anything in return.
Lead generation is all about capturing contact information – and that means crafting a visitor journey that's enticing and easy to follow for your prospects.
Your blogs, videos, and infographics will attract visitors to your website. But, once these visitors arrive, you need to separate the casual browsers from those looking to buy.
This means creating and promoting a range of "gated" content – i.e., content that can only be accessed by filling out a form, and thereby submitting that all-important contact information.
eBooks, white papers, research reports and case studies are the types of content that we're talking about in terms of generating leads. These pieces of usually long-form, highly-researched and high-value content should be designed to hold interest only to those who are serious about making a purchase.
The logic is simple – if a visitor is in the consideration stage (i.e. comparing your solution against what your competitors are offering), then they will be happy to spend 30 seconds filling out a short form in order to access a case study to find out "How [Company X] Saved [X Amount] a Year with Our Invoice Factoring Solution" (for example).
This is something that financial data company Credit Benchmark wants visitors to do. On the company's home page, visitors' eyes are drawn towards a CTA to download a white paper to learn more about credit risk data – and anyone who does that is surely interested in what Credit Benchmark has to offer. This is the lead generation moment for the company.

(Image source: creditbenchmark.com)
Step 4 – Use Marketing Automation to Streamline Your Processes
With a range of gated content on offer, you will be able to segment your leads into lists based on what they've downloaded, giving you a clear indication as to their specific levels of interest.
Depending on the content they've accessed, some leads will be ready for a sales call, others will require more nurturing, and still more will be existing customers who have accessed additional information.
Without a system to manage all these leads at all the different stages of the lead lifecycle, it's very easy to get confused as to who's who.
Marketing automation platforms such as HubSpot make this process extremely simple, and enable you to optimise your FinTech content marketing tactics with laser-like precision. Leads at all stages will always benefit from additional information – and knowing who to target with what, when the best times are to send emails, and how to build personalisation into all communications is what marketing automation solutions are designed to do.
Take a look at this explainer video from HubSpot so you can see what we're talking about.
Over to You
From traffic generation through to marketing automation, using FinTech content marketing to generate leads is a well-defined process. And the great thing about employing such a strategy is that the longer you let it run, the more you learn, and the more you can optimise the process to get the very best results for your business.
As the demand for digitally-enhanced financial services grows, helping your potential customers find you online is the name of the game, and a robust FinTech content marketing strategy will enable you to master it.
If you want to learn more about FinTech content marketing, please do not hesitate to get in touch with the inbound marketing experts here at Incisive Edge.