Unsurprisingly, the majority of the public have more trust in established, traditional banks than in FinTech enterprises.
After all, these are businesses that have been around for decades and in some cases, centuries. Did you know that Barclay's has actually been operating since 1690?
But the financial business landscape is changing. Millennials have been burned one too many times by these banking behemoths. This group has much less faith in their banks than the generations that came before them did.
16-35 year olds report significantly lower levels of positive consumer experience with their banks and as a result are much less faithful customers.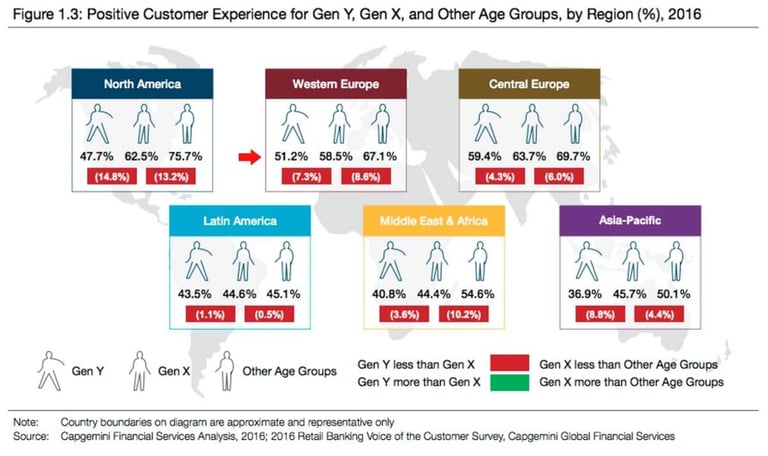 The diagram above from the World Retail Banking Report 2016 shows that Generation Y (born between 1981 and 2000) are less satisfied across the board.
In the Asia-Pacific region, less than 40% of this generation have a positive opinion, which could, at least in part, explain the rapid expansion of the FinTech industry there. In the second quarter of this year FinTech investments in Southeast Asia alone rose by 230%.
Banks are failing to adapt to the needs of their younger customers and are unable to provide the products and services that really matter most to them.
This generation have the highest levels of student debt ever seen and as a result, need more time to focus on their careers before going after traditional life goals like home ownership and starting a family. Unfortunately, banks have yet to begin offering helpful solutions to address these unique pain points and are still peddling their mortgages and savings accounts.
They're also failing to properly integrate intuitive technology into their products and services which is a turnoff for digital natives who have come to expect it across all aspects of their daily lives.
If you ever want to see this in action, try handing a teenager a paper cheque and watch them try to figure out what to do with it.
So if banks aren't offering the products they want, nor the channels they wish to access them through, why would any young person bother to engage with a bank?
The simple answer is that they won't.


Enter The FinTech Innovators
The failures of banks are your opportunities.
PwC recently released a report stating that more than 20% of bank revenue is at risk by 2020 due to the threat of FinTech.
You know this, which is why you've developed your product and are ready to get it in front of the people that you know could benefit the most.
Trust in FinTech companies is growing but there's still work to be done to keep it growing and attract more visitors and customers.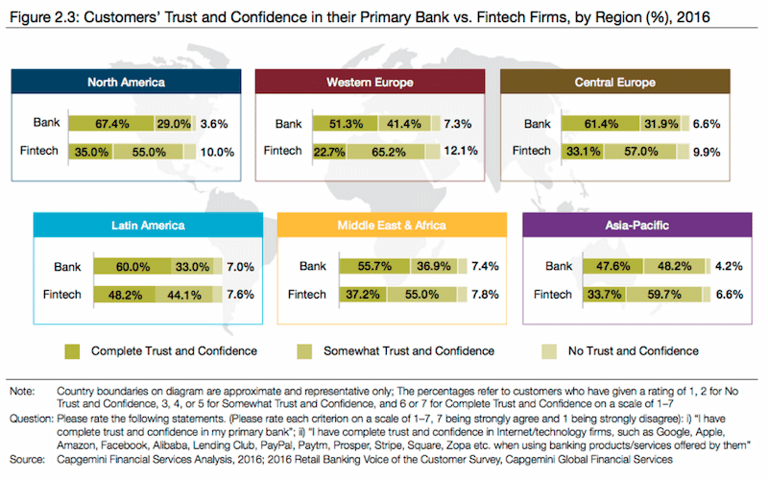 As you can see, the majority of consumers "Somewhat Trust" FinTech firms, but the percentage of those that have complete trust and confidence continues to lag behind banks.


Why Is Trust So Important?
The 2016 Edelman Trust Barometer study found that when a customer trusts a business:
68% are more likely to buy their product/services
59% recommend them to a friend
41% share positive opinions online
38% will go out of their way to defend the company
37% are willing to pay more for the product/service
18% bought shares in the company
Word-of-mouth marketing is invaluable to a business and knowing how to gain the trust of FinTech users is one of the best ways to achieve it.
It's much easier to upsell to loyal customers and you're unlikely to suffer the high levels of churn that some FinTech businesses have to deal with.
There are three important factors you should consider if you want to gain trust, improve your reputation, increase your customer base and boost your revenue.


1. Brand Recognition
People trust names that they recognise.
It won't matter that on paper, your product is practically life-changing for your customers. If they don't know you, they won't listen.
"You can have all the facts and figures, all the supporting evidence, all the endorsements that you want, but if at the end of the day you don't command trust, you won't get anywhere." Niall FitzGerald KBE, former chairman of Unilever.
There's a reason that Nike can charge £130 for a pair of trainers and still sell millions of pounds worth of them. People love the Nike brand. (Maybe even more than the products themselves.) They buy into the aesthetic and culture of Nike long before they buy the shoes.
Nike didn't create this level of brand recognition overnight. It took them decades.
Thankfully, it won't take you nearly as long.
You need to start producing original content that will establish you as an industry thought leader. Ideally, this content should be distributed through a blog and at least two or three social media channels. It should be well-written, contain expert knowledge and have plenty of evidence to back up your points.
Be aware that not all social media networks work for every business, some are better suited to certain products than others.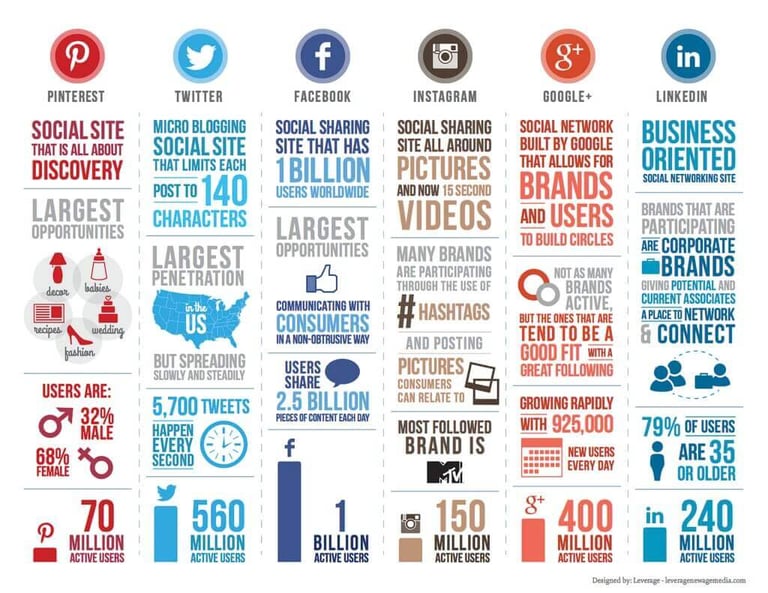 It doesn't just have to be written blog posts, either. Think outside of the box. Some FinTech companies have had enormous success with creating instructional videos, hosting webinars or even producing helpful and entertaining podcasts.
Accounting software firm Xero, for example, have lots of fantastic video resources available on their website.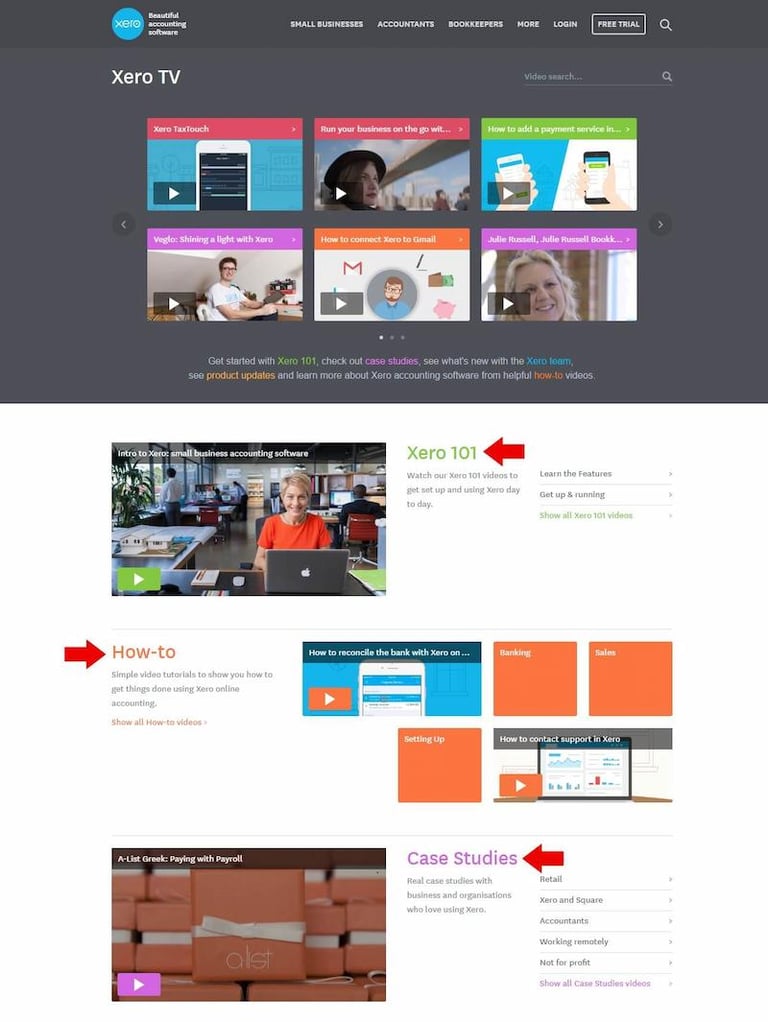 You should also be curating and redistributing insightful content (with the appropriate credit!) that you know could be of value to your potential customers.
Don't make the mistake of just pumping out content without engaging with your audience. Replying to people and interacting with your followers will put a human face on your business and will increase your visibility.
In addition to creating content, you should consider hosting events and getting involved with your community as much as possible. Offer to guest post on other blogs, take part in exhibitions and get your staff involved with the promotion of your business and product on social media.
The first thing most FinTech users will do when they hear the name of your company is to run a web search on you. If there's very little to be found, your credibility will plummet, so make sure you're putting yourself out there, have an informative, user-friendly website and plenty of valuable content.


2. Website Credibility
In addition to all the basic information you have on your website, (who you are, where to find you, what your product is, why you're the hottest thing to ever hit the FinTech market etc) you should have a few credibility points.
A credibility point is anything that will inspire trust in your brand and subsequently, your product. Your social media presence and content are credibility points in themselves, but you'll really cement it with testimonials and case studies.
At its most basic, you could just include the logos of some of the largest companies your product has been used by or even the biggest media companies that have covered your business, like Revolut have done.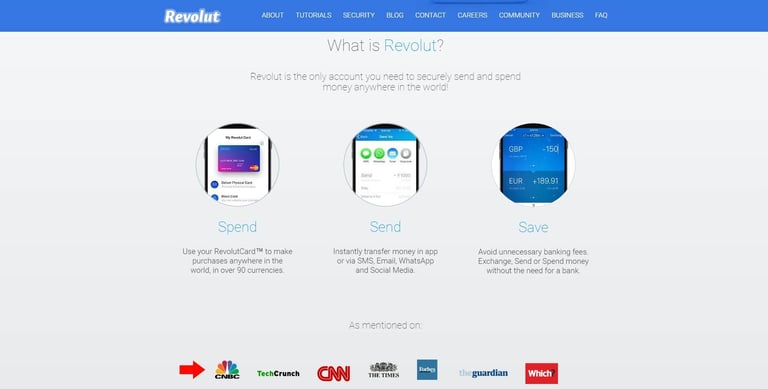 Let's look at another example of a successful FinTech company employing multiple credibility points on their website.
Nutmeg is an online investment platform that was founded in 2011.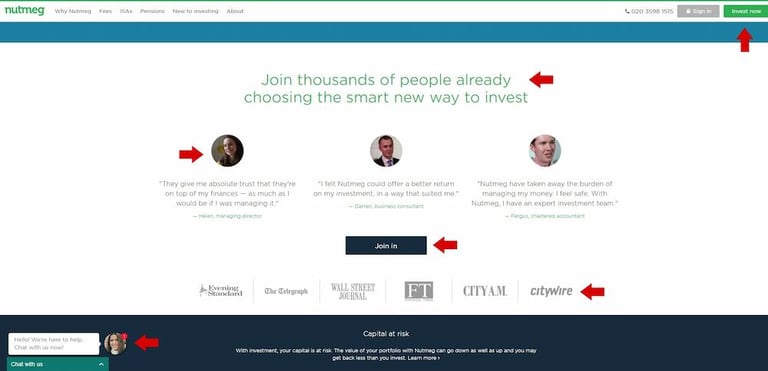 The section of their homepage above shows logos of media mentions, individual testimonials from users, a live chat and a line stating that "thousands of people" are using their service. They've also cleverly included two separate calls-to-action that lead to their sign-up screen.
As a consumer, you'd be hard-pressed to find any reason to distrust Nutmeg after seeing they have so many delighted customers and with a live chat, are clearly ready and willing to provide instantaneous guidance.
Friendly, suggestive language in combination with these points makes Nutmeg's website a lean, mean conversion machine.


3. Customer Support and User Experience
Where FinTech businesses can really outshine traditional banks is with their customer support and user experience. The user experience should be at the heart of everything you do.
You have the technological knowledge to build an intuitive product for users that's easy to use, is faster and has more features.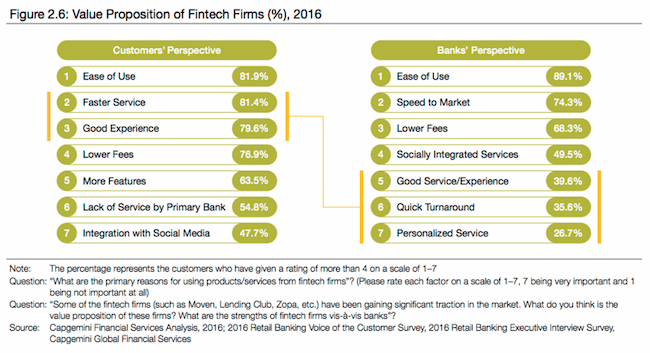 The World Retail Banking Report 2016 outlines the seven factors that customer's value in a FinTech product vs the factors that banks believed customers value in FinTech products.
This diagram should help guide your priorities when it comes to optimising your product to gain the trust of FinTech users.
If you're in a position to do so, you should implement extra customer support options like video walkthroughs, a detailed FAQ and live chat (like Nutmeg above) as well as traditional email and phone support.
As we're sure you're aware, data security breaches are a very real threat in all businesses that require sensitive information. If you want to keep your customer's experience positive, it's imperative that you take every action you can to prevent leaks and deter hackers from accessing their private details. An obvious statement, but one worth reiterating.
By implementing the above points in your business, you should be able to gain the trust of your FinTech users, enabling you to scale up and achieve the recognition you deserve.