If you're interested in HubSpot for Startups Onboarding, hopefully you've already checked out our first blog in this series, "What is HubSpot For Startups?", but in case you haven't:
HubSpot for Startups, or HSFS, was created to give promising startups and founders the tools they need to succeed. Originally called the HubSpot Jumpstart Grant Program, HSFS equips eligible startups with a suite of marketing and sales tools to help them scale. All at a start-up friendly price. It streamlines sales processes while providing startups access to a large number of integrations.
Briefly, HubSpot for Startups gives you access to the same HubSpot products that other businesses and enterprises use, at a vastly discounted rate. You'll also get access to training and education materials that match with the demands of a growing company.
Is HubSpot Good for Startups?
HubSpot is basically a household name when it comes to marketing automation platforms – although they have recently repositioned around their powerful CRM. It is, however, thought of by some, as an expensive and maybe somewhat complicated platform best suited to big companies.
However, if you are looking for a completely free CRM, there are other options available. The HubSpot software remains a market leader for several reasons though.
So is HubSpot any good for startups?
The short answer is yes.
Scaling a startup is no mean feat. Time, budget and resources are short on the ground and you need an arsenal of tools at your disposal to help you grow and scale as quickly and as painlessly as possible. HubSpot provides that arsenal, all under one roof, enabling you to hit the ground running.
The HubSpot for Startups program provides startups with not only an amazing growth stack, but also educational resources and technical and strategic guidance to help fuel your growth.
The toolbox that HubSpot offers includes robust sales pipeline and marketing automation software, both of which make it easier to attract and convert leads and streamline your processes to skyrocket your growth.
Fortunately, you don't have to take our word for it. Other startups have nothing but praise.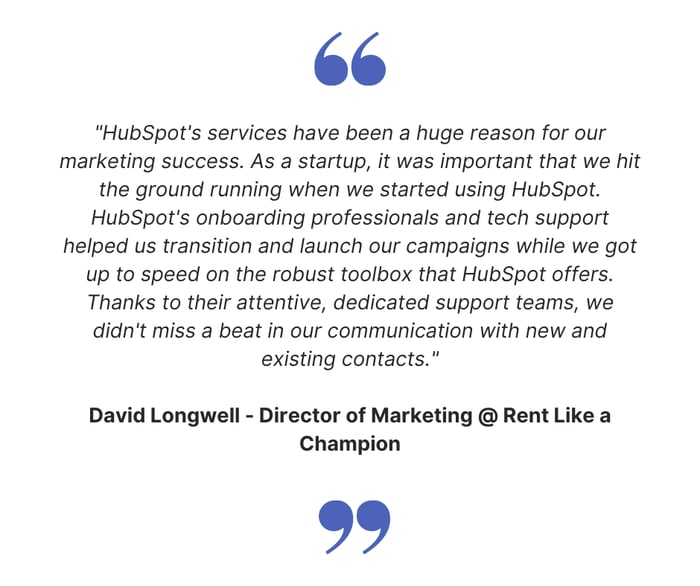 Image Source: Incisive Edge
This being said, HubSpot is going to work best for startups with space for these tools in their marketing plan, which isn't everyone.
Does HubSpot for Startups Make Sense for You?
If you're wondering whether HubSpot services would be a good fit for your startup, there are a few questions you should ask yourself:
Do you have the time and personnel to devote to a new sales and marketing platform? To get the most out of the software, like anything, you need to be able to spend time learning the platform.
Are the features in the respective plans right for your business? Do you need all the features (Pro or Enterprise licence), or only a few of them (Starter licence)?
Is your website ready for inbound traffic? A good website experience that clearly explains your value proposition and competitive advantage, as well as reflecting your buyers' journey is critical for

inbound marketing

.
If you've answered yes to all of these questions, then HubSpot could work for you, and HubSpot for Starters might be a steal.
If you're hesitating however, you should be honest about exactly what you can handle at the moment, and what would be right for the growth stage you're currently in. Despite offering a variety of software on one platform, locking yourself into all of HubSpot's bells and whistles may not be the right move for you, even with a 90% discount.
What Does HubSpot Onboarding Include?
Once you've outgrown the limits of free and low-cost tools, and you're ready to take the plunge, you can think about HubSpot for Startups Onboarding. HSFS is designed to help startups get the most value from HubSpot's tools for their marketing efforts, as quickly as possible and provide an efficient CRM to help keep the startup growing at a steady pace.
The HubSpot for Startups onboarding plan gives you access to a team of specialists for guidance, the technical assistance required to get to grips with the fundamentals of HubSpot, and everything you need to implement the platform fully.
This 30-day onboarding process will educate you on how to develop a long-term growth strategy for your company and how to put it into action using the HubSpot platform.
In addition, you will also get access to the HubSpot Academy team's certification courses, documentation, and training programs.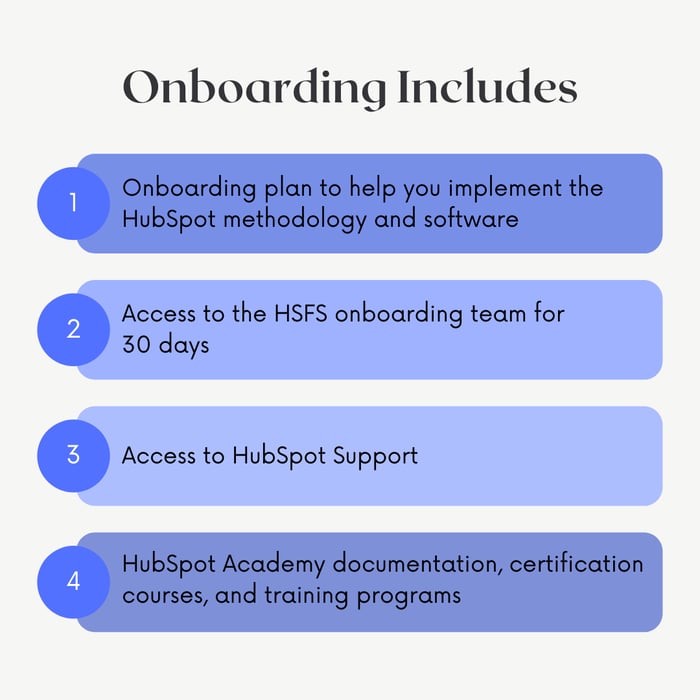 Image: Incisive Edge
Qualified startups in the program also gain access to a variety of world-class training and educational courses led by HubSpot employees as well as other experts in their particular areas and industries.
At the same time, through the program's private community, qualifying companies can network and learn from one another.
The Main Question: Is HubSpot for Startups Onboarding Mandatory?
The short answer is no. If you are eligible and take HSFS, onboarding is optional for customers purchasing Professional and starter tier products. For Enterprise customers, however, HubSpot for Startups Onboarding is mandatory.
At a cost of only $300 paid at date-of-purchase and providing two calls with the Startup Setup Team, access to lifetime 24/7 support by phone or email, as well as HubSpot Customer Success, onboarding might not be mandatory, but it might be the right decision for your company.
If you've already decided to invest in HubSpot CRM, you probably want to get the most ROI from your investment. That means having a real understanding of the tools, features, training content and methodology involved. HubSpot is an intuitive platform, but it's also a powerful beast - there's plenty under the hood. Although it's user-friendly, why risk missing key features or components?
Besides that, the onboarding process doesn't only cover how to get the most out of your licence - it also covers some of the technical setup. You might need to make DNS changes to your site, add scripts or pixels, filter IP addresses and integrate with other applications. HubSpot's onboarding team takes the guesswork out of all this, meaning you don't need to be a technical expert to get the platform integrated and running perfectly.
HubSpot for Startups Onboarding is a good choice when:
You want to get familiar with HubSpot's settings and technical features.
Your company is new to inbound marketing.
A general introduction and walkthrough of HubSpot features would be beneficial.
You learn by doing.
HubSpot Licence Pricing
Your fee is determined by where you are in your startup's development. In the first year, HubSpot offers startups discounts starting at 90% in Year 1.
Startups in their early phases receive the most assistance. For your first year on the HubSpot platform, if you've raised less than $2 million in funding, you may well be eligible for the generous "Seed-Stage" deal – 90% discount in Year 1; 50% in Year 2 and 25% in Year 3 and ongoing.
Startups with over $2 million in named funding on the other hand, fall under the program's "Series A" wing and receive a still-impressive 50% discount for the first year.
To qualify for the discount, in addition to the funding criteria, you have to be a current member or alumni of one of HubSpot's thousands of approved incubator, accelerator, Venture Capital and entrepreneurial organisations.
HubSpot for Startups pricing is applicable to net-new Professional or Enterprise level products. Starter level products are excluded, unless bundled with qualifying Professional or Enterprise purchases or upgrades.
Customers may not apply the startup program pricing to existing subscriptions of any level.
HubSpot for Startups Onboarding - Yes or No
Although the original question we wanted to answer is "is HubSpot for Startups Onboarding mandatory?", a better question would actually be, "Is HubSpot for Startups Onboarding right for my business?"
With technical guidance, 24/7 support and more, it might well be.
Incisive Edge specialise in HubSpot for Startups. For more details on the programme and to find out how we can help with your onboarding and maximising your performance through HubSpot, call 0800 8600 512 or email julia.payne@incisive-edge.com