As inbound marketing initiatives go, a strong user-generated content campaign is one of the very best.

On this blog, we've spoken a lot over recent weeks and months about finding ways to humanize your brand. Be it through emotional marketing, education, or even chat bots – if you can add a human touch to your inbound marketing processes and materials, you're starting to build trust amongst customers.

And building trust is important – nay, imperative – for building a successful brand.

But the question is – whom do people trust?

The decades' worth of pushy outbound marketing practices that we've all been subjected to have made us all naturally suspicious of businesses blowing their own trumpets about their goods and services. So much so, in fact, that 92% of consumers now trust peer recommendations over advertising when it comes to making purchasing decisions.

Of course they do. In this age of constant connectivity, consumers have gotten smart. They know that the car salesman is going to tell them his Peugeot drives like Porsche and not tell them that it's actually being powered by a hamster on a wheel. No, consumers trust other consumers, not pushy salespeople or ads.
What Is User-generated Content?
A good point to clarify. User-generated content (UGC) refers to any media that is created for free by disinterested parties about a business. It includes everything from peer reviews (which encompasses things like restaurant and website reviews) to status updates to blog posts.

As you will infer, user-generated content is a phenomenon of the modern internet, and has risen in particular out of the prominence of social networks that has exploded over the web waves during the past decade or so. Now, rather than seeking "professional" advice on the path to purchase, consumers instead turn to other consumers to find out whether a product or service really is as good as it says on the tin.

For millennials, this trend is even more apparent. According to an infographic from Mashable, consumers in this cohort now trust user-generated content materials 50% more than other types of media (including advertising), and find them 35% more memorable.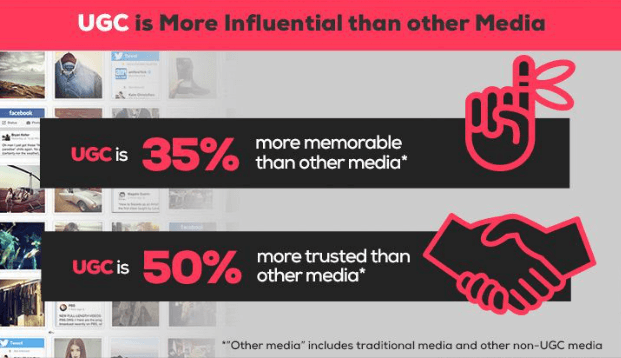 (Image source: mashable.com)
The infographic also reveals that millennials are engaging with user-generated content when it comes to buying all types of products and services – electronics, cars, mobiles, appliances, hotel stays, you name it!

And when compared to traditional media (TV, radio and print), there really is no contest.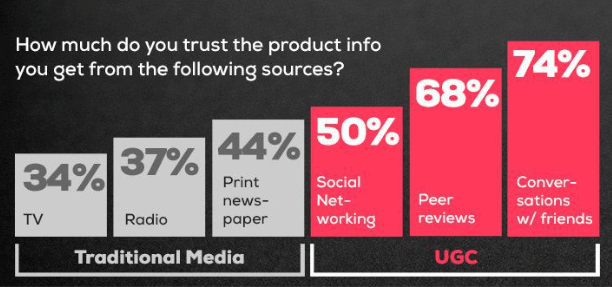 (Image source: mashable.com)
3 Inbound Marketing Tactics for Acquiring More User-generated Content
It seems that there is no shortage of businesses wanting to experiment with user-generated content. Indeed, a study by SEMrush revealed that a massive 86% have done so – however, GoodVidio discovered that only 27% have a UGC strategy in place.

Considering the influence that user-generated content has over consumer purchase decisions (amongst millennials in particular), we need some ideas for how to start putting this inbound marketing powerhouse into effect. So here are three inbound marketing tactics for acquiring more user-generated content to promote your business.
1. #Hashtags
If you want your business to start trending, then you need to come up with a memorable hashtag that your audience can use in direct association with your product or service.

One of the most famous examples of this type of user-generated content campaign is Coca-Cola's #ShareACoke.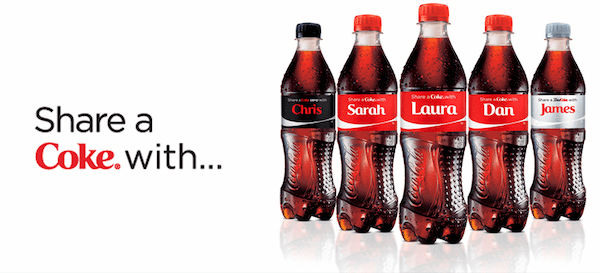 (Image source: slideshare.net)
This was when the soft drinks retailer started printing people's names on the labels of Coke bottles, and encouraged consumers to share pictures of their personalised pop on social media. It created a renewed buzz for the brand, and Coke attributes the campaign to a 2% increase in US sales after reporting declining revenues for over a decade.

Simple, fun and inclusive, and many brands have since come up with their own similar versions of this campaign. What hashtag could you use to inspire such excitement?
2. Start Conversations
Real conversations.

The internet today is one massive social hub where everyone and their grandmothers like to share their opinions. No matter what your industry – software, FinTech, soft drinks, healthy eating – there is opportunity for you to generate some meaningful input from your would-be customers if you can find a way to start things off.

Your blog, naturally, is a good place to begin. Penning some interesting, original and thought-provoking articles about things that matter to your customers is a great way to get them engaged and sharing their thoughts online.

For example, let's say you're in the business of selling healthy snacks for kids. Here you have an opportunity to use your blog to ask your customers what they think the best ways are to promote healthy lifestyles for children. It's not hard to imagine how such a campaign would generate more interest than any pop-up ad could ever muster. All parents have an opinion on this issue, all you need to do is provide them with a platform on which they can express it.

In the B2B realm? No problem. Your blog is an equally powerful tool for generating industry-related conversations. And don't stop at your blog, either. Head over to LinkedIn and tap into the professional audiences there. Ditto Medium. If you create the right content, you might even be lucky enough to inspire other bloggers to contribute their own posts developing your ideas further – and if you conduct good research, they'll be referencing your business and linking to your original post(s) by the dozen.
3. Competitions
The power of social media should not be underestimated. But, with the millions upon millions of posts that go live every minute, you've got to give your audience a good reason to take an interest in yours.

Competitions, of course, are a great way to do this no matter what form they take. But why not use the opportunity to encourage some user-generated content while you're at it?

How this might work is best illustrated with an example.

National Geographic recently created the "Wanderlust" contest – using the #wanderlustcontest hashtag – on Instagram. The company asked its followers to use the hashtag when posting glimpses of the "unforgettable people, places and experiences that impacted their lives from their travels around the world."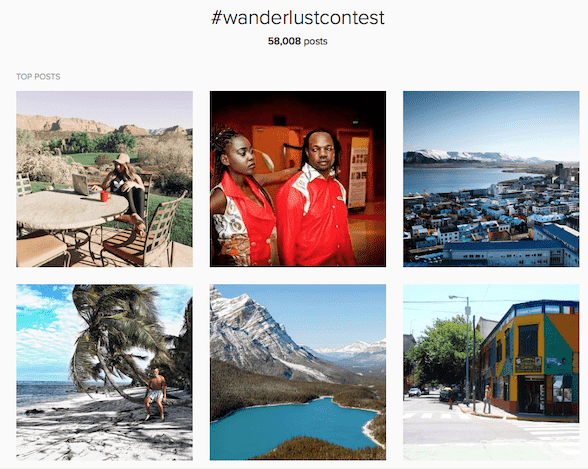 Contest participants had a chance to win a National Geographic Photo Expedition to Yosemite National Park. With this competition, National Geographic was able to tap into a huge database of real travel photography and video content provided at zero cost by their community. Beautiful, exciting, embracing, magical – and an amazing way to get an audience involved in sharing brilliant user-generated content amongst their own following.
Back to You
We've listed just three ideas to get you started down the user-generated content path. Other ideas would include simply asking your most valued customers if they'd mind posting a review either on your website or third-party review page, or start actively commenting on your biggest fans' social media posts (as this will encourage them to share more of your own content).

However you decide to go about it, remember that user-generated content campaigns are powerful things when executed well, and no inbound marketing strategy should be without them.