The digital marketing landscape is changing fast. Marketing in general plays a crucial role in the success of tech startups. While other factors also contribute to the success of your digital marketing efforts, effective marketing can drive the kind of results that fuel growth.
Therefore, it's not surprising that B2B tech companies are allocating more resources towards marketing in 2023. According to Spiceworks' State of IT Marketing report, around 40% of B2B companies surveyed plan to increase their marketing budget, while only 8% plan to cut back.
Interestingly, the majority of the companies who said they were increasing their budget had fewer than 100 employees to their name.
What are marketing Trends?
The changes and developments in the way businesses advertise their products and services to their desired and target audience are referred to as marketing trends. It is essential to keep up with trends to remain relevant and competitive in the ever-changing landscape of marketing. As we progress into 2023-2024, the following are the ten important future marketing trends to observe.
10 Key Marketing Trends to Follow in 2023
1. Artificial Intelligence (AI) and Machine Learning
Artificial intelligence and machine learning have become increasingly popular and important in marketing. These technologies allow businesses to analyse customer data & behaviour, personalise campaigns & marketing strategies, and automate various systems & processes, resulting in improved efficiency and better results.
In 2023, we can expect to see far more businesses adopting AI and machine learning tools such as ChatGPT to enhance their marketing efforts.
2. Video Marketing
Video marketing has been increasingly growing in the past few years. This trend is set to continue this year and onwards. Videos are an effective way to engage, communicate and convey a message to audiences. They can be used in various forms, including product demos, explainer videos, and brand storytelling. With the popularity of video-sharing platforms like YouTube, TikTok and Instagram Reels, businesses can make the most of these platforms to reach a wider audience.
3. Voice Search Optimisation
With the increasing popularity of smart speakers and voice assistants like Google Nest, Siri and Alexa, voice search optimisation is becoming more important. Businesses must optimise their content for voice search, which will involve using natural language processing and long-tail keywords.
4. Influencer Marketing
Influencer marketing has been around for a while now, and it is only growing. The current influencer marketing global spend sits at £10 to £15 billion. In 2023 we expect to see more businesses collaborating with micro-influencers, who have a smaller following but they tend to be a more engaged audience.
5. Personalisation
Personalisation is among the most important trends in marketing. Customers expect organisations to tailor their marketing campaigns to their specific needs and interests. By using customer data to personalise marketing campaigns, businesses can better capture their prospective audience. From email marketing all the way to social media advertising they all can benefit from personalisation.
6. Sustainability and Social Responsibility
Consumers today are more conscious of the impact that businesses and their operations have on the environment and society. In response, businesses are more focused on sustainability and the social responsibility they hold. Businesses that place value on sustainability today will have an edge ahead of their competition.
7. Augmented Reality (AR) and Virtual Reality (VR)
Augmented reality (AR) and virtual reality (VR) are NOW being used in marketing to provide immersive experiences for customers. We have companies like Meta, Samsung and more investing billions in developing AR and VR products not only for fun but to promote their organisation.
8. Interactive Content
Interactive content just like conversational marketing is known to be a very good way to get customers to engage with your content and provide a bespoke unique experience. Interactive content will surely help businesses that use it the right way increase engagement among customers and build brand loyalty.
9. Social Commerce
It was not very long ago when outbound marketing dominated marketing in its entirety. From leaflets being delivered to cold calling. Social media platforms have become the foundation of marketing today. Social commerce is now being used as a way for customers to discover and purchase products and services online. We expect to see more and more businesses incorporating social commerce into their marketing efforts.
10. Customer Experience (CX) Optimisation
Customer experience optimisation is one of the core focuses of digital marketing. Customer experience optimisation involves improving every interaction a customer has with a business, from the first touchpoint to post-purchase support.
How Will Marketing Budgets be Spent?
When asked how they planned to spend their marketing budget, respondents estimated that a third would be put towards paid media, 22% would go on trade shows and events, 21% on marketing technology investments, and 19% on assistance from marketing agencies or brand partners.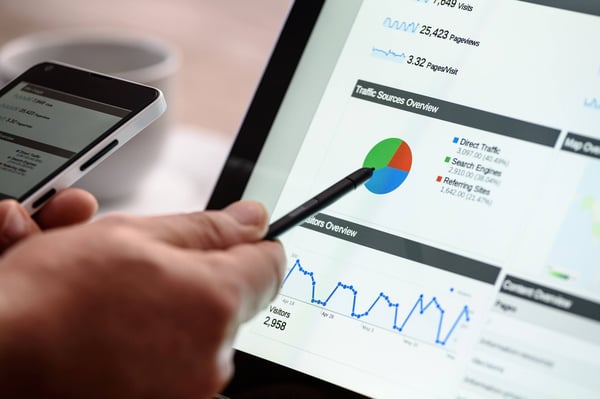 The results signalled a hefty increase in technology investment, with a view to being more effective in the areas of content, experience, engagement and analytics.
At the start of next year, nearly half of tech firms said they will start using purchase-intent targeting, while AI-enabled data analytics and VR- or AR-based customer experiences were also found to be tech-powered marketing trends in respondents' thinking.
It's all part of move towards more targeted and personalised campaigns, with 51% of the B2B companies claiming to have used, or are planning on using, an account-based marketing strategy and 41% enacting an on-demand content strategy.
Should You Follow Suit?
With marketing a crucial part of ensuring that investors get a healthy return on their investment, the amount you budget towards it needs to be carefully considered.
It'll be amiss to blindly spend more on marketing if a lack of time and resource prevents you from making that money work as hard as it can.
Even in a changing environment, strategy will always outweigh pure tactical execution, although it is a blend of strategy and tactics, plus the old and new channels, that really drives results and ROI. So you need to be smart about your strategy and your choice of tactics – don't just follow the trends; identify what works best for your startup and commit to it. Strategise, implement and optimise.
Over to You
First things first, let's find out exactly who your target audience is, and the unique route they take on their customer journey to develop a comprehensive marketing strategy. We would love to share our experience with you and offer strategic recommendations, including insights on the importance of user-generated content for your business and some of the latest digital marketing trends.
Contact us now if you would like to start a conversation with one of our tech startup marketing experts. And remember, marketing spend is irrelevant – it's what you do with it that counts!