What is the role of B2B branding? Why does brand value matter in business to business marketing?
In business to business or B2B marketing, companies must pitch their products and services to other companies that have researched and compared strong brands' business branding. Potential customers have already addressed their pain points and catered to their business needs. The digital marketing environment makes this selection of competitors for your product or service potentially vast. What this means in effect is that, if you want to gain the attention of new customers, you'll need to stand out from the crowd.
A key way to do this is by having a recognisable and strong brand that delivers on its promise of value – both to the potential customer, and to your existing customers. Moreover, you need to incorporate this company brand into effective brand positioning and brand marketing that communicates where your company stands, what products and services it has to offer, and why your product or service offering is a right fit for your target audience.
Exploding past myths about B2B brand value
The traditional view of selling in the B2B marketing arena has been that business-to-business decision-makers, including the leadership team, emphasise price and convenience as the consumer brand values that matter most when considering purchases. In this view, companies rely on reason, rather than emotion, when choosing to buy a product or service -- and the sales team of the company selling this commodity matters more than the company brand itself.
However, with the proliferation of B2B companies and the growth of digital marketing technology, it became much easier for a B2B company to make and post lofty claims about the capabilities of its products and services. As a result of this type of marketing strategy, consumer companies must now sift through swathes of similar offerings – often with little guidance to differentiate between them.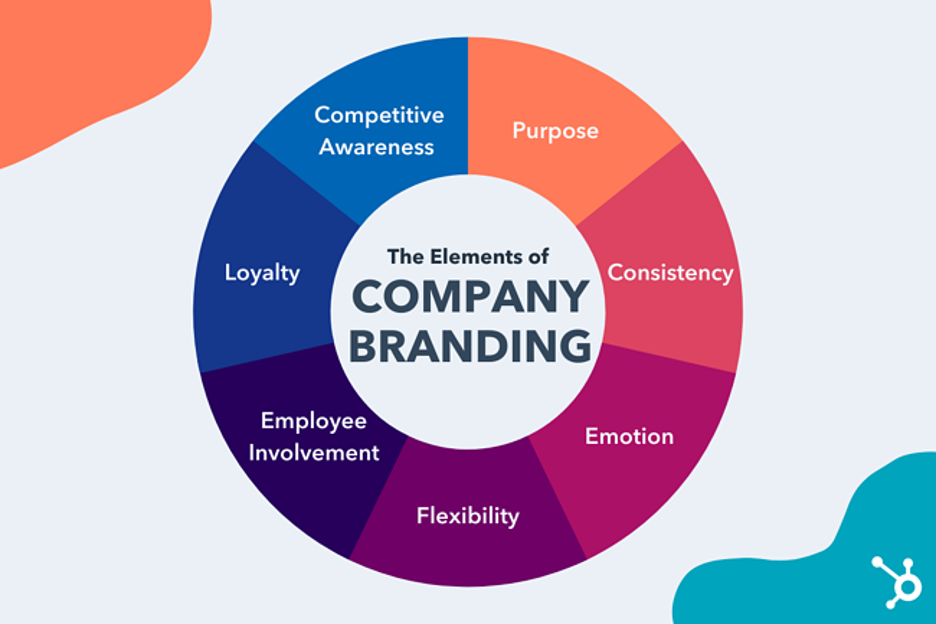 [Image source: HubSpot]
B2B branding encompasses not only the company's brand, but also employee engagement initiatives, and serves as the differentiator that can distinguish one company's offerings from its competitors or position them as superior. As such, B2B brand value and perception are crucial factors for potential customers seeking products and services that align with their business needs and values. This HubSpot infographic highlights the importance of creating brand awareness, making it a top priority for B2B marketing companies in 2022: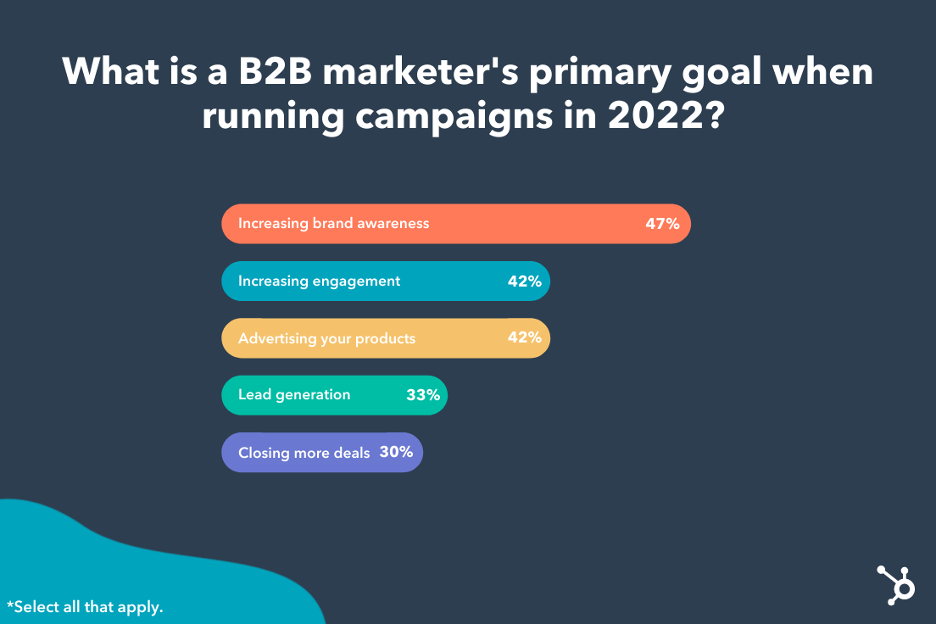 [Image source: HubSpot Blog]
The advantages of a strong brand in B2B marketing
In the business to business market, a strong brand can help companies do the following:
Stand out from the crowd
A strong brand enables a B2B company to more readily distinguish its goods or services from all the others on offer. In a complex and often confusing marketplace, strong branding associates a B2B company with certain core characteristics or values, in the eyes of the target audience.
· Read more to learn about Branding Strategy
Tap into the buyer's emotional triggers and perceived business needs
With an effective brand marketing strategy, companies can communicate brand values that resonate with the needs and aspirations of potential customers, whose buyer's journey will often include the identification of pain points or business needs that the offerings of a particular company specifically address.
Shorten the sales cycle
With a strong brand, existing customers will already know and appreciate the brand value that your company offers, while strong brand positioning makes it easier for new customers to identify your company's offerings and/or actively seek them out. Knowing the brand value they can expect, these buyers will be more willing to accelerating their time to purchase, making life easier for your sales and marketing team.
Gain greater control over pricing
A strong brand empowers your company to charge and sustain premium prices for products or services that embody your brand values and fully deliver on their promise to target audiences. With a strong brand perception, your company is also better placed to weather changes in price generally -- such as those caused by supply chain shortages and market fluctuations.
Create more loyal customers
A strong brand perception, brand value that delivers results to your target audience, and the fulfilment of your brand promise will make existing customers more willing to continue patronising your brand. These loyal customers may also become brand advocates, using positive reviews, referrals, and word of mouth to extol the virtues of your company to other companies looking to purchase goods or services.
You don't have to do B2B brand marketing by yourself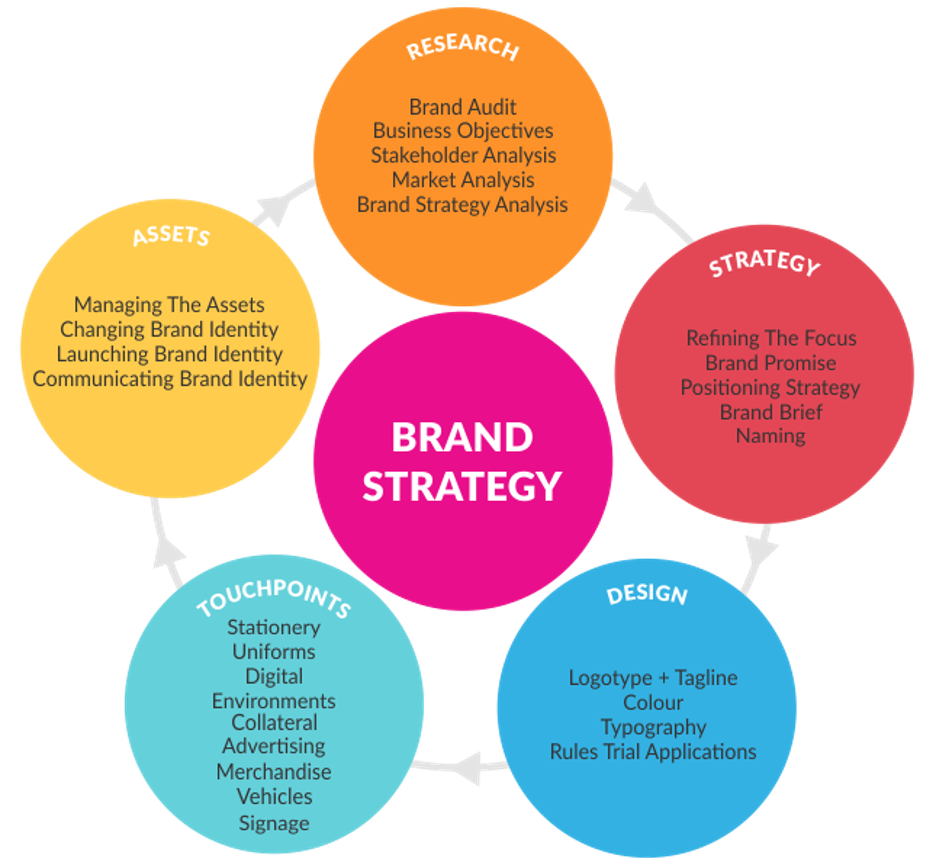 [Image source: Pinterest]
Creating a strong brand and harnessing your brand perception for effective brand marketing campaigns requires B2B companies to have a clear and unbiased understanding of the brand value that their own company contributes to consumer companies, and where their own company stands in relation to its internal mission, key stakeholders, marketing strategy, and business needs.
While B2B companies may achieve some of this understanding on their own, they stand a better chance of success in their brand marketing efforts and achieving a sustainable competitive advantage, if they partner with a specialist agency whose expertise includes brand marketing and strong brand positioning.
Incisive Edge brings you the expertise you need to find your brand differentiation and build the essential foundation for your digital marketing machine. Starting with the things that make your business to business operations great for the world, we're able to craft a compelling and strong brand positioning statement and top line message that roll neatly into more detailed content and brand marketing efforts. These can be applied all the way across your marketing strategy, sales team and sales funnels.
As a business to business brand positioning agency, our workshop process will draw out the things that make your company unique, and pivot towards the most important areas for you to focus your brand marketing efforts, as we gain a deep understanding of your business.
If you'd like to learn more about how Incisive Edge can help you build a strong brand and elevate your brand marketing capabilities, get in touch with us.