Inbound marketing is about getting your customers to come to you.
But as a startup or smaller business you may have limited time and resources to Attract, Engage and Delight these customers.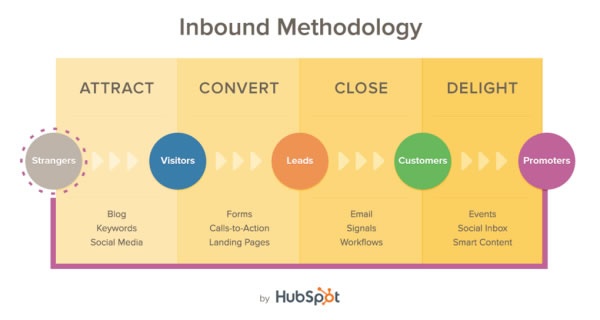 Image Source
In 2020, building your business as efficiently as possible requires the right elements of Inbound Marketing Technology (also known as a Martech Stack).
There are hundreds of companies offering thousands of software solutions to help with your marketing efforts at every stage of the process. It's easy to get lost figuring out which bits of technology are actually going to be useful.
Of course, every business is different and its requirements will vary depending on its customers and objectives.
Here are the most critical inbound marketing technologies that are needed for almost every business:
CMS
Prioritising blogging can increase ROI by up to 13%. And with three quarters of internet users saying they read blogs regularly, having readable, informative content on your website is an indispensable part of your inbound marketing strategy.
There is a lot of marketing technology out there to choose from when it comes to a Content Management System (CMS). WordPress is the most popular, producing over 70.5 million new blog posts every month.
But it's worth looking into other website building options too. Hubspot has an excellent CMS, which can be integrated into other aspects of your Martech Stack.
Whichever you use, an effective content marketing platform will help establish your business as an authority, create brand awareness and educate your potential customers.
CRM
In 2020 you wouldn't dream of using a Rolodex or Filofax to store your contacts' details. Likewise, as an ambitious business in a modern, fast-moving marketplace, collating potential customers in Outlook or an Excel spreadsheet isn't going to cut it either.
You need a good Customer Relationship Management (CRM) system to open up more powerful functionality to track and nurture your leads.
Consider Salesforce, the world's largest CRM. Or for small-to-medium sized businesses we recommend Hubspot. As a Hubspot Gold Partner we love its functionality, detailed data reports and value for money. It can also be used as integrated marketing automation software providing you with a total growth stack. Here are 35 other options.
MARKETING/EMAIL AUTOMATION
If you've got a good CRM managing your contacts at every stage of interaction, you'll then need a way of creating, organising and scheduling your digital marketing campaigns.
Email marketing nurtures and pushes your prospects further down the funnel. But marketing teams can't be expected to remember every contact that needs to be made. With good Martech they don't have to.
Besides Hubspot's automation capabilities, MailChimp is hugely popular. It has easy-to-use email templates, A/B testing functionality, and you can segment your audience – which MailChimp says has a 14.31% better chance of emails being opened.
They also provide detailed campaign reports for understanding how your target audience is reacting to your marketing campaigns.
Other marketing automation tech options with great email facilities include Marketo, Pardot, Eloqua and Infusionsoft. Here's 20 other options.
REPORTING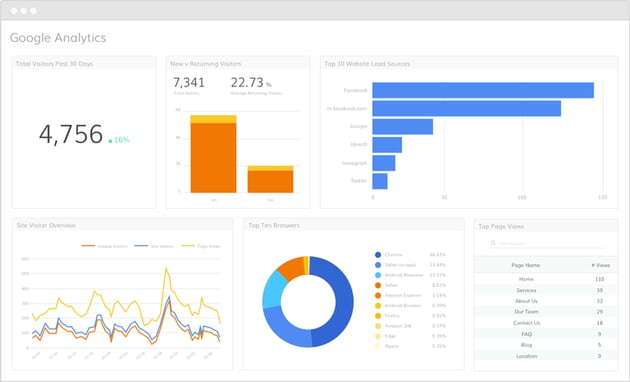 All integrated inbound marketing needs to collect data on activities across its multiple channels. Being able to analyse and adapt strategy simply makes for better inbound marketing.
Many platforms provide their own reporting data, but one (free) piece of marketing technology no inbound team can go without is Google Analytics.
Google Analytics technology allows you to track campaigns, learn about your visitors, set particular goals, monitor website traffic and see how your inbound activities are performing according to solid data and metrics.
Smart B2B marketing teams will also take advantage of Google Analytics Remarketing techniques.
SEO
Search Engine Optimisation makes the content you've spent all that effort creating reach your target audience. Good SEO tactics can make the difference between success and failure.
Alongside Google Analytics, Moz is a fantastic technological resource for SEO. It tracks Google's algorithm changes, keeping you abreast of which keywords you should be using for higher SERP rankings.
Ahrefs is also useful, inspecting why your competitors are doing well and helping you to out-perform them.
SOCIAL MEDIA
All B2B marketers and tech companies use social media. You need it to impress your audience with your ideas as a thought leader and strengthen your brand identity, as well as spread your content far and wide.
Social media management tools can help schedule your social posts, automate content across platforms, and also provide more reporting for your data stream.
Sprout Social and Hootsuite are excellent places to start.
Over to you
In 2020 the inbound marketing technology resources are out there to set up a refined, streamlined Martech stack that's going to set you up for success.
Technology is always improving, with machine learning and predictive analysis being touted as the latest trends. So do your research, and don't forget technological solutions for your outbound marketing efforts too.
If you want expert guidance on selecting the best tech for your marketing team, as ever you can get in touch with Incisive Edge here.