Even if you've never heard of or used ABM marketing strategies before, the chances are the basic concept has crossed your mind at least once.
Think about how many times you've said "Blah-blah would be a perfect company to do business with" or "Do we know anyone at XYZ who could get us an introduction to the CEO?".
What is Account Based Marketing?
Such thoughts and statements are at the heart of ABM (Account Based Marketing), the practice of creating highly customised campaigns for specifically targeted accounts. If you've acted on statements similar to those above, you might already be developing ABM strategies without even realising it.
Another way to look at ABM is an inversion of the traditional marketing funnel, as Drift explains. Where standard marketing strategy normally adopts a scatter gun approach across markets and sectors initially, ABM begins with target accounts that offer the best revenue-generating opportunities and are a great fit for your business.
Rather than whittling down many prospects to a list of the warmest leads, the aim here is to land the exact clients you're looking for or to expand the spend of those you already work with by developing highly personalised campaigns.
In truth, while the focus may be different, ABM isn't that far removed from standard inbound marketing and can work hand in hand with many of the techniques you already use.
What are the benefits of account based marketing tactics?
There are many reasons to deploy ABM techniques for your business, but one of the most important is also the simplest – it works. The ITSMA suggests that most ABM programmes generate a greater return on investment than other types of marketing, with many companies intending to increase investment in ABM budget and resource by 20% this year.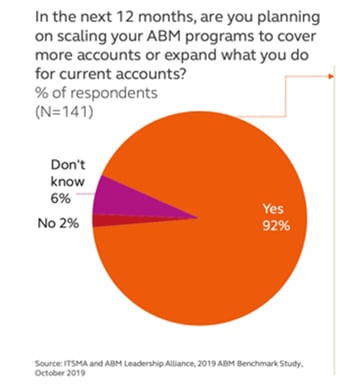 Image source
Beyond these compelling statistics, also consider the following when deciding to adopt an ABM approach.
Account based marketing for small business can be used to…
Help to bridge gaps between sales and marketing teams by providing them with a common goal
Demonstrate clear potential ROI
Reduce wasted marketing resource
Drive a better, more personal customer experience
Enhance relationships with key clients and land new ones
-----------------------------------------------
4 Popular ABM Marketing Strategies
While there are many ways to approach account based marketing efforts, these four essential ABM marketing tactics are the most popular for identifying and engaging with your target audience and landing those all-important key accounts.
1. Define your targets
Before you dive into account based marketing, it is understood that pinpointing target accounts is necessary. What do the companies that currently deliver the most revenue to your business have in common? Which organisations are a perfect match for your product or service?
By nailing down the types of companies you can add value to and, most importantly, can benefit your business, you'll start out on a much stronger footing and be able to plan accordingly. Defining the company size and particular pain point or challenges that match your offering and available resources will be essential to identify the organisations you should be targeting to achieve the best returns.
2.
Dig into data
Data is the cornerstone of most modern marketing initiatives, and ABM is no different.
However, unlike traditional marketing activity, ABM requires a slightly different and more involved approach.
Where you would normally seek ripe leads across a demographic or industry, ABM is about accessing specific company information to better inform and focus your campaigns.
In addition to investing in such insight, making use of your existing internal data can also be fruitful. By slicing existing information in a more targeted manner than you would for broader campaigns, you can shine a light on new approaches and hidden ideas unique to individual companies.
But don't stop there…
You can also make use of more personal approaches to data using 'social intelligence' to lock down key decision makers and role-specific information.
Make use of social media to better understand your targets and use tools on popular platforms like LinkedIn to find the right people to engage with.
Finally, ask colleagues (even those outside the sales team) to run through their contacts and see if they're connected to any potentially useful stakeholders at your target companies who could aid introductions or provide more detailed information.
3. Develop unique content, offers and campaigns
The best advertising can make a simple product feel like the thing that's been missing from your life. That's what your ABM campaigns should do for your target leads.
Create personalised landing pages, ads, email campaigns and other forms of content that directly address the challenges faced by the company and show how perfectly your business can serve their needs.
Create thought leadership blogs that reference your targets and make sure to tag or mention them when you share those assets on social media to increase the chances of that magical 'aha' moment.
You can even take this process a step further and create entire white papers, personalized content or eBooks based on your target company, making sure to explain how you could solve their problems.
Using the data, you've gathered already should help to inform such activities as well as choose the right individuals to put this uniquely targeted brand of content marketing in front of.
4. Choose the right channels and measure success
Like any B2B marketing campaign, the interaction between different channels is an important part of ABM, as is choosing the ideal channels to support your initiatives.
A targeted ad may work well for one person, while a well-positioned blog or social media post might be better for another. This level of personalisation is essential to open doors within your target business and sales process.
Drawing on the data and research you've already completed, tailored email campaigns with content specific to the individual's role can help to enhance engagement and start conversations that traditional catch-all marketing messaging can't.
And finally, while less of a marketing tactic and more essential marketing practice, measurement of your ABM campaign is key. Monitor the level of engagement across channels and learn from the results, from simple metrics like whether revenue increased to more granular data such as whether you're interacting with more individuals from your target companies and if they engaged with the personalised content you created.
Use this information to inform your next campaign.
Conclusion: personalised campaigns based on understanding
These ABM marketing tactics will provide a solid foundation for your personalised campaigns and help you to approach key targets in a more direct and engaging manner. However, as we've discussed, personalisation is the key here, and what works for one account may not be as successful for another.
Therefore, the research and data gathering stages are so crucial.
Knowing your targets inside out, from their business needs to their posts on social media is key to knowing your audience and understanding how to engage them using content and language that resonates.
It takes work but, when you make that breakthrough connection, the results will be well worth the effort.
Over to you
Landing the perfect clients requires a rock-solid strategy and pitch-perfect implementation, and Incisive Edge has been helping businesses to identify and engage with their target accounts since 2009.
If you're looking to make use of ABM marketing tactics as part of your marketing strategy, why not get in touch or book a free strategic consultation today.