Account Based Marketing (ABM) is the hot new kid on the B2B marketing block.
And while it's true that buzzy new marketing trends seem to pop up all the time, only to die away again almost as quickly as they arrive – lifestyle marketing, conversation marketing, micro-moment marketing, to name just three – Account Based Marketing is most certainly here to stay.
In fact, the idea of Account Based Marketing has been around for a while. The term was first coined in 2004 by ITSMA, though B2B companies have been executing what would today be called ABM strategies for many, many years.
Account Based Marketing takes a laser-focused approach to marketing. Instead of relying on broad, all-encompassing techniques, where largely anonymous groups of people are targeted with campaigns such as online and offline advertising, search engine marketing (SEM), and content marketing, ABM locks in on meticulously selected target organisations and goes for the jugular.
2016 was the year ABM came of age, and its adoption continues to rise – rapidly. The '2017 State of Account Based Marketing Survey' from #FlipMyFunnel reveals that in twelve months, the ABM adoption rate amongst B2B companies has grown from 49% in 2016 to a massive 81% in 2017.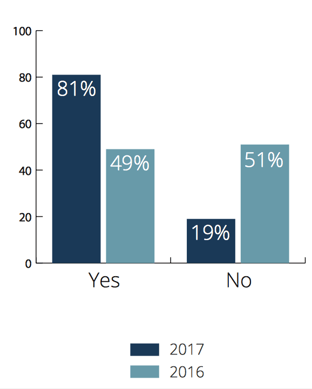 (Are you currently practicing ABM? (Source: smartinsights.com))
The reason for the surge in adoption is that Account Based Marketing delivers results. Indeed, according to research from ITSMA, 85% of B2B marketers who measure return on investment (ROI) report that ABM delivers higher returns than any other marketing approach – and that's something that B2B companies simply cannot afford to ignore.
What is an Account Based Marketing Strategy?
The basic premise of Account Based Marketing is to first identify high-quality prospect organisations that are deemed to be best-fit accounts for your business – i.e. organisations that have the biggest revenue-generating potential – and then use personalised, highly-tailored campaigns to generate high-quality leads from those specific targets.
A crucial aspect of Account Based Marketing is that it works on the assumption that B2B buying decisions are usually made by a select group of people (executives), as opposed to a single person. In fact, research reveals that typical buying committees at B2B organisations are made up of anywhere between three and over thirty people, depending on the size of the company.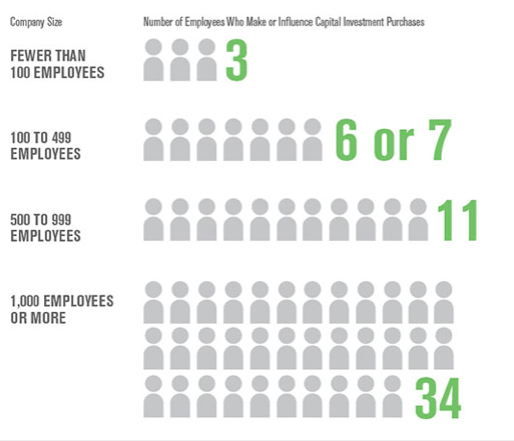 (Image source: news.gallup.com)
Acknowledging this reality, Account Based Marketing Strategies works to target core decision-makers, delivering only the most relevant messages to only the most relevant people, thusly generating group interest within the target organisation, with the ultimate aim of making a sale.
By connecting with all stakeholders through your marketing efforts, you're moving away from a single-lead approach and towards a multi-lead one – which is key when you need to convince more than one individual of the benefits of adopting your tech product, service or solution.
Flipping the Sales Funnel
In essence, Account Based Marketing achieves its goals by turning the traditional marketing and sales funnel on its head. In traditional practices, the strategy is to use broad-reach marketing materials to attract strangers towards your website, from these strangers identify leads, from those leads identify opportunities, and from those opportunities make sales.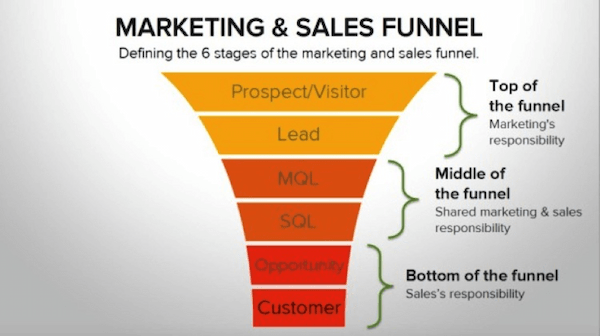 (Image source: landerapp.com)
One of the problems with this approach, however, is that it is inherently a numbers game, which doesn't always deliver a favourable ROI. The enemy of precision is volume, and many B2B marketing tactics involve trying to generate hundreds if not thousands of leads just to convert on a single sale. This is hardly the most efficient or resource-effective strategy.
Account Based Marketing takes the opposite approach. Instead of ploughing resources into generating thousands of leads out of which only a handful will qualify as "best-fit", it identifies "best-fit" organisations from the outset, and then focusses resources on engaging only the key stakeholders within them – and so the traditional sales funnel becomes inverted.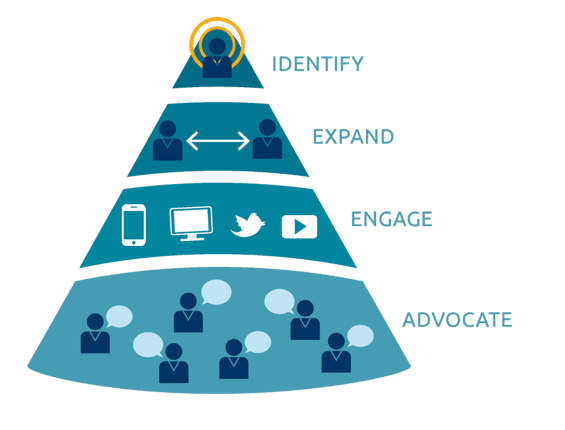 (Image source: terminus.com)
Many of the traditional B2B inbound and content marketing tactics are still used with ABM – email marketing, social media marketing, advertising, video marketing, etc. The essential difference, however, lies in how these tactics are used in execution.
All content is hyper-personalised and hyper-targeted with Account Based Marketing. The aim of the content is not to engage as many people as possible, or to generate as many social media shares as possible – but rather to pique the specific interests and address the specific pain points of specific stakeholders within specific organisations.
The blog posts, eBooks, white papers, case studies, and research reports produced for an Account Based Marketing strategy are specifically designed for one single account and one single account only. And the same goes for all advertisements, emails, videos, infographics, social media posts, or any other content tactic that you might use.
The aim is to use content to court specific relationships with organisations based upon research that shows those companies are "best-fit", as opposed to using content to attract as many prospects as possible and only then separate the wheat from the chaff.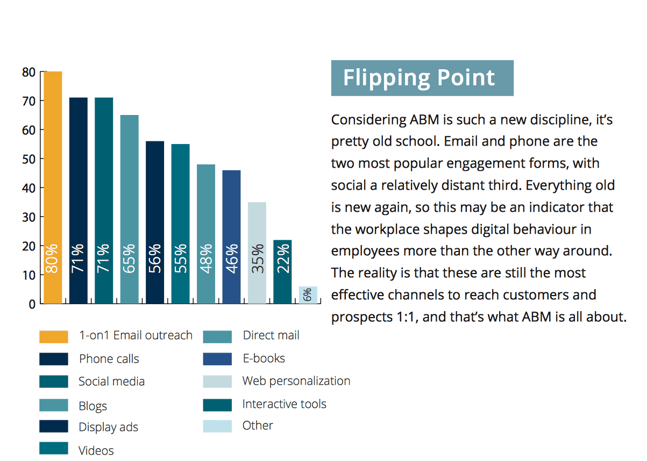 (What tools do you use to engage target accounts? (Source: terminus.com))
How to Implement Account Based Marketing Tactics in 5 Steps
It's not difficult to imagine how effective ABM strategy can be for B2B tech companies that have developed solutions to solve specific problems for specific businesses. However, the prospect may still seem a little daunting – especially from an execution standpoint. It's certainly easier to create content that appeals more generally than it does particularly.
And indeed, it's certainly easier to promote that content broadly across social media channels and see what comes in, as opposed to researching individual targets and reaching out to each one directly.
However, effective Account Based Marketing can be executed in just five simple steps, and since the ROI is so high, whether it's "easier" to execute or not, ABM really is a no-brainer.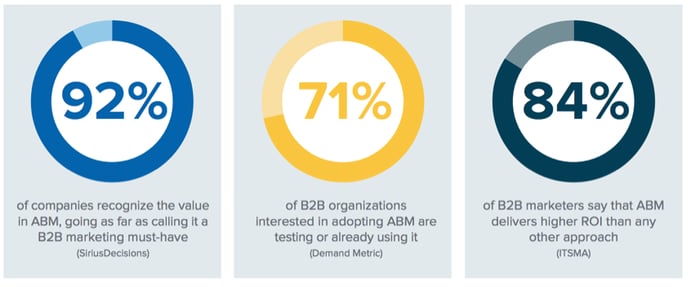 (Image source: linkedin.com)
How does ABM Work?
Step 1 – Identify Your Targets
Naturally, the first step towards executing a successful Account Based Marketing plan is to identify your target accounts.
This will begin with discovery. You will need to conduct research to determine the companies that are as similar to your best existing customers as possible. Some of the employees from these companies you may already have in your customer relationship management (CRM) system or another database.
The important thing is that you work out and document exactly what it is that makes an organisation a "best-fit" for your tech product, service or solution. The point of the process is to create an ideal customer profile (ICP).
ICPs are different from inbound marketing personas, for it's organisations that you're trying to identify, not individual buyers.
Your ICP should focus on only the most relevant characteristics of target organisations. It will form a description of the company, as opposed to the individual buyer or buyers at the company.
To create your ICPs, focus on the following:
Which industry or industries are you targeting?
How many employees does the company have?
What is company's annual revenue?
What is the company's budget?
Where in the world is the company based?
What technology does the company already use?
What is the size of its customer base?
Now you can put together a detailed ICP that will look something like this: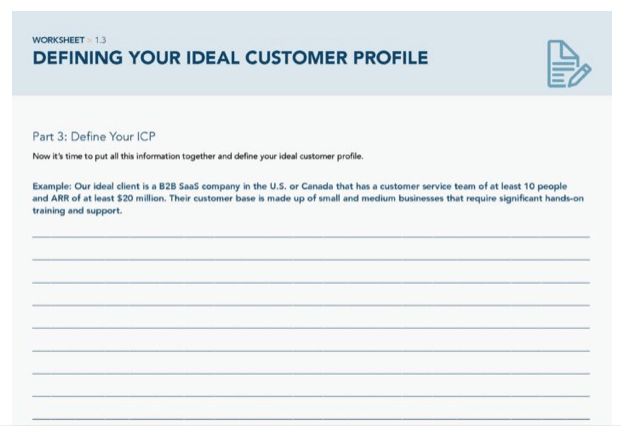 (Image source: terminus.com)
With your ICPs created, you can start your research in earnest to discover the companies out there that are best-fit.
To begin with, you can take to Google, LinkedIn, Twitter, and other platforms for your research. However, today, there are a number of specially-designed tools that you can use specifically for the purposes of pinpointing companies that fit your ICP.
These include DiscoverOrg, Bombora, and Mintigo, though there are many more.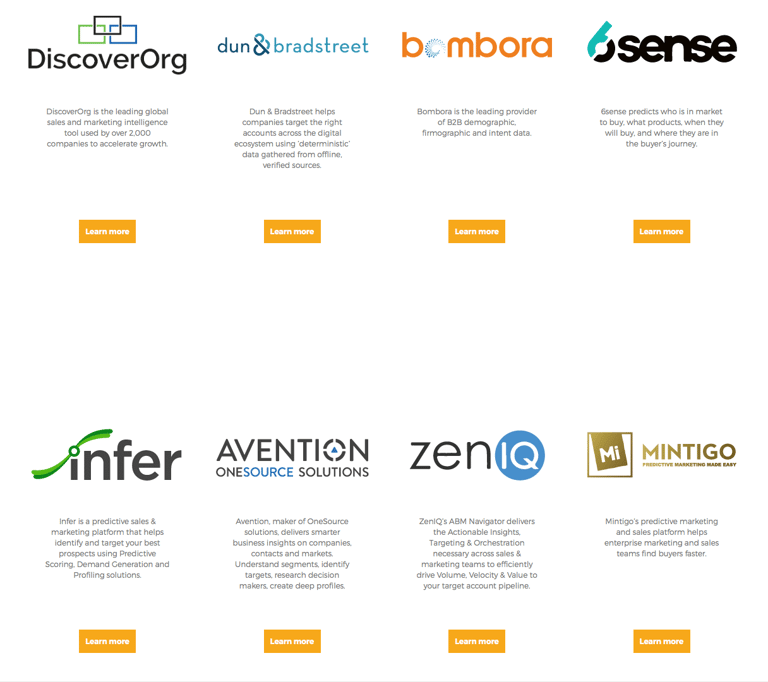 (Image source: terminus.com)
Step 2– Research Accounts and Identify Key Internal Players
Now you know the organisations you're going to be targeting, you need to continue your research to find out who the key decision-makers are within them.
These are the people you will be targeting with your content, so it's crucial that these people are identified.
You may be able to glean this information from the company website, but, if not, LinkedIn is one of the very best tools out there for conducting this type of research. A simple advanced search will quickly determine who works at the company you're targeting, what their job roles are, and from this information you can very quickly decipher who your most critical targets are.
Simply type in the name of the target organisation in the LinkedIn search bar and see who comes up.
Step 3 – Create Your Super-Personalised Content
Quality, compelling, educational content is at the core of nearly all B2B marketing efforts – and it's no different with Account Based Marketing.
With ABM, however, the whole purpose is to produce exceedingly valuable content that clearly addresses the most significant business challenges that the target account faces. ABM content needs to be highly researched, and, importantly, be about the target organisation and not you.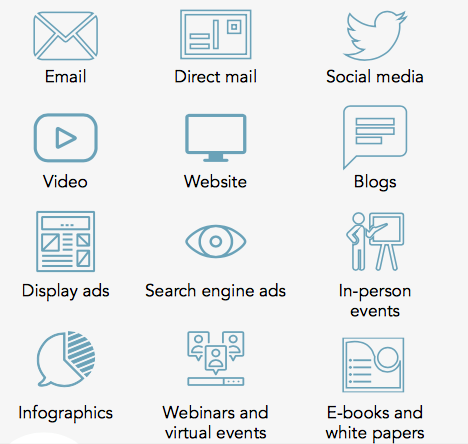 (Image source: images.g2crowd.com)
Your goal is to show the key stakeholders in the target organisation that you understand their company, their needs, and the challenges faced in their industry.
As always, it will pay to vary your content type. Create blogs that are easily inserted in the key decision-makers' social media feeds. And do the same with eye-catching infographics, and short, to-the-point videos. And don't forget long-form – eBooks, white papers, research reports and case studies offer huge value. But again, it's imperative that the focus is on the target company, not you.
Simply put, your aim is to create content that simply can't be ignored by the people that you want to consume it.
Step 4 – Select Optimal Channels for Promotion
Content may still be the king of Account Based Marketing, but, as they say, distribution is queen – and she rules the household.
No matter how good or personalised your content is, if you don't choose the right channels to promote it, it will never be discovered by the key people that you need to see it.
LinkedIn and Twitter, of course, are well-known spaces where B2B professionals like to hang out. However, recent research has revealed that Facebook is a surprisingly effective social media channel through which to reach B2B decision-makers.
A report by Hotwire and Vanson Bourne finds that B2B buyers cite Facebook as their go-to channel when it comes to conducting research prior to making a purchase decision. 24% of the 1,000 B2B professionals surveyed put Facebook right at the top of the list for this type of activity – above LinkedIn (17%) and Twitter (6%).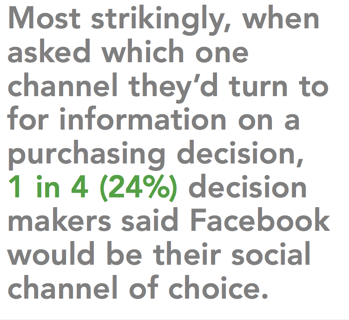 (Image source: hotwireglobal.com)
The reason being, the report suggests, is that, increasingly, more people are taking their work home with them, and while B2B professionals may spend more time on LinkedIn and Twitter while they're actually at work, they spend more time on Facebook overall (18 days per month on Facebook, as opposed to just 13 days per month for both Twitter and LinkedIn).
It's important that you research exactly which online platforms your targets frequent and target them there.
Step 5 – Launch Your Campaign, Analyse Results, and Optimise
Now that everything is in place – you've identified your targets, created your personalised content, and selected the most optimal channels through which to reach them – now it's time to launch.
The most important thing to do at this stage is to ensure that you are coordinating your campaigns across channels. Since you're targeting more than one person within an organisation, it's imperative that you're not sending out mixed messages or giving mixed signals to different people.
The goal is to bring everyone around to the same point of view at the same time – that you've got a product worth talking about.
After a short time, your Account Based Marketing efforts will hopefully have generated enough brand awareness and engagement from decision-makers at your target accounts to make next-stage sales conversations successful.
Importantly, however, you will need to refresh your output regularly. Keep writing blogs, crating videos, producing infographics, ads, and social media posts. The key to keeping buyers engaged is to continuously deliver something new for them to engage with. Educate them gradually with new campaigns – taking lessons learned from previous efforts to optimise new ones.
Over to You
Account Based Marketing is one of the most powerful, revenue-generating strategies to have emerged in marketing probably since inbound marketing took off in earnest about ten years ago. While inbound is still a vital B2B marketing practice, the tools and technologies are finally here to make meaningful ABM a reality.
Laser-focussed and super-personalised, Account Based Marketing can make an enormous impact on your B2B marketing efforts, and when it's broken down into just a few simple steps, you can see just how easy it is to execute.
If you need help developing an Account Based Marketing strategy or want to discuss any of your B2B marketing needs, get in touch with the growth experts here at Incisive Edge today.