Account based marketing (ABM) is a growth model and marketing strategy which allows sales and marketing teams to work together in targeting only those companies that matter most to a business, with messaging and content that is tailored just for them. Each target account is treated as an individual market.
Sales teams collaborate with their marketing team to identify target accounts, then create personalised content that specifically addresses the needs of key decision makers at every step of the buyer's journey.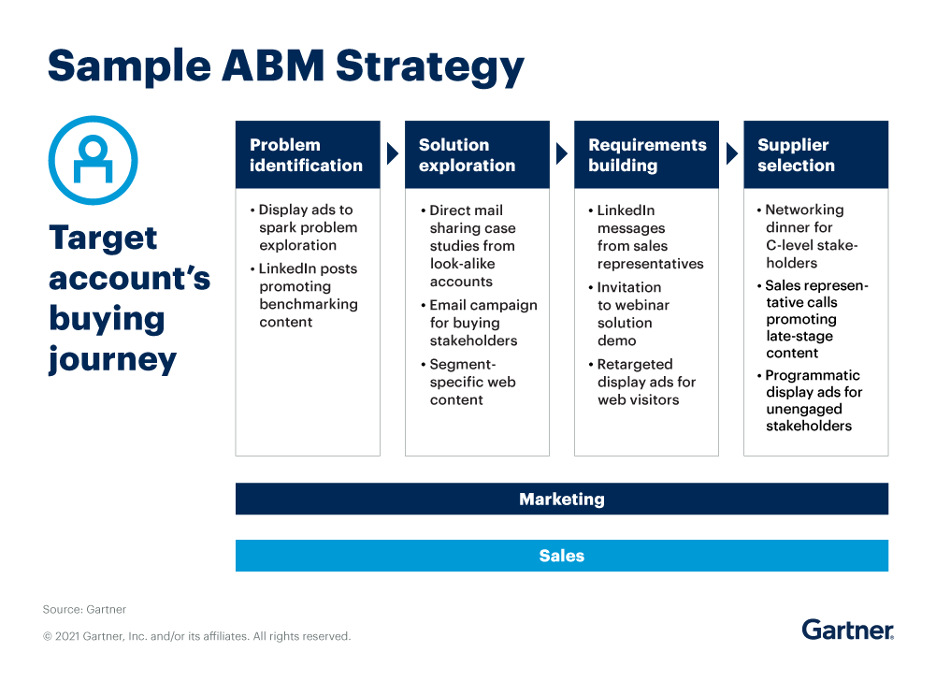 (Image source: Gartner)
Email is still a vital component in modern business communications – strategic and well-crafted email marketing campaigns can assist in tipping the balance that turns a prospective customer into an actual buyer. In account based marketing, where the emphasis is on making content and messaging directly relevant to potential buyers in a carefully selected set of target accounts, direct mail and email marketing must also be targeted.
The advantages of account based marketing email campaigns
With an account based marketing strategy, marketing and sales teams create messaging and content with the specific needs and preferences of target accounts in mind. In this way, account based marketing tactics enable marketing and sales teams to connect with target account decision makers on a more personal level. This contributes to nurturing relationships – and with an email marketing strategy that directly addresses the aspirations and pain points of these decision makers, ABM email marketing can help to drive sales and profits.
Conducted properly, personalised email campaigns foster engagement amongst email recipients, leading to greater customer retention on subscriber lists. Targeting specific accounts and tailoring email messages to their needs also enables marketing and sales teams to generate higher-quality leads, which are more likely to convert.
So – how can you effectively integrate email marketing into your account based marketing efforts? Here are some recommendations to help:
Identify target accounts – and truly understand them
Any successful account based marketing strategy begins with the identification of target accounts. This is conducted on the basis of several criteria, such as company size, industry, revenue, growth potential, location, etc. For the purposes of account based marketing in general and ABM email marketing in particular, it's necessary to go deeper, and understand what truly motivates the decision makers in this target audience. By knowing their needs, aspirations, challenges, and pain points, it will be easier for your ABM email marketing team to craft messages that truly resonate with your target accounts.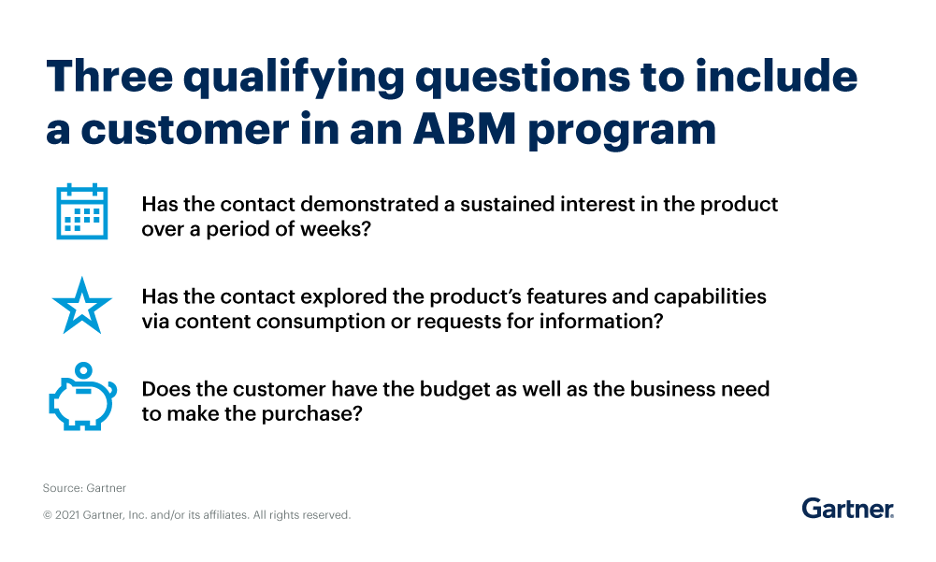 (Image source: Gartner)
You can gather customer data from viewing the social media output of your target accounts, or by reading reviews and commentary that they post on their own or other websites. Engaging with target accounts directly through questionnaires or surveys is another account based marketing tactic you can use.
Create subject lines that get their attention
The success of your email marketing campaigns hinges on whether your message actually gets across to the recipients. One way to help ensure this is by using email subject lines that speak directly to issues that matter to your target audience, and also speak to them personally.
The knowledge you've gathered from identifying your target accounts and their needs will assist in this aspect of running your email campaigns. Note that while addressing the recipient by name in the subject line is one (simple) way of personalising a message, with account based marketing it's possible to go further. This brings us to our next point.
Use different types of personalised content
Knowing what matters most to the key decision makers at your target accounts provides your marketing and sales teams with opportunities to create email marketing content that is truly focused and personalised.
For example, when approaching corporate clients and business owners, your email marketing strategy might be to offer them a specific and relevant gift – or the opportunity to donate the value of that gift to a charity of their choice. Another email marketing strategy is to include a video within the message that addresses the specific needs or pain points of the target account recipient.
Alternatively, your email marketing strategy could include a "lunch and learn" invitation, where you host the target account decision maker and/or their team to a combined lunch event and webinar that discusses their challenges or pain points.
Other types of personalised email content include seasonal competitions offering lucrative rewards to your subscribers, and interactive emails that encourage recipients to gain knowledge about their specialist areas of concern through quizzes and games.
Optimise your email marketing for mobile
Mobile email is now the preferred option for many business users, so all elements of your ABM email marketing should be designed to fit a small screen. This means using responsive email templates designed to fit all screen sizes, with short subject lines, concise text paragraphs, and clean and simple visual images. Marketing and sales teams should use call to action (CTA) buttons rather than links, to capture the reader's attention.
Use automation to lighten the workload
Timing plays a role as well as personalised content, in an ABM email marketing campaign. You can use email marketing software to help automate the content of your account based marketing emails – and to optimise the delivery times of your messages.
Get help if you need it
Running account based marketing email campaigns can be a labour, data, and resource-intensive undertaking. If you lack the skills or resources in-house, you can turn to a specialist marketing agency for help.
Here at Incisive Edge, our ABM campaigns target, engage, nurture and convert your high-value prospects into lifetime customers. We begin all our account based marketing campaigns by tightly defining your ideal customer profile (ICP), target personas, messaging, data, and much more.
Once we have your strategy locked and loaded, we'll create highly personalised content assets to engage and nurture your prospects down your marketing and sales funnel. We'll track engagement and all key metrics, enabling us to optimise your campaigns and measure success in growing your target relationships.
To learn more about how Incisive Edge can assist with your ABM email marketing, get in touch with us.