Account Based Marketing (ABM) is a strategic marketing approach that allows you to target only those companies that matter most to your business with messaging and content tailored expressly for them. In essence, account based marketing is about inspiring your target accounts with a vision of what is possible to solve their challenges, and filling them with confidence that you are the right partner to take them on that journey.
Understanding your audience and the accounts you want to target is at the core of ABM. And using a platform that gives you ready access to all the information and contacts that you need is essential to effective account targeting.
For organisations in the business to business or B2B sector, the social media platform LinkedIn provides such an avenue. At present, there are more than 13 million LinkedIn Pages for companies. Since its debut in 2008, LinkedIn Ads has given users the ability to target ads at specific companies. LinkedIn Account Targeting allows you to match your targets against the platform's extensive list of companies, producing a list of qualified leads you can pursue at scale. Tools like LinkedIn Sales Navigator are available to assist in streamlining and automating the lead generation process, while facilities like LinkedIn's trusted first-party data enable you to run granular ad campaigns.
Using LinkedIn as a platform for your ABM efforts clearly makes sense. So how can you make the most of it? We'll provide some key recommendations, in this guide.
First steps in LinkedIn ABM
Before delving into the specifics of the LinkedIn platform for account based marketing, it's essential to adopt the fundamental approach that makes any ABM campaign successful – that is, alignment between marketing and sales teams.
With alignment, marketing and sales teams work together to map the accounts they want to close, and coordinate their efforts to get meetings and meaningful engagement with them.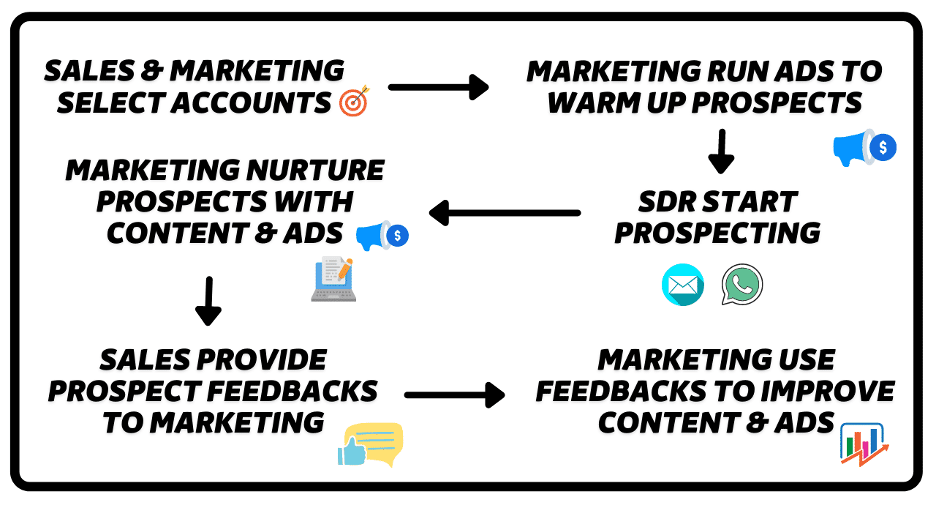 (Image source: Evaboot)
The net result is that the sales team gets meetings only with qualified leads, and that marketing campaigns create a system in which marketing qualified leads (MQLs) and sales qualified leads (SQLs) are one and the same.
In order to successfully make this happen on the LinkedIn platform, you need your entire sales and marketing team plus other relevant stakeholders and executives to understand their roles, and agree to put the necessary effort into running your LinkedIn account based marketing campaign.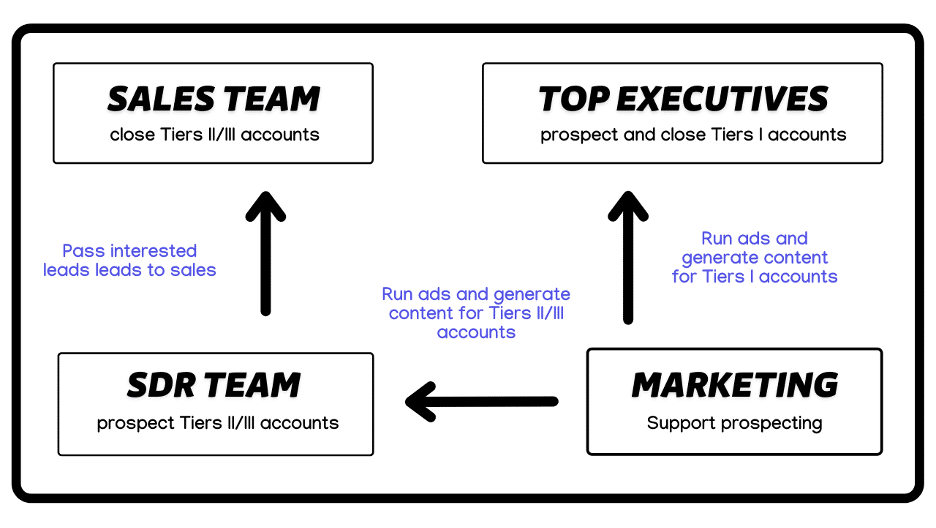 (Image source: Evaboot)
Use LinkedIn Account Targeting to find target accounts and decision makers
In order to narrow your search, you first need to define your Ideal Customer Profile (ICP). You may do this on the basis of a number of static criteria such as industry, geographical location, company size, business activity, or growth rate. You may also consider dynamic criteria such as the launch of a new product or service, or expansion into a new market.
Since 2017, LinkedIn has included an Account Targeting feature known as Matched Audiences. Here, you can upload a list of either individuals that you want to target on the platform, or a list of company names. To match your list to companies on LinkedIn, you require at least a company name, company website, company email domain, or LinkedIn page URL.
To locate decision makers at your target accounts, select Job Experiences > Job Titles and select the job titles that you wish to target. This indicates to LinkedIn that you want to display ads to people who are working in your company list, and currently have one of the targeted job titles.
Prioritise accounts using tiers
In ABM, tiers define the importance of each target account for your company. More importantly, they determine which strategy you are going to apply in order to close them.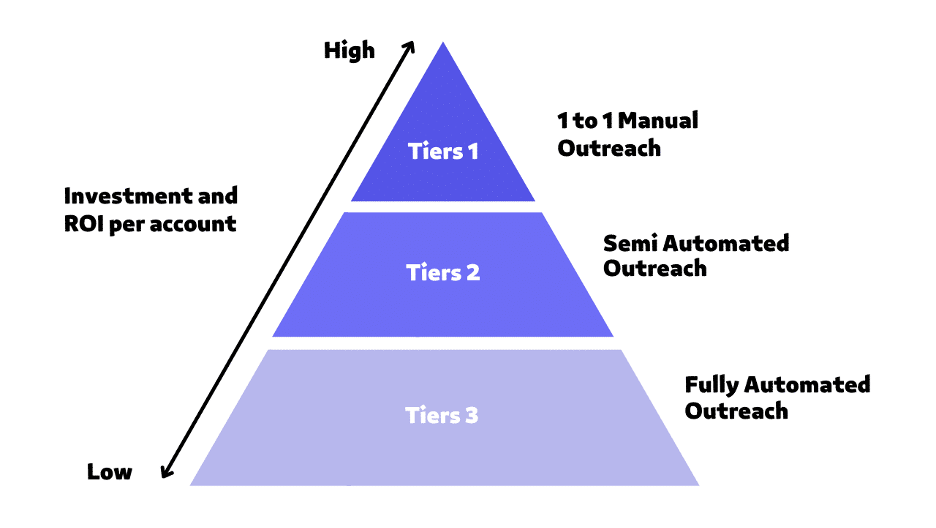 (Image source: Evaboot)
In general, Tier I consists of "must have" target accounts essential to the success of your business. For this target audience, your sales team and top executives will need to perform manual outreach, and foster relationships with key decision makers.
Tier II accounts represent the bulk of your clientele – the core clients that are relatively easy to close, and with whom your sales and marketing teams have much experience. This target audience requires personalised messaging, and marketing outreach designed to get meetings with buying committees and key decision makers.
Tier III represents those target accounts which it would be "nice to have" – a target audience that's comparatively easy to close, which can bring in additional revenue. Outreach to these target accounts can take a more mass market approach, with less emphasis on personalisation.
Performance tips for LinkedIn account based marketing
Here are some tips and hacks to accelerate the success of your LinkedIn account based marketing efforts.
Use Saved Searches to automate LinkedIn ABM targeting
The LinkedIn Saved Searches feature allows you to discover if new companies or leads match the search filters that you previously entered via LinkedIn Sales Navigator. You first need to save your account search, and give it a distinctive name. Once this is done, each day, LinkedIn will automatically detect if new companies emerge that match your search filters. The platform will send you a weekly update with the new results, helping to automate your lead generation.
Use CSV file format to create your account lists
If you use a non-LinkedIn database to compile your list of target accounts, you can upload a file in CSV format directly to LinkedIn Sales Navigator. So long as the CSV file contains some fields with information like the company name, website, or LinkedIn account page URL, LinkedIn will be able to find these target accounts in its database if the organisation has created a company page. This is a great time-saving tip, as CSV is a file format typically used by mainstream spreadsheet and database applications.
Approach top decision makers from the bottom up
Make the most of your relationships with Tier II and Tier III contacts to ask them who are the correct decision makers to contact at their company, in order to introduce your product or service. When reaching out to these top executives, you can reference the name of the employee that sent you to them, to bolster your credibility.
Get help if you need it
Account based marketing can be a labour and resource intensive undertaking. If your organisation lacks the human resources or expertise necessary for LinkedIn account based marketing, you can turn to a specialist marketing agency.
Here at Incisive Edge, our strategic ABM approach, coupled with strong campaign execution, open up your target accounts to your sales teams to ensure leads are delivered consistently.
To find out more about how Incisive Edge can contribute to your LinkedIn account based marketing efforts, get in touch with us.