According to research from Thrive My Way, the business to business or B2B industry in the US is currently estimated at $6.7 trillion, with 35% of business-to-business organisations expecting online sales to increase in the next year. These figures highlight the importance of effective B2B marketing efforts for businesses looking to succeed in this competitive industry
For private businesses looking to influence decision-makers in other businesses, B2B marketing including account-based marketing is a growth area worth exploring. This begs the questions: "What is B2B marketing?" and "What are some effective marketing channels and B2B marketing strategies that my own company can use, right now?"
In this article, we'll be providing some answers.
What is B2B marketing?
Business to business marketing or B2B marketing is a business model with a marketing process in which a company promotes its products or services to potential buyers in other businesses. Unlike business to consumer or B2C marketing (in which the target market is an individual customer), the potential customers in a B2B marketing strategy are decision makers in another company who are charged with making purchases on behalf of their particular business organisation.
This means that for B2B marketing, the time frame and sales cycle becomes longer and more complex. The marketing team and sales team for a business to business marketing campaign must therefore use marketing channels, a content strategy and sales process
that are geared
towards an institutional rather than an individual target audience as well as a marketing funnel.
In practice, this means that the various stages of a marketing funnel in a B2B marketing strategy must be crafted to reflect the role of the decision-makers in a business-to-business transaction scenario. The buyer's journey of these business to business customers, including small business owners, may also include factors such as waiting periods while businesses weigh up their various options and put purchase orders through approval processes in line with their organisation's particular business model.
What is a B2B marketing strategy example?
The digital marketing and creative platform Adobe offers a good example of a B2B marketing strategy that effectively uses social media channels and email marketing -- one of the B2B marketing strategies that we'll be discussing in more detail, shortly.
With 262,300 followers and 2 million likes on its TikTok account, the software company created a short, entertaining, and engaging video marketing campaign calling on its target audience to answer the question: "Who is a creative TikToker we should know about?" This B2B marketing campaign generated over 2 million views.
· Learn more about Marketing strategies
6 Examples of business to business marketing strategies that produce results
HubSpot has conducted extensive research into the B2B marketing sector, revealing key trends that business to business marketing organisations should be aware of in 2022. These observations include key B2B marketing strategies, and statistics on the use of various B2B marketing channels.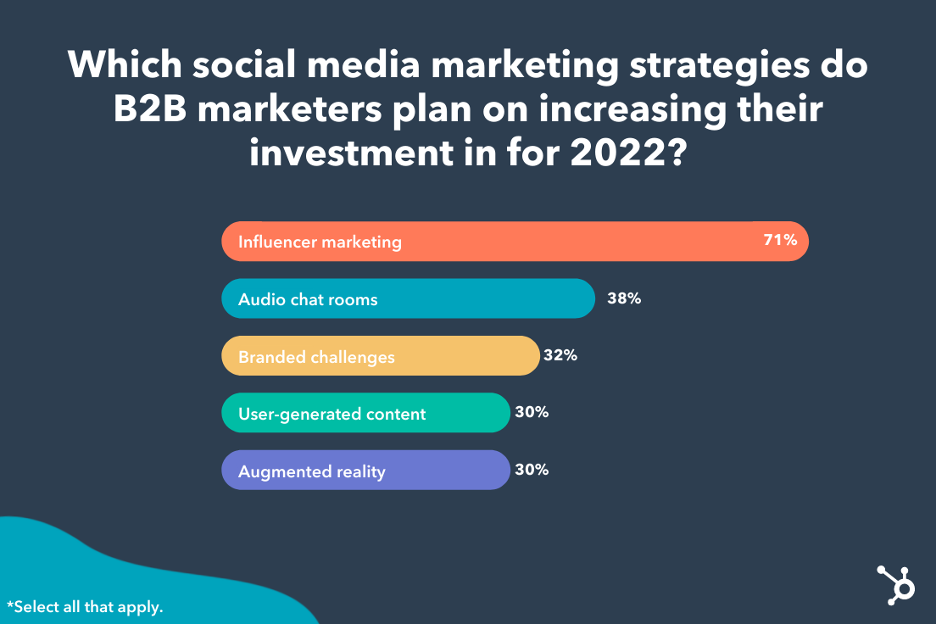 [Image source: HubSpot]
Among those marketing channels are the following.
1. Video Marketing
In terms of content marketing, visual content in the form of video is the most popular format for the consumption of relevant content. This is true of potential customers from other businesses. In fact a recent survey by Google suggests that 7 in 10 B2B buyers watch videos throughout their buyer's journey.
HubSpot research indicates that roughly half (49%) of B2B marketing leaders say LinkedIn is the best platform for posting their video content, followed by 28% of business to business marketing professionals who cited TikTok as their optimal platform.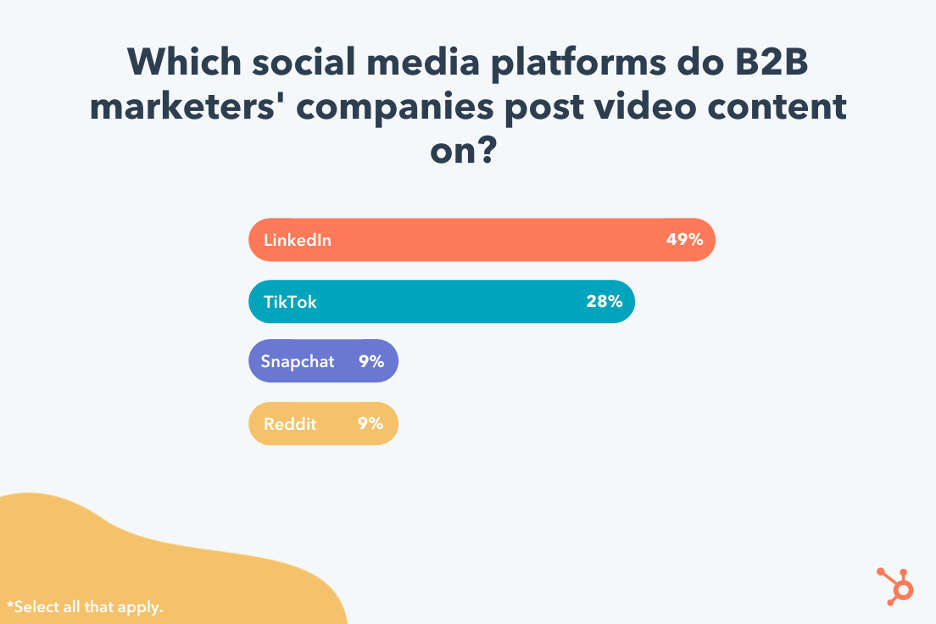 [Image source: HubSpot]
2. Social Media Marketing
Having an active and engaging social media presence is also critical for B2B marketing success. Research by the Content Marketing Institute indicates that 95% of B2B marketers use social media content in some form to reach decision makers in other businesses, making it the most widely-used content type. Leadspace confirms that social media for B2B marketing is a source in the purchase decision making process for 84% of B2B executives.
According to LinkedIn, four out of five B2B marketing leads from social media come through its platform.
3. Influencer Marketing
Creating partnerships with key influencers is becoming a critical part of the marketing strategy of B2B organisations using social media channels. HubSpot reveals that influencer marketing is projected to become a $13.8 billion dollar industry by the end of this year, and the majority of B2B marketers (71%) plan to increase their investments in influencer marketing in 2022.
4. Search Engine Optimisation (SEO)
Google reckons that 89% of B2B researchers gather information about potential purchases through the internet. What's more, before interacting with a company website, the average B2B buyer conducts 12 different online searches.
Any B2B marketing team looking to stand out from the competition can therefore benefit from Search Engine Optimisation (SEO). In 2022, 56% of B2B marketing practitioners have identified 'optimising load speed' as the most effective SEO strategy, followed by creating search insights reports.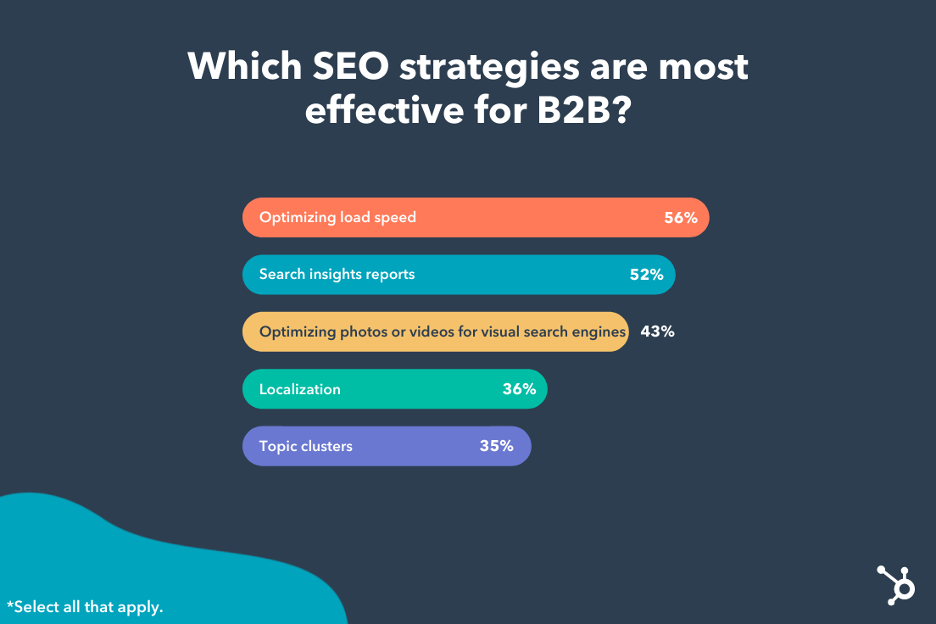 [Image source: HubSpot]
5. Researching B2B Customer Pain Points
Many businesses begin the awareness stage of their buyer's journey with the realisation of specific pain points or issues that the product or service offerings of another company might remedy. Any company looking to market their offerings in the business to business arena therefore stands to gain from a deeper understanding of the pain points of its potential customers.
Activities to pursue in this kind of B2B marketing strategy include performing keyword research to discover organic search demand, conducting surveys to uncover the needs and issues facing decision makers in other businesses, and the formation of user groups from your base of existing customers.
6. Creating Brand Awareness
Research by HubSpot's Blog team reveals that the number one goal for B2B marketers in 2022 is 'increasing brand awareness'. The best B2B brands combine their brand positioning, company website and digital marketing execution to build an emotional connection and create a smooth customer experience with their target audience.
Final Thoughts
Here at Incisive Edge, we will work with you to define detailed Buyer Personas for your target audience's decision makers. We will craft a value proposition that emphasises why you are unique and the value you provide your target market.
To find out more about how Incisive Edge can help you take your B2B marketing campaigns to the next level, get in touch with us.