B2B marketing is a continuously evolving beast, already unrecognisable when compared to tactics at the forefront of innovation just a few years ago. With the rise (and rise and rise) of mobile shopping over in the B2C realm, it's only ever been a matter of time before the B2B segment caught up, and any player in this field must now take note of the mobile video marketing trends that are shaping the future of B2B marketing.

But let's first consult the statistics ­– just so we're clear about the changes that are taking place in the mobile video marketing industry.
Mobile Video Marketing Trends
StatCounter Global Stats reports that, as from October 2016, mobile and tablet devices are accounting for 51.3% of worldwide internet usage – exceeding desktop for the first time.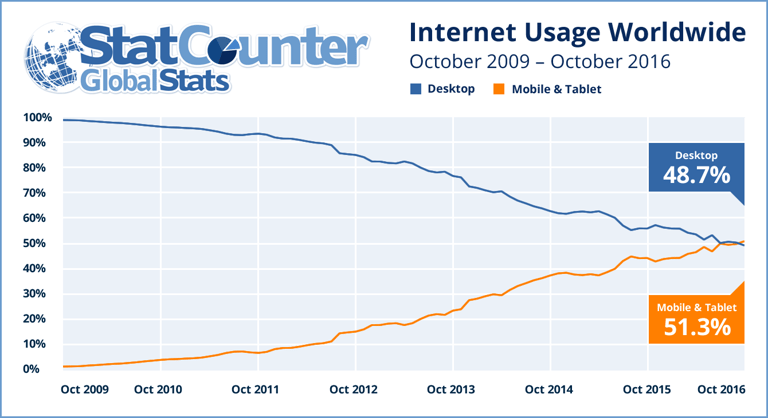 True, StatCounter also notes that when looking at the UK and US markets in isolation, mobile and tablet account for 44.4% and 42.0% of internet usage respectively (i.e. usage has yet to overtake desktop just yet). However, the trend remains the same – the mobile and tablet segment is on track to overtake desktop at some point in the near future.

The US market is reacting in no uncertain terms. Indeed, BIA/Kelsey research predicts that mobile ad spend in the US will exceed $40 billion this year, and leap to $65 billion by 2020.

In the UK, the same trend is being witnessed. According to eMarketer, mobile ad spending surged 35% in 2016 year-over-year to hit £4.58 billion (surpassing desktop investment), and this figure is predicted to nearly double to £8.99 billion by 2020 (by which time only £3.17 billion will be spent on desktop advertising).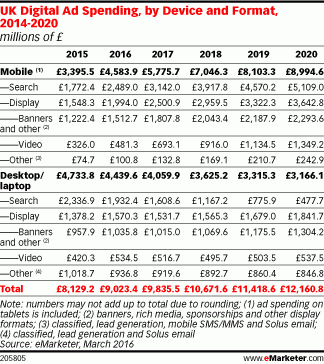 In terms of mobile video – the Ooyala Global Index report notes that mobile is accounting for 51% of all online video views, with the Cisco Visual Networking Index predicting that by 2020, video will account for 75% of all mobile internet usage.

All of these trends make it clear that mobile video marketing is going to increasingly become one of the most important factors for all B2B marketing strategies in the forthcoming years. As such, mobile video marketing needs to be a high priority right now.
3 Mobile Video Marketing Tactics to Work into Your B2B Marketing Strategy
Ok, so we've established the importance of mobile video marketing in 2017 and beyond. The question that remains for B2B marketers, however, is how to use mobile video marketing to inform, entice and delight the B2B audience.

Here are three ideas that you can start putting into practice right now.
1. Supplement Inbound Marketing Campaigns with Video
No matter what your outreach tactics are as you engage with prospects along the buyer's journey, video has an integral role to play.

In essence, when it comes to B2B & content marketing, what we always have to remember is the fact that all of our content now needs to be optimised for mobile screens. Since, globally, more internet usage is now taking place on mobile as opposed to desktop, everything we do as inbound marketers needs to be conducted increasingly with a mobile-first approach in mind.

And this goes for the blogs we write, the landing pages we construct, and the emails we send. Your marketing reaches customers via all of these methods (and more, of course), and there isn't one of them that can't be supplemented with the inclusion of video. In 2017, however, we must make sure that these video marketing campaigns are optimised for mobile.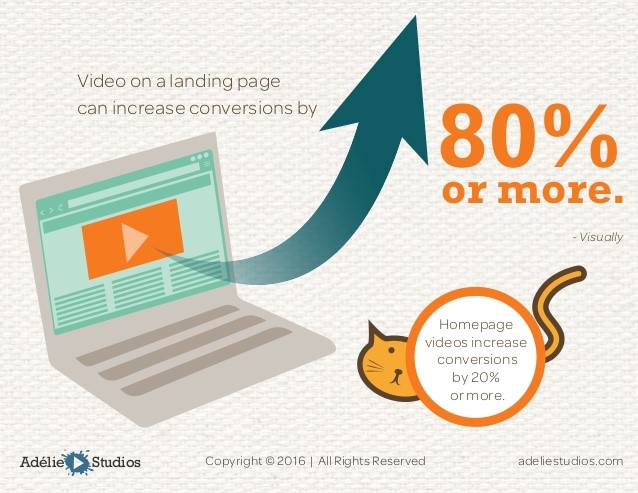 (Image source: slideshare.net/AdelieStudios)
Videos on landing pages increase conversions by 80% or more. Personalised video increases email conversions by 500%. These are big figures, and B2B marketers need to take note of them and start working on mobile video marketing campaigns that will enable them to enjoy such results for themselves.
Learn about account-based marketing.
2. Vertical Video Ads
How do you hold your phone?

We're guessing the way that it's designed to be held, right? Upright.

Of course you do – and B2B buyers hold it the same way, of course. A study by UXmatters has found that people hold their phones upright – or vertically – over 90% of the time.

And so, in order to get the most out of our B2B mobile video marketing campaigns, we need to start experimenting with vertical video ads. It's a simple strategy, but, as more people are engaging with online content – including video – via their mobile devices, we need to start making the experience as intuitive as possible, which means incorporating vertical videos into our mobile video marketing campaigns.
Vungle reports that "Videos that match a user's mobile device orientation see a 68% increase in conversions and a 36% increase in completed video views."

Need we say more?
3. Explainer Videos
More people than ever are turning to their smartphones when making purchase decisions. And B2B buyers are in no way exempt from this rising trend.

Research from Google reveals that 42% of B2B researchers use their mobile phones during the purchasing process. Of these, 49% are using their mobiles to conduct this research while at work – which is interesting. Many B2B researchers, of course, will have ample and free access to a desktop computer while at the office – and yet nearly half are still opting to pull out their phones.
And so, aiding these smartphone researches in their hunt for information means providing them with rich mobile experiences in a format that resonates – video.
Indeed, the same report reveals that 70% of B2B buyers and researchers watch videos along their path to purchase. "Nearly half of these researchers are viewing 30 minutes or more of B2B-related videos during their research process, and almost one in five watch over an hour of content," the report says.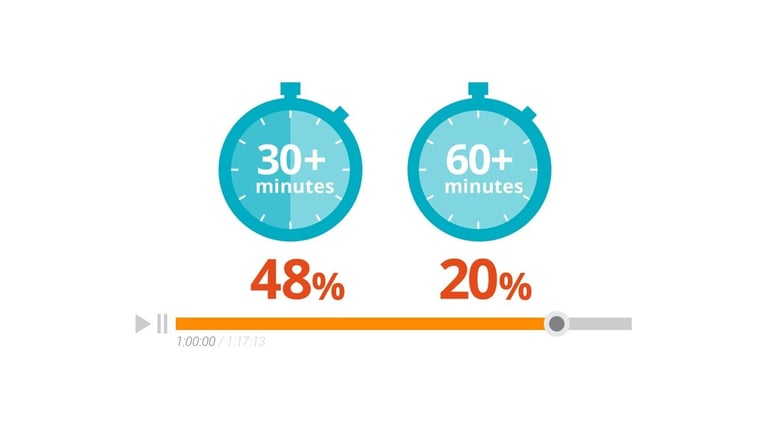 (Nearly half of potential B2B buyers watch 30 minutes or more of B2B-related videos. Image source: thinkwithgoogle.com)

Whether or not these long-play items are being viewed on mobile is not revealed. However, the research into B2B video viewing trends is clear enough – buyers are watching videos to help them make purchase decisions, and, with an increasing amount relying on their mobiles, optimised mobile video marketing campaigns are essential. Use them to explain your solution and its benefits in detail, for your key buyers are researching purchases on their mobiles, and are showing an increasing desire for videos to explain everything they need to know.
Back to You
B2B marketing programs need to find space for mobile video marketing initiatives. Whether it's vertical video ads, inbound marketing materials or long-form explainer videos, mobile video marketing is fast becoming one of the most important tactics that need to be deployed as part of a strong and thorough B2B marketing strategy.