Your website is the first port of call for any potential customer that wants to know more about you and your product or service. The easiest way to instantly turn off a visitor is with an unattractive and uninformative website.
Obviously, that's not what you want to do.
Your website should be the hardest working member of your staff. Ideally, it should be marketing, selling and providing an excellent customer experience all in one fell swoop. If that sounds like a lot, it's because it is, but it's far from an impossible endeavour.
So how can you make the most out of your FinTech website and really start driving those all-important leads?
Now that you've got your product completed and your services defined, you need to communicate the value of them to every person who visits your site.
1. Present Your Value Proposition
Your value proposition is your method of telling people what makes your product better than whatever your competitor is selling. You need to prove to your visitor that you're worth their time and effort.
Kissmetrics defines it as "a believable collection of the most persuasive reasons people should notice you and take the action you're asking for."
There are a lot of FinTech startups competing for your customer's attention right now, so it's essential that you can communicate the nature of your product and its value in the simplest and clearest way possible. Check out this example from Adyen, a platform that facilitates payments.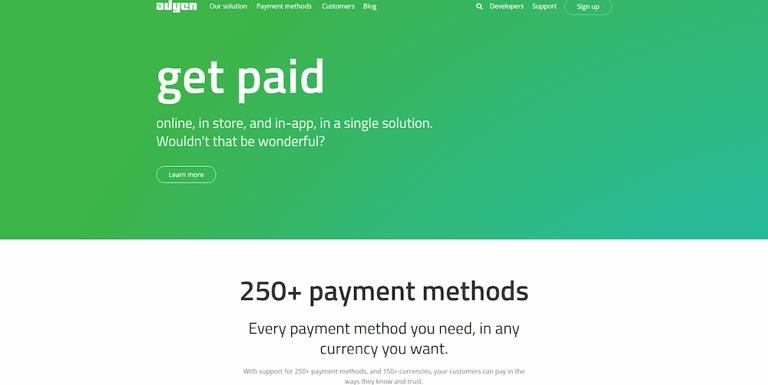 There's actually not a huge amount of content above the fold on Adyen's homepage, but what is there tells you immediately what the product is: "Get paid. Online, in store, and in app, in a single solution." And what the value proposition is: "250+ payment methods. Every payment method you need, in any currency you want."
Adyen is certainly not the only business offering a payment platform, but they might just be the one offering the most methods and currency options, so they make sure that it's the first thing you know about their product.
Once you have your value proposition nailed down, you can focus your marketing efforts around it and allow it to guide your decisions.
If you're having trouble defining your value proposition, this guide from Forbes is an excellent place to start.
2. Draw in Traffic Using SEO Content
Your website needs to include content that is optimised for search engines if you are ever going to generate organic traffic. To start doing this, try to come up with a list of keywords that relate to your product or service.
(Tip: Don't forget to get your team to feed in during this process, they might have a unique perspective that you hadn't considered.)
Once you've decided on keywords that potential customers would associate with your product, do some research into which ones are likely to give you the most traction, and the highest chances of ranking well when they're typed into search engines.
You rarely look beyond the first page or two of results when you're searching for something, and your customers are likely to do the same. So the importance of where your site ranks cannot be underestimated.
This guide from Moz is an invaluable resource for getting to grips with keyword research.
Once you've established your keywords, you need to write some content around them - you need a content marketing strategy. This should not only be content on your actual site, but on a dedicated blog where you can write at length on subjects related to your industry.
Try to avoid a blog that is strictly promotional or very time sensitive. The idea here is to establish your company as thought leaders and to provide valuable, educational and entertaining content that will have a long shelf life.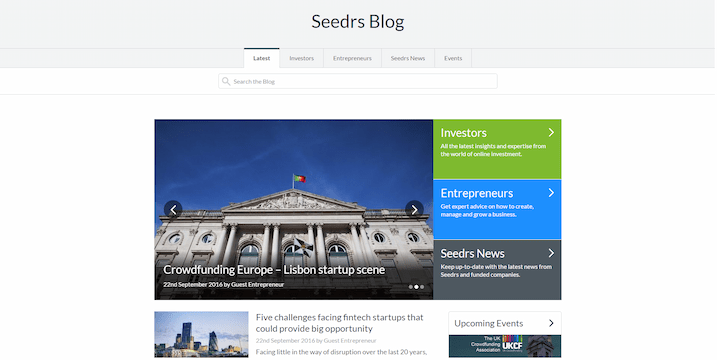 Seedr's blog is a great example of this. They use their blog to provide interesting content as well as news and updates about their company.
You should also include links to other well-established publications and let them know that you've highlighted their work. If you're lucky, and ask politely, they might just share your post. Similarly, guest posting on other blogs can be an awesome source of exposure for your product and brand, so be sure to take advantage of every opportunity that comes your way.
Crafting effective SEO content can be a difficult task even for talented writers. We would recommend consulting with an experienced, outside professional who can provide guidance, or even produce the content for you.
3. Establish Your Company's Credibility
Cast your mind back to your school days. Think of an english lesson where a teacher droned on about how to structure your essays (we know you had to have had at least a few of them). Are you there?
What that stuffy teacher told you is what we're going to tell you now applies to your website.
You have to make a point, provide evidence, and explain why what you're saying is relevant.
Let's try an example. Say you've made a mobile wallet. Great.
What's your point?
It makes paying more convenient.
Where's your evidence?
We've carried out surveys, and 98% of our customers say that their transactions are faster and easier than when they paid via cash or card.
Awesome! But why does that matter?
It frees up their time whilst shopping and provides a more pleasant customer experience.
Your value proposition makes your point, but the evidence is what makes it believable. These credibility points can come in many forms, but crucially, they have to include real examples of who your product has helped and, ideally, how it has helped them.
In its simplest iteration, this could be a selection of logos from companies that have used your product. But if you really want to show off, (and trust us, you want to show off) you should include a few case studies.
The truth is, people connect with stories. Not facts and figures. A case study allows them to really make sense of exactly who your product can help, and is an opportunity for you to explain how.
Pockit does this really well.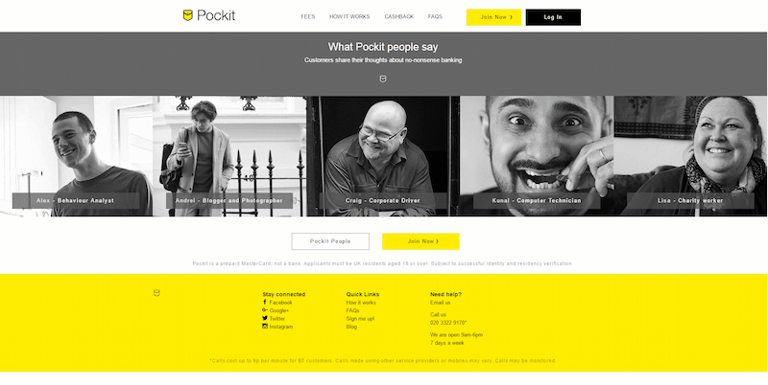 Each of these profiles has an in depth interview with a customer, and has a really personal feel. Check out this one with Kunal, a computer technician.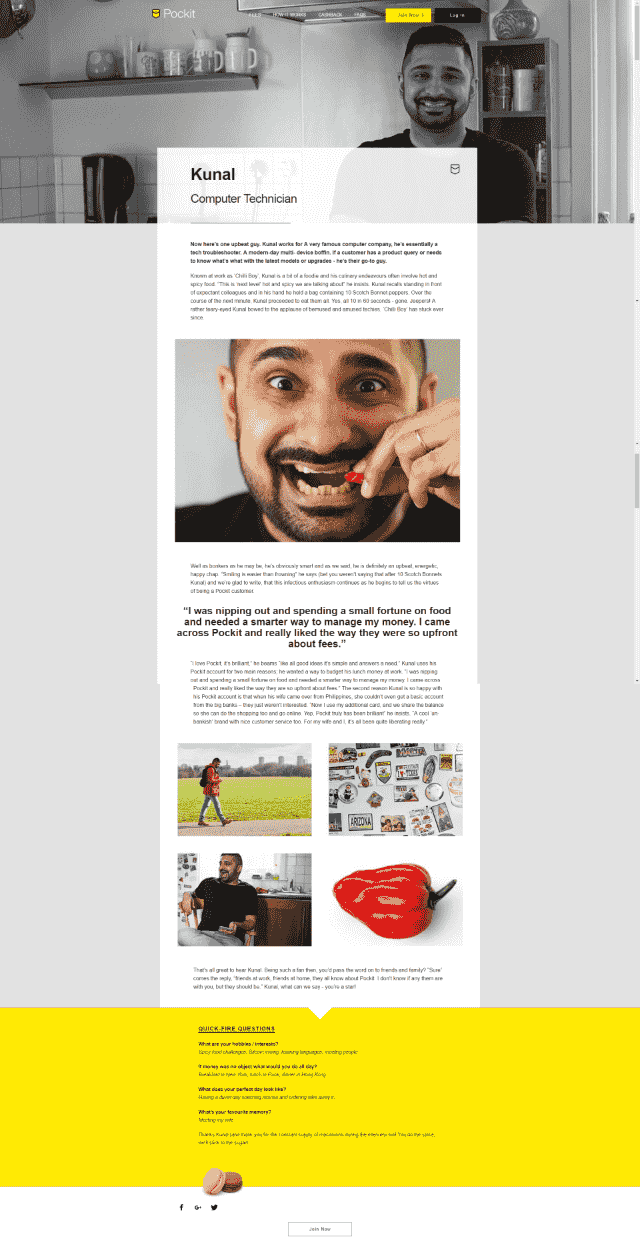 Pockit have gone out of their way to get to know Kunal as an individual, not just as a number, and ultimately that's all any customer really wants.
These kinds of credibility points are even more important for a FinTech company than they are for many other industries. Trust in FinTech is still lagging behind trust in traditional banks, and the often intangible nature of FinTech products can make it difficult for people to instinctively see the value in them.
Using effective case studies can help you skirt these potential issues.
4. Give People the Tools to Help Themselves
Obviously, nothing can replace a dedicated customer service team. It's very important for people to be able to get help when they need it, and a lack of support can prove really frustrating.
However, directly contacting your customer service representatives should really be a last resort. You don't want them inundated with queries that are easily solved. It's a waste of time and your precious resources.
It's important to acknowledge though that if customers seem to always be coming to you with the exact same problem, you may need to take a step back and check if your product needs some adjustment, whether that be with the design or functionality.
What you should be doing is providing a comprehensive FAQ, resources like downloadable guides and ebooks and, if appropriate, a glossary of terms that your customer might need to know.
FinTech can prove to be an industry that many customers aren't overly familiar with. You need to make your website as personable and accessible as possible, and giving people the tools to educate themselves is a great way of achieving this.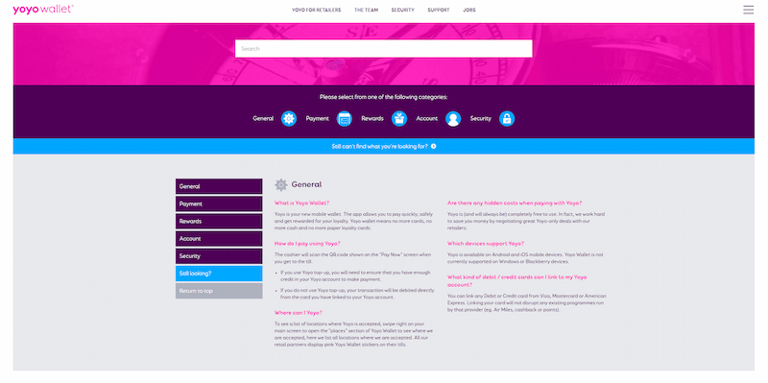 Yoyo Wallet has a great FAQ with a clean, simple layout that site visitors find easy to navigate.
5. Build Your Database
Creating a database of leads is essential if you're ever going to move them through your conversion funnel and turn them into customers. Once you have their contact information, you can reach them through more traditional marketing channels like emails.
The way to do this is to place some of your most valuable content behind forms. A visitor will click on a call to action (a button on your site with a clear instruction, e.g. Download Our Ebook) and be taken to a landing page where they will input their details. They will then be shown a thank you page where the content will be delivered.
You should really have at least one CTA on all of your blog posts and the majority of your website pages.
They don't all need to go to a landing page, of course. You could just use them to direct your visitors to particular part of your website. For example, you could add a CTA that links to your FAQ from your contact page, to head off some of the simpler questions.

Algomi have a landing page that visitors can fill in for a free demonstration of their product.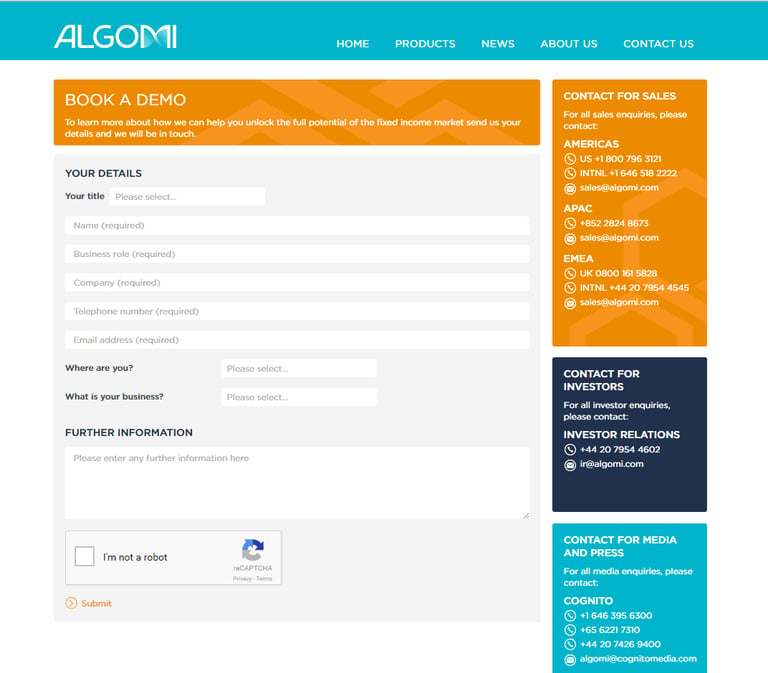 The other easy method of building your database is to gather email addresses for blog subscriptions and newsletters. Assuming your content is properly researched and well-written, this shouldn't be a big ask.
There are even free tools, such as this one from SumoMe, that will automatically request email addresses from visitors in a pop-up window just as they are about to leave your site.
Everything on your website should add value to your potential customer's experience. You should constantly be monitoring website for opportunities to better reach your site visitors.
It's important that you test everything as you go and ensure that your website looks good across all devices. As much as 56% of internet traffic comes from mobiles, so it's imperative that your site functions properly on that platform.

By implementing these suggestions, your website should soon be working hard and becoming the conversion machine you always dreamed of.
For a bespoke website strategy, get your free marketing consultation today. Just fill in the form on the sidebar for either a mini or full consultation.