When it comes down to it, understanding search intent is central to good keyword optimisation and thereby reaching your most valuable customers via search. The goal is to deliver content based on what users expect from the search results from certain queries.
Today, marketers face the ongoing challenge of trying to get their content in front of the right web searchers – and it's not easy. Historically, the focus has been on finding the correct keyword density – too dense and you could wind up with a Google penalty; not dense enough and there's very little chance of your content turning up in search at all.
Content optimisation is indeed one of the hardest things to get right for any marketer – now there's something else we must all embrace to ensure that our output is adequately optimised for today's searcher. Search intent.
But how do we determine search intent? and why is search intent important?
Understanding Search Intent - Three Categories
Understanding why people conduct an internet search in the first place is beginning to shape the way content is optimised for search engines. And this of course makes perfect sense – if we can understand the user intent and the keyword intent behind those terms and queries that searchers type into Google, we are able to create content that better addresses their specific needs.
To this end, search queries can essentially be broken down into three categories:
Informational

intent

: When the searcher is seeking answers to a particular question.
Navigational

intent

: When the searcher is attempting to arrive at a specific website.
Transactional

intent

: When the searcher wants to buy something. This type of search intent includes researching a product or service, as well as actually purchasing it.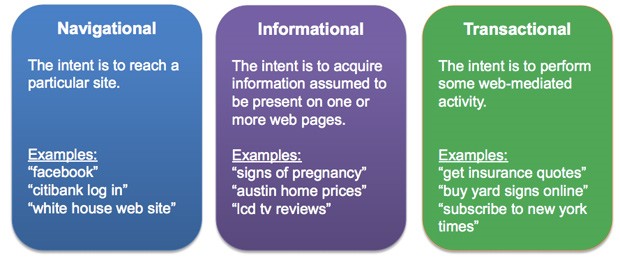 (Image source: wordstream.com)
The question, however, is how do marketers – and indeed search engines – determine a searcher's intent when he/she types a query into Google?
Answer – search intent modifiers.
Search Intent Modifiers
Searchers will often indicate their intent with a modifier when using a search engine to find the precise content they need. For instance, they might type the word "best" somewhere in their query to indicate that their intent is to compare products or services. By the same token, they might type "buy" to indicate that they want to make a purchase.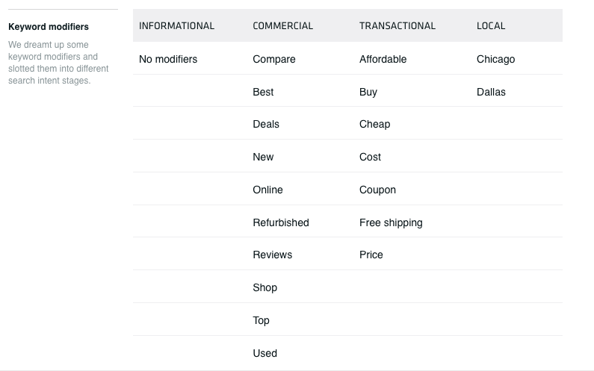 (Image source: getstat.com)
Understanding how people use search intent modifiers to find your web pages is key is to great keyword optimisation and – more importantly – directing highly-qualified traffic.
Indeed, while aiming for a good density of low-intent keywords is great for ensuring that your content appears in front of as many searchers as possible, targeting high-intent keywords is how you'll separate the real wheat from the chaff and direct highly-qualified web visitors to the precise pages you want them to view.
How to Use Search Intent to Your Advantage
Let's break down the three types of search intent so we can understand how to use each to our advantage.
Navigational Search Intent
When users are typing keywords into a search field that include a company's brand name, we can be pretty certain that they want to navigate directly to that company's website.
Ultimately, there's not an awful lot you can do beyond that which you're no doubt already doing to ensure that it's your website and not someone else's that comes up in search when optimising for navigational search intent. If a searcher knows your brand name and wants to get to your website, they'll be sure to find it with a search engine.
One thing that is important to point out, however, is that if you are using a PPC strategy, it may not necessarily be a particularly good idea to buy product ads that are focussed around a keyword with navigational intent, as this won't likely lead to many direct sales (see our recent post 'How Does PPC Fit into Your Content Marketing Strategy' for more on PPC content).
Informational Search Intent
Targeting informational search intent terms is what great content marketing is all about.
Of course, you may be thinking that informational keywords and searches will only result in users finding free information to answer a question they may have. And you'd be right – but that's precisely the point.
While targeting keywords with informational search intent probably won't result in an immediate sale, the content will nonetheless present a real opportunity to engage with potential customers and enter them into your inbound marketing sales funnel.
This is the very reason why you have a content marketing strategy in the first place – to give away free information to users, add value to your brand, and generate sales leads. To do so, you will be creating content that answers questions related to your industry. So include those long-tail keyword questions in the content itself.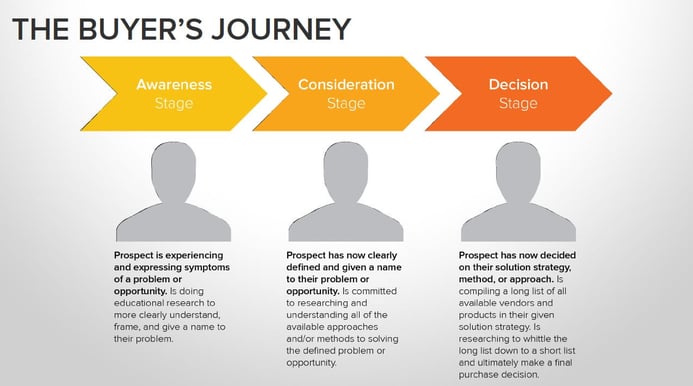 (Image source: thelogocreative.co.uk)
Take the title of this very blog post, for example. If someone wanted to know how to use search intent to their advantage, they might very well type "how to use search intent to your advantage" into Google. And so we've cunningly titled this blog post using that exact phrase, included it again as a sub-header and have now even managed to work the exact phrasing into the body text.
Other high-intent terms might have been "using search intent to your advantage", "how to use search intent", or even "what is search intent?" – now all three of those long-tail keywords are part of the body text of this post, too.
The point of optimising for an informational query is to provide additional value to end users earlier in the sales process. In the realms of B2B in particular, you should focus your keyword research efforts on keywords with said intent, as users tend to look for information on a product or service prior to making a purchase.
So, the better the information they find on your website, the more aligned with your brand they will be when the time comes to buy. Targeting informational search intent terms when creating your content is how you'll guide these prospects towards your solution at these early stages of the buyer's journey.
Transactional Search Intent
Search terms with transactional intent are pure gold for marketers – they are the ones that are by far and away the most likely to lead to direct sales.
If someone is using keyword phrases that include product names and modifiers such as "buy", "purchase", "discount", "affordable", "free shipping", etc., they are almost certainly ready to buy – so including these high-intent keywords on your products pages is a must.
Indeed, you need to be creating landing pages and buying PPC ads that are optimised around keywords with high transactional search intent, as these will likely net you some great returns.
To give you an example, we've just typed "cheap hiking boots" into Google and here's what came back.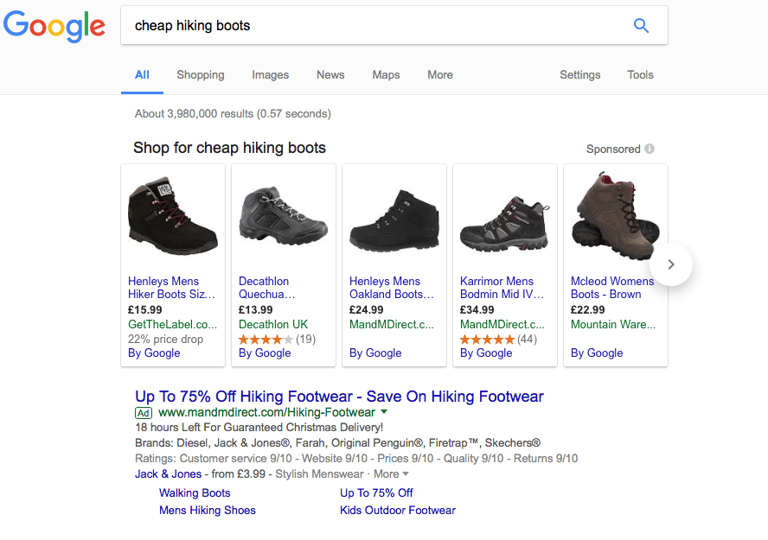 Google clearly recognised the transactional intent of our search query, and returned ecommerce results. These PPC ads will have been optimised for high transactional search intent, as must yours.
Over to You
Using search intent to your advantage simply means understanding the journey your targets will be taking along the path to purchase and doing search engine optimization to your content to help them do that. The key is to always try and give users the precise experience they're looking for – and that means first understanding their search intent, and then providing content that delivers that experience.
If you need help creating content that's optimised for search intent, get in touch with the inbound marketing experts here at Incisive Edge today.