Organic traffic is a key customer acquisition channel for B2B companies. Irrespective of your market niche, there are buyers out there using Google and other search engines to seek out solutions and services just like yours. The success, or otherwise, of your marketing boils down to whether your company can be found online by the right prospects. As such, your website pages that promote your products or services need to rank highly on leading search engines for target keywords that are directly relevant to your ideal customers.

[Image source: Gartner]
How search engine optimisation (SEO) helps
Search engine optimisation or SEO is a methodology for ensuring that websites and specific web pages rank highly on search engine results pages (SERPs) of Google and other search engines. SEO is normally used for keywords specifically relevant to the needs and interests of a given target audience.
A long-term SEO strategy will typically involve a range of ongoing activities including keyword research, organic lead generation, a content marketing strategy, link building, monitoring, and adjustment. The exact makeup and duration of SEO strategies will depend on the objectives of a particular business, the search intent of its target audience, and what the business has to offer these prospective buyers as they proceed through the sales funnel.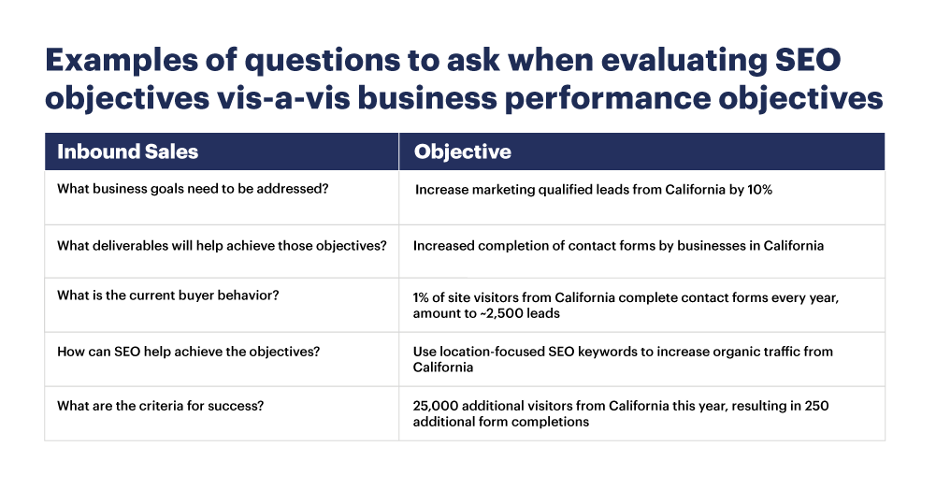 [Image source: Gartner]
When it comes to SEO for B2B organisations, online assets tend to have low search volumes and a more specific target audience. Marketers in B2B SEO also tend to be targeting a small group of decision makers whose intent online is to fulfil a specific need.
Using search engine optimisation to boost organic traffic is key to success in this regard. The classic funnel, cyclone or flywheel view of marketing, (whichever you subscribe to), makes it clear – the more people in the top of your "hopper" the more leads you will find coming out of the bottom.
Web traffic is the fuel that fires this digital funnel, and best-in-class B2B SEO practices can boost not only visitor and lead volume but also increase your ability to find relevant traffic through attracting the right buyer personas.
Learn how we can help you with your SEO Strategy
B2B SEO best practices
At the heart of successful B2B SEO is to increase your site's visibility in the rankings of major search engines. The more visibility your site has, the greater your chances of attracting relevant prospects at a local, national, or global level. To this end, we recommend the following B2B SEO best practices.
Make sure that B2B SEO is the correct approach for you
B2B organisations that stand to benefit most from search engine optimisation are typically companies that offer specialised products or services that solve the problems of a particular niche audience. Organisations whose target audience has an average customer lifetime value of over £1,000 also benefit from B2B SEO.
However, companies which sell commodities that customers don't habitually search for online will tend not to benefit from the implementation of a B2B SEO strategy. This would include referral-only businesses and government contractors.
Fully understand your target audience
In developing a B2B SEO strategy, it's important to fully understand the motivations of the decision-makers that you're targeting, and their requirements at every stage of the buyer's journey. Creating accurate buyer personas is key – and one way of doing this is by conducting interviews with existing customers.
Phone or video calls can elicit more valuable data than simple surveys. Customer responses can yield information as to what elements of your content marketing output were helpful or not helpful, and can reveal pain points and issues that your content marketing team can address going forward.
Conduct keyword research for the bottom of the funnel
Bottom of the funnel or BOFU keywords are those that reflect the search intent of decision-makers who are ready to buy what you have to sell. You can obtain these from the results of your customer interviews, and the words they used to describe your products or services.
You can also use SEO tools to discover what B2B keywords your competitors are ranking for and build these into your own keyword strategy.
Use the results of your keyword research to optimise your web pages
Before commissioning new content marketing output, use the BOFU (Bottom Of Funnel) keywords you've uncovered to optimise the web pages that talk about your key product features and services.
Conduct keyword research for your long-term content creation
Identify the search intent of your target audience and topics relevant to them, so that you can build a portfolio of content for all stages of the customer journey. You can build "topic clusters" for your content marketing that groups related subjects together in a hierarchy.
Think beyond your own product or service range
Try not to confine your content marketing to material that only talks about the specific products or services that you sell. Creating a blog post or infographic that covers a topic that's relevant to your brand offering can also produce positive results in terms of organic traffic.
For example, while HubSpot sells customer relationship management (CRM) software, it realises its ideal prospects are people in marketing, sales, and customer service. The marketing team therefore produces blog post material concerning these subject areas.
Include internal links in your content
Internal links tie one page on your website to another web page on your site. This improves subject navigation for your site visitors and helps search engines understand the structure and hierarchy of your website. Internal linking also has the power to expose your target audience to web pages that may address issues thrown up by your content.
Build back links as part of your SEO strategy
If you create highly informative, data-rich content that readers feel inspired to quote or refer to, this can promote the creation of back links to your web pages. Networking and proactive outreach to reputable websites and organisations can also assist your link building efforts.
Don't do it all yourself, if you don't have to
Typically, you need four full-time team members to effectively implement B2B SEO in-house – a project manager/strategist, a content writer, an editor/co-writer, and a graphic designer. You also require a considerable investment in time, monitoring, and resources to manage the SEO strategy. For these reasons, it may benefit you more to hire a dedicated SEO agency, or a full service marketing agency that offers SEO services.
Here at Incisive Edge, our tried and trusted methodology has pushed hundreds of our customers onto the front page of their chosen search engines, and we're ready to do the same for you.
Whether it's best practice link building or running comprehensive technical SEO audits to identify performance issues, our team of experts have seen it all before. A solid foundation and avoiding common technical SEO issues are a core element of our B2B SEO services.
To learn more about how Incisive Edge can help you observe B2B SEO best practices, get in touch with us.