Designing and implementing marketing campaigns is no easy task. At any one time, marketing departments may have to juggle an array of activities that includes market research, analysis of market intelligence, marketing strategy development, and the execution of content strategies spanning web development, social media marketing, email marketing, and other digital marketing outreach methods. Organisations may also be involved with more traditional marketing solutions such as media buying and public relations.
All of these activities require time, energy, in-house skills, and resources that a single organisation may be lacking. It is here that outsourcing the management of marketing campaigns to a full service marketing agency can provide real benefits for the business.
While organisations in all sectors can benefit from using a marketing agency, B2B operators can use professional marketing services to particular advantage.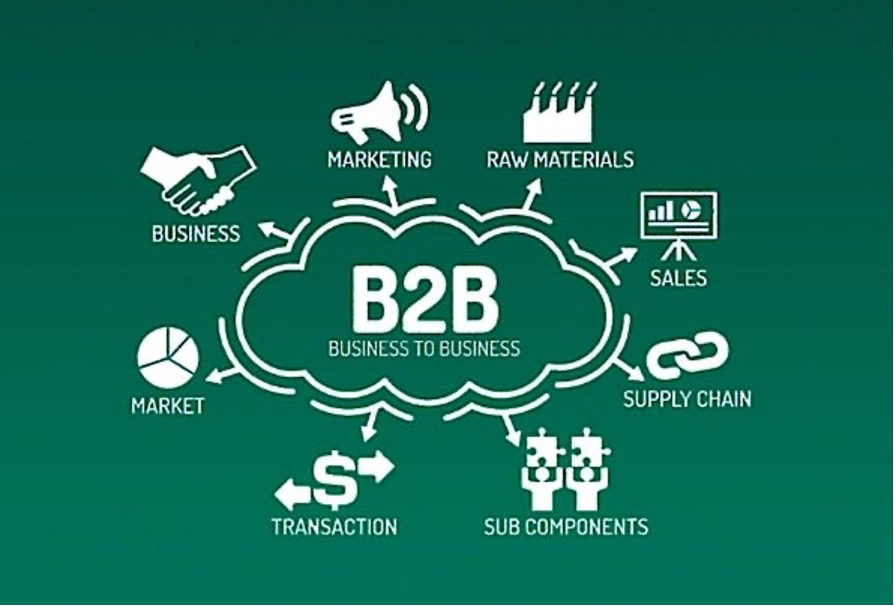 [Image source: Forbes]
Benefits of Using a Marketing Agency
One of the principal advantages of professional marketing services for B2B marketing is the access they provide to specialist B2B marketing skills, knowledge, and resources which might otherwise be unavailable.
A B2B marketing agency can assist in formulating a comprehensive strategy, and provide helpful analysis and insight spanning business intelligence, industry trends, and the needs and pain points of the audiences that make up the target market for your products or services.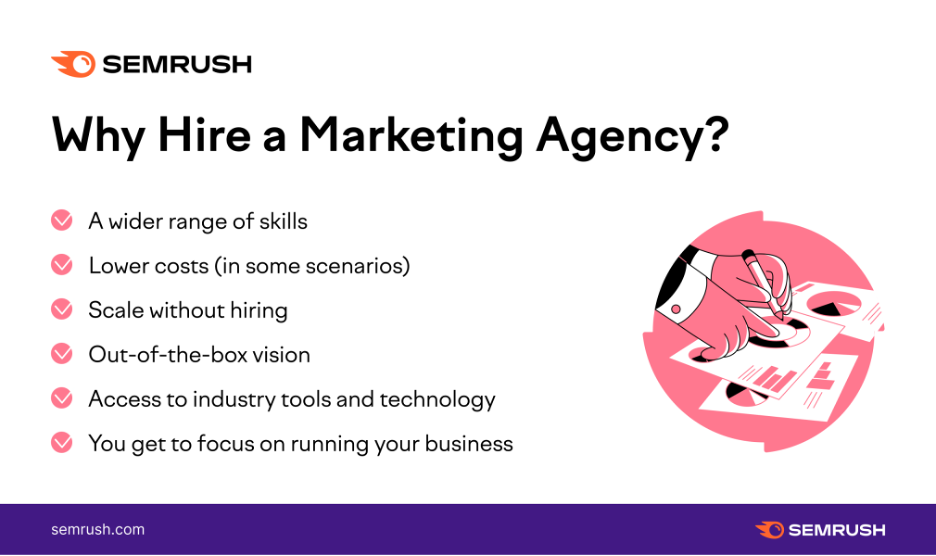 [Image source: Semrush]
The services and facilities that a professional B2B marketing agency offers can help your business to grow in a number of areas, including the following.
More Effective Brand Positioning
In the highly competitive arena of B2B marketing, enabling your product or service to stand out from the crowd hinges on effective branding. A B2B marketing agency that specialises in brand positioning can draw out the things that make your company unique – and craft a value proposition that emphasises this uniqueness and the value you provide your target market.
In this way, a B2B marketing agency can help you focus your B2B marketing investment in your brand position – thereby allowing you to project a stable image to your potential new customers that clearly defines who you are as a company, your brand purpose, and your brand story.
Segmenting Your Target Audience
With a clear brand message and value proposition now defined, a B2B marketing agency can help you define who your ideal client is, and what challenges, aspirations, and needs that your offering can assist them with. This knowledge empowers you to ensure that your marketing communications resonates with your target audience. It also enables you to hone your content strategy, marketing communications, and digital marketing campaigns to suit the exact requirements of each audience segment.
Optimising Your Digital Assets
The effectiveness and growth potential of your digital marketing endeavours hinge on the quality and accessibility of your online assets, such as your company website, blog, and landing pages.
The experts at a B2B marketing agency can help you make the most of these digital marketing assets. This assistance may cover areas such as web development, search engine optimisation (SEO), social media marketing, and app store optimisation.
For technology businesses, the marketing services that an agency provides may extend to include in-depth analysis of industry trends and business intelligence, and web design services for site and service optimisation.
In this way, the digital marketing services offered by B2B agencies empower businesses to achieve a greater ROI from their inbound marketing and multi-channel lead generation efforts.
Targeting New Customers
Professional B2B agencies will have knowledge of where your potential customers are most likely to hail from. They may also have a database of contacts to help you introduce your business to new markets.
For your digital marketing campaigns, B2B marketing agencies can use inbound marketing techniques to help you with lead generation, and offer services for multi-channel lead generation such as organic social media and enhanced web design. Marketing agency experts serving business audiences in the technology sector might, for example, focus on making product or service sign-up pages easier for new prospects to navigate.
Retaining Existing Customers
With 86% of buyers willing to pay more for a positive customer experience, businesses that prioritise customer loyalty and the customer experience (CX) have between four and eight percent higher revenue than their competitors.
A marketing agency can help you focus on your existing clients by creating a business marketing strategy that generates trust and loyalty. For example, the marketing agency might help you develop a content marketing strategy that offers advice, useful solutions, and free education for your customer base. B2B marketing agencies working in the technology sector might offer discounts or free features to users who refer your company to other businesses.
Providing Measurable Business Outcomes and Tangible Results
Finally, a B2B marketing agency should offer detailed monitoring and analysis of the Key Performance Indicators (KPIs) and metrics needed to gauge the success and progress of your B2B marketing efforts.
Here at Incisive Edge, for example, our team of B2B marketing experts, including qualified data scientist resources, can help you build a business marketing site that performs when it comes to organic traffic.
As a results-driven B2B marketing agency, we select performance metrics which are important to your business, and continually track performance via the user's browser on both desktop and mobile devices. By keeping on top of the way your site performs, and producing relevant content which works for both search engine optimisation but also the reader, we build momentum and achieve results to a specific time line.
To find out more about why Incisive Edge is the B2B marketing agency that can help grow your business, get in touch with us.