With the rise of tools like Google Assistant, Siri and Alexa, voice search is changing the digital marketing landscape. Between 2008 and 2016, the number of Google voice queries grew by over 3500%, and according to PwC, up to 65% of users between the ages of 25 and 49 make use of voice-enabled features on their devices each day.
With the rise of tools like Google Assistant, Siri and Alexa, voice search is changing the digital marketing landscape. Between 2008 and 2016, the number of Google voice queries grew by over 3500%, and according to PwC, up to 65% of users between the ages of 25 and 49 make use of voice-enabled features on their devices each day.
Speech recognition on devices has also become much more precise and complex and although voice search has been around for many years at this point, it's just now starting to hit its peak.
Voice Search in Digital Marketing
Before we get into just how profoundly voice search is changing SEO, and digital marketing as we know it, let's take a deeper look at voice search in general.
What is Voice Search?
At its heart, voice search allows a user to vocalise a search query. In the 2000s, IBM's Watson speech recognition sparked the development of voice technology devices, which Google and Apple eventually followed up on with Voice Search and Siri, respectively.
Why is Voice Search Important?
Voice search is distinct from browser search, and as the number of mobile phone users grows, so does the popularity of voice search. According to Moz over half of all customers use it for general internet searches.
When Do People Use Voice Search?
Given that most voice searches are mobile, people are significantly more likely to utilise voice search while they're out and about. This makes it ideal for local businesses.
It is crucial to note that not all businesses can entirely rely on voice search, and whether or not they can depend on whether it is appropriate for their marketing. To begin with, voice search will not replace text search; rather, it will supplement it. A local company, for example, might profit from optimising for voice search by providing content that addresses common questions about available goods or services in the area.

Where is Voice Search Critical?
Voice search has the potential to improve searchability for narrower user intents using long-tail terms. With clearer and more specific search queries, users are not utilising voice search just to browse. Most of the time, these audiences are towards the bottom of the sales funnel.
Who is Using Voice Search?
Mobile users are significantly more likely to utilise voice search - up to three times more likely. Currently, around 31% of the world's mobile consumers utilise voice search more than once each week, and the bulk of these users are under the age of 18.
So how important is voice search, really?
It is believed that almost half of all Google searches are done using voice. The growing popularity of this search option is due in part to the fact that voice searches are becoming more accurate; Google claims that their voice searches are 95% accurate.
Add to this the fact that in 2020, global smart speaker sales hit an all-time high of 150 million devices.
As a result, the vast majority of devices are now voice-search optimized. What does this mean for businesses and brands? Voice search is expected to be a $40 billion USD market by 2022. Businesses must now improve their interfaces, platforms and websites to stay up with the changing environment of voice search.
How is Voice Search Changing SEO?
Given the expanding trends and increasing adoption rate of mobile searches, voice-enabled technologies will undoubtedly have an influence on SEO. This implies that organisations that rely on digital marketing solutions will either flourish or struggle, which is why understanding the impact of voice search is critical. Voice search can assist SEO experts, digital marketers, and business owners withstand the competition, achieve their marketing goals and continue to generate income in a changing landscape.
Here are some of the ways that voice search is changing the game:
Language and Context
Voice technology must be able to interpret words in order to be functionally successful. Users are encouraged to talk in such a way that their voice-enabled tech device or platform can comprehend their question. Unlike a browser search, which requires a user to input a fragment of two to three terms, a voice search requires a user to adhere to specific syntax and grammatical constructs. This is why a voice search is often conducted using phrases or sentences that contain at least one full thought.
According to Jeff Bullas, around 70% of voice searches make use of a conversational tone.
In context, a browser search for information about digital marketing techniques would probably look like this: "effective SEO strategies 2021".
A voice search, on the other hand, would probably be: "Hey Google, what are the most effective SEO strategies in 2021".
This is another important component of the influence of voice search on SEO - the context of user intent and keywords.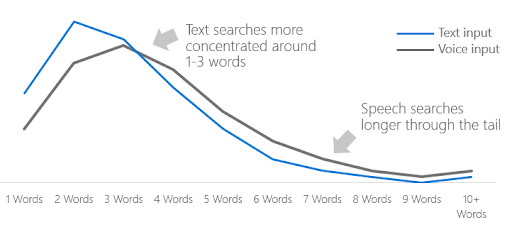 Image Source: Moz
Question words are an important part of voice search, particularly those constructed around core keywords that help clarify user intent. Providing succinct and correct responses to such search questions might assist a website in obtaining a featured snippet from Google. This is why marketers must grasp the context of a user's intent behind a voice search in order to differentiate between the requirement for beefier material and simple responses.
Google's RankBrain and Hummingbird employ semantics and natural language comprehension to offer consumers with appropriate search results. This simply serves to highlight how voice search may impact SEO in the context of content relevancy - Google will rank pages better when a website can regularly give value to the user based on their search intent.
Keyword Lengths
Voice search allows a user to mix more terms to locate what they're looking for, which makes voice search queries considerably lengthier than standard internet searches. According to Backlinko, the average length of a voice search is 29 words, which prioritises the targeting of long-tail keywords. These search phrases frequently get visitors closer to the conversion stage of the buyer's journey.
Local Search
Voice-enabled technology has had an undeniable influence on local search. In fact, when consumers utilize voice search, they are three times more likely to be in need of anything nearby. And over 60% of these people use voice search to find companies near them. This demonstrates how to optimise for location-based searches such as "Where can I find a sushi restaurant in Brighton?" may actually help a business reach their target market.
How to Optimise for Voice Searches
How to optimise for voice search could be a book on its own, but we've highlighted some of the most important aspects to help you get started.
Keywords: Conduct research on voice search keywords by entering your primary term into your keyword research tool. Structure your long-tail term around natural language variants that are more connected with voice search.
Headers and FAQs: Optimise your website content for voice search by giving succinct responses to user search questions. One method is to format your material in the style of a FAQ page. Use the question keywords in the headers and the responses in the body of the text directly below. Because the material is straightforward and concise, Google will identify it as valuable.
Schema: Optimise for featured snippets as well, because highlighted snippets appear in more than 40% of voice search results. You may accomplish this by structuring your content as structured data. To demonstrate the importance of your material, use bulleted and numbered lists, tables, and schema markup.

Content

: Produce high-quality

video material

for certain parts of your business, such as instructive demos or product evaluations. Also, be sure to optimise the meta tags. This adds value to a search query, especially for practical requirements like how-tos.
Google My Business: Make it simpler for your target market to find you by optimising for local voice search opportunities. You can do this by keeping your Google My Business profile up to date, so that when a potential customer does a voice search for "digital marketing agency near me," your company appears.
Authorship and EAT: Become a subject matter expert in your area and increase domain authority, because Google values the quality of its results and prefers to show material from authoritative sites. This can be accomplished through the use of compelling and value-added content, high-quality backlinks, organically generated social sharing, and a smooth user experience. This increases the likelihood of your material appearing as a voice search result.
Core Web Vitals: Optimise page experience and performance, as user experience, such as the pace at which your website loads, is also a ranking consideration with Core Web Vitals. With the average speed of a voice search result being 4.6 seconds, a website shouldn't take that long to load.
Voice searches are a logical step forward for SEO because of their speed, ease, and adaptability. This technology isn't a passing trend; it's the way of the future. To successfully reach customers, you must optimise your website for both normal and voice searches at the same time. This may necessitate adjustments to your website, but with the rising popularity of smart devices, voice search is changing SEO for good, and investing in it can only be a good idea.
Image source: Google Assistant