According to research by Leadspace, social media is a source in making purchasing decisions for 84% of business to business or B2B executives. 52% of B2B buyers say they're "definitely" more likely to buy from a brand once they've read their content. So content creation and an active B2B social media presence are essentials for any organisation currently working in the business to business space.
B2B Social Media Marketing in 2022
HubSpot research indicates that the number one goal for B2B marketers in 2022 has been 'increasing brand awareness'. B2B social media marketing has had a big role to play in this regard, with the various social platforms acting as a medium for communicating the brand voice and value propositions of B2B organisations. To this end, the majority of B2B marketers have been increasing their investments in influencer marketing in 2022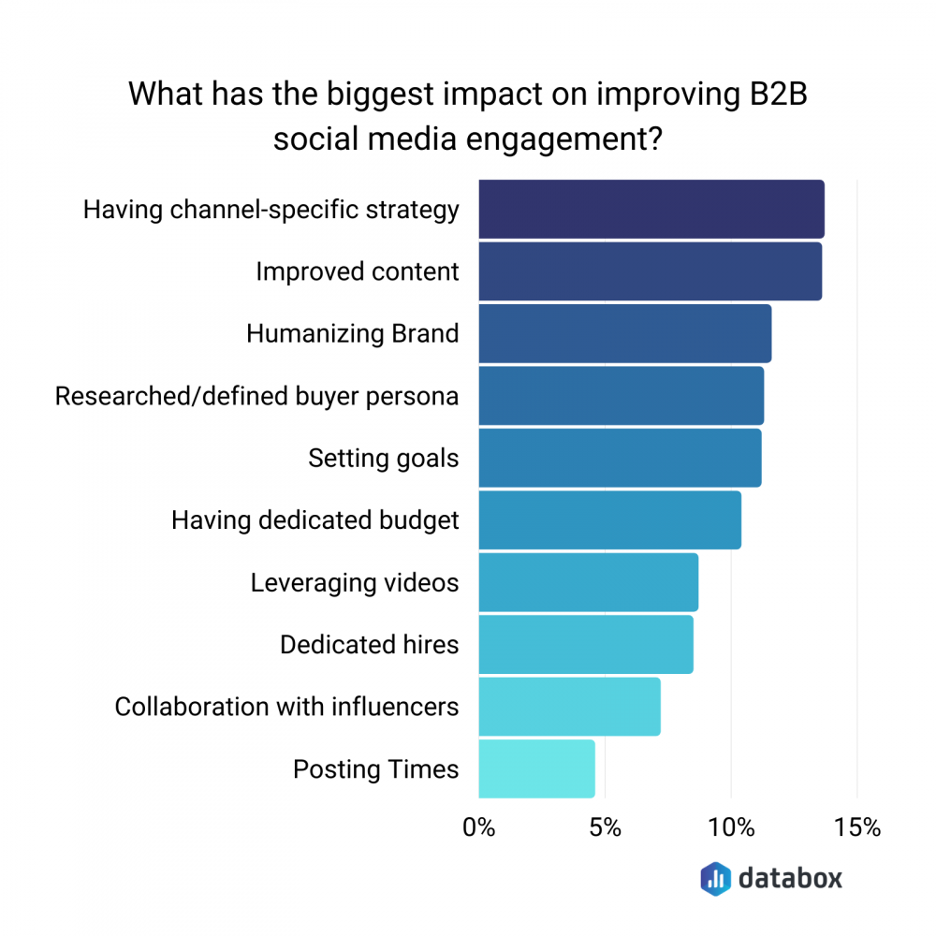 [Image source: Databox Blog]
Influencer marketing and user generated content (UGC) are just two of the benefits that sales and marketing teams can get from an effective social media campaign. Here are six simple tips to take your B2B social media marketing to the next level
Read more about how we can help you reach your social media strategy goals
1. Identify Your Goals
A comprehensive plan and set of goals, including social media channels, a separate Twitter account dedicated to create brand awareness, are essential for the successful execution of any B2B social marketing project. These goals should align with your business objectives and be associated with quantifiable metrics to track and measure the success of your B2B social media efforts.
A well-crafted plan will also empower you to create appropriate content for each part of the marketing and sales funnel.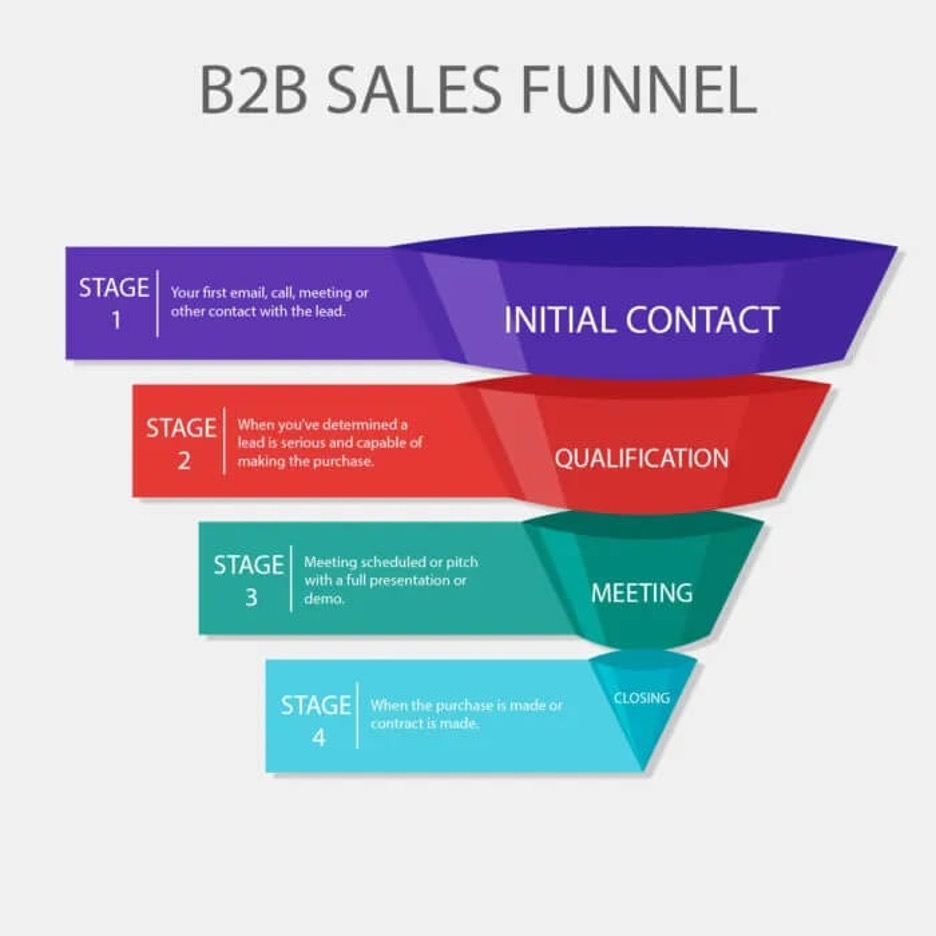 [Image source: myedrachma.com]
2. Know Your Target Audience
B2B products and services cater to specific target audiences, including potential customers and existing customers, who often belong to niche markets or verticals. To effectively address their needs, interests, and pain points, it is crucial to have a clear and deep understanding of who they are. Consider using separate Twitter accounts to engage with these distinct groups and tailor your marketing efforts accordingly.
Knowing what they want and how you can give it to them is the starting point for creating content, interaction, and thought leadership on social platforms that will sustain your social media campaigns.
Check out the following blogs to learn more about social media marketing:
3. Speak Their Language
In order to provide relevant content that resonates with your target buyers, you should use appropriate industry terms in your social media posts. Using industry-specific keywords also helps establish trust and credibility in the eyes of B2B decision-makers, while assisting your search engine optimisation (SEO) efforts.
4. Choose the Right Social Media Platform
Different social media platforms cater to the needs of diverse interest groups. For instance, Instagram Stories are ideal for short-form video content, while a full-length YouTube film might not be suitable. Therefore, it's crucial to carefully select the social accounts and social campaigns that best align with your campaign objectives.
For example, four out of every five B2B leads from social media come via LinkedIn – which roughly half (49%) of marketers say is the best platform for posting their video marketing content. Meanwhile, 28% of B2B marketers name TikTok as the optimal platform for B2B social marketing.
5. Give Your Customers and Target Audience a Voice
The beauty of social media platforms is that they can act both as a vehicle for your brand voice to boost brand awareness, and as a space for interacting with your consumers. Your social marketing should therefore provide avenues for user generated content and customer stories, as well as social channels for essential functions like customer support, frequently asked questions (FAQs), and feedback.
6. Choose the Right B2B Social Media Marketing Partner
Running social media campaigns is a continuous endeavour that requires considerable effort and skill. If your organisation lacks the expertise or human resources in house, you may have greater success by partnering with a specialist marketing agency.
The agency you choose should have the experience and skill to help you build brand awareness and a social media strategy that establishes the trustworthiness, knowledge, and thought leadership of your brand voice across the most appropriate social channels.
The agency should help you create a B2B social media marketing strategy that provides relevant content for your target audiences, and encourages interaction with them through customer stories, comment, and user generated content.
Here at Incisive Edge, we believe that content is the engine powering your inbound sales and marketing programmes. From on-site conversion points to nurturing opportunities, every content type can help. As a B2B marketing agency with extensive experience in social media marketing, we know that it's essential to provide contextually relevant, value-led, thought-provoking content at every life cycle stage of your target audience and prospects.
We also believe that proper investment in your brand position will allow you to project a stable image to your potential new customers that clearly defines: who you are as a company; your brand purpose; and tells your story in your unique brand voice. We will work together with your business to provide meaningful output that makes your social media marketing efforts go faster, and removes strain from your team.
To find out more about how partnering with Incisive Edge can help maximise your social media marketing efforts, get in touch with us.