Account based marketing or ABM is a focused growth and marketing strategy that enables marketing and sales teams to concentrate their efforts on an agreed set of target accounts that meet the criteria of an ideal customer profile (ICP). Account based marketing tactics use a targeted approach, in which sales and marketing teams collaborate to create a highly personalised buyer experience for a group of high-value target accounts.
An account based marketing strategy, therefore, operates in a different manner to the traditional business to business or B2B approach to marketing, which casts a wide net with the goal of capturing as many leads as possible. The problem with this approach is that the vast majority of B2B leads never become actual customers. As such, the organisation wastes valuable time, energy, and resources for little gain.
By focusing the attention of marketing teams and sales teams on a meticulously vetted group of target accounts, an account based marketing strategy limits resource wastage, and allows B2B organisations to get more value from their marketing efforts and investment.
An ABM strategy also promotes greater cohesion and collaboration between sales and marketing teams, enabling B2B organisations to deliver personalised content to the target audience of high-value accounts, while projecting consistent messaging about the organisation's brand identity and value proposition.
> Check out our ABM Strategy to learn more
While inbound marketing remains a critical part of B2B lead generation, many organisations are increasing their use of account based marketing. That's because an ABM strategy enables B2B organisations to gain full control of the marketing process, speed up the buying cycle, and find better ways to convert target accounts.
Some effective but unconventional account based marketing tactics
How can you fine-tune your ABM strategy to get the greatest return from your endeavours? Here are six unconventional account based marketing tactics to help.
1. Use your best customers as marketers
You can increase the reach and influence of your internal marketing team by enlisting the help of your best customers to act as marketers for your products or services. To do this, you'll first need to select existing customers who fit your ideal customer profile (ICP) and have had good results with your company's offerings. You can then select people inside these companies to reach out in various ways to potential customers in your target audience. This will require some research and customer profiling to identify customers who meet the criteria laid out by your marketing and sales team.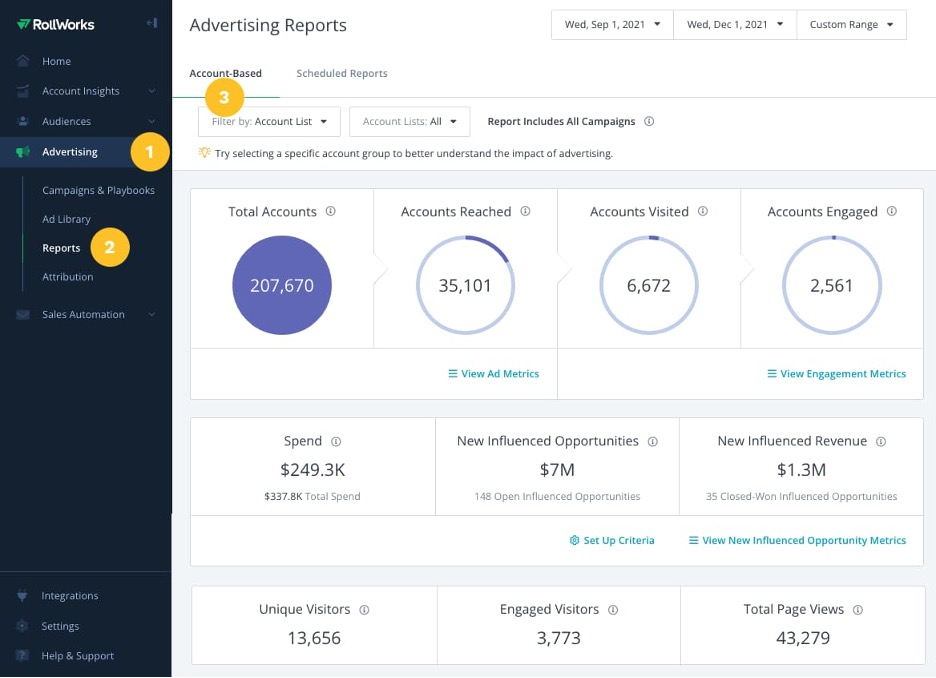 [Image source: Rollworks]
The success of this account based marketing strategy hinges on the fact that, while a lot of the people in your sales pipeline may be debating whether or not to purchase from you, they may be unwilling to ask you directly for proof that your offerings are right for them.
Using customer success stories from your best clients (for example, in the form of case studies) and by getting these brand advocates to reach out to potential customers directly, you can create a resource for your target audience to find answers to any questions they might have – and to learn from the experience of someone who was previously in their own position, as regards looking for effective solutions.
2. Delve deeper into the figures to identify potential new clients
Using market analysis and predictive analytics software, you can study intent data to identify potential buyers who may fit your ICP. For example, you can monitor web traffic to spot visitors whose activity on certain product pages, pricing pages, or comparison articles signals a warm intent to buy.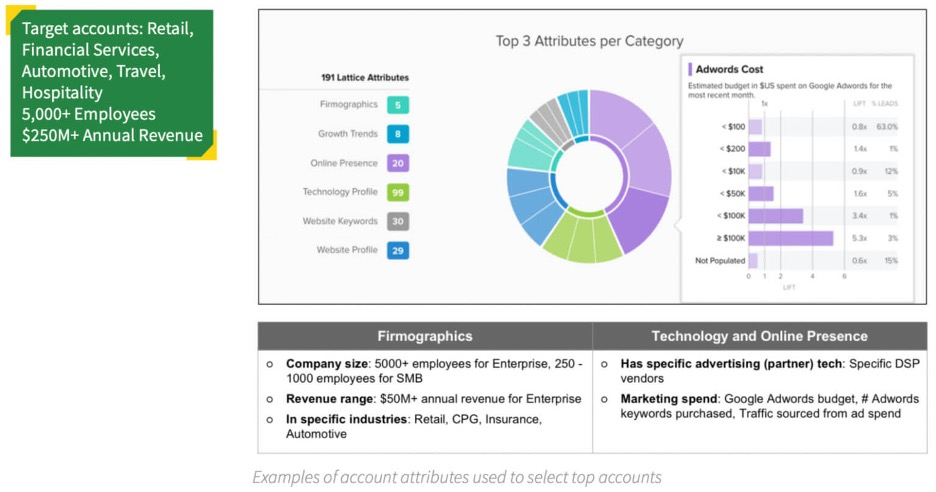 [Image source: Rollworks]
Define a set of criteria to narrow down your search. With these criteria in mind, rank the potential accounts on their intent, and reach out to those accounts that seem most likely to buy.
3. Upsell or cross-sell to existing customers
Your existing customers represent high value accounts that are already in your sales pipeline, and who already know and trust your offerings to a considerable extent. This audience also presents an opportunity to generate more revenue on the basis of their existing purchases.
For example, with enterprise accounts, your marketing team could create a case study around the successful deal for a particular product or service, and use it to promote the commodity to other departments of that enterprise, or to its regional offices in other locations. There are also opportunities to upgrade existing solutions, or to offer new features.
4. Keep customers happy to avoid churn
This ABM strategy relies on maintaining and nurturing your relationship with existing customers. The basic tactic is to keep monitoring how your customer is doing, and to check back with them from time to time to see how you can help.
For example, after a successful sale, you can follow up by asking the client about their experience with the buying process. Note any pain points they may have suffered. In subsequent weeks, check in to find out what kind of value they're getting from your service, what their next plans are, and whether your solution will support them in future.
5. Reach out to all relevant decision-makers to accelerate the buying process
This strategy requires your marketing and sales team to identify all key stakeholders in the buying process of your target accounts. With this knowledge, your teams can help accelerate the sales process by reaching out with personalised content to all the relevant decision-makers for each target account.
6. Get help when you need it
Your marketing and sales team may not be able to identify every opportunity for maximising your account based marketing efforts. To get a fresh perspective and access to an alternate set of tools and skills, you may need to engage the services of a specialist marketing agency.
Here at Incisive Edge, marketing strategy is at the heart of what we do. Our team will create your strategic marketing foundations, so your best-fit customers can see your true value and difference. We'll position your brand using our real-world, commercial experience to drive scale.
To find out more about how Incisive Edge can help with your account based marketing strategy, get in touch with us.