Today, a successful tech marketing strategy means tucking a well-researched, well-written, and highly-valuable blog into your content marketing tool belt.
Blogging is one of the best ways to connect with audiences on so many levels.
For starters, it will position you as a trusted industry expert – somewhere people in your industry go to get the latest insights, advice and thoughts on what's happening right now.
A good blog will engage readers in meaningful discussions, help them learn new things, and establish a strong online reputation for your brand.
Blogging is also essential to SEO – it's your opportunity to build up a strong keyword database that will help you rank in search, ensure high visitor numbers, and earn some good backlinks from reputable websites.
Through shares and likes, your content marketing efforts will also provide brand lift on social media, and will help you generate leads as you filter your traffic into your inbound marketing funnel.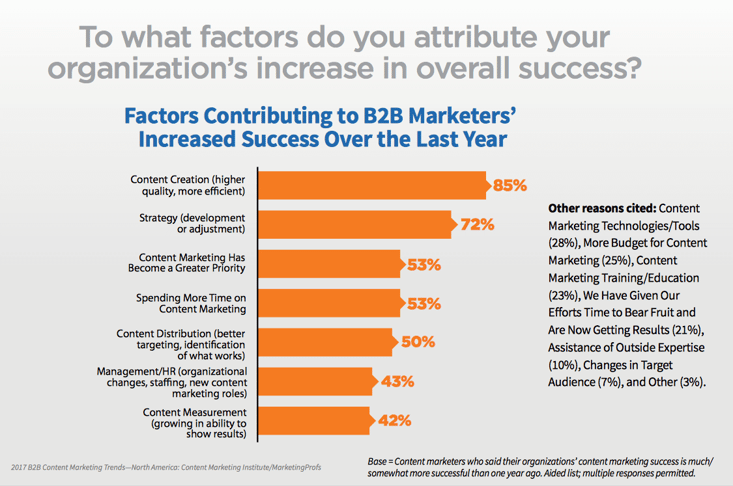 (Image source: contentmarketinginstitute.com)

All in all, it's no wonder that 89% of professional B2B marketers are using content marketing to promote their businesses, according to the latest report from the Content Marketing Institute. What's more, 85% attribute their organisation's overall success to higher quality and more efficient content creation over the past 12 months, and 70% expect to be creating more content in 2017 than they did in 2016.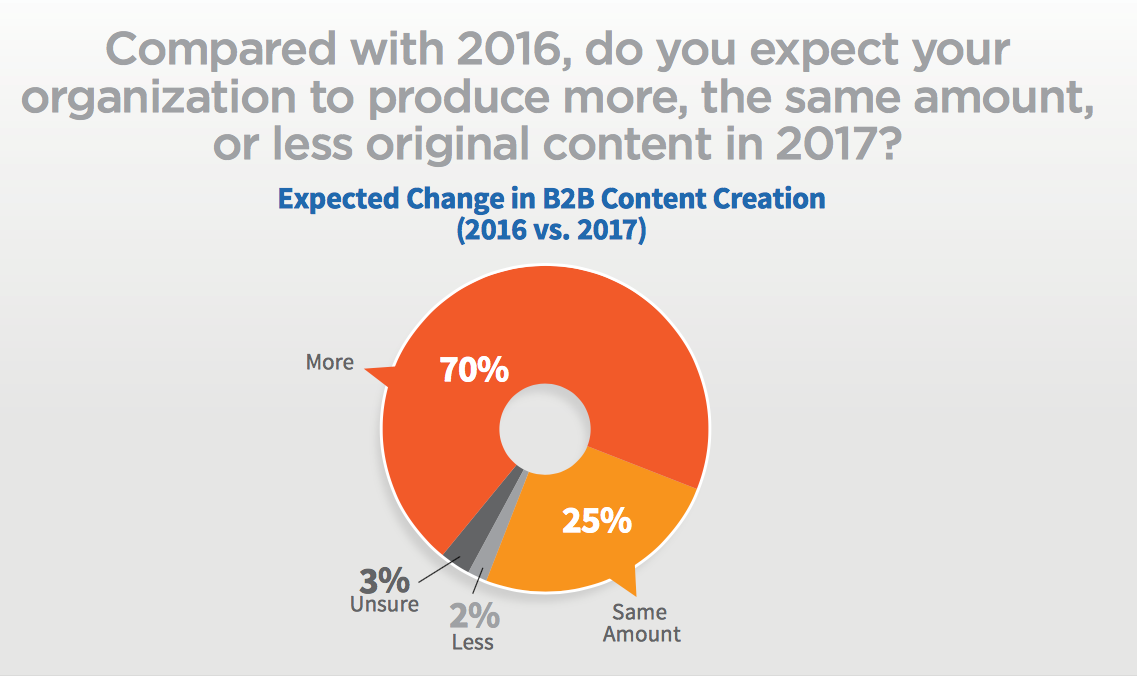 (Image source: contentmarketinginstitute.com)
4 Ways to Incorporate Blogging into Your Tech Marketing Strategy
It's clear that content is still king in 2017. And this means that blogging needs to be a top priority for your tech marketing strategy.
Social media loves great content. Google loves great content.
And your prospects and customers need great content to be convinced that doing business with you is a smart idea. Indeed, according to research from DemandGen, 47% of buyers view three to five pieces of content before ever engaging with a sales rep.
However, cementing your position as a top blogger in your industry requires some serious thought, and a little time and effort. Here are some ideas to get you off on the right track.
1. Identify Topics that Will Engage Your Audience
Blogging isn't about you (at least not directly). It's about your audience.
Great bloggers know exactly who's reading, and what they want to know.
A great content marketing strategy, therefore, begins with developing an understanding of your ideal audience. This means creating detailed inbound marketing personas – i.e. semi-fictionalised profiles of the people you want and expect to be reading your blogs.
Once you've got a list of personas – and have identified what their interests are, where they work, what sort of buying power they have at their company, etc. – you can then start brainstorming some blog ideas that will target them specifically. You will need to think in terms of what sorts of topics will interest them, what their pain points are and how you can solve them.
It's likely that you will have multiple inbound marketing personas – which means that you will be speaking to a number of different audiences through your blog.
Each of these audiences will need content that's tailored to their specific needs – and it's good practice to communicate with your sales team to find out as much as you can about what these needs are.
The important thing is that you are delivering value – and value comes through being informative, engaging and entertaining all at once.
2. Map Content to the Buyer's Journey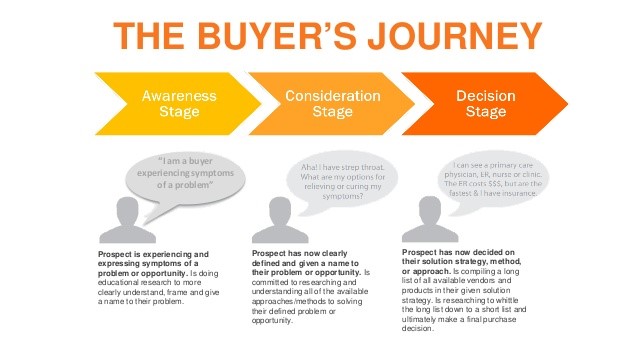 (Image source: slideshare.net/HubSpot)
When it comes to tech marketing, there are many different stages of the buyer's journey, and each demands that different types of blogs be written to match where your prospects are in the decision-making process of making a purchase.
At the top of the inbound marketing sales funnel, your prospects will be experiencing a problem, and will be consulting Google (other search engines are available) to find out how they might go about solving it.
This is known as the awareness stage. Here, creating educational blogs – how-tos, guides, lists of resources, etc. – will attract prospects in this stage towards your website, where they will make themselves aware that your tech product exists, and could be part of the solution.
Moving into the consideration stage, your prospects will be closer to a purchase commitment – but won't yet have decided on one solution (yours) over another (your competitors').
It's important here that you have blogs that explain the benefits of your particular solution, and that also serve to differentiate your brand from the crowd. Product demonstrations, in-depth guides and case studies are good resources to make available to potential customers here.
Finally, at the decision stage, the buyer will be justifying their selection and will be all but ready to make a purchase.
These prospects need blogs that deliver concrete business details that serve to support their rationale for making the purchase. Case studies, again, play an important role at this stage, for they will tell a success story of another (ideally similar) company which has achieved positive results with your solution.
3. Deliver a Good Mix of Content to Keep Engagement Levels High
There are many different ways that you can write a blog. The idea will always be to educate prospects – but that doesn't mean that you can't offer something a bit light and fun every once in a while to keep existing readers entertained, and perhaps attract some new ones.
The important thing, however, is to keep things varied.
Here are some ideas to try:
List posts

Tutorials and how-to guides
Opinion pieces
Problem/solution posts
Long-form research posts
Latest industry news
Case studies
Interviews
Reviews
Resource lists
Surveys and polls
Frequently asked questions (FAQs)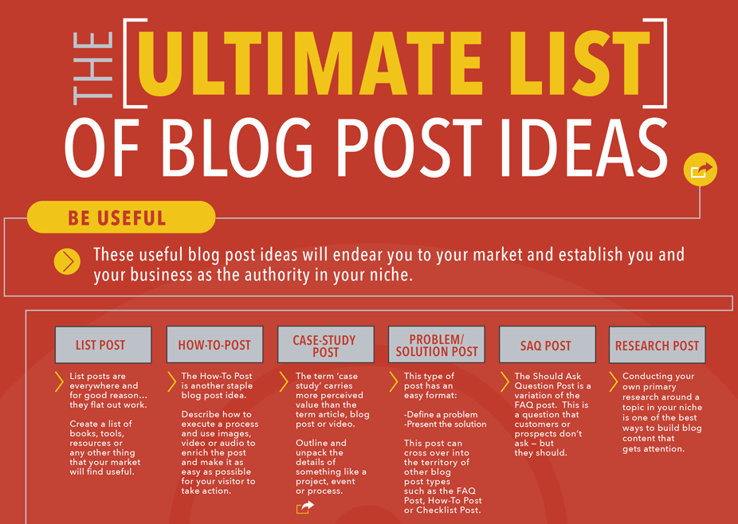 (Image source: stuffwriterslike.com)
4. Guest Posts
Establishing your own blog as a valuable resource for your industry is one thing – but sometimes the best way to reach new readers is to start building guest posting into your content marketing strategy.
The idea of guest posting is that you approach third-party websites (ideally within your industry) and offer to write some great content in exchange for a link back to your site.
It can be extremely effective as a tech marketing strategy. Social media management software provider Buffer, for instance, acquired no less than 100,000 new users in just nine months solely through guest posting back in 2012.
In what might be considered a growth hack, co-founder Leo Widrich wrote around 150 guest posts during that time, spreading the word far and wide amongst many different audiences that a new tool was on the market – and it paid off. Today, Buffer has 3 million registered users and annual recurring revenue of $10 million.
The thing with guest posts, however, is that third-party webmasters and business owners won't let you simply plug your solution on their websites. They'll want your blogs to offer value to their audiences. Here is one real example of an email pitch that Widrich used – note that offer was to write a blog entitled '10 Tools to Make the Most of Twitter'. Buffer will have been just one of those tools.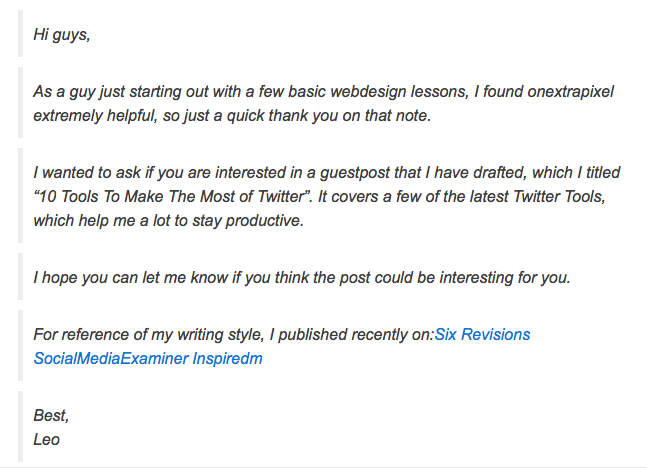 (Image source: searchenginewatch.com)
Over to You
Blogging is an essential element of your ongoing tech marketing strategy. Begin by creating detailed inbound marketing personas and working out who your ideal readers are, then start mapping your content marketing efforts to the buyer's journey, being sure to keep things varied as you go along.
Once your own blog is up and running, consider guest posting to bring in new audiences, and you will have for yourself a solid blogging routine to bolster your tech marketing strategy at every turn.
If you need help with blogging, content marketing, or your tech marketing strategy in general, don't hesitate to get in touch with us here at Incisive Edge today.